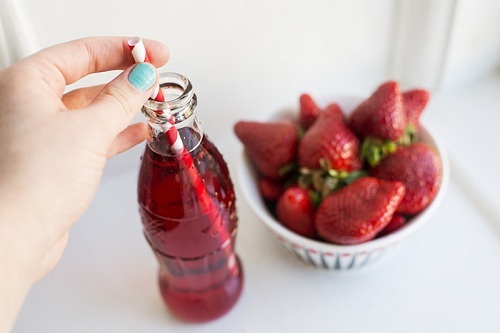 We weten allemaal dat frisdrank veel suiker bevat en niet gezond is. Maar weten we nou ook wát er niet gezond aan is? Suiker, ja, maar wat gebeurt er in je lichaam? Kunnen we er ons een beeld bij voorstellen zodat we eerlijk kunnen bepalen of we het ons lichaam aan willen doen? Dat beeld, wil ik je vandaag geven. Wil je in de ontkenning blijven? Lees dit dan vooral niet.
Je drinkt een glas frisdrank…
Binnen de eerste 10 minuten…
10 suikerklontjes komen je lichaam binnen (meer dan 100% van je dagelijkse behoefte). Je zult niet meteen overgeven van de hoeveelheid suiker, dit komt omdat fosforzuur in je lichaam de smaak 'bedekt' zodat je het binnen kunt houden. Hier merk je dus overigens niets van, je lichaam doet dit vóór je om te kunnen overleven van de suikerexplosie die je het zojuist hebt gegeven.
20 minuten…
Je suikerspiegel krijgt een enorme piek, waardoor er heel veel insuline wordt aangemaakt om deze piek weer omlaag te brengen. Je lever slaat op hol: "zoveel suiker! ik moet dit maar gaan omzetten in vet! Ik kan dit niet aan!" 
40 minuten…
Je pupillen verwijden, je bloeddruk stijgt als reactie daarop pompt je lever meer suiker in je bloedbaan. De receptoren in je hersenen worden nu geblokkeerd en daarmee zijn ze onbruikbaar, je voelt je slaperig en suf worden..
45 minuten…
Je lichaam maakt dopamine aan om je hersenen een fijn gevoel te geven (dit is het gevaarlijke verslavende van suiker!).
60 minuten…
Het fosforzuur bindt calcium, magnesium en zink in de dikke darm, de hoge dosis suiker en kunstmatige zoetstoffen zorgen ervoor dat je nieren ontzettend veel werk moeten doen om dit alles uit te scheiden.
De caffeïne uit frisdrank zorgt er nog eens extra voor dat je meer moet plassen. De calcium, magnesium en zink die bedoeld was om je botten te versterken is nu gekoppeld aan fosforzuur en dit wordt je lichaam uit gegooid door je nieren. Jammer voor je botten.
Je begint je geïrriteerd te voelen. Op dit moment heb je al het vocht van de frisrank al eruit geplast, zonde, want je lichaam kan dat vocht ook als hydratatie gebruiken.
Dus dat
Twijfel je nog steeds of je een glas frisdrank wilt drinken? Ik zou het wel weten.