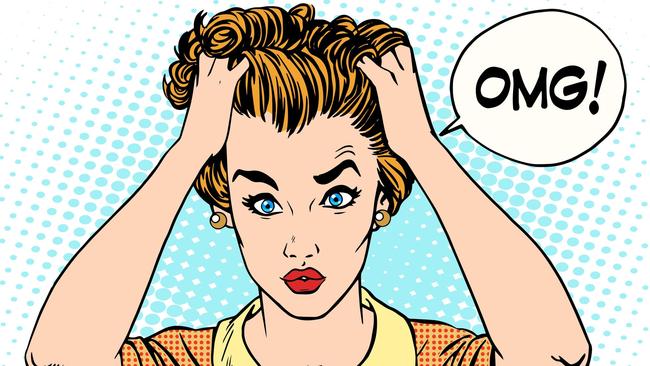 Ik heb vandaag 300 kcal teveel gegeten, dus morgen eet ik wel wat minder zodat het weer wordt gecompenseerd, toch?
Nee, nee en nog eens nee! Hoe 'logisch' dit ook zou klinken op papier, in theorie, hoe tegenstrijdig dit is volgens een hele andere, belangrijke reden.
Snap jij het nog?
Het hebben van een gezonde leefstijl (vul hier in wat dit voor jou betekent) gaat gepaard met het hebben van gezonde gewoontes. Hoe komen gewoontes tot stand? Door bepaald gedrag te herhalen, herhalen, herhalen en herhalen zodat het ineens binnen je gewoontes past en je er niet meer zoveel over hoeft na te denken.
"A habit becomes behavior after repetition"
Dus wanneer je gedrag voornamelijk bestaat uit:
TEVEEL ETEN -> OVERCOMPENSEREN MET TE WEINIG ETEN
Dan is het gevaar dat je dit steeds vaker gaat toepassen en dat precies dit je gewoonte wordt. En hierom, besteed je steeds minder tijd aan het ontwikkelen van gewoontes die juist bijdragen aan een gezonde leefstijl. Een gezonde leefstijl waarin je niet alleen fysiek gezond bent, maar ook mentaal. Als je niet de gezonde gedragingen herhaalt, hoe moeten deze dan ooit ontwikkelen tot de gezonde gewoonte die bijdraagt aan een gezonde leefstijl?
En misschien denk je nu wel;
Ik ben slimmer dan dat hoor.
Of:
Ik heb echt wel door wat ik wél als gewoonte wil en wat niet
Maar in de meeste gevallen doen we de meeste dingen in ons leven uit een bepaalde gewoonte die we hebben aangeleerd. Of we die onszelf hebben aangeleerd of de maatschappij of onze opvoeders; over de meeste dingen denken we niet eens meer echt na. Geloof me: herhaling van gedrag verandert in een gewoonte waar je niet meer over nadenkt.
Dus wees voorzichtig met welk gedrag je herhaalt, je wordt namelijk beter in de dingen die je keer op keer doet.
Om even een voorbeeld te creëeren heb ik twee plaatjes gemaakt om te laten zien hoeveel tijd in totaal kwijt is aan het besteden van werken aan de ene gewoonte (jo-jo-en, overeten + weer te weinig eten ter compensatie) en aan de andere gewoonte (gezonde eetgewoontes creëeren, dus gewoon 'voldoende eten').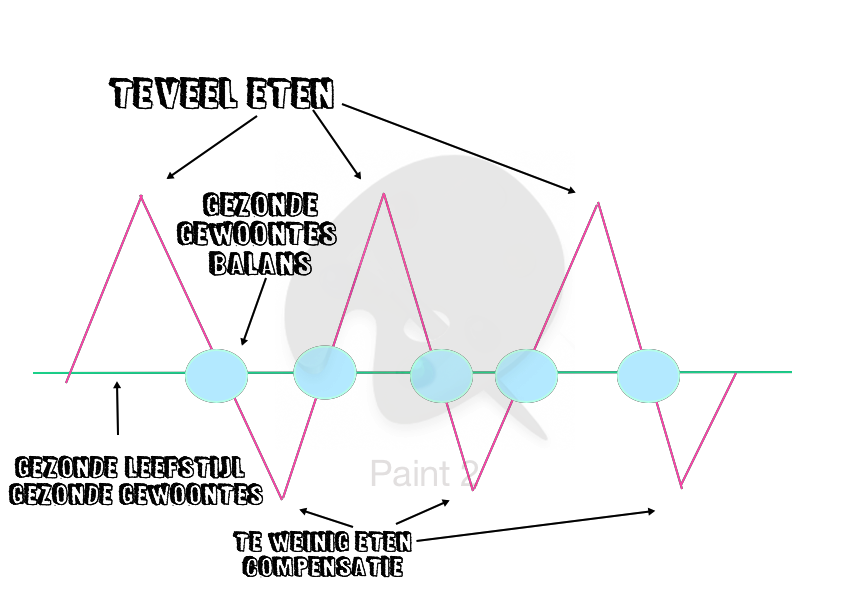 De groene lijn geeft de tijd, de roze en blauwe figuren geven weer hoeveel tijd je in welke mindset en herhaling van gedrag je zit. Als je kijkt naar hoeveel ruimte de roze driehoeken innemen op de groene lijn ten opzichte van de blauwe cirkels, wordt duidelijk dat je met teveel eten gevolgd door compensatie met te weinig eten voornamelijk dat gedrag aan het herhalen bent. Dat is namelijk het grootste gedeelte van de groene lijn. De blauwe cirkels komen maar eventjes voor, niet lang genoeg om er een gewoonte van te maken.
Streven naar het volgende zou ik absoluut adviseren: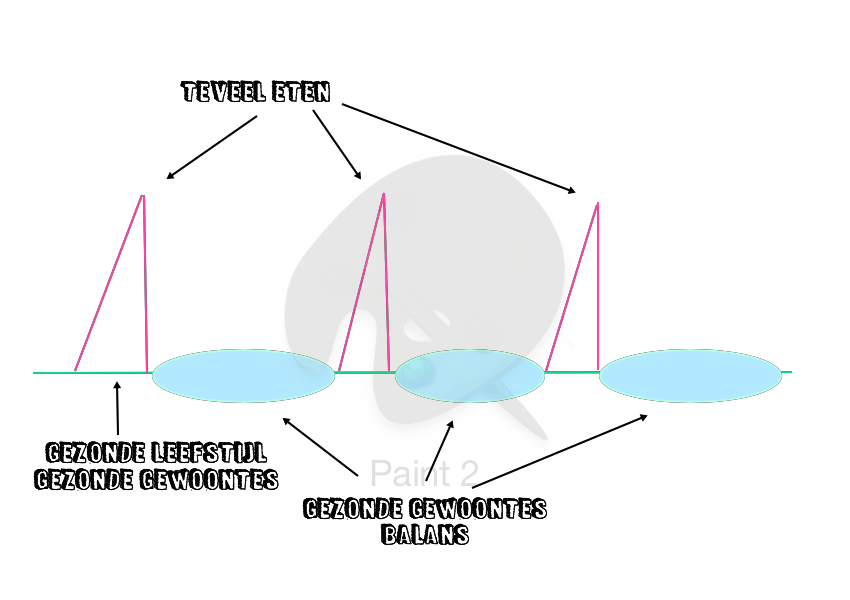 Je eet teveel en gaat direct weer terug naar de groene lijn van normaal doen. Gezond eten, gezond gedrag. Hierdoor nemen de blauwe cirkels nu het grootste gedeelte van de groene lijn in beslag en dat is goed. Want dit gedrag wil je herhalen tot het een gewoonte wordt. Oftewel:
Het doel zou moeten zijn dat je direct terugvalt op je normale en gezonde eetgewoontes nadat je een keer 'uit de bocht bent gevlogen', je wilt zoveel mogelijk tijd op die lijn zitten zodat dát uiteindelijk een langdurige gewoonte wordt. Je wilt zo min mogelijk tijd in die pieken en dalingen zitten van extreem hard sporten en extreem weinig eten ter compensatie van teveel eten.
Je laat het verleden het verleden zijn en dit laat je niet je huidige leven óf de toekomst negatief beïnvloeden. Er is geen fout die je maakt, het hoort allemaal bij het proces van het aanleren van nieuwe, gezonde eetgewoontes. En logisch dat het af en toe even anders gaat dan je misschien wilt, niets gaat in één keer perfect, het is een kwestie van het gewenste gedrag zovaak mogelijk herhalen. Opstaan nadat je valt.
En wanneer je dat onder de knie krijgt, ga je veel relaxter door het leven heen. Eet je relaxter, sport je relaxter en wordt niets een verplichting of een straf.