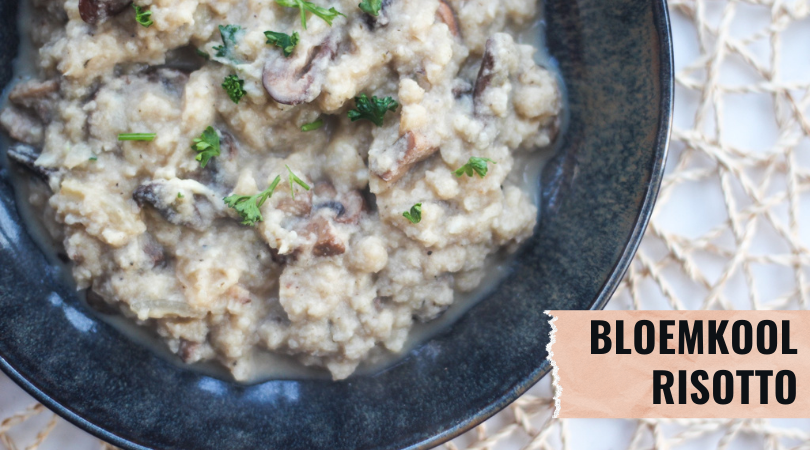 Risotto, een gerecht dat rechtstreeks naar mijn hart gaat. Eigenlijk maak ik het zelf nooit klaar, ik bestel het altijd buitenshuis. Maar ik besloot het op een random door-de-weekse avond het te maken alleen dan een tikkeltje anders natuurlijk: met bloemkoolrijst – my favorite!
Wat heb je nodig voor 4 personen?
300 gram bloemkoolrijst (bloemkool in de keukenmachine doen of raspen kan ook)
200 gram champignons
1 ui, gesnipperd
2 teentjes knoflook, fijngehakt
1 blokje kippen- of groentebouillon
verse of gedroogde tijm
60 ml droge witte wijn
zout en peper
olijfolie (3 eetlepels, mag altijd meer of minder)
4-5 eetlepels parmezaanse kaas, geraspt
Verhit wat olie (1 eetlepel is voldoende) in een pan en bak hierin de helft van de champignons tot ze zacht en bruin zijn geworden. Haal de champignons uit de pan en zet ze opzij op een bord. Doe dit nogmaals met de volgende helft champignons en zet ze vervolgens opzij.
Bak vervolgens de ui, knoflook en gedroogde tijm in de pan (voeg eventueel nog wat olie toe) tot de ui glazig is geworden. Voeg de wijn toe om het af te blussen.
Voeg de bloemkoolrijst toe, meng het even door elkaar en vul de pan vervolgens met water (zo'n 300ml) en het bouillon blokje. Zet het vuur hoog tot alles kookt, blijf roeren en zet het vuur vervolgens laag om het te laten sudderen.
Als de bloemkool zacht is geworden, giet je het geheel af (bewaar het vocht).
Doe een kwart van de bloemkoolrisotto terug in de pan, doe de rest in een blender met zo'n 100 ml van het uitgelekte vocht. Blend het geheel tot en romig en zacht is geworden. Voeg eventueel wat extra vocht toe als het te dik is en blend tot het de perfecte structuur heeft voor jou.
Doe dit terug in de pan bij het ongeblende deel. Hierdoor krijg je een heerlijke mix van romigheid maar ook een beetje textuur in plaats van een soep of alleen maar bloemkoolrijststructuur.
Meng het goed door, zet het op een laag vuur en voeg de champignons toe. Breng het op smaak met peper en zout (meestal geen zout nodig door de bouillon).
Voeg als laatste nog de parmezaanse kaas toe en blijf roeren tot de kaas heerlijk door het gerecht is gesmolten.
Garneer je risotto met wat peterselie en/of lenteui en extra kaas! ENJOY!