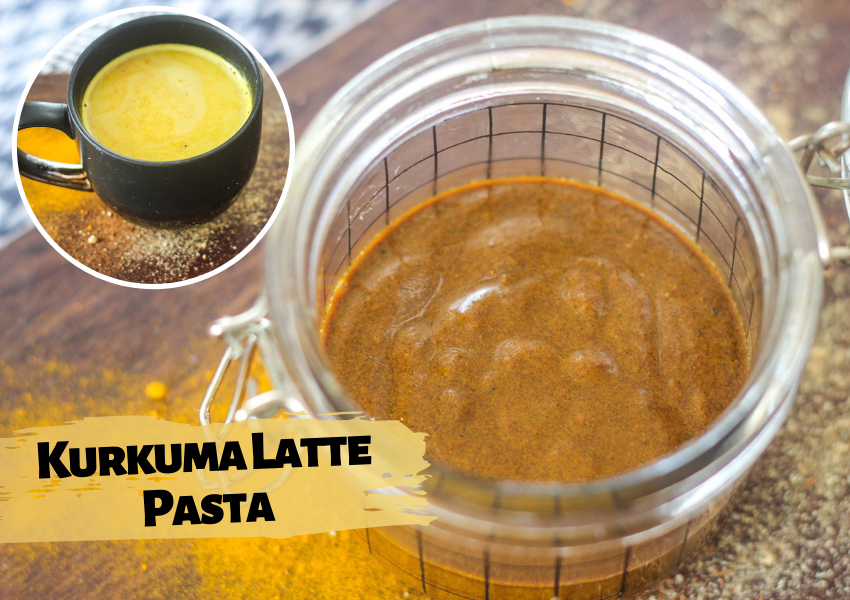 Als het ook maar een paar dagen grauw weer is met regen dan wil ik alleen maar hartverwarmende maaltijden en drankjes – de hele dag door. Zoals ook vandaag.
Ik had zo'n zin in een kurkuma latte, ook wel "Golden Milk" genoemd, tot ik ineens op het idee kwam om er een soort pasta van te maken. Net zoals vele Oosterse kruidenmixjes ook tot pasta's worden gevormd zou dat natuurlijk ook met een kruidenmix voor in je koffie of warme melk kunnen toch?
Bespaart weer een hoop tijd en maakt het extra leuk om zo'n warm drankje te drinken!
Wat heb je nodig voor? (Deze pasta zal 3 weken meegaan als je 2 x per week een kopje kurkuma latte drinkt)
4 eetlepels kurkuma
2 eetlepels kaneel
2 theelepels gemberpoeder
mespuntje nootmuskaat (optioneel)
2 theelepels zwarte peper
4 eetlepels kokosolie, gesmolten
4 eetlepels maple syrup of honing
Doe alles bij elkaar in een kommetje en meng het door elkaar met een vork. Mocht het geheel te dik zijn, doe er dan 1 of 2 theelepels heet water bij, maar dit is vaak niet nodig. Mocht het te dun zijn, doe er dan wat kurkuma en kaneel bij. In principe is het niet heel erg als het een beetje te dun of te dik is omdat je het toch gaat mengen met melk om het te gebruiken.
Giet alles over in een potje die je goed kunt sluiten en bewaar dit in de koelkast. Als je er een kopje kurkuma latte mee wilt maken doe je simpelweg een eetlepel in een pannetje waar je vervolgens 250 ml (plantaardige) melk overheen giet. Tijdens het aan de kook brengen roer je het er goed door en 3-4 minuten later heb je een heerlijke hartverwarmende kurkuma latte!
De pasta is ongeveer een maand goed als je hem in luchtdichte pot in de koelkast bewaard.