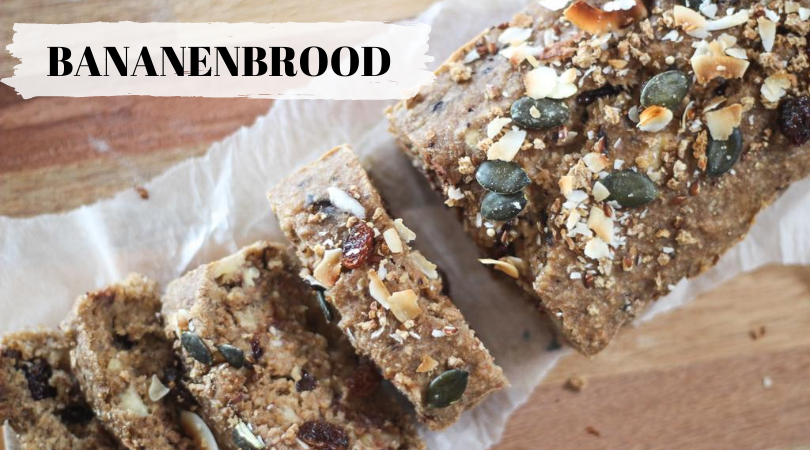 Het is tijd voor een nieuw bananenbrood recept, nét wat anders dan mijn originele versie – maar absoluut heerlijk voor de afwisseling! Dit is de versie die ik het 'alles erop en eraan' bananenbrood noem omdat het werkelijk zoveel lagen van smaak kent – niet enkel de bananensmaak of chocolade die erdoor te proeven is – nee, veel meer!
Wat heb je nodig?
1 ei
3 medium rijpe bananen (ongeveer 400 gram banaan), geprakt
65 gram pindakaas of amandelpasta
40 ml kokosolie
100 gram kokosbloesemsuiker of gewone suiker
30 ml honing of maple syrup
1/2 theelepel zout
130 ml plantaardige melk (ik heb amandelmelk gebruikt)
10 gram bakpoeder
180 gram amandelmeel (of gewoon amandelen fijnmalen in de keukenmachine)
200 gram volkoren tarwemeel
100 gram havermout
Lekkers voor erdoor of erop, optioneel:
handje pecannoten of walnoten
maximaal 1 eetlepel chiazaad (dit bindt zich aan het vocht)
24 gram pure chocolade, gehakt
handje rozijnen
pompoenpitten
kokosvlokken
lijnzaad
Verwarm je oven voor op 180 graden Celsius. Vet een cakeblik in of plaats er een velletje bakpapier in. Doe alle natte ingrediënten bij elkaar in een kom of in de keukenmachine: ei, banaan, pindakaas, kokosolie, honing, en plantaardige melk. Meng dit door met een vork of zet de keukenmachine aan tot alles goed gemengd is.
Doe de droge ingrediënten bij elkaar in een kom: zout, bakpoeder, amandelmeel, volkoren tarwemeel, havermout. Meng dit met een vork en voeg het dan in batches toe aan de kom met natte ingrediënten tot alles goed gemengd is. Je kunt nu al wat van je 'lekkers' lijstje erdoor mengen, bewaar wat voor bovenop.
Giet het geheel over in de cakeblik en zet dit in de voorverwarmde oven voor 1 uur tot 1 uur en 20 minuten, afhankelijk van hoe sterk je oven is. Haal de bananenbrood na zo'n 50 minuten even uit de oven, check met een saté prikker hoe ver hij is (als de prikker er schoon uitkomt, hoeft hij nog maximaal 10 minuten in de oven, als hij heel nat is – dan heeft hij nog wel een half uur nodig) en verspreid je toppings bovenop het bananenbrood. Zet het terug de oven in tot hij gaar is.
Als het bananenbrood gaar is dien je hem nog even 10 minuten in de cakeblik af te laten koelen voor hij eruit kan en je ervan kunt smullen. Enjoy!!