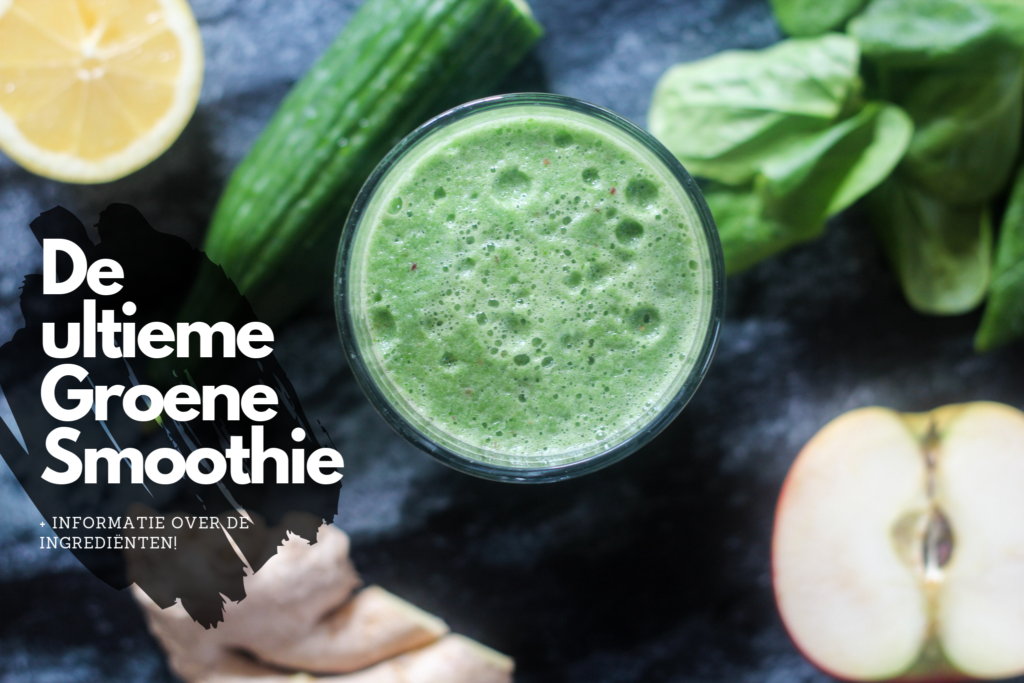 Groene smoothies kun je op talloze manieren maken en wat mij betreft zijn er helemaal geen regels voor! Zolang ze misschien groen zijn? Dat is heel makkelijk te creëeren, door wat groene bladgroenten. De rest van de ingrediënten kun je helemaal zelf bepalen – naar wat je lekker vindt, wat je nodig hebt of wat je gewoon binnen wilt krijgen zonder teveel poespas. Smoothies zijn echt fantastisch en ik deel graag mijn ultieme groene smoothie met je!
Wat heb je nodig voor 2 smoothies?
1 selderij stengel
1/3 komkommer
1 handje spinazie
1-2 cm gember
1/2 appel, welke jij het lekkerst vindt
1/2 citroen, uitgeperst
Water of kokoswater – 300 – 400 ml
optioneel: 1 gram spirulina poeder
optioneel: 20 gram plantaardige eiwitpoeder – ik heb hem zonder eiwitpoeder gemaakt vandaag.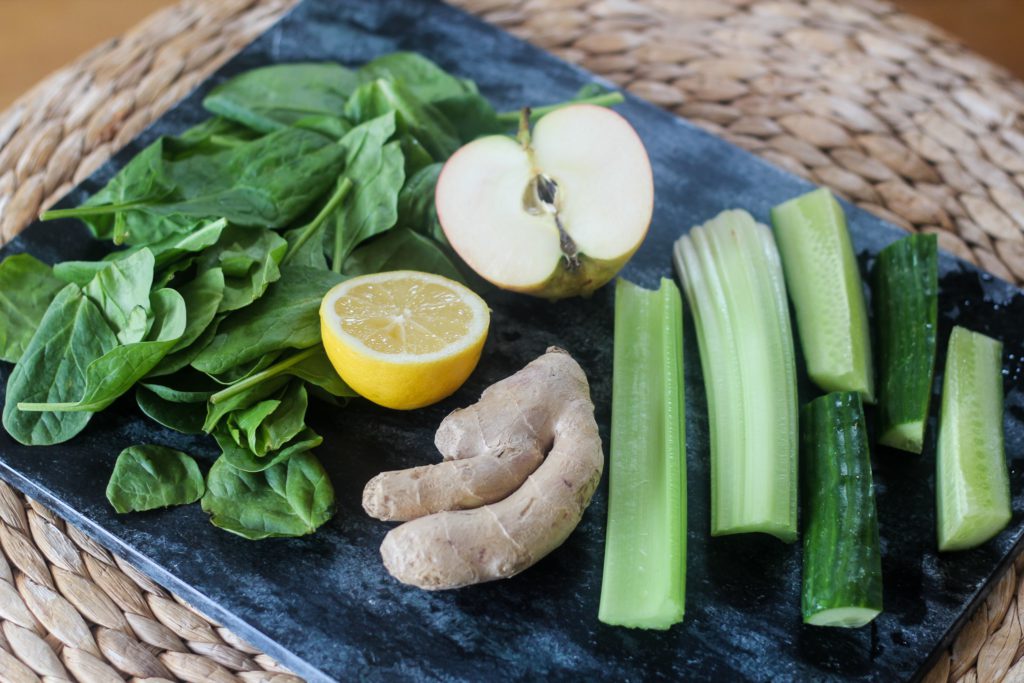 Het recept is te makkelijk; doe alles bij elkaar in een blender en gaan! Je kunt natuurlijk zelf nog spelen met hoe dik je hem wilt door er meer of minder (kokos)water bij te doen.
Waarom deze smoothie zo gezond is?
Selderij bevat:
Vitamine A, K en C
Bètacaroteen
Flavonoïden
Calcium
IJzer
Magnesium
Fosfor
Kalium
Komkommer bevat:
Vitamin C
Vitamin K
Magnesium
Kalium
Mangaan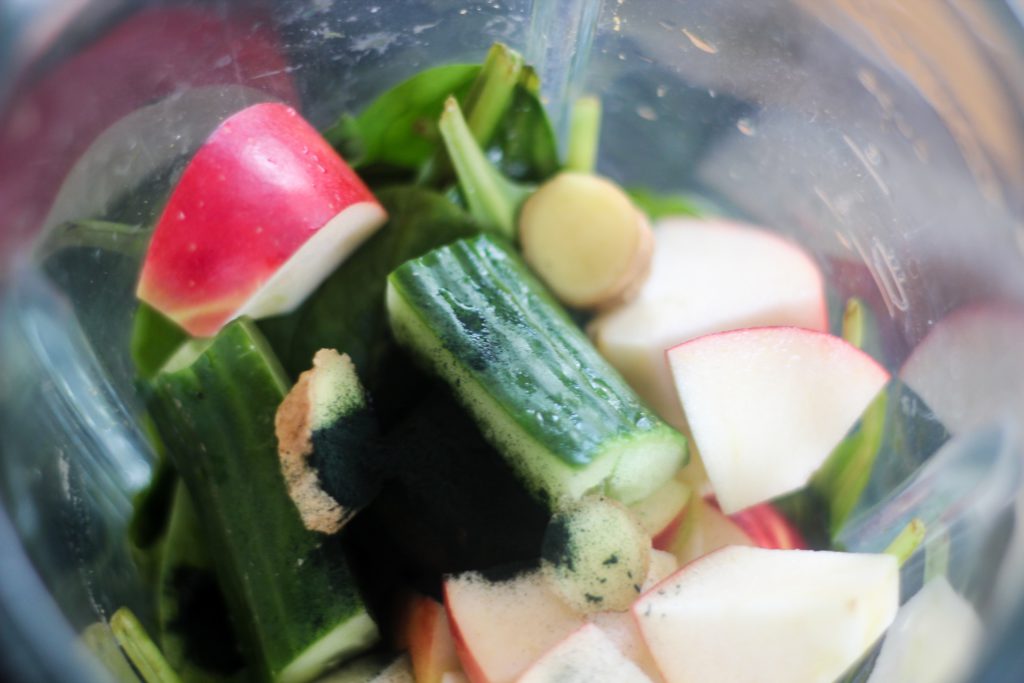 Spinazie bevat:
Vitamine A
Vitamine C
Vitamine K1
Foliumzuur
IJzer
Calcium
Kalium
Magnesium
Vitamine B6
Vitamine B9
Vitamine E
Gember is:
Ontstekingsremmend 

(1)

Verlaagd de suikerspiegel (7)
En zoveel meer..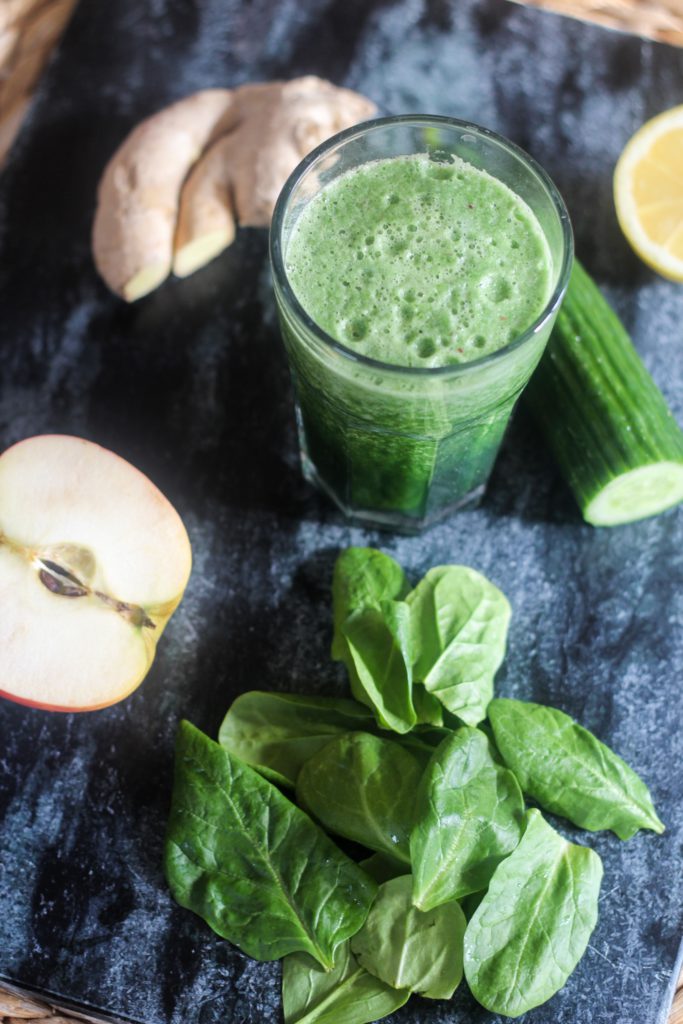 Appel bevat:
Vitamine C
Kalium
Meer vitamines en mineralen maar in een lage hoeveelheid vergeleken met de andere ingrediënten in deze smoothie.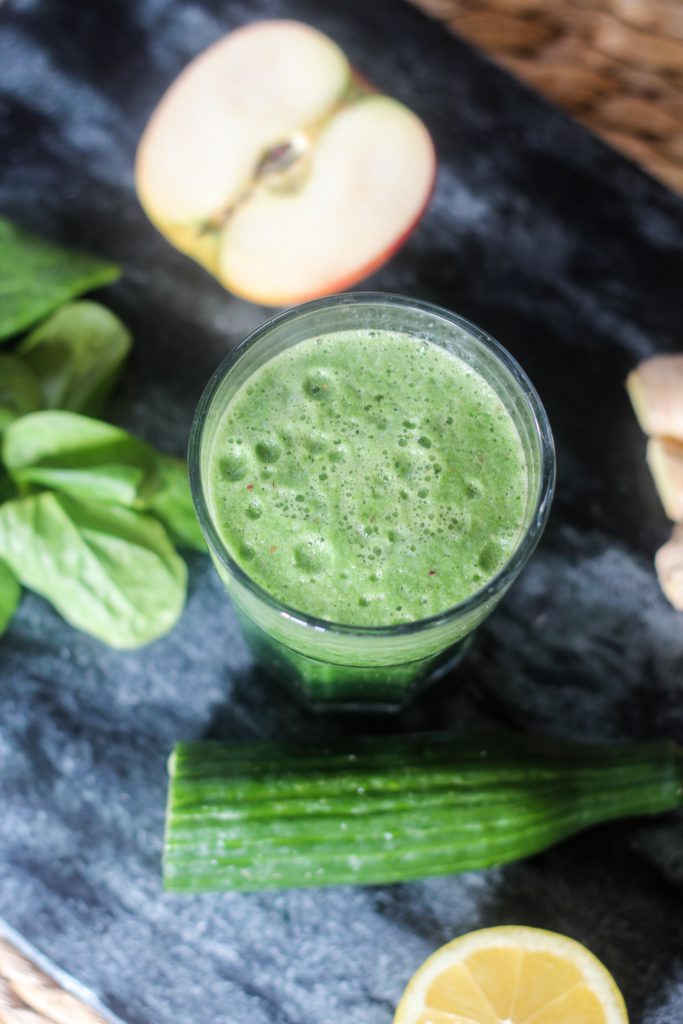 Citroen bevat:
Vitamine C
Kalium
Vitamine B6
Kokoswater bevat:
Vitamine C
Magnesium
Mangaan
Kalium
Calcium
Natrium
Spirulina
Spirulina is zo goed voor je dat ik je doorverwijs naar het artikel dat ik er eerder over schreef, hier staat alles wat je moet weten over spirulina!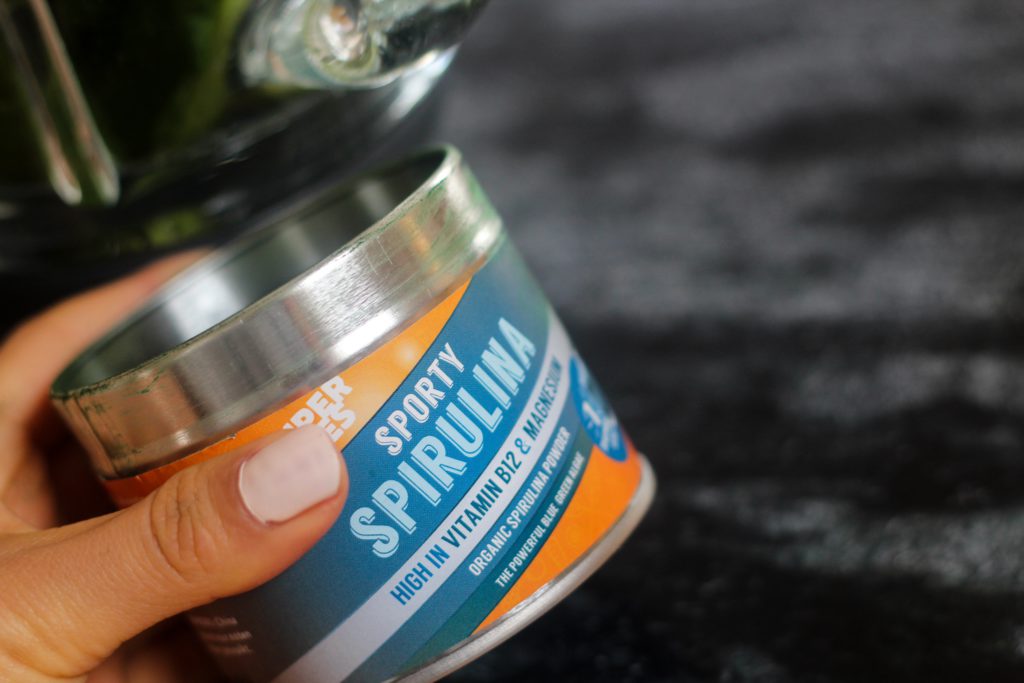 Een ultieme vitamine C bom!
Zoals je ziet is dit een ultieme groene smoothie en voornamelijk omdat zo goed als elk ingrediënt vitamine C bevat, naast alle andere geweldige vitamines en mineralen. Dat betekent dat je een enorme boost geeft aan je immuunsysteem door deze smoothie van tijd tot tijd te drinken! Jum!
PS: Vinden jullie de nieuwe vorm van recepten fijn? Waarin ik informatie geef over de ingrediënten in plaats van enkel het recept deel. Ik denk namelijk dat je hierdoor veel eerder geneigd bent iets wel/niet te maken omdat je weet wat het eventueel teweeg kan brengen in plaats van dat het alleen lekker klinkt of lekker eruit ziet. Dit deed ik laatst ook met de Spirulina Smoothie. Laat het weten in de comments!