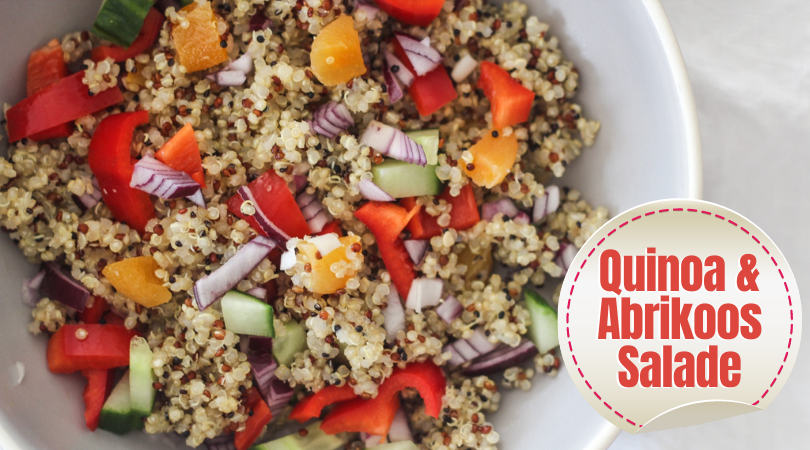 Friss voedzame salades zijn een must voor mij in de lente en zomer. Vooral salades die je kan klaarmaken voor de dag erna, in een bakje mee kunt nemen of juist verspreid over meerdere dagen kunt eten.
Oftewel: salades die niet 'drapperig' worden! Volgens mij bestaat dat woord niet, maar iedereen snapt meteen wat ik bedoel, haha. 
Deze quinoa & abrikoos salade is precies dat! Heerlijk fris en knapperig!
Wat heb je nodig voor 2 personen?
100 gram quinoa
1/4 blokje bouillon
1 zoete punt paprika, in stukjes gesneden
200-300 gram komkommer, in stukjes gesneden
1 rode ui, gesnipperd
sap van 1/2 citroen
peper en zout naar smaak
10 gedroogde abrikozen, in stukjes gesneden
Kook de quinoa volgens de verpakking met de bouillon. Als deze gekookt is, verplaats je het naar een koekenpan (eventueel met een scheutje olie, maar dit hoeft niet omdat we het slechts even bakken). Voeg hier de in stukjes gesneden abrikozen aan toe zodat ze mee opgewarmd worden. Hierdoor worden ze lekker zacht en komt er al wat aroma van vrij. Blijf regelmatig roeren zodat de quinoa niet gaat plakken aan de pan.
Na 3-4 minuten meebakken kun je alle ingrediënten bij elkaar in een kom doen. Voeg meer citroensap toe als je dat lekkerder vindt en eventueel peper en zout naar smaak.
PS: Vaak gebruik ik tomaat in salades, maar omdat dat de salade nat kan maken als je het wilt bewaren, gebruik ik paprika – dat blijft lekker knapperig! Voeg gerust tomaat toe als je het meteen opeet 😉
Laat het even afkoelen of eet het warm – het kan allebei en is beide heerlijk! Enjoy!