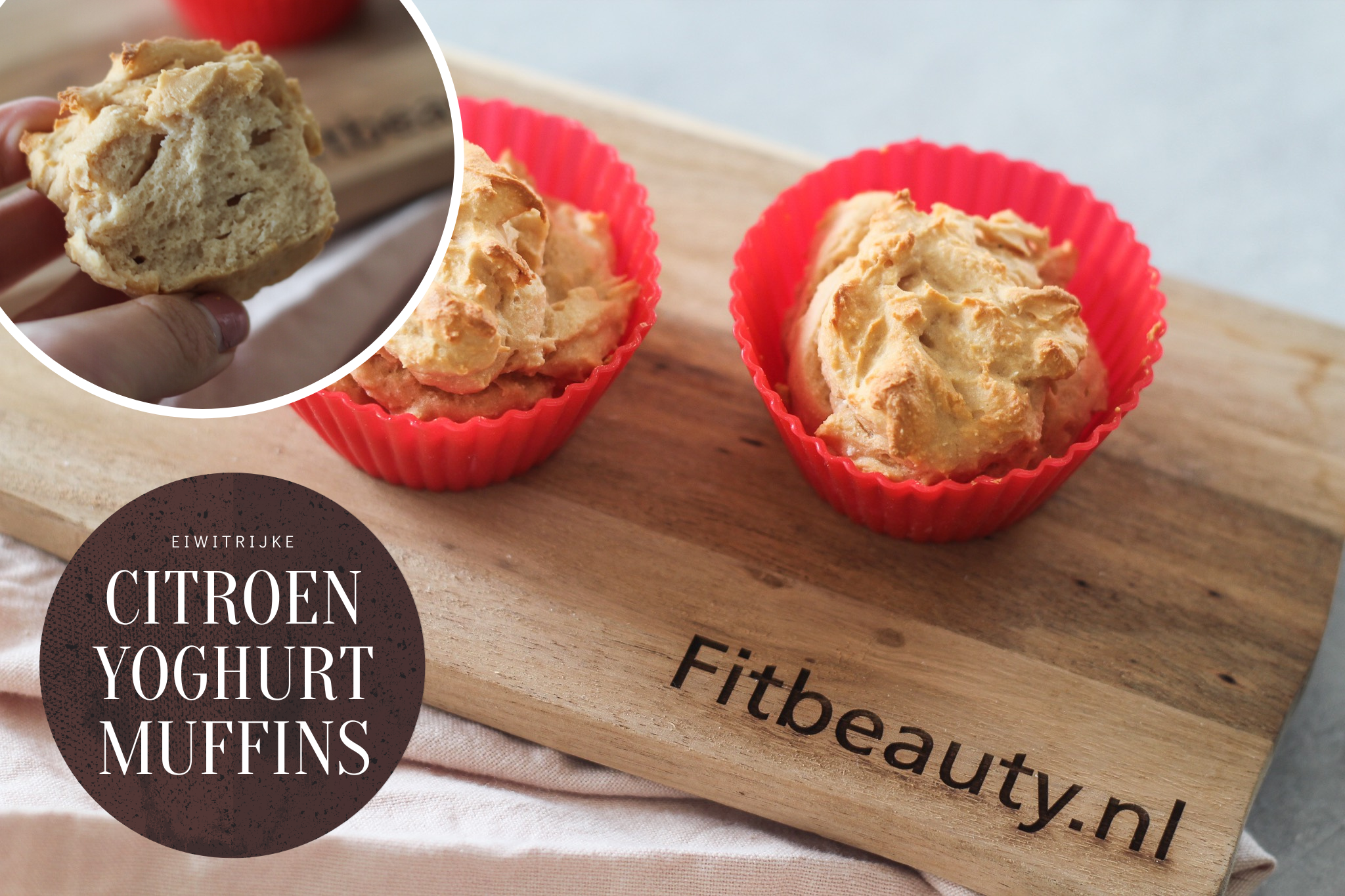 Zelfgemaakte muffins en snacks maken me altijd zó blij! Misschien heeft het wel te maken met het proces van bakken dat me kalmeert tegelijkertijd met dat ik de juiste ingrediënten toevoeg die mijn lichaam gaan voeden.
Begrijp me niet verkeerd, een 'gewone' muffin gaat er ook met liefde in, maar een voedendere (dat is geen woord, haha) muffin doet me ook erg goed!
Wat heb je nodig voor 2 muffins?
2 eiwitten van een ei
1 eetlepel citroensap
20 gram yoghurt of (magere) kwark
25 gram (vegan) eiwitpoeder, vanille smaak
3 gram kokosmeel of amandelmeel
mespunt bakpoeder
optioneel: 1 eetlepel honing of maple syrup
Je ziet het goed, dit recept is voor 2 muffins. Dat kwam omdat ik dacht meer kwark/yoghurt in huis te hebben maar helaas tot de realisatie kwam dat mijn bak al bijna op was. Dus als je er meer wilt maken, vermenigvuldig het recept dan met jou gewenste hoeveelheid. Maar misschien zijn 2 muffins ook helemaal top! 
Verwarm de oven voor op 170 graden Celsius. Voeg alle ingrediënten samen in een kom en meng dit met een vork tot er een dikke massa ontstaat. De muffins krijgen alleen wat 'zoetheid' mee van het eiwitpoeder, mocht je het wat zoeter willen hebben dan kun je er een eetlepel honing of maple syrup doorheen mengen.
Verdeel deze over 2 muffin vormpjes en zet dit voor 25-30 minuten in de voorverwarmde oven. Afhankelijk van hoe sterk jouw oven is én of je yoghurt/kwark dik of vloeibaar is.
Prik met een satéprikker in je muffin, als deze er schoon uit komt dan is je muffin klaar! Zo niet, dan moet hij nog even in de oven blijven (check elke 3-4 minuten na een half uur in de oven)
Kopje koffie erbij en genieten maar!