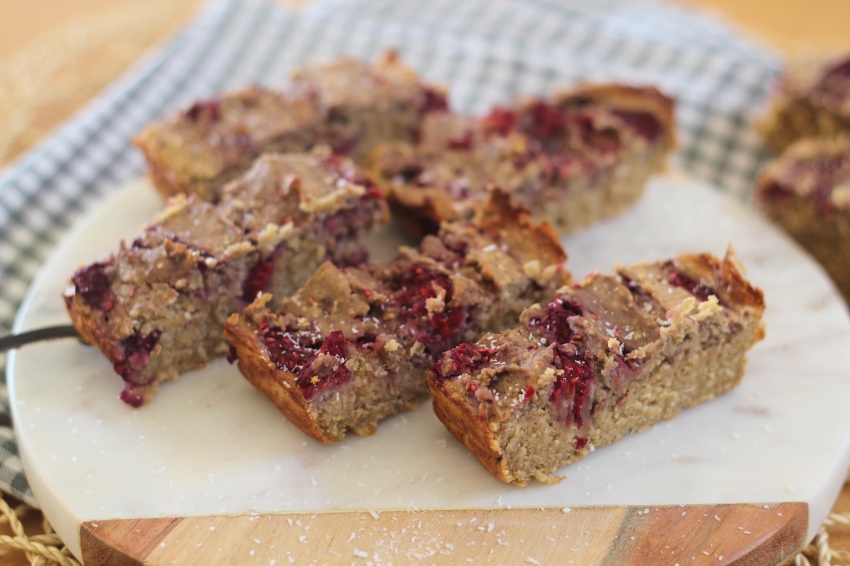 Wanneer je zin hebt in fruitig gebak maar wel 'gezond' wilt snacken dan is dit de cake voor jou! En voor de mensen die ook nog op hun suikerspiegel letten of het fijn vinden om er rekening mee te houden; deze cake is eiwitrijk waardoor je suikerspiegel stabiel blijft. Oftewel; je zit langer vol!
WIN-WIN-WIN lijkt me! Laten we gauw naar het recept. 
Wat heb je nodig voor één cake? (12 personen ongeveer)
75 gram havermout
75 gram eiwitpoeder, vanille (ik gebruik vegan eiwitpoeder)
1 theelepel bakpoeder
1 ei
1 theelepel vanille extract
1 banaan, geprakt
2 eetlepels maple syrup of honing
120 ml plantaardige melk (ik gebruik amandelmelk)
handje (diepvries)frambozen (zoveel je zelf wilt)*
*Je kunt ook ander rood fruit gebruiken natuurlijk! 
Verwarm de oven voor op 180 graden Celsius. Doe de natte ingrediënten (behalve de frambozen) bij elkaar in de keukenmachine, of prak de banaan eerst met een vork in een schaal en doe vervolgens de andere natte ingrediënten erbij. Meng het door met de vork.
Doe vervolgens alle droge ingrediënten in een aparte schaal, meng dit door elkaar met een vork en voeg het vervolgens toe aan de natte ingrediënten. Als je een keukenmachine hebt gebruikt, mix (of meng het met een vork) het geheel een minuut of twee tot het een mooi beslag is geworden.
Plaats een velletje bakpapier in het cakeblik en verplaats het beslag naar het blik. Voor het gemak kun je even een elastiekje eromheen doen zodat het velletje bakpapier niet verplaatst. Niet vergeten het elastiek er weer af te halen voordat je het in de oven plaatst, anders smelt het eraf!
Doe vervolgens de frambozen erbij (eventueel in kleinere stukjes gesneden) en meng dit met een vork of lepeltje door het geheel in het cakeblik.
Plaats de cake in de voorverwarmde oven voor zo'n 25-45 minuten, afhankelijk van de sterkte van je oven. Check in ieder geval even na 25 minuten of de cake gaar is door er met een vork in te prikken. Komt de vork er schoon uit? Dan is hij klaar! Blijven er nog wat 'nattige' stukjes aan plakken? Dan moet de cake nog langer in de oven.
En wanneer hij dan eindelijk klaar is, kun je bijna aanvallen! Eventjes kort afkoelen en vervolgens nog wel warm opeten met een schep Griekse yoghurt ernaast en kokosrasp eroverheen bijvoorbeeld (mijn lievelings!).
Eetsmakelijk!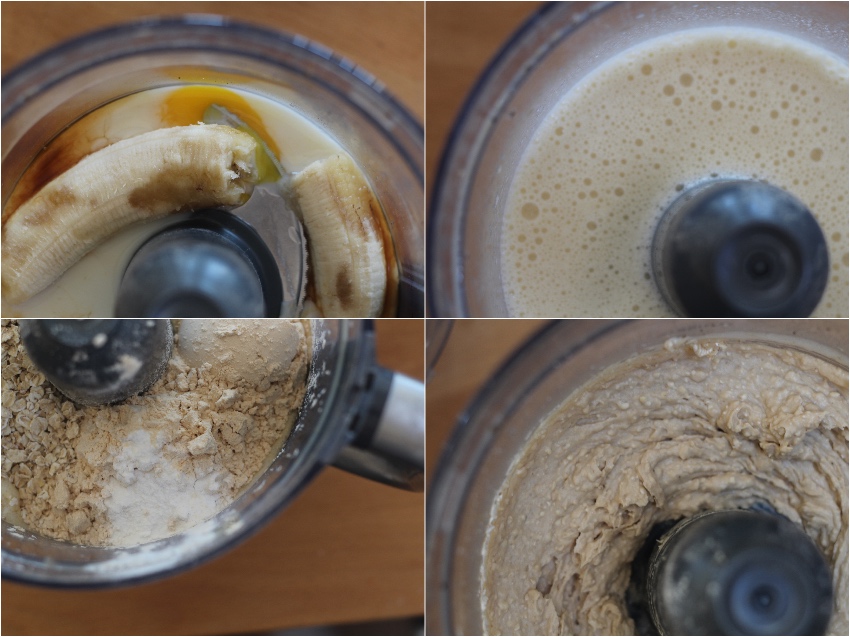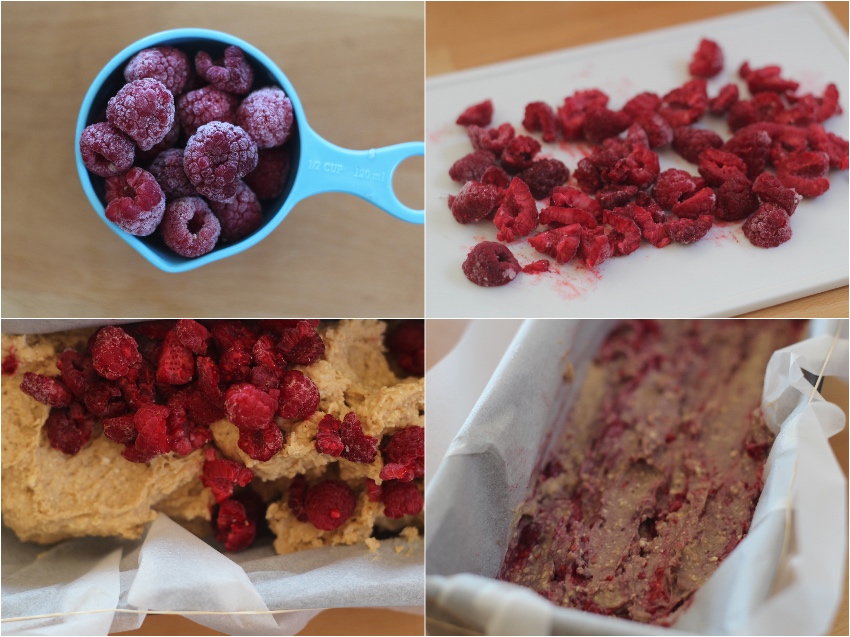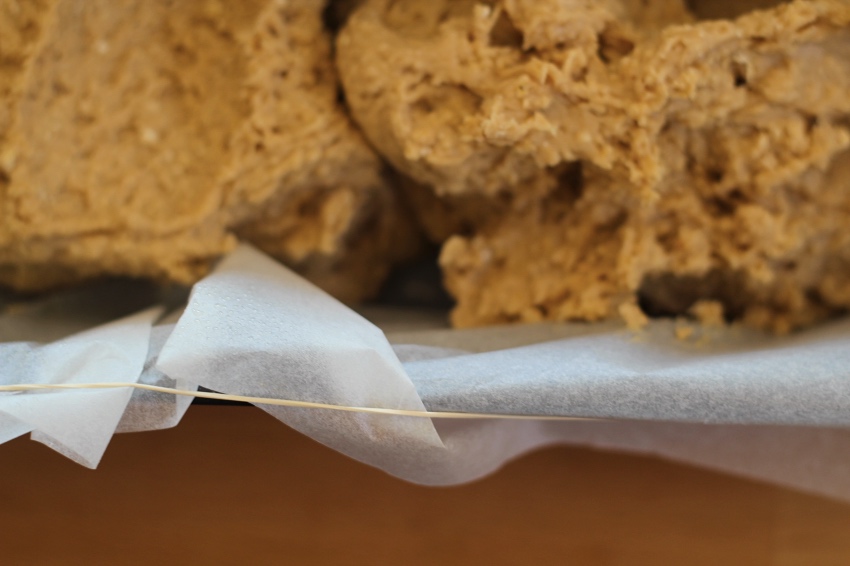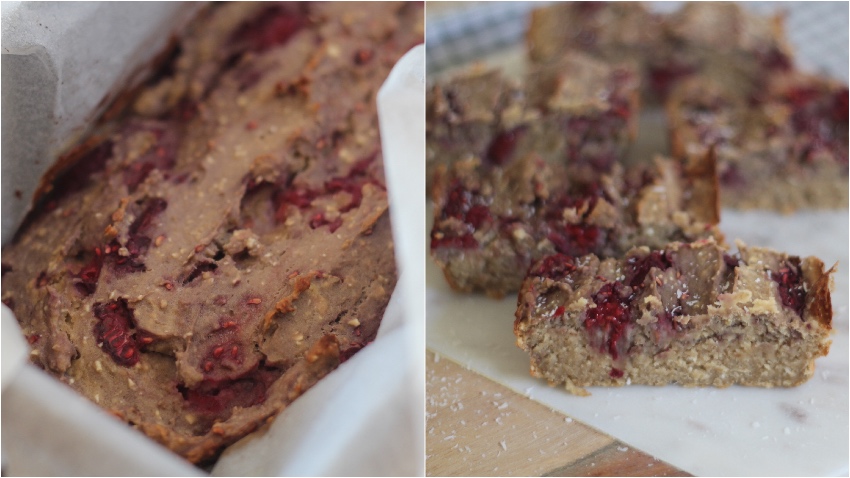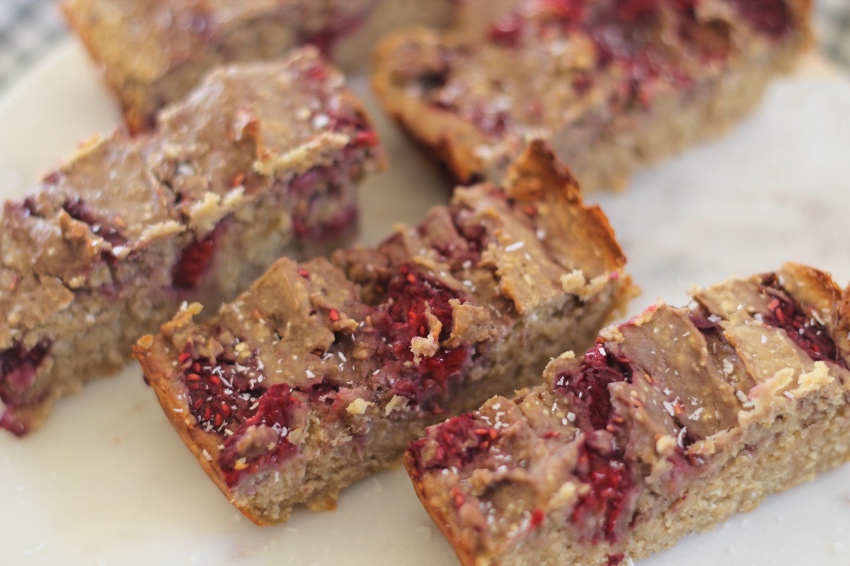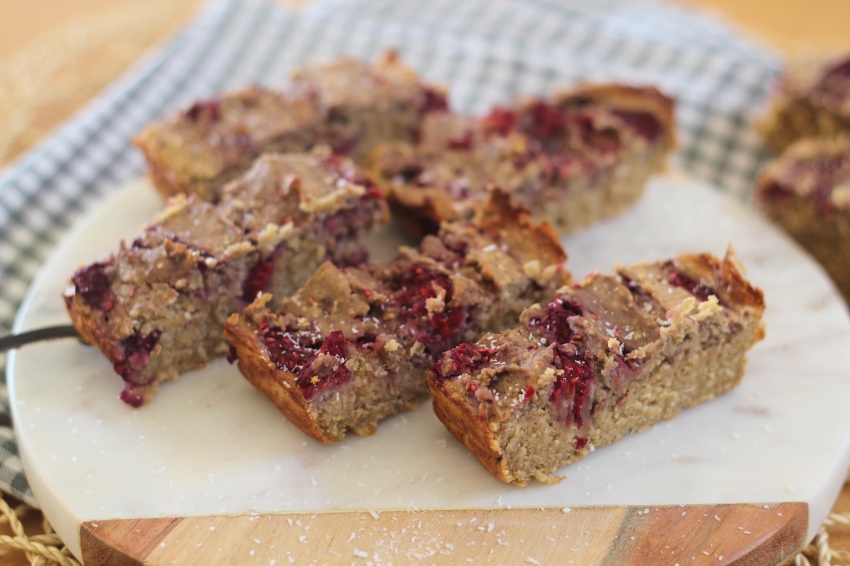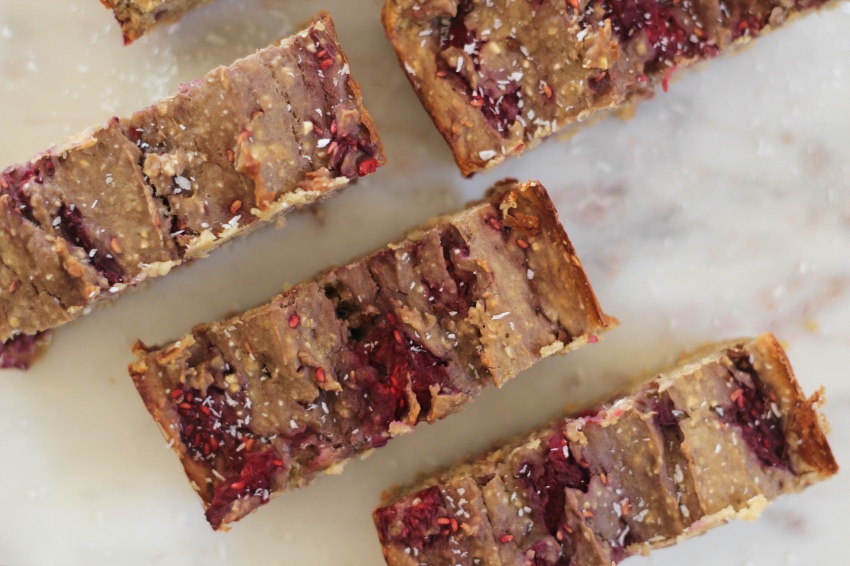 BewarenBewaren