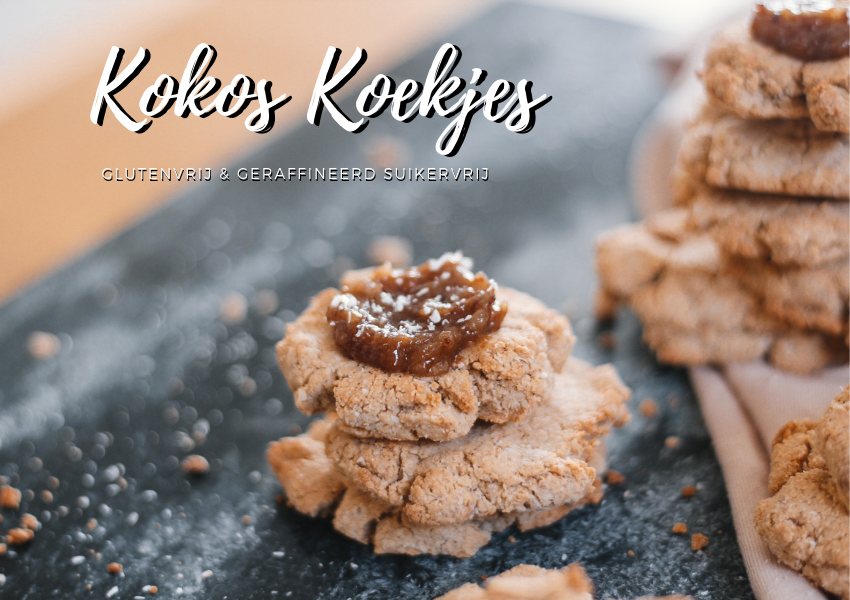 Koekjes worden nooit saai voor mij. Vooral wanneer ik ze zelf mag maken en kan experimenteren met de ingrediënten die ik er graag in wil hebben. Gezonde ingrediënten die niet alleen lekker zijn, maar ook mijn lijf voeden.
Zo kwamen deze heerlijke kokos koekjes tevoorschijn! Eiwitrijk, voedend, geraffineerd suikervrij en mocht het je uitmaken; ook glutenvrij. 
Wat heb je nodig voor zo'n 12 koekjes?
65 gram (vegan) eiwitpoeder, vanille
55 gram kokosmeel
65 gram pindakaas of amandelpasta
3 eetlepels kokosschaafsel
1/2 theelepel bakpoeder
snufje zout
1 eiwit
2 eetlepels honing of maple syrup
1 theelepel vanille extract
120 ml kokosolie, gesmolten
5-6 dadels, geweekt in warm water voor 10 minuten
Verwarm de oven voor op 180 graden Celsius. Doe alle droge ingrediënten (eiwitpoeder, suiker, kokosmeel, kokosschaafsel, bakpoeder, zout) bij elkaar in een kom en meng dit door met een vork. Doe alle 'natte' ingrediënten (eiwit, honing, vanille, kokosolie) behalve de dadels, in een aparte kom en meng dit met een vork.
Vervolgens kunnen de natte ingrediënten bij de droge en is het een kwestie van goed mengen met een vork tot er een koekjes beslag ontstaat. Je kunt ook alles in een keukenmachine gooien om zo tot een mooi beslag te komen.
Plaats een velletje bakpapier op de ovenplaat en plaats hier het koekjesdeeg, verdeeld over 12 koekjes, op. Plaats de bakplaat in de oven en bak de koekjes af in ongeveer 7 tot 13 minuten, afhankelijk van je oven!
In de tussentijd doe je de uitgelekte dadels in een keukenmachine met 1-2 eetlepels van het water waar ze in hebben geweekt om zo een soort 'caramel smeersel of dadelspread' te krijgen. Als de koekjes vervolgens uit de oven zijn en even zijn afgekoeld, smeer je de ' dadelspread' op elk koekje en smullen maar! Doe dit alleen bij de koekjes die je gaat eten aangezien je de koekjes moeilijk kunt bewaren met zo'n heerlijke plakkerige laag bovenop.
Ik zou zeggen: smullen maar! Bij mij waren ze binnen 3 dagen op. Ik zou ze per koekje in aluminiumfolie in de koelkast bewaren, tot maximaal een week!