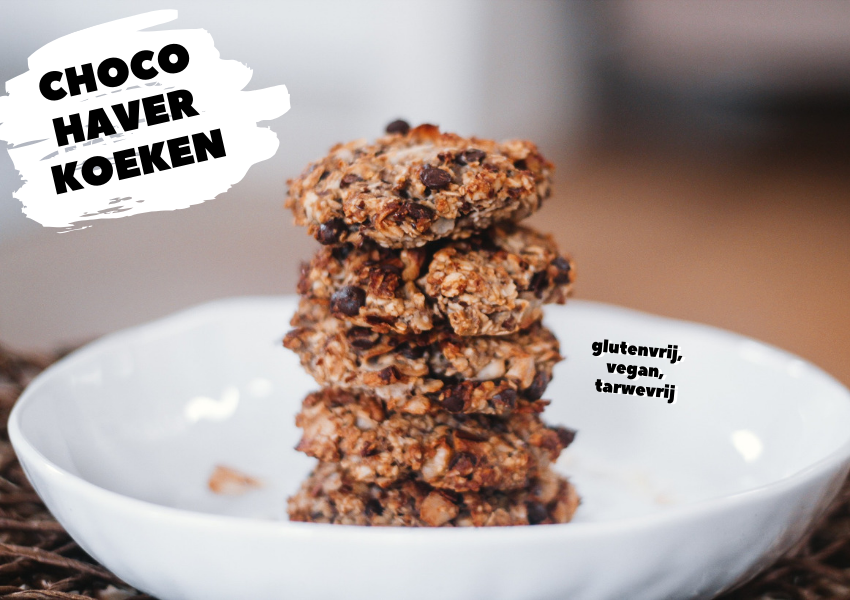 De oven is weer flink gebruikt de afgelopen dagen en daar zijn wat mooie en minder mooie dingen uit gekomen. Alles wat mooi is komt als recept op de site en alles wat niet mooi is komt in een Foto Dagboek of op Insta Story voorbij, haha.
Vandaag goed gelukte héérlijk gezonde chocolade haver koeken! Geen koekjes, maar KOEKEN! Lekker groot en bros bomvol goeds voor je lichaam in plaats van kant-en-klare supermarktkoekjes vol zooi (geraffineerd suiker, witte bloem, conserveermiddelen etc.). Verwarm je oven vast voor en laten we aan de slag gaan!
Wat heb je nodig voor 8 grote koeken?
100 gram havermout
60 gram gemengde noten, gehakt
20 gram kokossnippers of kokosrasp
handje (vegan) chocolade, gehakt (of chocolate chips)
2 eetlepels lijnzaad
20 gram (vegan, vanille) eiwitpoeder of kokosmeel (als je geen eiwitpoeder gebruikt)
3 eetlepels ahornsiroop/maple syrup
1 banaan, geprakt
2 eetlepels kokosolie, gesmolten
1 theelepel kaneel
1 theelepel citroensap
2 eetlepels plantaardige melk
flinke snuf zout
Verwarm de oven voor op 180 graden Celsius.
Meng de havermout, kokossnippers/rasp, lijnzaad, eiwitpoeder of kokosmeel en gehakte noten in een grote kom. Prak de banaan in een andere kom en voeg hier de kokosolie, zout, kaneel, citroensap, maple syrup en plantaardige melk aan toe. Meng dit door elkaar met een vork.
Voeg de natte ingrediëntenmix toe aan de kom met de droge ingrediënten en meng het met een vork goed door tot je een lekkere plakkerige structuur krijgt. Voeg de chocolade toe en meng dit losjes door het beslag. Leg een velletje bakpapier op de ovenplaat en schep eventueel met een lepel (of gewoon met je handen) wat deeg uit de kom en plaats ze in de vorm van een koek op de ovenplaat. Je kunt ze zo groot maken als je wilt en het is helemaal oké als er wat kokos, noten en/of chocolade uitsteekt. Dit geeft een heerlijk bros en 'home made' effect na afloop!
Bak de koeken in 15-20 minuten af, afhankelijk van je oven en laat ze helemaal afkoelen voor je ze gaat eten waardoor ze lekker knapperig zullen zijn.
Ik kan nu al niet wachten om morgen na het ontbijt een kop thee of koffie te zetten en te genieten van een heerlijke koek aangezien mijn huis nu zo lekker ruikt! Enjoy!