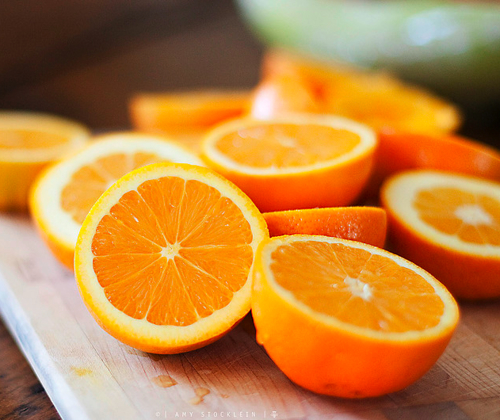 Calorieën zijn niet het enige waar je rekening mee moet houden als je traint voor een strakker lichaam. Het is ook belangrijk om de juiste voedingsstoffen binnen te krijgen. Maar welke zijn nu echt heel belangrijk?.. Eigenlijk allemaal! Ha! Maar ik zal in dit artikel 3 ingrediënten benoemen die goed zijn voor het opbouwen van spieren.

Elke keer als je je spieren traint, dan scheur je als het ware de kleine vezels in je spieren. De enige manieren om daarna de scheurtjes te laten herstellen is door te rusten (vooral slapen) en door genoeg eiwitten binnen te krijgen zodat de scheurtjes "opgevuld" worden door eiwitten en de spieren hierdoor sterker worden. Naast eiwitten hebben je spieren ook andere voedingsstoffen nodig.
1. Vitamine C
Wat kleur aan je bord toevoegen kan je helpen bij het strakker maken van je armen! Als je ze wel traint natuurlijk. Vitamine C uit groente en fruit is verantwoordelijk voor gezonde aders, en deze voorzien je spieren van zuurstof en voedingsstoffen. Als je spieren voldoende voedingsstoffen en zuurstof kunnen krijgen, zullen ze ook optimaal kunnen werken en sneller herstellen van een zware sport sessie. Hoeveel vitamine C heb je dan nodig op een dag? Ongeveer een halve sinaasappel, of een rode paprika of 250 gram aardbeien.
2. Visolie
Visolie verbetert de krachttraining doordat het de bloedstroming naar de spieren toe stimuleert, waardoor spieren minder snel afbreken (want ook dit gebeurt bij het trainen). Ook helpt visolie tot het sneller herstellen van je spieren en werkt het tegen ontstekingen. Een ander leuk weetje: omega 3 uit visolie verhoogd de insuline gevoeligheid, dit is van groot belang bij het voorkomen van diabetes.  Hoeveel visolie? Als je 2 keer in de week vette vis eet is dit voldoende. Je kunt er ook voor kiezen om elke dag 1 capsule visolie te slikken.
3. Vitamine B
Vitamine B1, B2, B3, B6, B7 en B12 zijn essentieel voor de algehele gezondheid maar zijn nóg belangrijker wanneer je actief bezig bent om spieren te kweken en sterker te worden. Vitamine B speelt een grote rol bij de stofwisseling van eiwitten, je zenuwen stabiel te houden en zelfs bij het afbreken van vetten. Hoeveel? De meeste mensen eten bij een gezond en gevarieerd eetpatroon genoeg vitamine B. Je kunt vitamine B vinden in granen, eieren, magere vleeswaren, peulvruchten, noten, spinazie en boerenkool.