Iedereen die (extreem) overgewicht heeft weet dat het niet makkelijk is om af te vallen. Mensen die zijn afgevallen en dit weten te behouden zeggen vaak de welkbekende zinnen: "flinke motivatie/discipline en gezond eten + sporten". Als je op dit moment overgewicht hebt, dan zul je waarschijnlijk al van alles hebben gehoord van mensen die denken te weten wat je hoort/moet doen. Waarschijnlijk heb je je vaak zat naar en rot gevoelt om je gewicht en de negatieve lading die dit met zich mee brengt helpt natuurlijk al helemaal niet. 
Feit is dat de negatieve gevoelens die bij overgewicht erbij komen, je bijna in het dal duwen, of zelfs een soort depressie veroorzaken. En wat het erger maakt is de "natuurlijke" manier waarop je lichaam hiermee omgaat; trek in koolhydraten. En zoals je ziet is de cirkel compleet en zorgen die koolhydraten (de snelle suikers) er weer voor dat je je overgewicht blijft behouden. Het is niet alleen maar te weinig motivatie hebben. Er spelen heel veel factoren mee, 3 ervan zal ik kort toelichten en misschien helpt dit je om hier iets mee te doen;
Lagere stofwisseling
Hoe minder je weegt, hoe minder je verbrandt. Je stofwisseling gaat omlaag waneer je minder zwaar bent. Er is natuurlijk ook veel afhankelijk van hoeveel spieren je in je lijf hebt, maar simpel gezegd: hoe zwaarder je bent, hoe meer moeite (calorieën) je lichaam moet doen om zichzelf te verplaatsen of alleen al zichzelf levende te houden. Dus als je aan het afvallen bent, en je komt van een veel te hoog gewicht, zul je steeds minder calorieën moeten nuttigen om aan te sluiten aan je nieuwe gewicht.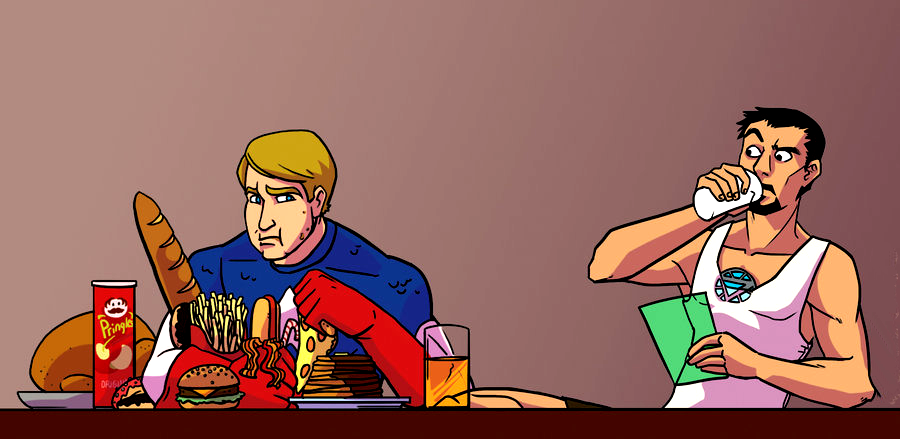 Zittend werk
 We gebruiken tegenwoordig allerlei machines die het zware lichaamswerk van mensen overnemen. Waardoor wij, mensen, vaak alleen nog maar achter een computer hoeven te zitten om ons werk uit te kunnen oefenen. Daarna kom je thuis en zit je ook nog eens achter je laptop of televisie en voor je het weet heb je een meer "zittend" leven dan lopend, staand, of sportend leven. Werkt natuurlijk ook niet echt mee!
Kant-en-klaar maaltijden
Wie heeft tijd om te koken? Als je van die paar uur die je in de avond voor jezelf hebt na je werk ook nog 1 daarvan gaat besteden aan koken voelt het bijna zonde om de moeite te doen. Je kunt gewoon naar de supermarkt om een kant-en-klaar maaltijd te kopen wat er, laten we eerlijk zijn, gewoon uit ziet als een maaltijd die je oma had kunne bereiden. Ik hoef jou niet te vertellen dat daar mega veel conserveermiddelen, zout, suiker en andere troep in zit. Ook niet handig als je wilt afvallen.