Ik heb al veel vaker een artikel geschreven over HIIT trainingen, ik ben er fan van! Vooral omdat ik een beperkte tijd heb maar toch van fitness en gezond eten een leefstijl wil maken/al heb gemaakt -> maar vooruitstrevender wil zijn. Het is écht een perfecte manier om vet te verbranden en je gehele stofwisseling een MEGA boost te geven. Twee van de eerdere artikelen die ik hierover heb geschreven: Voorbeeld van een HIIT training en Wat is HIIT? Beste manier om vet te verbranden! Maar weet je al waarom het zo goed is om vet te verbranden? Of waarom het überhaupt goed is voor je lijf? Het kan je namelijk helpen om die laatste kilo's kwijt te raken en dat super strakke lijf te krijgen! Echt!
Het verhoogt je insuline gevoeligheid
(Check even deze pagina met artikelen als je geen idee hebt wat insuline gevoeligheid is). Insuline gevoeligheid is simpelweg gezegd hoe je cellen reageren tegenover insuline. Dit heeft een groot effect op hoe goed je koolhydraten aan kunt qua vertering en of die koolhydraten je "negatief" beïnvloeden door juist meer vet op te slaan. Hoe minder gevoelig je bent voor insuline, betekent dat je meer en meer insuline nodig hebt om "hetzelfde" werk te verrichten als bij mensen die een hoge insuline gevoeligheid hebben. Hoe meer insuline in je bloed, hoe minder goed je vet kunt verbranden. Dat is het simpelweg gezegd.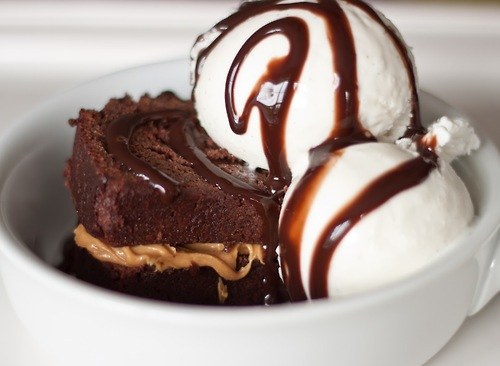 Uit een onderzoek is gebleken dat alleen al een HIIT training programma volgen van minstens 2 weken, je insuline gevoeligheid met wel 23% kan toenemen![1] En de HIIT training is slechts 15 minuten! Lees je dat… 15 minuten!
"Afterburn" effect
Oeeeh deze is geweldig! Je verbrandt namelijk enorm veel calorieën nadat je een korte intense workout hebt gedaan (HIIT) ná de workout. Dit wordt ook wel het "afterburn" effect genoemd. Ik merk het bij mezelf dat ik de hele dag door aan het zweten ben door die ene HIIT workout vroeg in de morgen. Ook verminderd je honger gevoel, merk je dat bij jezelf misschien ook? Als je langdurige cardio doet op een middelmatig/laag tempo, dan ben je vaak "hongeriger" achteraf. Na een intense workout heb je misschien ook trek, maar het verminderd juist de hormonen die voor het hongergevoel zorgen. Dat scheelt ook weer!
Geeft een boost aan goede hormonen
En met goede hormonen bedoel ik vooral Groeihormoon bijvoorbeeld! HIIT trainingen doen meer dan alleen super veel calorieën verbranden. Je hormonen beginnen ook anders te reageren op HIIT trainingen, het stimuleert voornamelijk groeihormoon zoals ik benoemde en het hormoon testosteron (al zelfs na 10 minuten)[3][4] [5]. Groeihormoon en testosteron zijn een geweldige combinatie om vet mee te verbranden en spieren mee te kweken (die in rust weer meer calorieën verbranden).