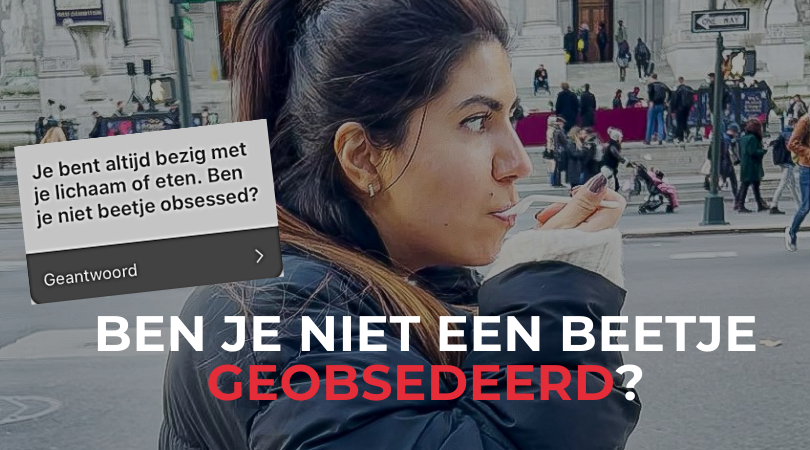 Iemand vroeg van de week een interessante vraag aan me op Instagram.
Nu weet ik stiekem wel dat het niet aardig bedoeld was doordat de persoon dit via een account vroeg waarop hij/zij mij niet volgde en ik eerdere acties kon terugzien. 
Maar dat maakt niet uit, want de vraag die gesteld wordt is een hele goede vraag! Als je dit gevoel hebt wanneer je iemand volgt/kent, dan is mijn allereerste advies: bescherm jezelf, want blijkbaar is iets triggerend voor je!
Los daarvan is de vraag over geobsedeerd zijn over iets een goede om even toe te lichten.
Want wanneer is iets een obsessie?
Obsessies zijn gedachten of (denk)beelden die steeds weer terugkomen. Ze zijn vervelend en storend en je wordt er gespannen, bang en onrustig van. Je kunt ze proberen te negeren of tegen te houden, maar dat lukt niet. Vaak zijn compulsies (dwanggedachten) alleen te stoppen door bepaalde handelingen uit te voeren. (1)
Vanuit deze beschrijving kunnen we achterhalen dat het gedachten of beelden zijn die steeds weer terugkomen. Is dat bij mij zo over eten, fit worden en afvallen? Jazeker. Dus uit deze eerste zin zou je kunnen zeggen dat ik geobsedeerd ben.
Ze zijn vervelend, storend en je wordt er gespannen, bang of onrustig van. Voel ik dat zo? Totaaaaaal niet! Haha. Verre van. Eten is een feestje voor me. Ik ben elke dag blij dat ik weer mag eten en ben zo dankbaar voor al het lekkere voedsel. Werken aan mijn lichaam is ook een feestje. Ik ben zo dankbaar dat ik hier mijn studie over heb gevolgd en mijn werk van heb gemaakt. Ik heb gewoon een excuus om te werken aan mijn gezondheid én aan mijn droomlichaam.
En de rest van de beschrijving laat ik even achterwege want het staat zo ver van mn bed dat ik er niets over te zeggen heb.
Maakt het je blij of is het opvulling van een leegte?
Dit is een belangrijke vraag om te achterhalen hoe jij er zelf in staat.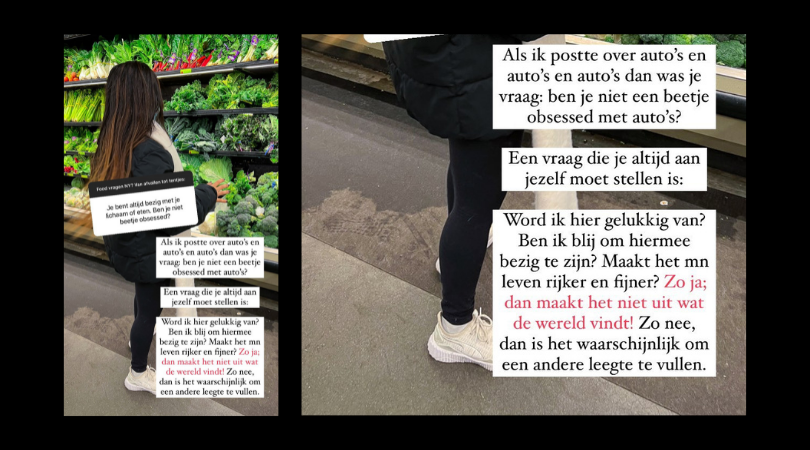 Mijn vraag aan jou is: maakt het je blij om ergens veel mee bezig te zijn? Geeft het je een goed gevoel? Zou je het doen als je alleen op de wereld was? Dan is er niks aan de hand! Als je er niet blij van wordt, dan is de kans groot dat het bedoeld is om een andere leegte in je leven op te vullen. Dat is aan jou om te ontdekken en om te draaien. De verantwoordelijkheid ligt, helaas, bij jezelf. Het goede nieuws is: zodra je je gaat realiseren dat de verantwoordelijkheid van heel veel dingen in je leven bij jezelf ligt, zul je heel veel kracht krijgen en je eigen leven positief beïnvloeden.
Misschien is het negatief voor.. JEZELF?
Als je merkt dat je teveel negatief bezig bent met eten, fit worden, afvallen en je wordt geconfronteerd met iemand anders die er klaarblijkelijk ook veel mee bezig is kun je dat als vervelend ervaren. Want misschien zoek jij wel die afleiding of probeer je deze gedachtes bij jezelf te negeren en tegen te houden (zoals ik de bovenstaande beschrijving). Dan is die confrontatie met iemand die er ook veel mee bezig is (dan wel positief, maar dat zie jij niet want jij zit in je eigen hoofd) heel erg vervelend.
Het heeft letterlijk geen zin om uit te halen naar de ander of de vraagstelling bij de ander te leggen want het is je eigen irritatie, frustratie, obsessie of struggle. Tenzij je dit naar mij uithaalt, want ik kan er content van maken voor je, dus dat is in dit geval oké 😉 haha.