Laten we weer een rondje maken door het land van de wetenschap. En dan bedoel ik natuurlijk op gebied van voeding, sport en ons lijf.  Er is zoveel interessant onderzoek dat ik het altijd even moet bundelen voor ik jullie onder dompel in allerlei leuke weetjes en feitjes. Ik wil het voor vandaag een thema geven "Buikvet en Cardio".
Verband bij obese mensen tussen cardio en buikvet
Laten we beginnen met een onderzoek waarin er op een vrij basic manier werd gekeken naar het effect van cardio (aerobic) op visceraal vet (buikvet) (1).
"The purpose of this study was to systematically review the current literature to establish whether reduction of visceral fat by aerobic exercise has a dose-response relationship."
Het doel was dus om te zien of er een verband te vinden valt in het verminderen van buikvet door cardio workouts.
Conclusion: "These results suggest that at least 10 METs x h/w in aerobic exercise, such as brisk walking, light jogging or stationary ergometer usage, is required for visceral fat reduction, and that there is a dose-response relationship between aerobic exercise and visceral fat reduction in obese subjects without metabolic-related disorders."
Om niet helemaal in een soort van "abracadabra" taal te spreken; MET is een meeteenheid die bepaalt hoeveel energie een fysieke activiteit kost ten opzichte van de hoeveelheid benodigde energie in rust. 1 MET is gelijk aan je ruststofwisseling. En uit dit onderzoek komt naar voren dat er dus minstens 10 METs nodig zijn (x aantal uur per week) aan cardio zoals lopen, rustig joggen, fietsen etc. nodig is om buikvet te verbranden. En! Dat er een verband ligt tussen cardio en het verminderen van buikvet bij de obese deelnemers van het onderzoek (die geen stofwisselingsproblemen hadden).
Na dit onderzoek dacht ik; oké, er moet meer zijn! Ik ben dan wel een enorme fan van krachttraining, maar al mijn wegdroom momenten zijn toch altijd op cardio apparaten. En dat zou betekenen dat ik een extra reden heb om te blijven cardio-en. Haha. En ik vond opnieuw wat onderzoeken.
Één jaar na het diëten en sporten? Wat gebeurt er met je buikvet?
Een volgend onderzoek (2) werd gedaan in 3 groepen vrouwen die moesten afvallen. Alle 3 kregen ze hetzelfde dieet, maar groep 1 deed daar cardio bij, groep 2 krachttraining en groep 3 deed niet aan sport. Het onderzoek was om te zien wat er gebeurde met het buikvet van de vrouwen één jaar na het onderzoek.
Resultaat? Ze kwamen allemaal wat kilo's aan in het jaar na het dieet (duh, het dieet was gebaseerd op 800 kcal per dag). De cardio groep kwam 3,1 kg aan, de krachttraining groep kwam 3,9kg aan en de laatste groep zonder sport kwam 6,4 kg aan.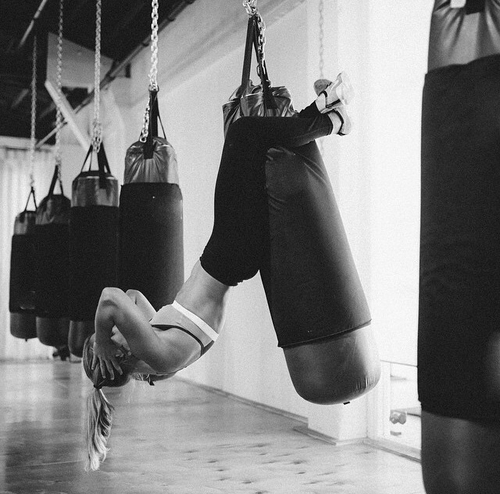 In dit geval was het ook nog eens opvallend dat de sportende groep geen buikvet erbij kreeg (van die 3-4 kg die ze aan waren gekomen) en de niet sportende groep wel, maar liefst 25% buikvet erbij.
Natuurlijk nog steeds niet overtuigend genoeg wat betreft alleen cardio en buikvet. En als laatste vond ik nog een onderzoek waarin er enigszins een verband werd gelegd, maar nog niet overtuigend genoeg. Ze zeggen zelf ook aan het einde van het onderzoek dat deze, eventuele link tussen cardio en buikvet, nog verder onderzocht moet worden (3).
Beetje jammer. Maar toch wat wijzer geworden hoop ik! Ik blijf in ieder geval nog flink door cardio-en en wegdromen. Naast de keiharde krachttraining workouts natuurlijk 🙂