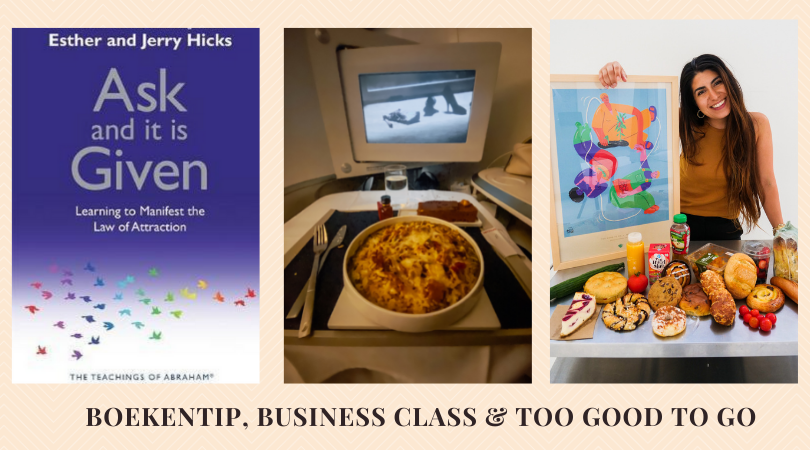 Vandaag wil ik 3 geweldige dingen met jullie delen omdat ik er héél enthousiast over ben en vind dat iedereen dit moet weten!
Dit boek heb ik vaker genoemd op mijn blog en ik blijf het noemen. Het boek heb ik niet uitgelezen maar het voelt ook niet als een boek om uit te lezen.
Vooral als je de principes van het boek The Secret en manifestatie kent, dan is het boek Ask and its given mooi om af en toe een random pagina uit te lezen.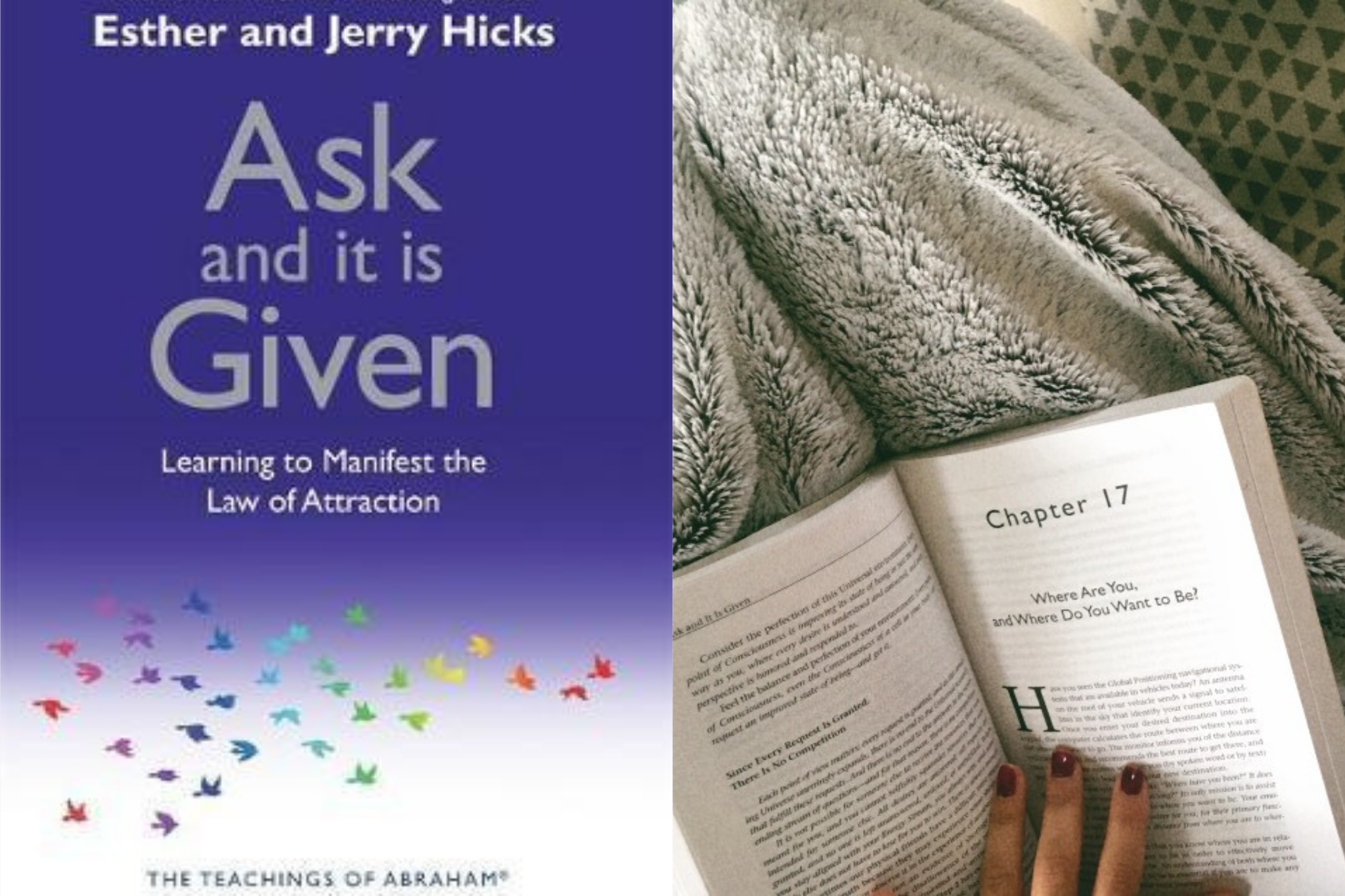 Als je geen idee hebt van The Secret of manifestatie, dan is het zeker een boek om van begin tot eind te lezen.
Het geeft me altijd weer een goede reminder om bewust te zijn met mijn gedachtes en intenties in het leven. Er worden nieuwe contexten beschreven, nieuwe metaforen gebruikt en elke keer leer ik weer te focussen. Het is een ietwat groot en zwaar boek, maar zo goed dat ik het helemaal nee naar Mexico heb gesjouwd 😉
Too Good To Go x SEEYOUSIOE
Wist je dat 1/3 van het eten verspild wordt? Dat is nogal een getal he!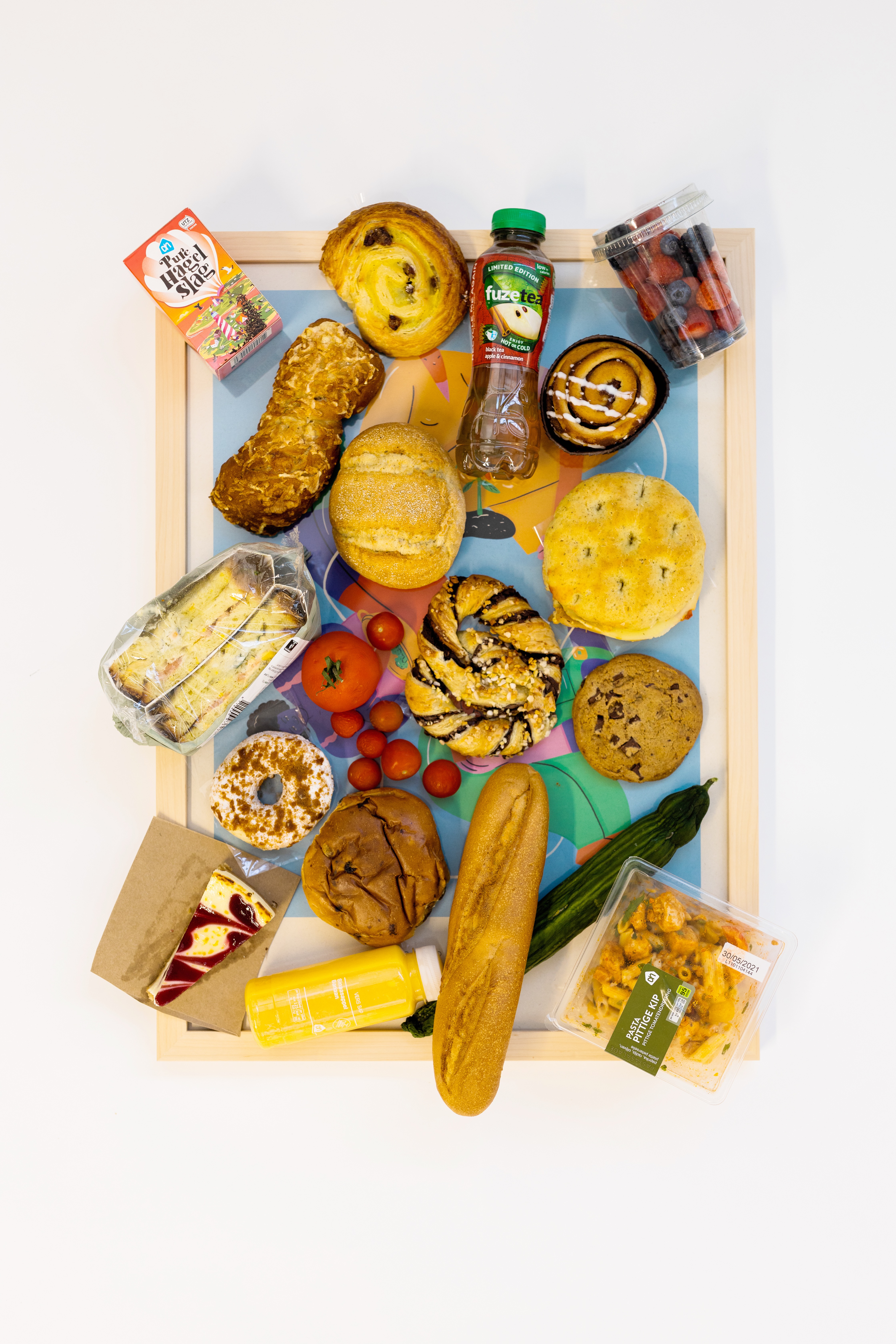 Alles wat je op deze foto ziet zou normaal gesproken weggegooid worden. Maar gelukkig niet meer dankzij de app van Too Good To Go. Als je me volgt, dan weet je dat ik een enorm grote fan ben van Too Good To Go. Het kan dus ook geen verrassing zijn dat deze samenwerking meer dan natuurlijk is!
Too Good To Go heeft in samenwerking met kunstenares SEEYOUSIOE meerdere prachtige limited edition posters ontwikkel die de waarde van eten benadrukken.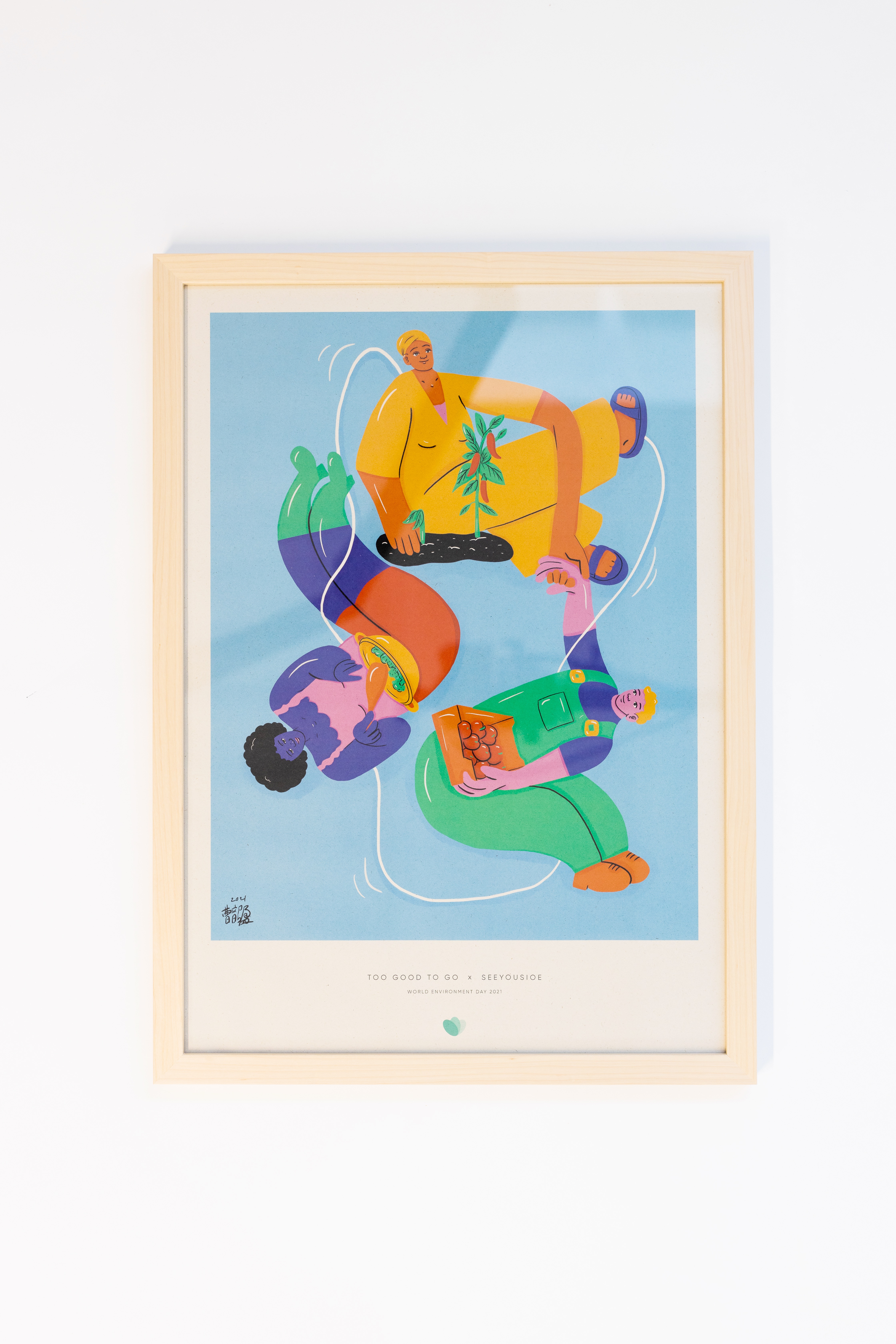 De posters (er zijn verschillende) kosten tussen de €10,- en €15,- in de formaten A2 en A3, gedrukt op papier gemaakt van landbouwafval.
Er wordt geen winst gemaakt op dit project, alle opbrengsten gaan naar een goed doel. 
Een poster met heel veel lagen dus:
Een reminder voor jezelf en de mensen waarmee je samenwoont ter realisatie van de waarde van eten en het niet verspillen ervan;
Je draagt er een statement mee uit;
Een eyecatcher voor elke ruimte;
In samenwerking met een kunstenares, spreker en equality activist;
Gedrukt op papier gemaakt van landbouwafval;
& alle opbrengsten gaan naar een goed doel.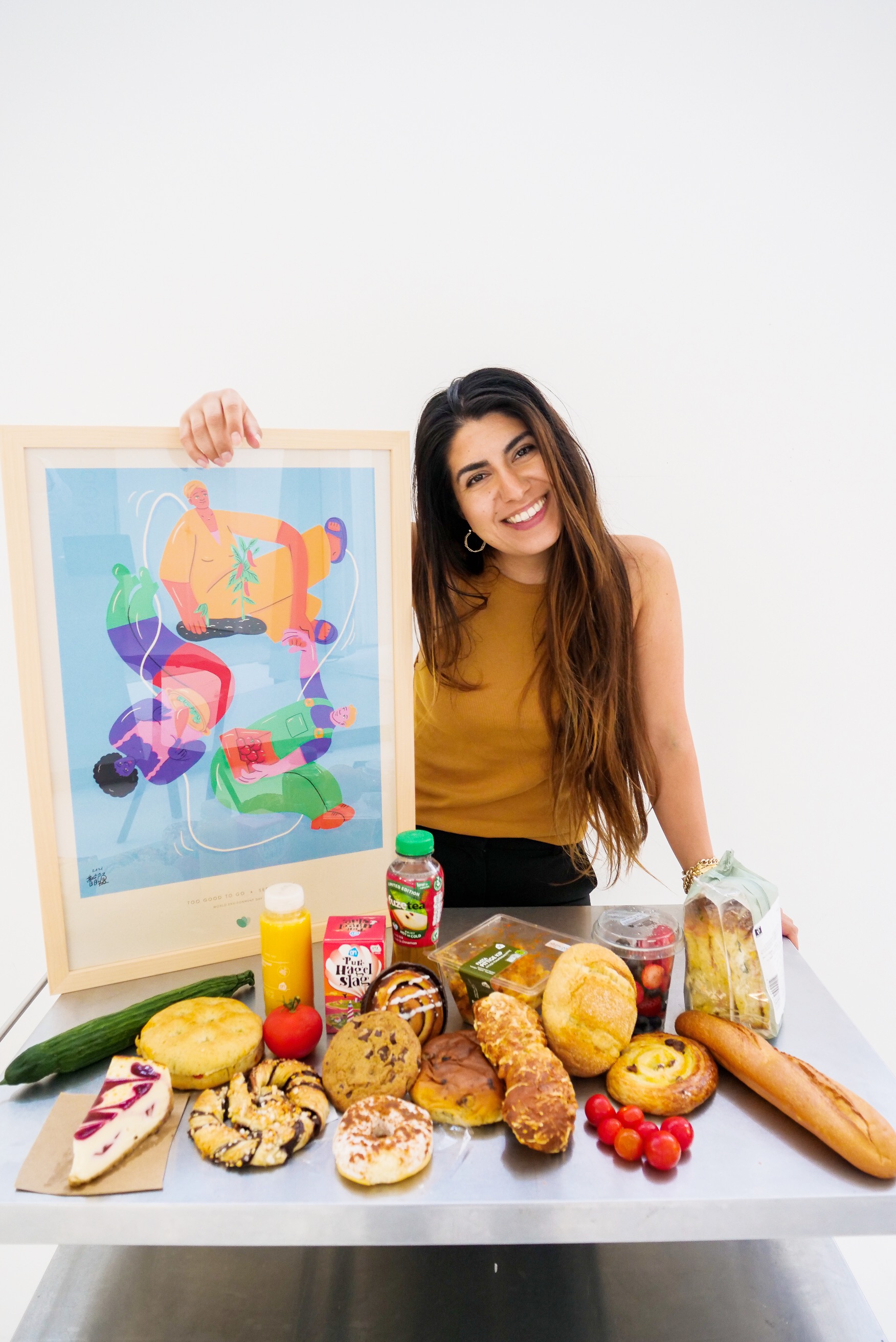 Klik HIER voor de webshop om een eigen poster te bestellen en tegelijkertijd bij te dragen aan zo'n mooi initiatief en het goede doel!
Dit deel van het artikel is gesponsord door Too Good To Go. 
Business Class Hack
Zoals de meesten hebben gezien ben ik voor het eerst business class gevlogen laatst, richting Mexico. Mijn DM ontplofte met vragen over "hoeveel dat kostte" en "dat kan een normale burger toch nooit betalen!".
Alle reacties zeggen me iets over de mindset rondom geld die mensen hebben en vandaag wilde ik met jullie delen hoe ik dat zie én hoeveel ik heb betaald voor de tickets.
Ik ben een grote dromer, ik vind het dus heerlijk om huizen van een paar miljoen op Funda te bekijken, een auto van 3 ton samen te stellen online maar ook een mapje met foto's te bewaren op mijn laptop met allemaal geweldige dingen die ik wil in mijn leven.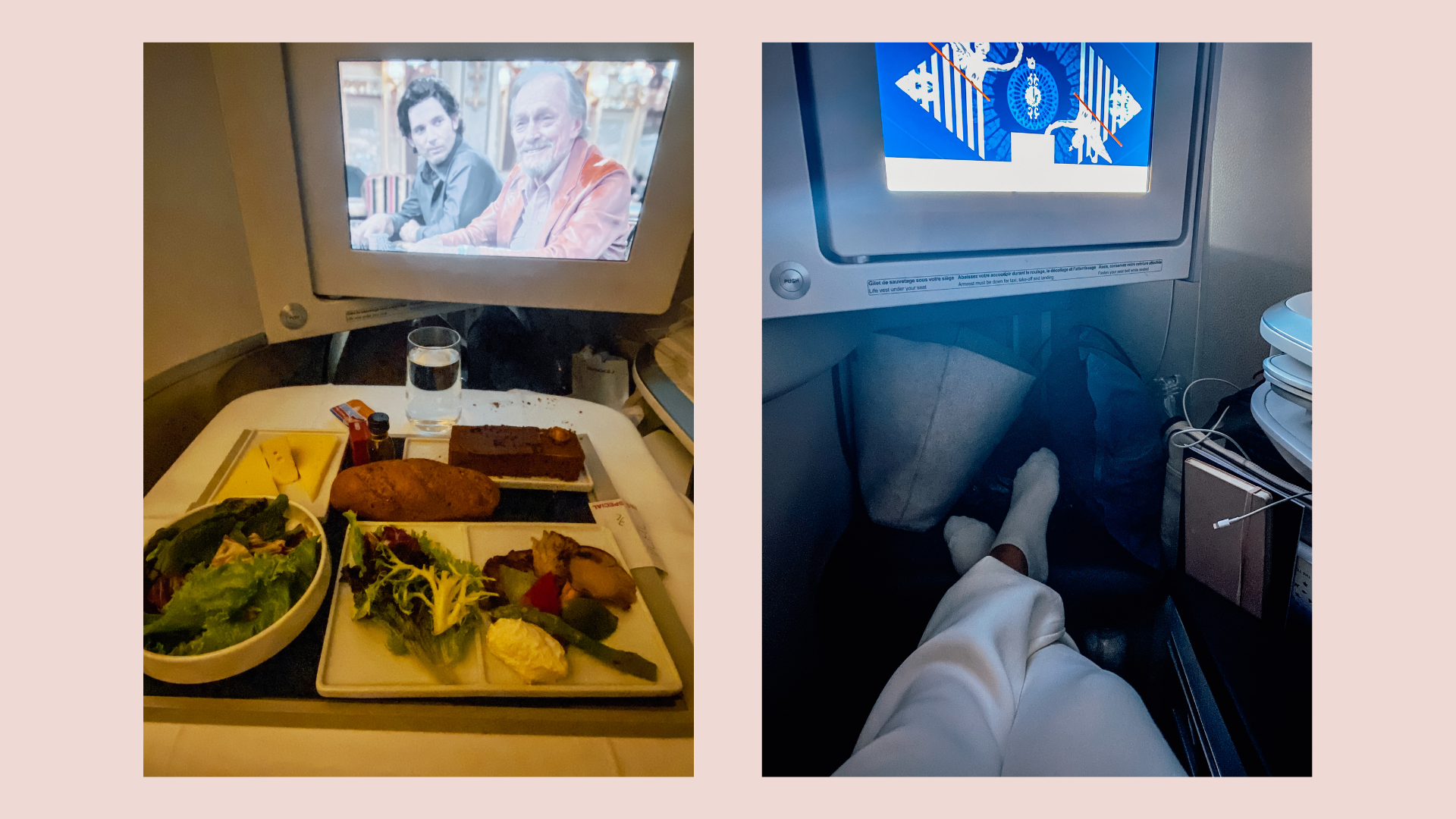 Ook al zijn sommige dingen niet op dit moment haalbaar, ik zoek in ieder geval uit hoeveel het kost of wat ervoor nodig is om te weten 'waar ik nu sta' en 'waar ik heen wil'. Want er zijn mensen voor wie deze dingen mogelijk zijn, het is in mijn ogen dus ook niet onmogelijk.
Zo weet ik al jaren dat een business class vliegticket meestal 5 keer zoveel kost als een gewoon ticket. Maar omdat ik me er dus in verdiep, heb ik ook wat 'hacks' die je een paar duizend euro kunnen besparen. De hack die ik deze keer heb gebruikt is: miles kopen en met de miles een business class ticket betalen.
Je kunt bij de meeste airlines miles sparen maar óók miles kopen. Het kopen van de miles kan soms voordeliger zijn als je business class wilt vliegen tegenover het gewoon te betalen. Zo kreeg ik in april van KLM een mailtje met hun nieuwe actie: "Koop miles en krijg 80% van de miles er bovenop". Ik ging meteen rekenen.
Een business class ticket kopen van Amsterdam naar Cancun (Mexico) kostte 5400 euro
Een business class ticket met miles van Amsterdam naar Cancun (Mexico) was 131.000 miles + 450 euro
Voor 1815 euro kocht ik 66.000 miles en door de actie kreeg ik daar 52.800 miles cadeau bij.
Nu had ik 118.000 miles en ik had zelf nog 13.000 miles in mijn account staan.
Ik betaalde het ticket met 131.000 miles en betaalde nog 450 euro extra. Oftewel, ik was in totaal 1815 + 450 = 2265 euro kwijt aan het business class ticket.
En dat is dus minder dan de helft (5400 euro)!! Nog steeds is het veel geld, maar ik vond het een mooi moment om dit van mijn bucketlist af te strepen.
30 jarige Teni zonder hond, kind of hypotheek die in alle vrijheid alleen op reis gaat. Dat leek me mooi om eens mee te maken en altijd aan terug te kunnen denken.