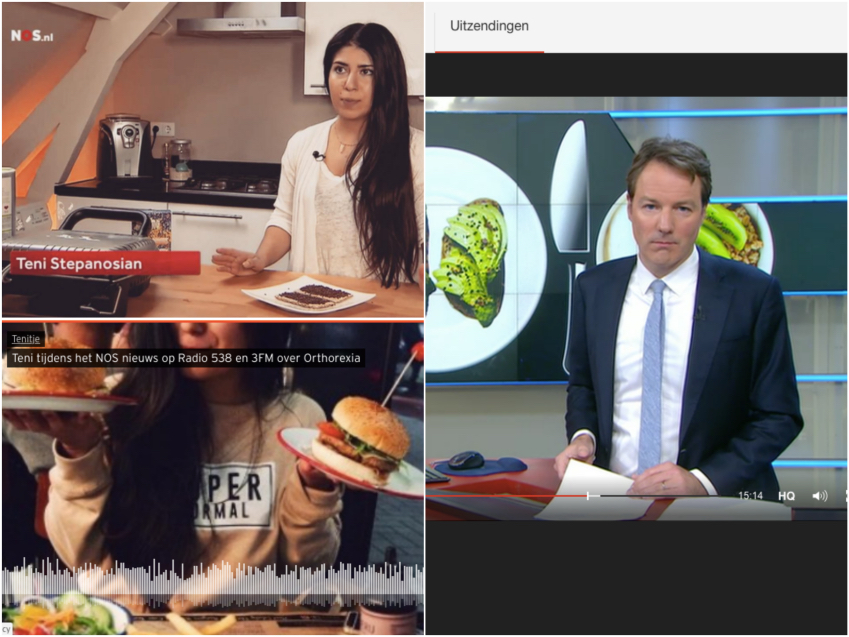 Nietsvermoedend liep ik rond een uur of 11:00 door de stad in Den Haag toen ik ineens gebeld werd door een onbekend nummer; "Met Onno van de NOS". He wat?
En daarna ging het héél snel. Of ik misschien wat meer kon vertellen over mijn ervaring met Orthorexia. Wist ik wat het was? Heb ik het ervaren? Hoe ging dat?
En na het gesprek werd eigenlijk meteen gevraagd of er iemand van de radio én televisie langs mocht komen bij mij thuis. Ja. En dan over 2 uur het liefst.
Ehhhhhh…. Oke?
Zo kan je gehele dag ineens een wending krijgen die je van te voren niet had zien aankomen. Ik had een planning, een todo-lijst en vooral een stapel mails die ik moest beantwoorden. Allemaal verschoven naar morgen.
Dit is een belangrijk onderwerp en ik was heel blij dat ik mijn ervaring hierover mocht delen in de media. Ik vind het heel goed dat er steeds meer aandacht aan wordt besteed en we hopelijk steeds bewuster worden van hoe belangrijk de factor 'geluk' is in het maken van (ook) voedingskeuzes. Nu was het item tijdens het NOS nieuws vrij kort en was er veel uitgehaald wat ik had verteld, ik link het toch hieronder zodat je het terug kan zien, vanaf 10:55 min: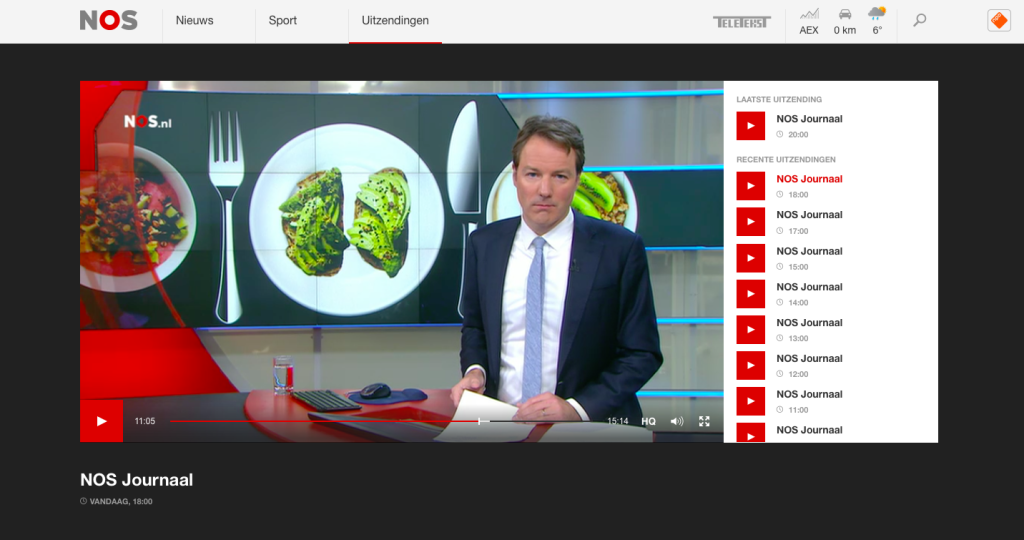 Ook werd er een stukje opgenomen voor op de radio, hier vond ik het stuk veel beter en sterker overkomen dan op televisie. Dus deze laat ik met net een beetje meer liefde horen dan het showen van het televisie fragment 😉
[soundcloud_latest_tracks user="tenitje" show="1″ hear_more="YES"]
Aandacht voor doorslaan met gezond eten
Dat dit onderwerp nu steeds vaker besproken wordt vind ik alléén maar positief. Ik gun namelijk niemand zo'n destructieve gedachtegang omtrent eten en om je hopelijk te helpen schrijf ik er nog steeds artikelen over. Het mooie vind ik zelf dat, omdat ik altijd zo eerlijk mogelijk probeer te schrijven over mijn huidige leven, ik dus ook 'terug kan gaan in de tijd' naar artikelen en kan zien hoe mijn gedachtegang was. Dat ik hier totaal niet gelukkig mee was. Om maar een voorbeeld te noemen, het artikel "Morgen ga je volgens plan eten, maar écht!" en lees ook "Dit is wanneer Gezond eten een eetstoornis wordt".
Hebben jullie misschien ook een eye-opener nodig? Zie deze video over eetbuien die ik een jaar geleden opnam:
The Fear of Going Out
En laatst draagde ik ook een steentje bij aan de campagne van de Women's Health NL "The Fear of Going Out"
Al met al ben ik blij dat hier steeds meer aandacht voor komt! Laten we met zn allen vooral de focus leggen op geluk en dit een factor laten zijn die we mee laten spelen in het maken van onder andere voedingskeuzes. Deze zin sprak ik trouwens ook uit tijdens het televisie interview, maar die is er helaas uitgehaald.
Evenals vele andere dingen die ik wel belangrijk vond om te laten horen. Maar ach, zo heb ik gelukkig mijn eigen platform nog om dit naar buiten te brengen!
En bedankt voor jullie SUPERLIEVE comments en berichtjes! <3 Wat een fijn gevoel om te weten dat jullie achter me staan. Stelletje toppers!