GELUKKIG NIEUW JAAR LIEVE LEZERS EN LEZERESSEN!!
Ik hoop dat jullie een topavond hebben gehad en lekker kunnen nagenieten van deze (meestal) vrije dag 🙂
In dit artikel wil ik kort terugblikken op mijn goede voornemens van 2013 en mijn nieuwe (superleuke) doelen voor 2014 met jullie te delen! 
Vorig jaar
In december 2012 schreef ik een artikel met mijn goede voornemens van 2013, héél leuk om het terug te lezen (HIER), dit waren mijn doelen kort samengevat:
Done! 🙂 (natuurlijk niet echt een voornemen)
Meer boeken lezen over het spijsverteringsstelsel en de darmen
Done! 🙂
Meer quality tijd met vrienden en familie
Tegen het einde van het jaar heb ik bewust gekozen om meer tijd te besteden aan vriende en familie, in het begin van 2013 was het té druk in mijn hoofd en veranderde er zoveel in mijn omgeving dat dit puntje niet goed lukte. 
Proberen zoveel mogelijk rugpijn te voorkomen
Één hele erge tegenvaller (ik kon bijna niet meer lopen), maar de rest van het jaar ging het echt héél goed met mijn rug. Mijn rug voelt op dit moment sterk en kalm 🙂 
Gezonder en fitter worden
Jaaaaah zéker weten gelukt! Ook dankzij het bijhouden van mijn blog 🙂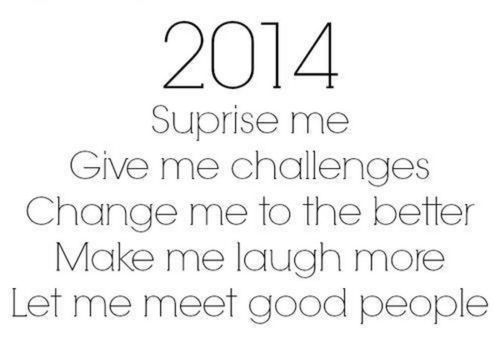 Nieuwe doelen!
Ik vind het zó leuk om doelen te stellen. Zodra ik weer een doel voor mijzelf heb gesteld voel ik een soort vuurtje in me; laaiend enthousiast om ervoor te vechten en het doel te behalen! En dat heb ik nu ook, vooral met een bepaald doel.
Met een groepje van 4 inclusief ik (3 meiden, 1 jongen) hebben we een "pact" om op 21 juni 2014 ons persoonlijke doel te behalen qua afvallen en fit worden. Ik zal nu niet de doelen van de anderen plaatsen, dat zou een beetje raar zijn, maar wie weet komen ze voorbij in het komende jaar! Zelf heb ik me van de week laten meten (vetpercentage, vocht, stofwisseling, vocht in cel etc.) en alles was tip top in orde! Maar dat wil niet zeggen dat ik niet streef naar beter 🙂
Mijn vetpercentage is op dit moment 25,4% en op 21 juni 2014 wil ik dit naar 20% of 21% brengen.
Dit is wel de ondergrens ik wil namelijk een strakke buik! En dit ga ik bereiken door intensere workouts en minder "lekkers". De suikervrije challenge is dus een perfecte start! (Onderstaande foto vind ik erg inspirerend!)
Ik wil YouTube videos gaan maken! 
Oooh dit vind ik zo spannend! Het lijkt me zó leuk maar angstaanjagend tegelijk; ineens zien jullie mij! Haha. Het lijkt me leuk om af en toe een kort filmpje te maken met wat voedingstips, of een dagje mee naar de markt of mijn maaltijden door de dag heen te filmen. Zulke ideetjes heb ik en 2014 wordt het jaar dat ik het gewoon ga doen! Filmen die handel!
Dit zijn 2 doelen die ik voor mezelf heb gesteld die betrekking hebben tot FitBeauty.nl 🙂
Wat zijn jullie goede voornemens? Ik ben heel erg benieuwd!