Nog zo'n 6 weken tot het officieel zomer is! Rond deze tijd kreeg ik elk jaar de zenuwen omdat ik mezelf nog niet fit genoeg of slank genoeg vond. Stiekem gaat dit ook dit jaar weer even door mijn hoofd, maar aan de andere kant denk ik; Ik kom er wel! Stap voor stap. En deze zomer gaat voor mij in het teken staan van mooie herinneringen maken en genieten! Ik denk dat we allemaal wel wat extra tips kunnen gebruiken om nét ietsje fitter te worden en dus niet rigoreus op dieet te gaan en ongezonde dingen te doen! 
Korte, effectieve workouts
Uuuuuuren in de sportschool op cardio apparaten zweten of 100 x dezelfde buikspieroefening doen is echt niet zo effectief als een korte, intensieve en dus effectieve workout. Ik beloof het je. Je krijgt niet alleen meer energie door een korte en intensieve workout, je verbrandt ook meer! En vooral ná je workout. Kwaliteit boven kwantiteit.
Vergeet calorieën tellen!
Nogmaals: kwaliteit boven kwantiteit. Dus ook met voedsel. JA een avocado bevat meer calorieën dan 3 crackers met halvarine en vruchtenhagel. Máár je lichaam heeft veel meer aan een avocado dan aan de crackers met nep-boter en korreltjes vol kleurstof en suiker (wat moet je lichaam daar serieus mee??). Voedsel zoals vruchtenhagel, wat een perfect voorbeeld is van "voedsel" dat bewerkt is, met kleurstoffen, suiker en conserveermiddelen vol zit en een echte buikvetvasthouder. Dat woord heb ik zojuist bedacht, maar het is precies zoals het er staat. Je hoeft niet meteen veganistisch te gaan eten of op een streng dieet te gaan, eet gewoon lekker verse groente en fruit, zuivel, vlees, vis etc! Echt voedsel is waar het om gaat.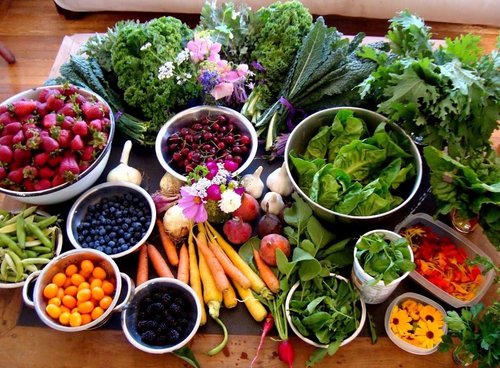 Water met citroen
Nu ben ik geen aanhanger van het geloof "citroen verwijdert vet, dus ook uit je lijf", want laten we eerlijk zijn; dat slaat nergens op. Maar citroen in je water doen helpt wel bij de vertering en en bij het afvoeren van afvalstoffen uit je lijf! De ochtend beginnen met een glas (lauw/warm) water met wat schijfjes citroen erin is top! Vooral als je de avond ervoor wat wijntjes hebt gedronken of in de ochtend graag een lekkere sterke kop koffie drinkt. Oja, ik heb het wel over echte citroenen, geen sap uit een flesje.