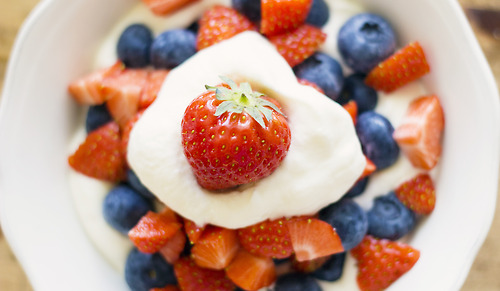 Ik heb bijna het gevoel dat alleen bouwvakkers niet regelmatig achter een computer of laptop zitten. In mijn beleving zit de grote meerderheid of op school achter een computer, of op het werk achter een computer. Je ontkomt er bijna niet aan. Bij deze, gezonde snacks die je lekker kunt eten terwijl je achter de computer zit!
Wortels met hummus
Natuurlijk, hier ga je opmerkingen over krijgen, maar wat maakt het uit! Jij bent lekker gezond bezig. Je kunt de avond voor je werk/school de wortels in stukjes snijden en in een bakje meenemen, of je koopt gewoon een zakje worteltjes die al klaar zijn om te dippen, lekker makkelijk. Hummus kun je "kant en klaar" kopen in de supermarkt, die van het merk Sabra zijn heerlijk en de ingrediëntenlijst is helemaal top wat mij betreft!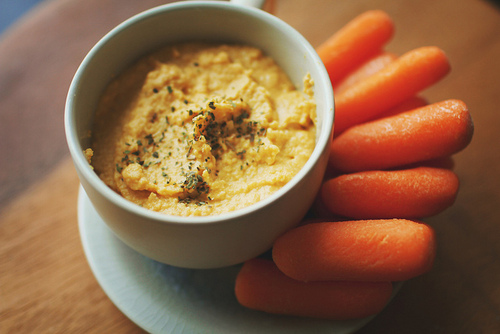 Crackers met La vache qui rit
Kennen jullie de lachende koe? De heerlijke kaasjes bevatten niet heel veel calorieën en zijn daarom perfect geschikt als snack. Een goede tip voor crackers zijn de volkoren crackers van Wasa, deze zijn namelijk op basis van rogge gemaakt (er zit geen tarwe in!).
Dip je cracker in de kaas of besmeer de cracker met kaas, wat jij wilt. Één tot drie Wasa crackers zijn voldoende als snack.
Appel met blokjes kaas
Het zoet-zoute effect, heerlijk! Snijd de appel in stukjes (of neem het al gesneden mee), met een paar blokjes kaas erbij. Zo kun je lekker snoepen van stukjes appel en stukjes kaas, jummie! Babybel kaasjes zijn hier trouwens ideaal voor! Neem niet meer dan 3 blokjes kaas, anders is het geen snack meer.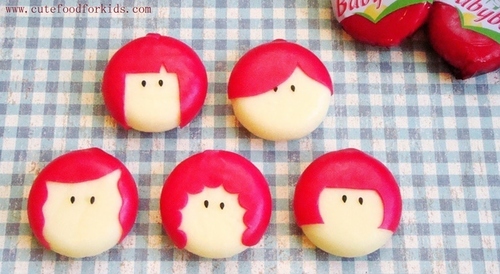 Yoghurt met noten en/of fruit
Een van mijn favorieten, zo makkelijk! Koop een eenpersoonsbakje yoghurt (vaak kun je dit vinden bij de toetjes) en wat noten. Je kunt er ook voor kiezen om er vers fruit in stukjes in te doen, of gedroogd fruit. Je hebt zoveel opties met yoghurt! Haal liever geen 'vruchtenyoghurt', hier zit vooral suiker en kleurstof in, niet zozeer fruit en als er fruit in zit, dan is het vaak 2% sinaasappelsap of aardbeiconcentraat of iets dergelijks.