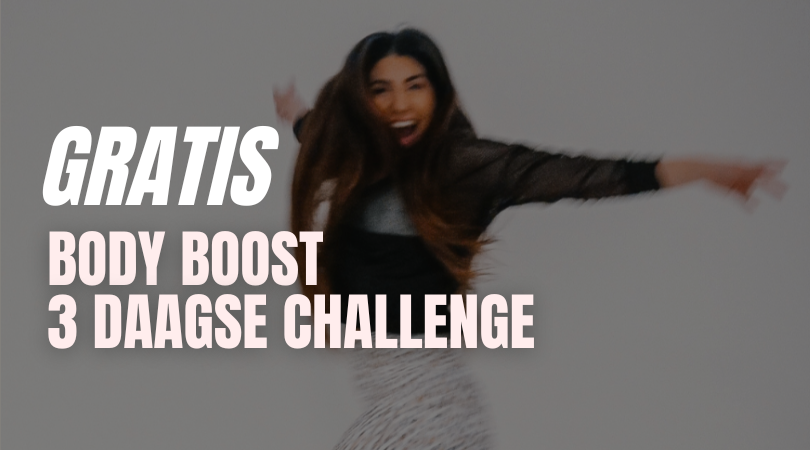 Het einde van het jaar nadert nu toch echt en we zitten bijna in de fase tussen kerst en oud&nieuw waarbij de meeste van ons zóveel hebben gegeten, er nog overal kerstlekkers rondslingert en we het nog door moeten trekken tot oud&nieuw.
Een beetje bomvol, maar met de gedachte om veranderingen aan te brengen op 1 januari, blijven we ervan eten want.. 'straks mag het niet meer'. Ik snap die gedachte heel goed en JUIST om die reden heb ik een challenge gemaakt helemaal in de stijl van Body Boost. Alles waar Body Boost voor staat, maar dan in een 3 daagse begeleiding.
Geen calorieën, geen afvallen, geen gestress over discipline en jezelf weerhouden de komende dagen; NIKS DAARVAN!
Maar de mentale ondersteuning die je nodig hebt als op welke manier dan ook een beetje een struggle voelt rondom het lekkere eten, de verplichtingen, je lichaam, fitter worden, etc.
KLIK HIER VOOR DE GRATIS CHALLENGE! Of lees gerust verder wat je kunt verwachten!
In deze gratis 3 daagse challenge wil ik je dus de adviezen en ondersteuning geven zodat je met ongelooflijk veel zin gaat genieten van elke dag – of het nu de feestdagen zijn of een random week midden in maart.
Wat kan ik verwachten?
Op dinsdag 27, woensdag 38 en donderdag 29 december komt er (dus elke dag) een video online die je een opdracht meegeeft voor die dag. De opdracht heeft vooral te maken met je mindset observeren en dus niet met restricties.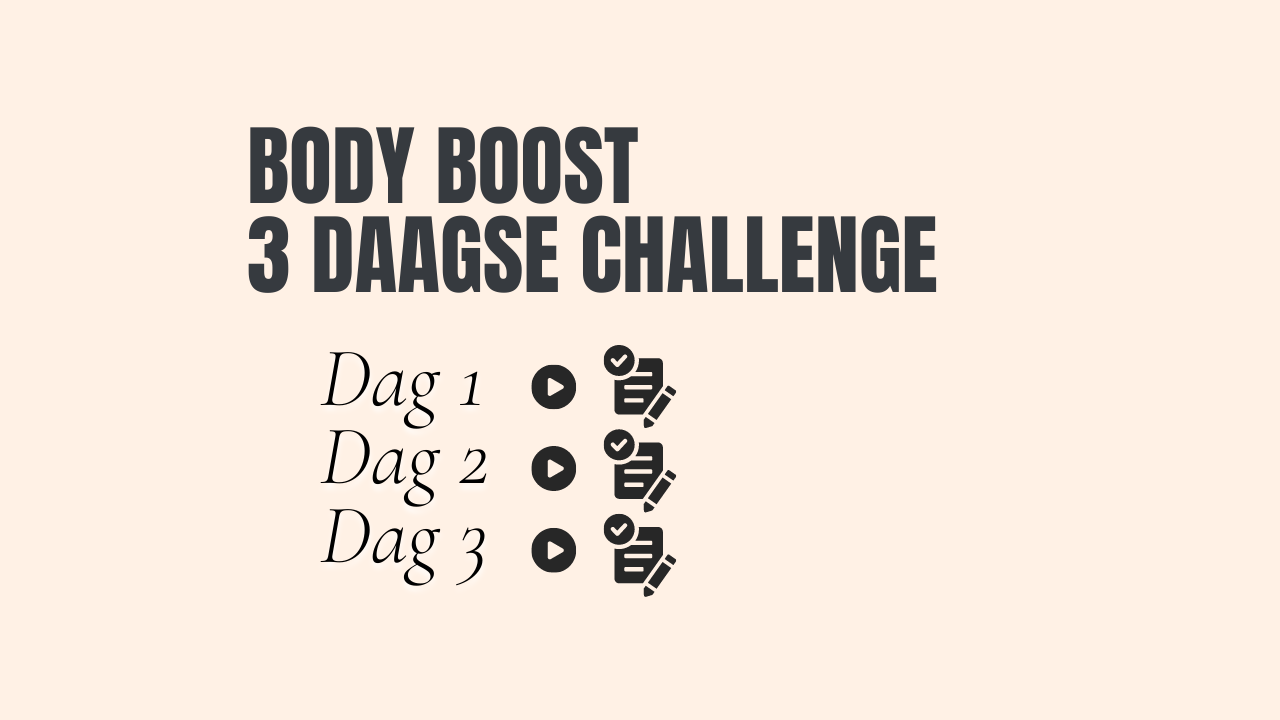 Verwacht geen opdracht als "vermijd chocolade' ofzo, haha. Maar meer in de vorm van: "bedenk wat je het liefste eet, en… (dan de opdracht die ik nog niet verklap ;)).
De reden waarom dit cruciaal is voor een leefstijlverandering waarbij je automatisch afvalt en/of fitter wordt is omdat je eindelijk weg gaat van het oppervlakkige gedoe. 
Daaronder valt: discipline proberen te hebben, een dieet volgen, tijdelijk geen alcohol drinken, allemaal andere taferelen uithalen voor enkel het ene doel en niet om het in de tussentijd leuk en fijn te hebben. Dat zie ik als oppervlakkig gedoe en helaas blijven veel mensen hun hele leven daar hangen.
Maar als we ook maar één laagje eronder kijken, dan kun je al grote 'aha momenten' ontdekken die je helpen de leefstijl te creëeren waar je van geniet én die richting je doel (afvallen?) gaat. Het leuke daaraan is, dit 'ontleer' je dus ook niet. Als je het eenmaal weet, weet je het voor altijd. En dat noem ik de bouwstenen van je leven in het Body Boost programma.
In de komende 3 dagen wil ik je laten proeven hoe deze realisaties eruit zien en wat ze teweeg brengen.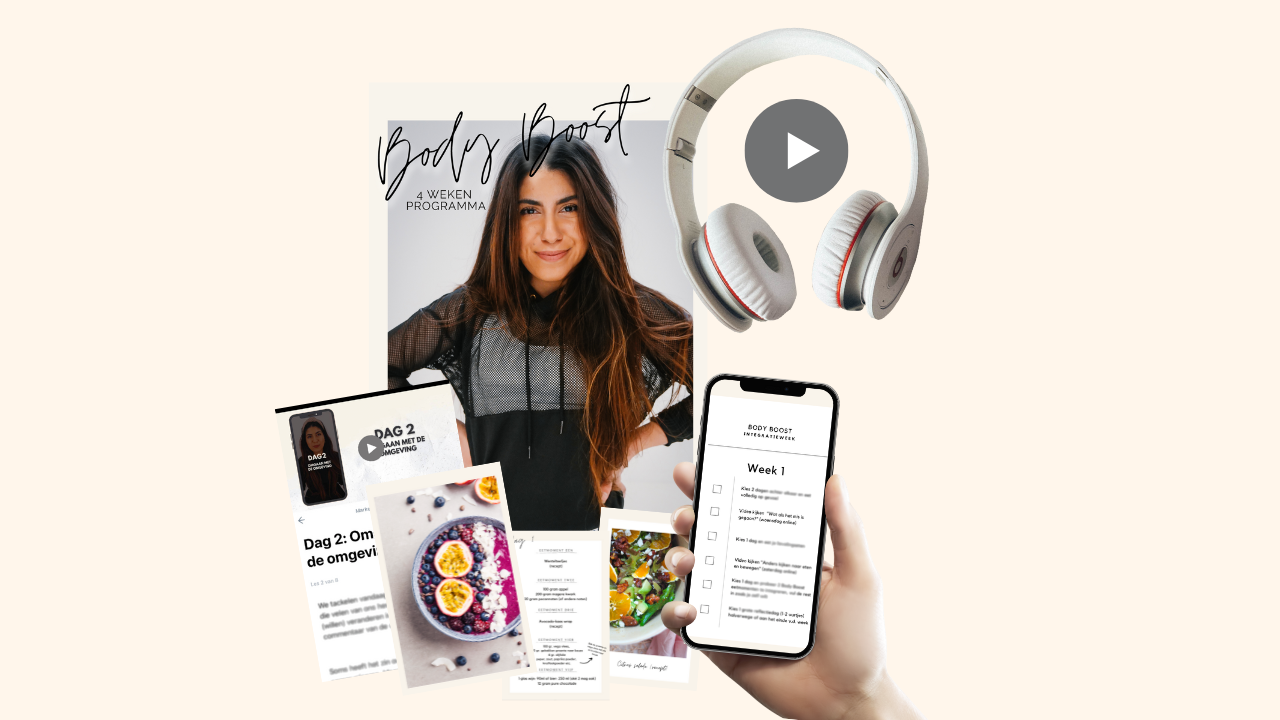 Nooit meer diëten maar wél afvallen.
Nooit meer restricties maar wél afvallen.
Nooit meer dingen eten die je niet lekker vindt omdat het 'helpt' bij het afvallen.
Als je denkt dat dit niet mogelijk is, dan wil ik je vragen; werkt hetgeen wat je altijd hebt geprobeerd? Ben je waar je wilt zijn met alles wat je doet en probeert? Zo niet, wat heb je te verliezen om je eraan open te stellen en het te proberen?
Hoe doe ik mee?
Je doet simpelweg mee door op de link hieronder te klikken en de bestelling te plaatsen waarna je automatisch de inloggegevens krijgt van het online platform waar je de komende 3 dagen de content automatisch ziet verschijnen!
Klik hier om gratis mee te doen!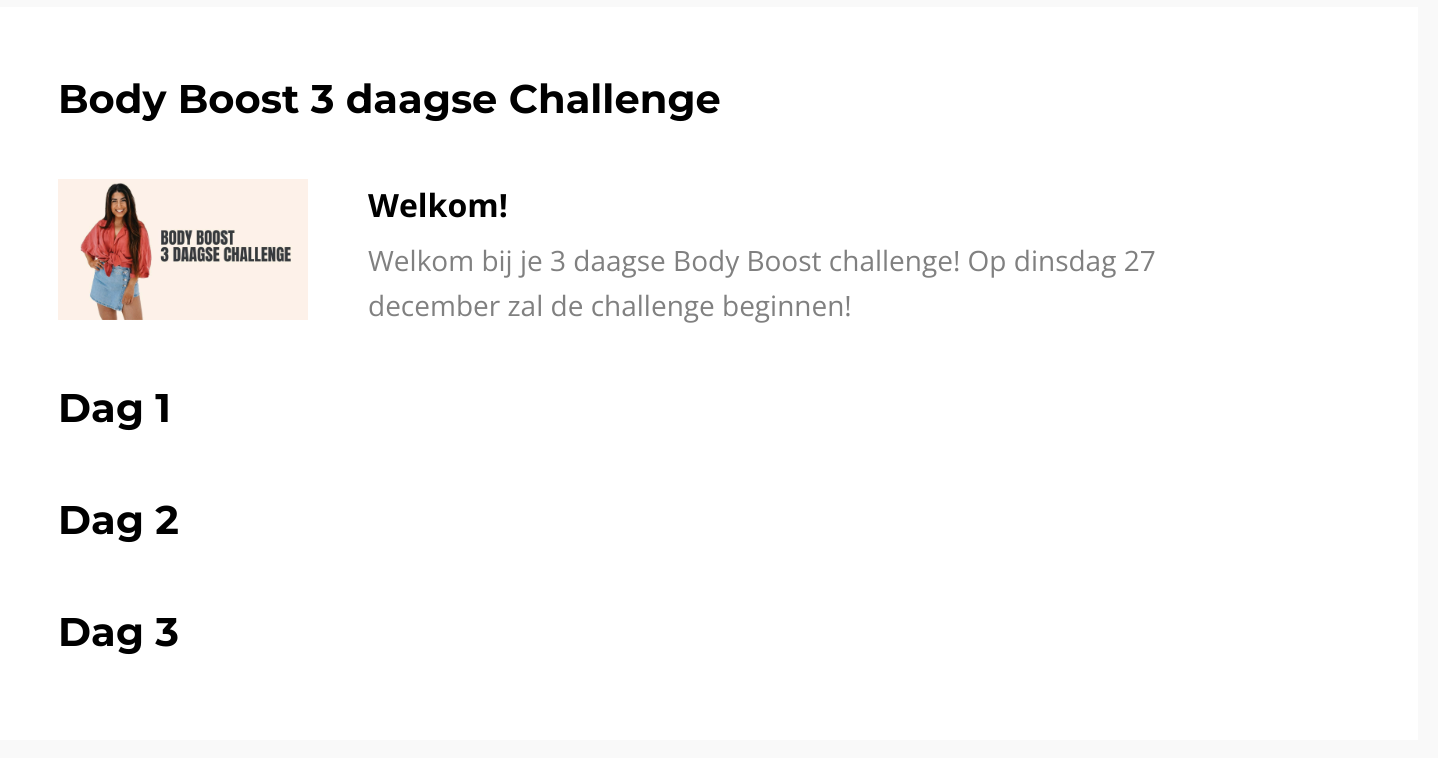 Ik hoop dat ik je zie bij de 3-daagse challenge!
Fijne feestdagen lieve allemaal 🙂