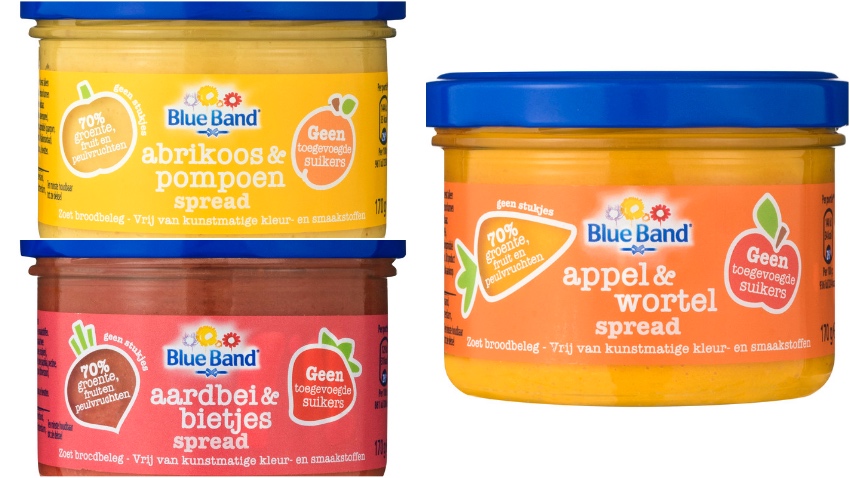 "We hebben het niet altijd door, maar eigenlijk geven we onze kinderen best vaak suiker op brood" luidt de eerste zin van de reclame van Blue Band.
Dan heb je direct mijn aandacht, ik vraag me meteen af wat het merk heeft bedacht om daar iets aan te doen en of dit enkel een marketing truc is. Of dat zo is, gaan we vandaag achter komen! De Blue Band Fruit & Groente spreads onder de loep!
Om precies te zijn, zijn er drie varianten verkrijgbaar:
Aardbei & Bietjes (2,55 euro)
Abrikoos & Pompoen (2,59 euro)
Appel & Wortel (2,55 euro)
* Prijzen komen van de AH site.
Laat ik direct al een punt benoemen; de titel duidt Fruit & Groente spreads en de groente soorten die ze hebben gekozen zijn precies de soorten die een hoog gehalte (natuurlijke) suikers bevatten. Soms zijn ze zelfs vergelijkbaar met producten uit de zetmeel-categorie zoals rijst/pasta/aardappelen.
Zo bevatten bieten ongeveer 7 gram suiker per 100 gram en aardappelen 0,8 gram per 100 gram. Los daarvan wil het niet zeggen dat de één gezonder is dan de ander, het is belangrijk dat je begrijpt dat er in deze potjes zowel voor fruit als groente is gekozen voor varianten met een hoger gehalte aan suiker; om het dus lekker zoet te houden zonder er suiker aan hoeven toe te voegen.
Mijn manier van benaderen:
Hoe minder ingrediënten, hoe 'puurder' het product en hoe positiever ik erover denk. Vervolgens is het ook belangrijk welke ingrediënten er dan in zitten. Als je waterijsjes hebt van water en suiker zijn dat twee ingrediënten maar niet per se erg positief voor mij. De hoeveelheid en de daadwerkelijke ingrediënten zijn vaak doorslaggevend.
De voedingswaarde is fijn om ernaast te hebben en eventueel te gebruiken als vergelijking met soortgelijke producten wat betreft calorieën, eiwitten, vetten en suikers bijvoorbeeld.
Laten we beginnen!
Aardbei & Bietjes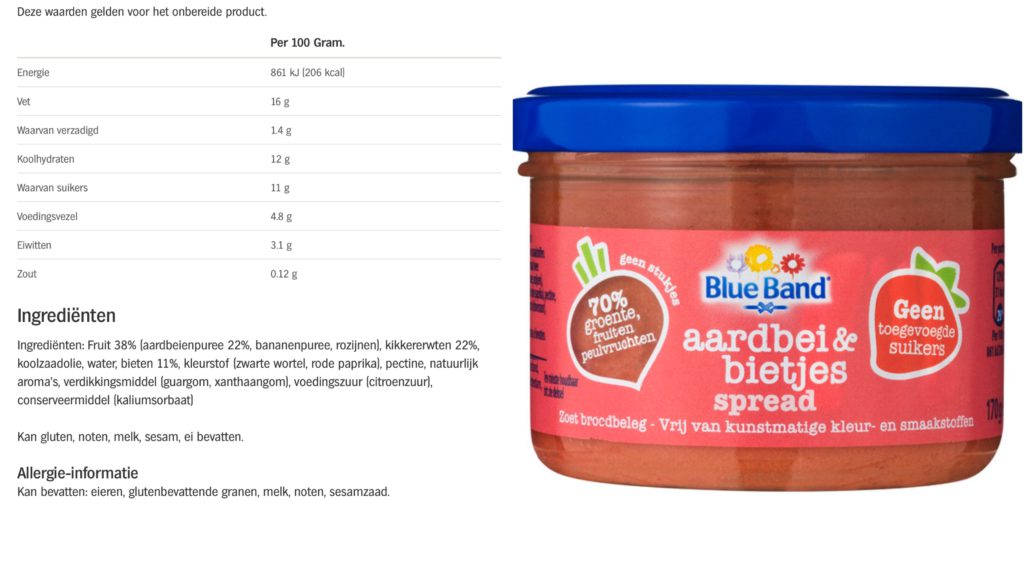 Het eerste ingrediënt is: Fruit. En als we dat specificeren zien we: aardbeienpuree, bananenpuree en rozijnen. Fijne ingrediënten als je het mij vraagt! Inderdaad lekker zoet.
Kikkererwten 22% : wat goed! Lekker wat vezels en eiwitten erbij vanuit een natuurlijk ingrediënt.
Natuurlijke aroma's: dit blijft nog een groot vraagteken, ik zie dit vaker op etiketten staan en het is me nog niet duidelijk wat dit precies betekent, helaas wordt dit hier dus ook niet toegelicht.
Koolzaadolie, verdikkingsmiddel, conserveermiddel, voedingszuur: dit zijn typische ingrediënten die je vindt in een bewerkt product met als reden: smaakverbetering, houdbaarheid en structuurverbetering.
Allemaal ingrediënten die we niet standaard in huis hebben als we het zelf zouden nabootsen en die ook niet per se onze gezondheid bevorderen. Maar ik kan me voorstellen dat je als drukke ouder niet altijd de tijd en energie hebt om zulke smeersels zelf na te maken zonder onnodige toevoegingen en je je kind ook de optie van 'gezonder' zoet wilt geven. Dan is zo'n potje eventueel een uitkomst.
Als we kijken naar de suikers op de voedingswaarde: 11 gram per 100 gram. Dat is aanzienlijk minder dan andere zoete beleg soorten zoals:
Hagelslag: 60 gram suiker per 100 gram;
Muisjes: 79 gram suiker per 100 gram;
Nutella/Chocolade pasta: 56 gram suiker per 100 gram;
Appelstroop: 58 gram suiker per 100 gram;
Jam: 60 gram suiker per 100 gram.
Qua calorieën (206 kcal) zit het tussen een gewone jam (260 kcal) en een light jam of vruchtenspread (zoals die van Zonnatura) in (100-150 kcal).
Abrikoos & Pompoen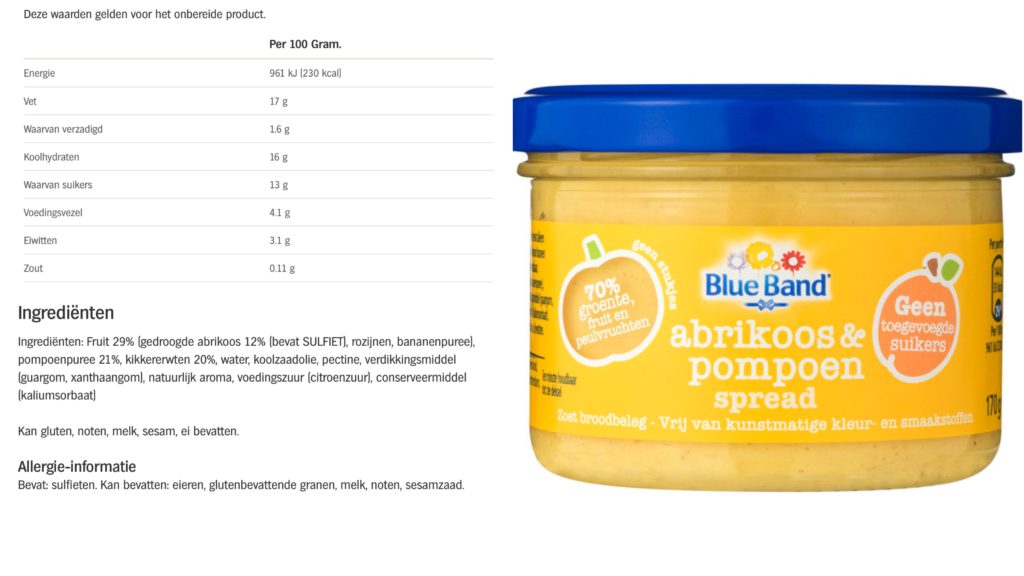 Zoals je ziet komen de ingrediënten, qua beoordeling, overeen met de vorige variant dus heb ik er niet iets extra's aan toe te voegen. Deze variant bevat iets meer calorieën en iets meer suiker per 100 gram.
Appel & Wortel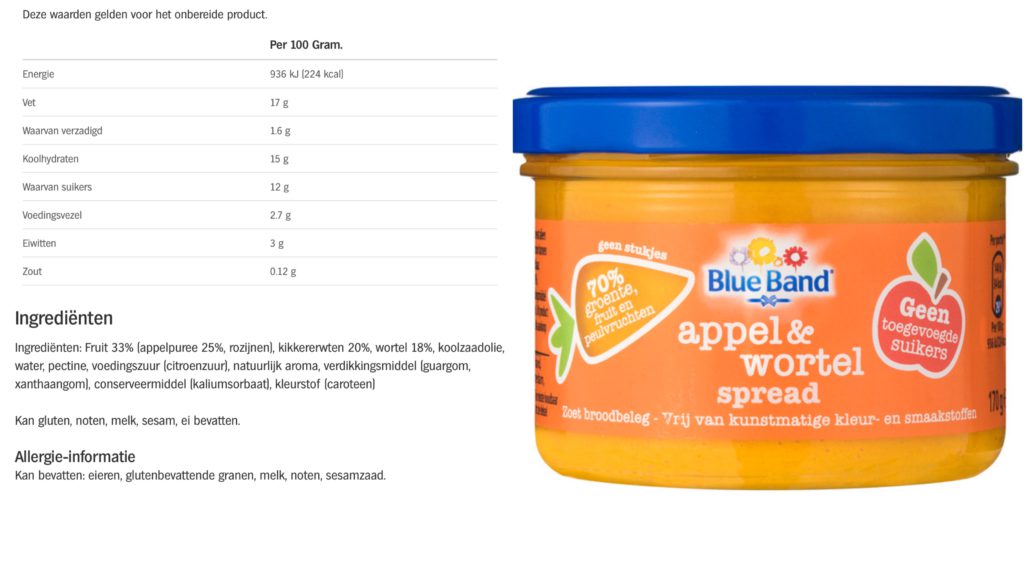 En opnieuw, dezelfde opbouw:
koolzaadolie, water, pectine (vezel), voedingszuur, natuurlijk aroma, verdikkingsmiddel, conserveermiddel als 'basis'
Fruit, groente en kikkererwten als smaakmaker.
Conclusie
Al met al ben ik positiever over het product dan gedacht. Zelf zou ik geen idee hebben wat ik hiermee zou moeten, ik eet veel liever een zelfgemaakte spread die zoet is op brood of eet gewoon de pure ingrediënten. Als ik iets lekkers en zoets wil, dan ga ik graag voor iets waar ik bewust van tijd tot tijd voor kies, iets waar ook mijn mindset blij van wordt: chocolade, ijsjes, gebak, bijvoorbeeld.
Daarnaast heb ik ook geen kinderen dus val ik waarschijnlijk niet in de doelgroep voor het aanschaffen van dit product. Ik kan me voorstellen dat wanneer je je kinderen iets gezonder wilt laten eten maar zelf niet de tijd en energie hebt om dat helemaal uit te zoeken één van deze potjes een uitkomst is.
Hoe dan ook, ik hoop dat je met mij wat wijzer bent geworden over dit nieuwe product van Blue Band! Vragen of suggesties voor andere product onderzoeken? Laat het achter in de comments!