Ons laatste deel van de reis is inmiddels begonnen en deze beleven we op een geweldige locatie in Ubud, Bali. Ik kon het niet laten om een uitgebreide 'home tour' voor jullie op te nemen om jullie zo real time-mogelijk mee te laten ervaren van waar ik ben, in plaats van achteraf de foto's en beelden te delen.
Daarom vandaag een eerste echte vakantie home tour in een prachtige villa die we via Airbnb hebben geboekt. Een kleine afwisseling door de vlogs heen, hopelijk vinden jullie het leuk! Alle vragen die je hebt mag je achterlaten in de comments en ik zal mijn best doen ze allemaal te beantwoorden.
De details voor de villa:
Dit is één van de villa's die onderdeel uitmaakt van Desa Bula, onze villa heet "second honeymoon". Alle villa's zijn opgezet door een Nederlands stel (kwamen wij ook pas later achter) en het interieur is ook door hen ontworpen, wacht echt prachtig is als je van het 'binnen-buiten gevoel' houdt.
Je hebt een contactpersoon, Aris die goed Engels spreekt en die je altijd kunt bereiken voor vragen en boekingen. Je krijgt een telefoon die je tijdens het verblijf kunt gebruiken om bijvoorbeeld Aris te bellen of gebeld te worden.
Het ontbijt wordt elke ochtend verzorgd, je kunt de avond ervoor bellen om een tijdstip af te spreken en de volgende ochtend komen twee Balinezen het ontbijt klaarmaken in je huisje. In de koelkast vind je eieren, melk, brood, fruit (zo lekker zoet!!) amandelpasta en verschillende jammetjes. Deze kun je zelf ook gebruiken maar deze worden ook gebruikt voor het ontbijt.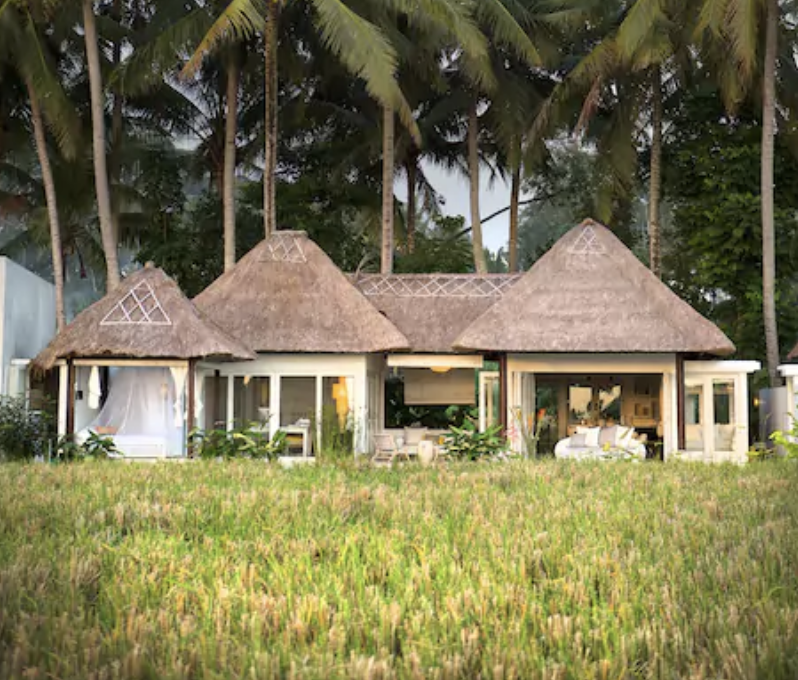 Er is de hele dag beveiliging aanwezig, toch is het belangrijk de deuren te sluiten 's nachts en op slot te doen. Als je dit niet doet, dan bellen ze even voor de zekerheid om te vragen of je de deuren wilt sluiten. Oftewel; ze houden het goed in de gaten. Naast dat ze het goed in de gaten houden heb je wel privacy in je villa, ze komen niet zomaar binnen en er hangen geen camera's, deze zijn er alleen bij de ingang van Desa Bula.
Bij binnenkomst krijg je een verse kokosnoot met een rietje en kun je in een boekje alles lezen over de mogelijkheden tijdens je verblijf. Je kunt een chauffeur voor de dag boeken of alleen om je af te zetten en op te halen.  Je kunt een kookles in je huisje boeken (wat wij vanavond gaan doen!) maar je kunt ook bellen naar restaurants om je eten te laten bezorgen. Dit hebben wij de eerste avond gedaan en waren verrast over de goede service (de vrouw komt haar gerechten helemaal uitpakken op tafel en laat je controleren of je alles hebt wat je hebt besteld, superlief!) en vooral over hoe waanzinnig lekker het was! Nog even geduld en je ziet dit in de Bali vlog terugkomen! Voor meer details kun je de Airbnb advertentie natuurlijk bekijken:
Ik zei het al in de video, maar nogmaals: niets is gesponsord. Niet dat het bij mijn site wat uitmaakt omdat ik precies op dezelfde manier iets beoordeel en erover schrijf, maar voor sommigen voelt het 'extra fijn' om te weten dat ik gewoon vol heb betaald voor iets. Ach, bij dezen dan die informatie.
Hopelijk vond je het een leuke video! Mocht je geen video's willen missen, dan kun je hieronder abonneren: