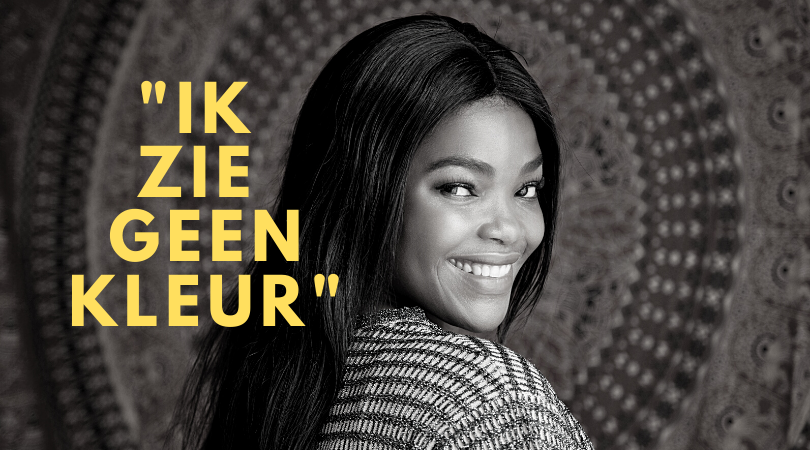 Je zegt dat je geen kleur ziet in deze wereld.
Dat je geen verschil ziet.
Geen verschil?
Verschil is wat alles mooi maakt in de wereld.
Verschil zorgt ervoor dat we leren, groeien, wijsheid delen en onze horizon verbreden.
De gedachte dat er meer is dan alleen onze beleving, onze gewoontes en ons uiterlijk.
Ik zie dat ze van alles wil zeggen, maar tegelijkertijd ook moe is.
Dat ze gehoord wil worden, maar niet weet of deze moeite een verschil gaat maken.
Ik zie het aan haar lichaamshouding.
Jij ziet het ook.
Generaties van pijn en verdriet,
En we vragen haar nu om eens te vertellen hoe ze zich voelt.
Zware schouders die de verantwoordelijkheid dragen van haar ouders, opa's, oma's, overgrootouders en meer.
Ze moet spreken, zelfs als ze dat niet wil.
De tijd vraagt erom.
Maar ze is moe, teneergeslagen en vaak zat genegeerd.
Ze zeggen dat we allemaal stof zijn en ook terugkeren naar stof.
Maar niet al het stof is ooit slaaf geweest.
Niet al het stof heeft te maken gehad met de ontneming van vrijheid.
De ontneming van woorden, cultuur, betekenis.
Je zegt dat je niet kunt geloven dat we nog steeds op dit punt staan.
Dat het nog steeds zo slecht gaat.
Ze schudt haar hoofd, niet uit ongeloof maar uit gevoel van afwijzing.
De geschiedenis van de onderdrukker leeft in jouw lichaam.
De geschiedenis van de slaaf leeft in dat van haar.
Als je naar haar kijkt en zegt geen verschil te zien,
Doet het voor haar pijn.
De pijn en trauma's worden overgegeven van generatie op generatie.
Maar de veerkracht, sterkte en moed ook.
Zolang het trauma niet wordt erkend, blijft de pijn.
Ook al staan jullie nu op hetzelfde punt van begrip.
Heling is nodig,
Er moet geschreeuwd worden om heling plaats te laten vinden,
Er moet plaats voor gemaakt worden, er moet een plek voor komen,
Anders blijft dit zich herhalen. Voor jou en voor haar.
Ga diep,
Kijk en luister naar de stemmen.
Spreek voor de stemmen die geen plek hadden om te spreken.
Sta op.
Ze weet dat je geen slechte bedoelingen had en nu gevraagd wordt je gedrag of je woorden aan te passen.
Ze weet dat je nooit iemand met opzet pijn zou doen en er nu van je gevraagd wordt op te spreken.
Ze weet dat je het doodeng vindt.
Ze weet het.
Zij draagt dit gevoel van inmiddels meerdere generaties.
Ze vecht om gezien te worden,
Maar de angst heeft van haar een vlinder gemaakt die alleen vliegt,
In het donker van de vroege ochtend.
Wanneer ze zich het veiligst voelt,
Met alle tijd en ruimte.
Wanneer ze in een vlaag even kan voelen,
Hoe het is om vrij te zijn.
Maar jij en ik weten allebei dat de pracht van deze vlinder,
Alleen gezien kan worden in het licht.
In het licht van de zon en in het licht van de maan,
Zodat..
Iedereen haar kleur kan zien.