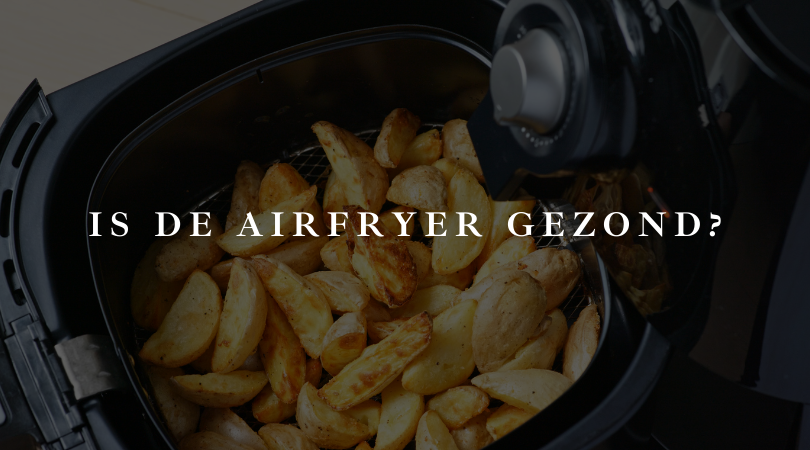 Het wordt gepromoot als een gezonde manier om je snacks, die je normaal gesproken in de frituur zou bereiden, te eten met veel minder vet en calorieën. Maar zijn deze claims wel echt waar? Is het niet te mooi om waar te zijn allemaal? Komen er geen andere gezondheidsrisico's bij de bereiding met een airfryer?
Op al die vragen krijg je vandaag antwoord!
Hoe werkt de airfryer?
De airfryer werkt door hete lucht rondom het voedsel te laten circuleren waardoor het eten een knapperige buitenkant krijgt. Dit resulteert ook in de maillardreactie (een reactie tussen aminozuren en suiker bij de aanwezigheid van hitte), hierdoor wordt het eten ook bruin (de gebakken kleur) en krijgt het een andere smaak (1).
Wanneer je eten frituurt dompel je het helemaal onder in het vet. Bij een airfryer doe je slechts één eetlepel olie bij het geheel. Dit is een enorm verschil in vet en calorieën en kan daarom een gunstige manier zijn om toch 'gefrituurd' eten te eten.
Gefrituurd eten bevat over het algemeen meer vet dan eten dat op een andere manier bereid wordt. Een kipfilet uit de frituur bevat veel meer vet dan een kipfilet dat geroosterd is in de oven.
Is het vergelijkbaar met de gewone frituur?
Het volgende onderzoek vergeleek frietjes uit de airfryer en uit de frituur, qua smaak, kleur en structuur bleken ze vergelijkbaar te zijn maar qua vetgehalte was er een groot verschil (2). Als je regelmatig frituurt dan kan de overstap naar een airfryer absoluut gezondheidsvoordelen met zich meebrengen aangezien frituren vaak ook nog eens gebeurt in plantaardige oliën die niet altijd goed zijn voor je gezondheid (lees hier meer over) (3)(4).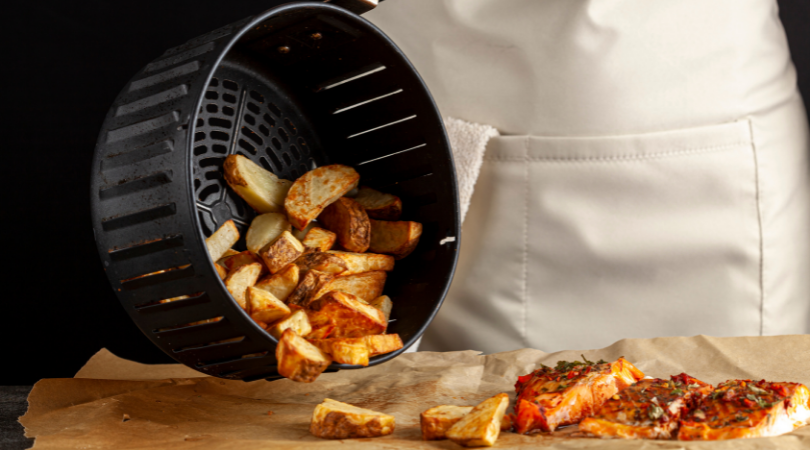 Werkt het bij het afvallen?
Gefrituurd eten heeft niet alleen een hoger vetgehalte, maar ook meer calorieën door dat vet. Uit onderzoek is gebleken dat wanneer men meer gefrituurd voedsel at, dit een hoger risico creëerde voor obesitas (5).
Wanneer je gek bent op gefrituurd eten maar je wel wat gezonder kunt zijn of wat kunt afvallen, dan zou een eerste goede stap kunnen zijn om te switchen naar een airfryer.
Zijn er schadelijke stoffen die vrijkomen in de airfryer?
Zit er geen addertje onder het gras? Moet er niet iets zijn wat we over het hoofd zien of is het echt zo makkelijk om wat minder calorieën binnen te krijgen?
Nou, eigenlijk is het omgekeerd: als je zetmeelrijke voeding (zoals friet) verhit boven de 120 graden kan het stofje acrylamide ontstaan (6). Bij het frituren gebeurt dit veel.
Dit is 'waarschijnlijk' een kankerverwekkende stof volgens onderzoek (7)(8). 
Voedsel in de airfryer klaarmaken vermindert de kans op het vrijkomen van het stofje acrylamide en als het vrijkomt, gebeurt dat in mindere mate. Je kunt tenslotte je snacks gewoon op 200 graden knapperig en lekker klaarmaken in de airfryer.
Uit het volgende onderzoek bleek zelfs dat dit stofje tot 90% minder vrijkwam bij het airfryen ten opzichte van traditioneel frituren (9).
Let wel, er zijn nog een aantal andere stofjes die ontstaan bij het bereiden van je voedsel bij hoge temperaturen die nog steeds kunnen ontstaan tijdens het airfryen. Maar dan dus ook tijdens het frituren. Over het stofje acrylamide is er wetenschappelijk informatie, de andere stofjes moeten nog goed onderzocht worden.
Mijn vermoeden is dat ook deze in mindere mate aanwezig zullen zijn bij het airfryen omdat de temperatuur niet alleen ingesteld kan worden, maar ook beter beheerst kan worden omdat er geen olie aan te pas komt (olie kan ontzettend heet worden).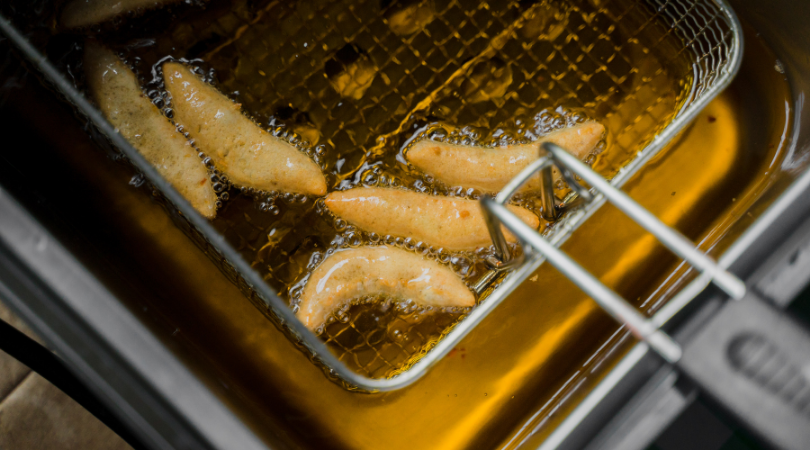 Risico's & conclusie
Het risico bij dit soort informatie is dat je makkelijker meer snacks gaat eten uit de airfryer. Meer dan je normaal gesproken zou doen uit de traditionele frituur. Dat is natuurlijk niet de bedoeling. Dat er een vergelijking is waar de airfryer beter uit komt wil nog niet zeggen dat alles wat eruit komt gezond is. Het kan gezonder zijn vergeleken met de traditionele frituur, maar het gaat vaak nog steeds om snacks en maaltijden die niet heel voedend zijn voor je lijf.
Dus ja, het is een fantastisch apparaat die op vele vlakken het leven gezonder kan maken. Maar vergeet niet welke dingen je erin stopt, deze komen er niet ineens gezonder uit. Snacks zijn nog altijd snacks 😉