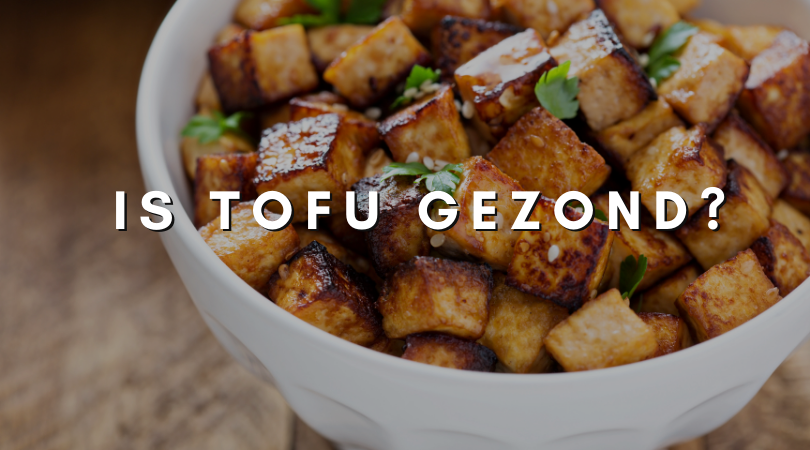 Tofu kan een verwarrend product zijn als we het hebben over gezondheid en de eventuele gezondheidsvoordelen. Het idee van plantaardig eten komt bij meer mensen inmiddels binnen als gezond. Maar wanneer er soja aan te pas komt, brengt dat weer vraagtekens met zich mee.
Vandaag hoop ik al deze vraagtekens weg te nemen bij je en te vertellen of tofu wel/niet gezond is voor je!
Wat is Tofu?
Tofu is een product dat gemaakt is van gecondenseerde sojamelk dat in een wit blok is geperst, het proces is vergelijkbaar met het maken van kaas. De sojamelk wordt gefermenteerd tot tofu.
Genetisch gemanipuleerde soja
De meeste sojabonen worden op dit moment verbouwd in Amerika en het grootste gedeelte ervan is genetisch gemanipuleerd. Uit onderzoek blijkt dat dit niet erg is voor de gezondheid van mensen (1), maar daar 'voel' ik anders over. Je hebt niets aan mijn gevoel, dus maak je eigen keuze omtrent genetisch gemanipuleerde soja en natuurlijke soja.
Voedingswaarde en voedingsstoffen van tofu
Tofu bevat veel goeds, een portie van 100 gram bevat (2):
Eiwit: 8-12 gram
Koolhydraten: 2 gram
Vezels: 1 gram
Vet: 4 gram
Mangaan: 31% van je ADH (Aanbevolen Dagelijkse Hoeveelheid)
Calcium: 20% van je ADH
Selenium: 14% van je ADH
Fosfor: 12% van je ADH
Koper: 11% van je ADH
Magnesium: 9% van je ADH
IJzer: 9% van je ADH
Zink: 6% van je ADH
Een super voedingswaarde als je het mij vraagt!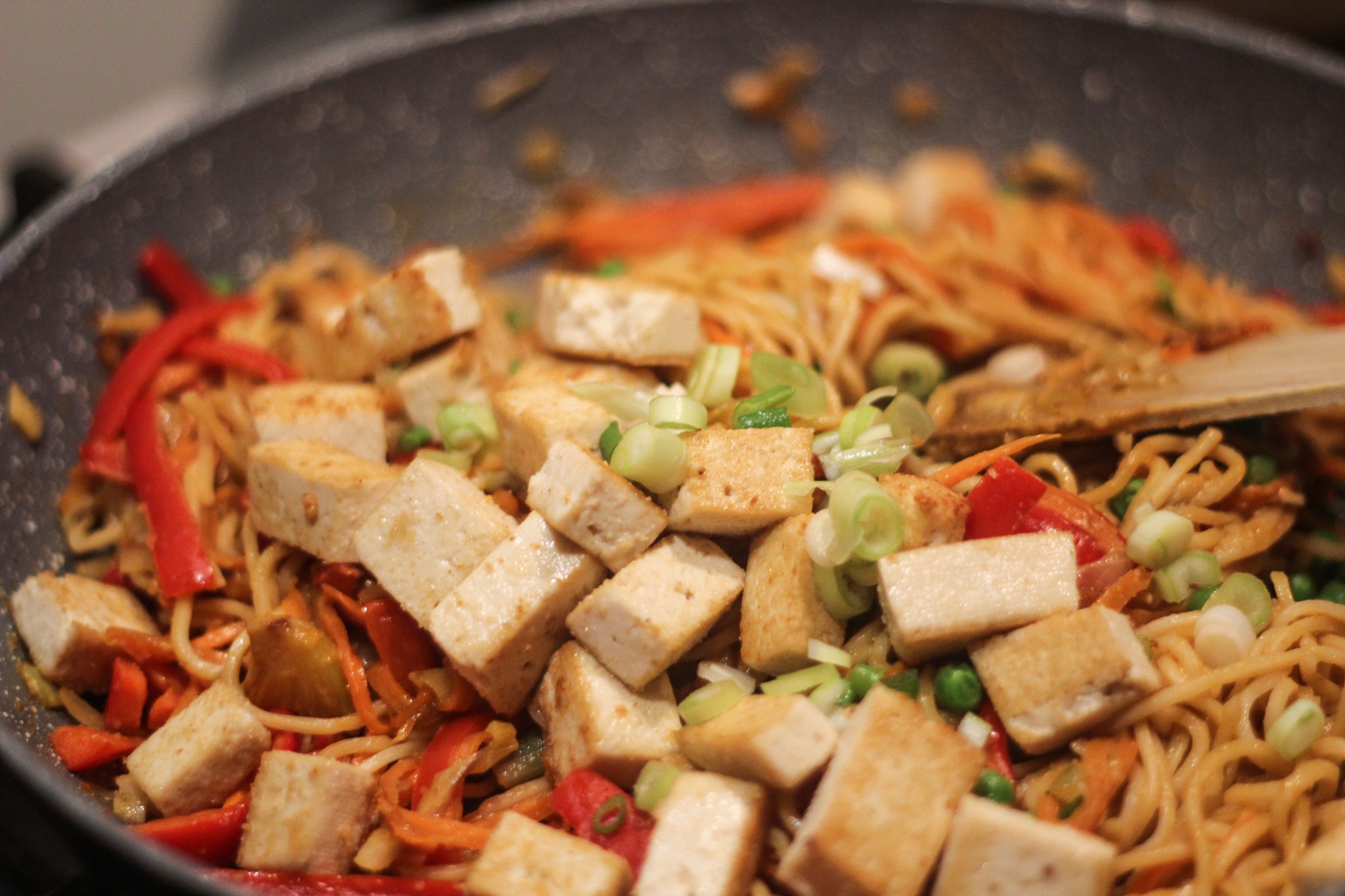 Let op: Antinutriënten
Zoals de meeste plantaardige voedingsmiddelen bevat tofu verschillende antinutriënten. Dit zijn stofjes die de opname van sommige vitamines en mineralen verminderen. De twee antinutriënten die tofu bevat zijn:
Trypsine remmers: deze blokkeren het enzym trypsine dat nodig is om eiwitten goed te verteren
Fytaten: deze kunnen de opname van mineralen zoals Calcium, Zink en IJzer verminderen
Het weken van de sojabonen of het koken ervan kan wat van de antinutriënten verminderen. Maar dit moet natuurlijk al gedaan zijn bij de bonen – daarna wordt sojamelk gemaakt – daarna gecondenseerd – en dan pas wordt tofu gemaakt.
Het kiemen van de sojabonen voordat er tofu van gemaakt wordt vermindert de fytaten tot 56% en de trypsine remmers tot wel 81%, hierdoor wordt óók het eiwitgehalte verhoogt met 13% (3).
De fermentatie van tofu zelf kan ook helpen om de antinutriënten te verminderen, daarom zijn miso, tempeh, tamari en natto geweldige sojaproducten (omdat ze gefermenteerd zijn).
Let wel, de levels van antinutriënten in tofu is geen reden om tofu te laten staan, tenzij tofu je enige bron van IJzer en Zink is, wat ik betwijfel. Zolang je gevarieerd eet, is er niets aan de hand en biedt tofu hartstikke veel gezonde voedingsstoffen voor je lichaam.
Tofu bevat nodige isoflavonen
Sojabonen bevatten plantstoffen die isoflavonen worden genoemd.
De isoflavonen uit sojabonen zijn de belangrijkste reden dat er zoveel verwarring is rondom de gezondheid van soja en dus ook tofu. De isoflavonen zijn ontzettend goed voor je, afhankelijk van de variatie (4)(5). Maar door de chemische structuur die vergelijkbaar is met een oestrogeen receptor wordt er vaak gedacht dat deze isoflavonen dezelfde rol overnemen.
Wat doet een oestrogeen receptor? Deze activeert het hormoon oestrogeen. Hoe meer oestrogeen receptoren er actief zijn in je lichaam, hoe meer er van het hormoon oestrogeen geactiveerd is en wordt. Dit kan zorgen voor een disbalans in je hormonen maar ook voor meer vetopslag.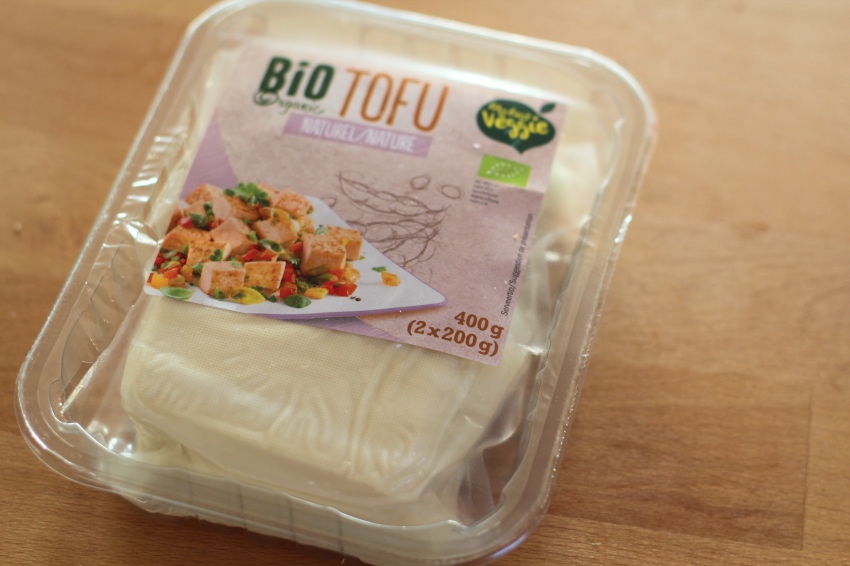 TENMINSTE, dat is wat er gedacht werd.
Uit onderzoek blijkt en wordt gesuggereerd dat deze isoflavonen uit soja echt wel anders zijn op vele vlakken dan oestrogeen receptoren. Ze hebben allemaal een uniek effect op je lichaam en zouden niet op één stapel gegooid moeten worden (6).
Mijn mening: Tofu past in een gebalanceerd voedingspatroon
Eigenlijk past alles wat je maar wilt in een gebalanceerd voedingspatroon, afhankelijk van de portiegrootte natuurlijk. Maar wat betreft tofu kan ik je geruststellen: het heeft een hartstikke hoge voedingswaarde en is een prachtige plantaardige eiwitbron.
Vind jij tofu lekker en heb jij de ultieme tip voor hoe je het klaarmaakt?