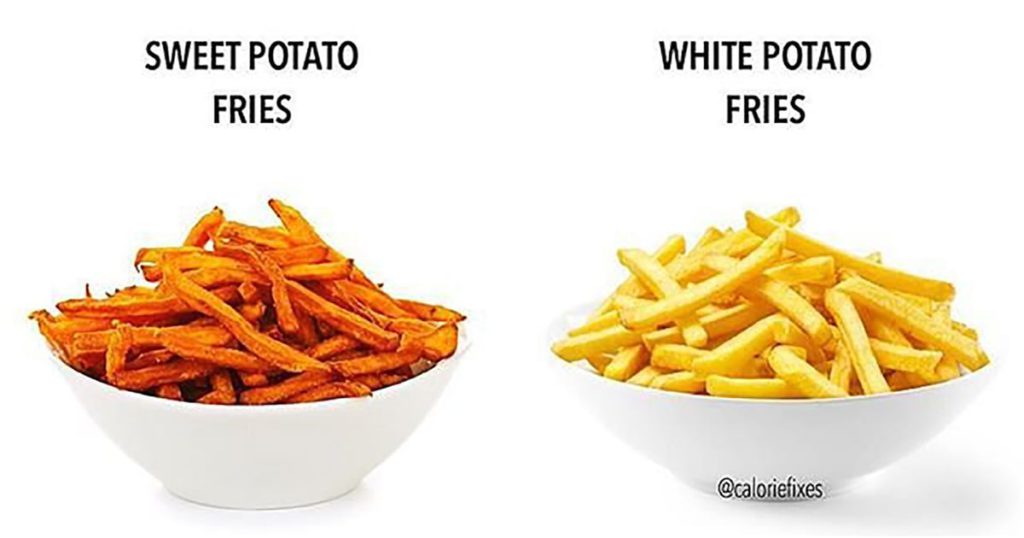 De zoete aardappel heeft een flinke reputatie opgebouwd als het gezondere alternatief van de gewone aardappel. Maar is dat wel terecht? Vooral als we kijken naar de gefrituurde variant, maakt het dan nog wat uit om voor de zoete aardappel te kiezen?
Voedingswaarde vergelijking
Laten we beginnen bij het begin, een vergelijking in de voedingswaarde:
100 gram zoete aardappel bevat:
85 kcal
20 gram koolhydraten
0,1 gram vet
1,3 gram eiwit
100 gram gewone aardappel bevat:
78 kcal
17 gram koolhydraten
0 gram vet
2 gram eiwit
Je zou door alleen naar deze vergelijking te kijken denken dat je misschien wel beter af bent met de gewone aardappel aangezien deze meer eiwit, minder calorieën en minder koolhydraten bevat. Maar vergis je niet, er is wel degelijk een reden voor de reputatie van de zoete aardappel en deze wordt duidelijk als we verder kijken dan de macronutriënten: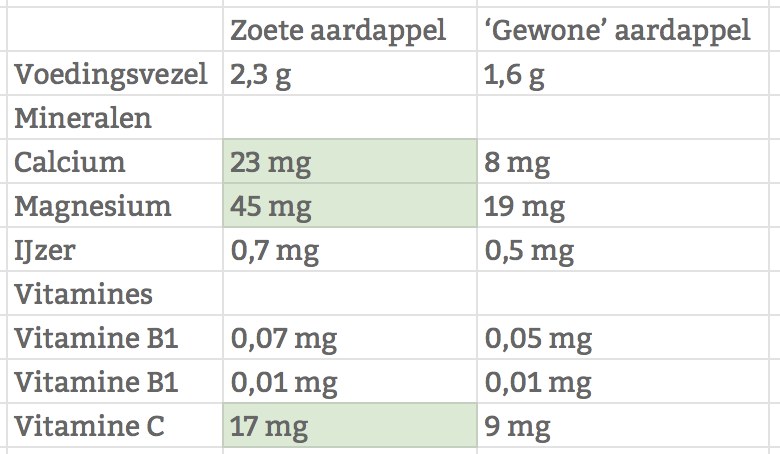 Om het wat extra te belichten heb ik bepaalde vlakken groen gemaakt. Zo wordt het duidelijk dat de zoete aardappel flink wat extra micronutriënten levert (vitamines en mineralen). Bijna 3 x zoveel Calcium, meer dan het dubbele aan Magnesium en meer dan het dubbele aan vitamine C vergeleken met de gewone aardappel. En oja, ook nog eens meer vezels.
Een ander groot verschil dat niet op dit schema staat is dat een zoete aardappel vitamine A levert (0,7 mg) en de gewone aardappel überhaupt niet.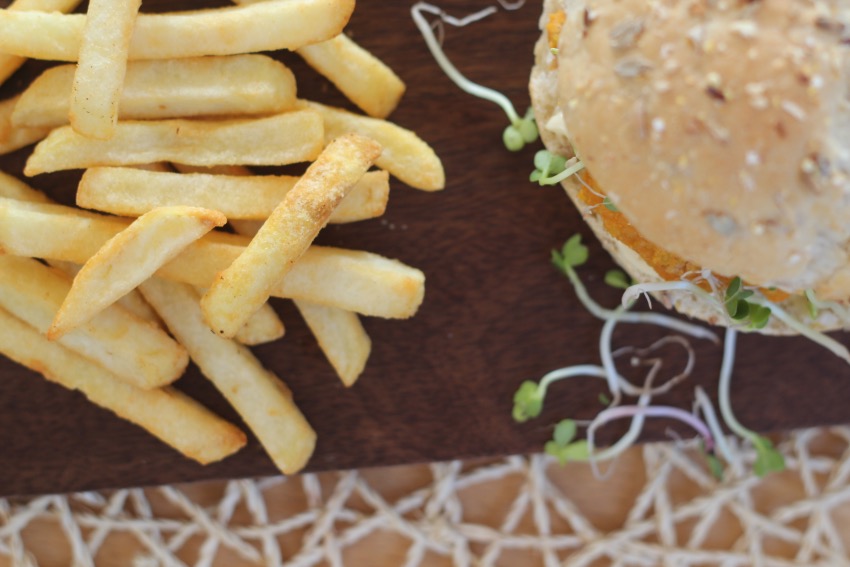 Frituren
In principe zijn beide soorten aardappelen goed om te hebben in een gebalanceerd voedingspatroon echter worden ze vaak 'ongezonder' voor ons lijf als ze gefrituurd worden en er dus frietjes van gemaakt worden. Of het nu zoete aardappel is of gewone aardappel, de friet-variant kent helaas veel gezondheidsrisico's. Hoewel de meeste onderzoeken nog zijn gedaan met de gewone aardappel die gefrituurd is, kunnen we vermoeden dat dezelfde nadelen die afkomstig zijn van het vet waarin wordt gefrituurd voor elk ander voedingsmiddel gelden.
Een kleine opsomming van wat er uit onderzoek blijkt over het frituren (van friet);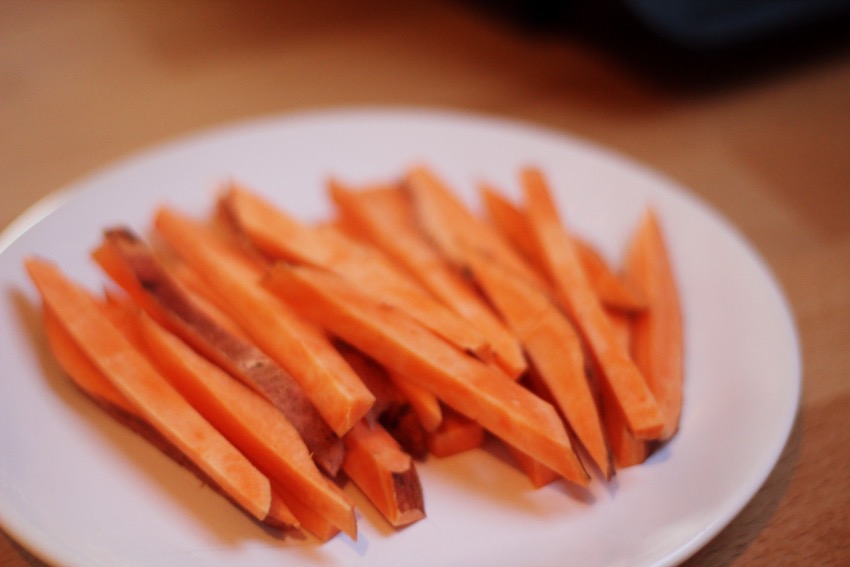 Let op de stof Acrylamide
Wanneer zetmeelproducten zoals aardappelen verhit worden boven de 120 graden Celsius kan de stof acrylamide ontstaan. Denk aan friet, chips, koffie, ontbijtkoek, geroosterd brood, biscuits, crackers, ontbijtgranen etc. De onderzoeken zijn tot nu toe gedaan op proefdieren en hieruit blijkt dat deze stof voor dieren wel degelijk schadelijk is. "Bij mensen kan een hogere inname van de stof schadelijk zijn", zegt het Voedingscentrum. Wat die hogere name precies is, is niet duidelijk. Wel wordt er nog wat informatie gegeven over de wetgeving die je misschien een gerust hart kan geven (of niet):
Wetgeving

Het gehalte aan acrylamide in gevoelige producten (friet, koffie, brood, ontbijtgranen, koekjes en chips) wordt regelmatig gecontroleerd. De Europese Commissie heeft in juli 2017  een voorstel gedaan waarin staat dat voedselproducenten, fastfoodketens en restaurants de hoeveelheid acrylamide in hun producten verder moeten terugdringen. In een later stadium komen er mogelijk limieten voor de hoeveelheden acrylamide die in een product mogen zitten.
Sommige fabrikanten gebruiken verschillende strategieën om acrylamide levels in hun producten te verlagen, door bijvoorbeeld bepaalde toevoegingen te doen aan hun frietjes, maar dit is niet verplicht vanuit de wet (15)(16)(17).
Als je zelf friet wilt maken dan kun je zelf de kans op acrylamide vorming verlagen door de (gesneden) aardappelen niet in de koelkast te bewaren, ze in de oven te bakken in plaats van te frituren en de gesneden aardappelen (frietjes) 15-30 minuten in water te weken voor je ze gaat bakken. Als laatst nog een tip; probeer de aardappelen te bakken tot ze goudkleurig zijn, niet bruin (18)(19)(20)(21), dan zijn ze ook het lekkerst vind ik!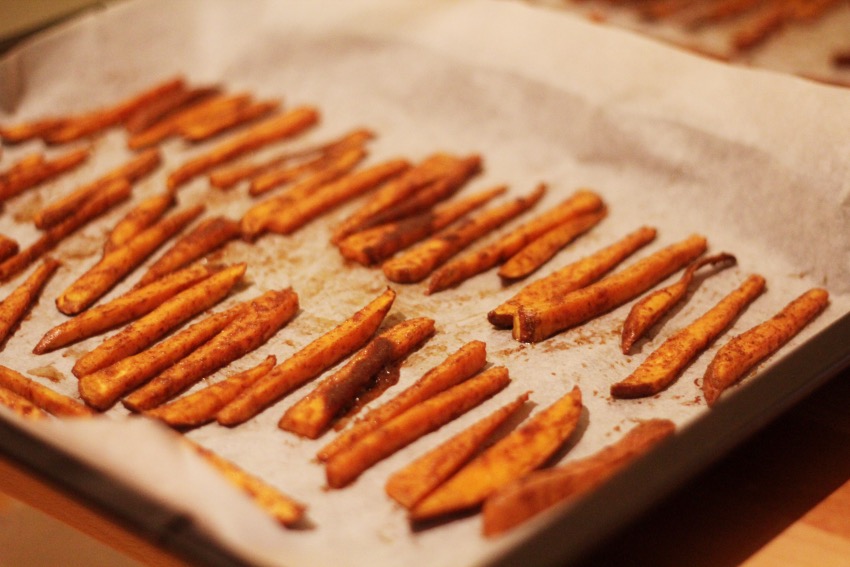 Conclusie?
Zoals je misschien begrijpt is er ruimte voor beide soort aardappelen in een gebalanceerd voedingspatroon. Ga je ze echter frituren dan dien je rekening te houden met allerlei extra factoren.
Over het algemeen hebben veel mensen moeite om aan hun dagelijkse aanbevolen hoeveelheid vitamine A te komen, een zoete aardappel op zijn tijd zou daar natuurlijk bij kunnen helpen! Maar kies vooral wat je lekker vindt als je gaat voor een gefrituurde variant, geniet er zoveel mogelijk van maar eet het met mate. Dat zou mijn advies zijn!