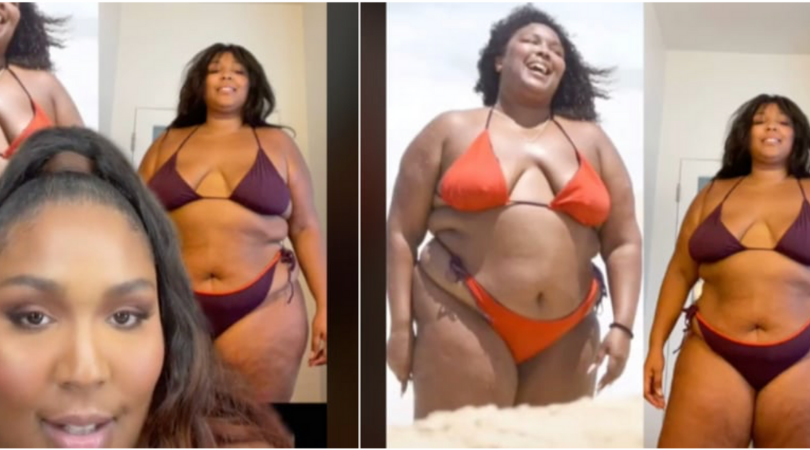 Een belangrijke boodschap van Lizzo over een foto collage waarbij je DENKT dat het gaat over afvallen en je daardoor gelukkiger voelen. Want dat is NIET het geval – dat is nooit het geval. Gelukkig zijn zal altijd van binnenuit moeten komen en wat vaak gebeurt als mensen écht hun leefstijl aanpakken en gaan afvallen – is dat ze voor het eerst dingen doen voor zichzelf en een traject aangaan waar ze zichzelf beter leren kennen, begrijpen en respectvol behandelen.
Wanneer dat tot afvallen leidt denkt de buitenwereld vaak:
"Zie je wel, afvallen staat gelijk aan gelukkig zijn"
Dat is niet zo. Dat is nooit zo. Het zit hem in wat er tijdens het proces van afvallen gebeurt wat leidt tot gelukkig zijn. De realisatie is dan vaak dat het gewicht als een beschermingsmechanisme diende, of als troost of iets anders. Sommige mensen vallen af en realiseren dat ze helemaal niet gelukkiger zijn geworden en andere mensen wel – het zit dus allemaal in het ontwikkelproces in je hoofd dat vaak geactiveerd wordt wanneer je gezonder gaat eten en beter voor jezelf gaat zorgen.
Hoe dan ook, ik heb genoeg gezegd – kijk deze video van Lizzo voor wat wijze woorden!
@lizzoi used to look at old pics of myself when I hated my body & say "I was so fine back then!".. now I appreciate ALL OF ME in the moment no matter what!♬ original sound – lizzo
SHAMING PEOPLE DOES NOT MAKE A DIFFERENCE: LOVING PEOPLE FOR WHO THEY ARE DOES. <3