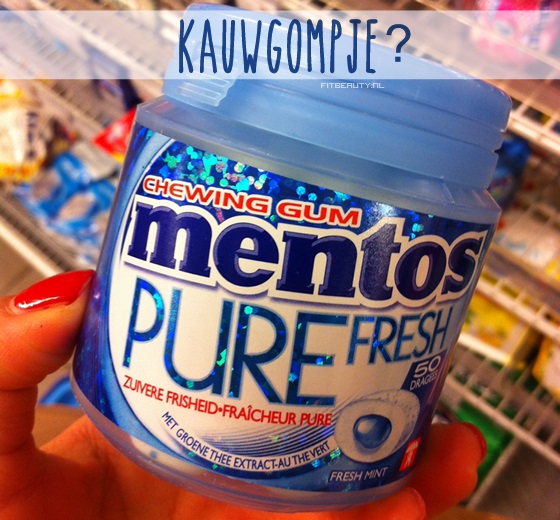 Kauwgompje?
Ooit afgevraagd of kauwgom gezond is? Of wat het überhaupt kwaad kan? 1 potje kauwgom met etiket is hopelijk voldoende voor jullie om een idee te krijgen. Laten we de spanning niet te lang ophouden!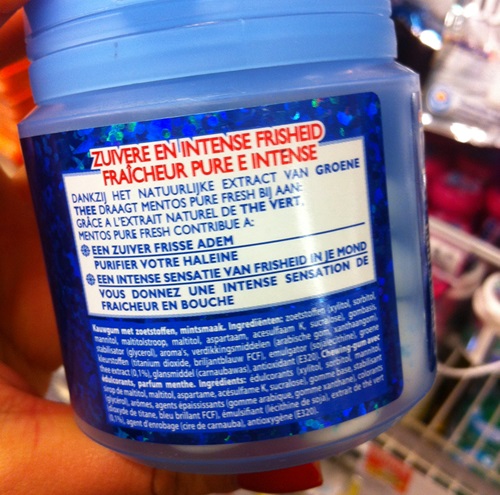 Is het een beetje te lezen? Niet? Dan zal ik even inzoomen 🙂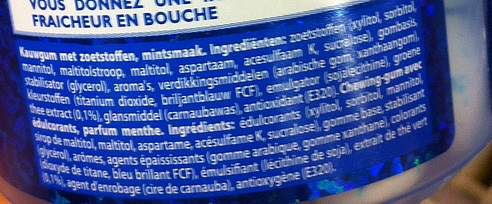 Zoetstoffen (xylitol, sorbitol, mannitol, maltitolstroop, maltitol, aspartaam, acesulfaam K, sucralose), gombasis, stabilisator (glycerol), aroma's, verdikkingsmiddelen (arabische gom, xanthaangom), kleurstoffen (titanium dioxide, briljantblauw FCF), emulgator (sojalecithine), groene thee extract (0,1%), glansmiddel (carnaubawas), antioxidant (E320). 
Waar moet ik beginnen?
Mijn hemel. Het hele zoetstoffen alfabet zit alleen al in deze kauwgom. En dit is niet alleen bij dit merk zo, maar tegenwoordig bij elke kauwgom waar je "sugarfree" op ziet staan. En dat zijn ze, voor zover ik kon zien, allemaal.
Voor de bijwerkingen van de zoetstoffen Xylitol, Sorbitol, Mannitol, Maltitol en Acesulfaam K kun je dit artikel lezen. Er is verder NIETS natuurlijks te vinden in de ingrediënten.
Oja, altijd leuk om te zien wat er op de voorkant vermeld staat, zoals nu "Met groene thee extract" en vervolgens even de achterkant checken en tot de conclusie komen dat 0,1% (hoe weinig?!!) eigenlijk bestaat uit groene thee extract. Hm.
Komt erbij dat het eerst genoemde ingrediënt het meest voorkomt in het product, en zo afbouwend; dit zijn de zoetstoffen. Niet eens de basis van de kauwgom "gom", maar letterlijk de zoetstoffen.
Ik vind het belangrijk dat je zelf je keuzes maakt qua voeding, zolang je maar wéét wat je eet en drinkt en zelf bepaalt of het het waard is. Ik probeer kauwgom zoveel mogelijk te vermijden, het is ook niet iets waar ik behoefte aan heb. Nu heb jij in ieder geval ook de kennis!