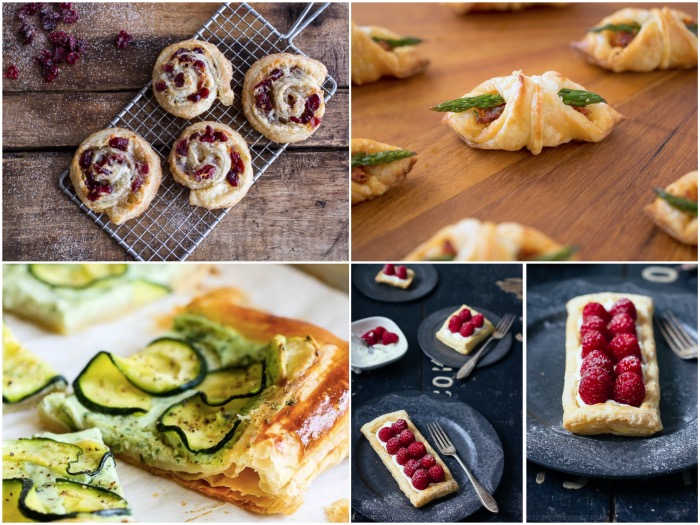 De feestdagen! Heb jij mensen uitgenodigd bij je thuis en heb je niet helemaal een planning gemaakt of is je planning overhoop door onverwachte zaken?
NO STRESS! Ik ga je in dit artikel wat last minute bladerdeeg recepten geven waardoor je nog steeds je gasten kunt verwennen! Natuurlijk niet direct de "gezondste" gerechten, maar nog steeds home made en presenteerbaar voor je gasten!
Idiot Proof Cranberry + Brie Puff Pastry Swirls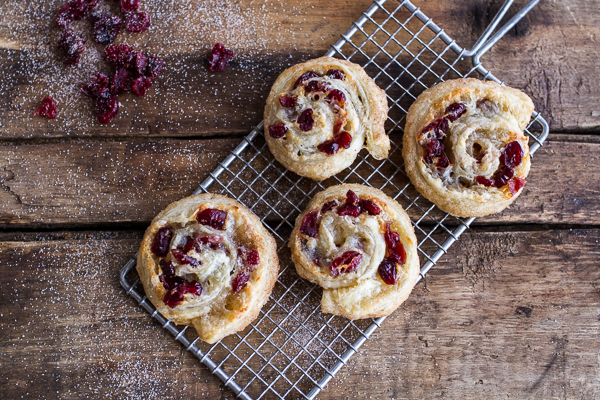 De titel van het recept zegt het al "idiot proof". 5 ingrediënten en erg makkelijk te maken. Je gebruikt namelijk wat bladerdeeg, kaneelsuiker, cranberry's, brie en wat boter. Laat je gasten een beetje versteld staan door deze "Home Made" lekkernijen bij de koffie te serveren óf als toetje met wat vanille- of roomijs ernaast. Je kunt de hapjes ook nog eventjes verwarmen in de magnetron voor je serveert met het ijs; succes gegarandeerd.
Vegetarische Samosa Vlecht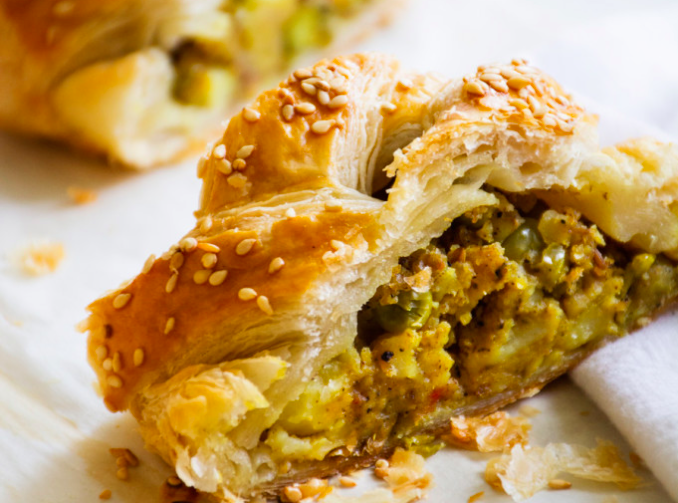 Eigenlijk kun je al je restjes bij elkaar gooien in een koekepan, bakken, juiste kruiden erbij en vervolgens het deeg eromheen vlechten zoals in dit recept. Het ziet eruit alsof je er heel veel werk in hebt gestoken maar het is veel simpeler dan je misschien dacht! Bij het recept vind je ook een gif plaatje waarin duidelijk wordt laten zien hoe je de "vlecht" maakt.
Courgette en Ricotta Tart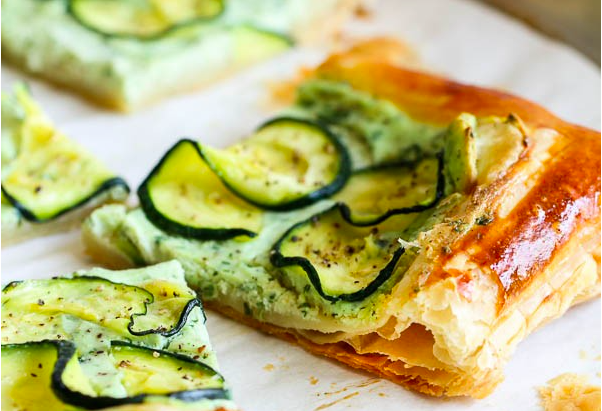 Met een wat vettige bladerdeeg bodem, wordt het geheel toch een "licht gerecht" door de ricotta en courgette. Het is echt een plaatje als het de oven uit komt.
Asperge en zongedroogde tomaat hapjes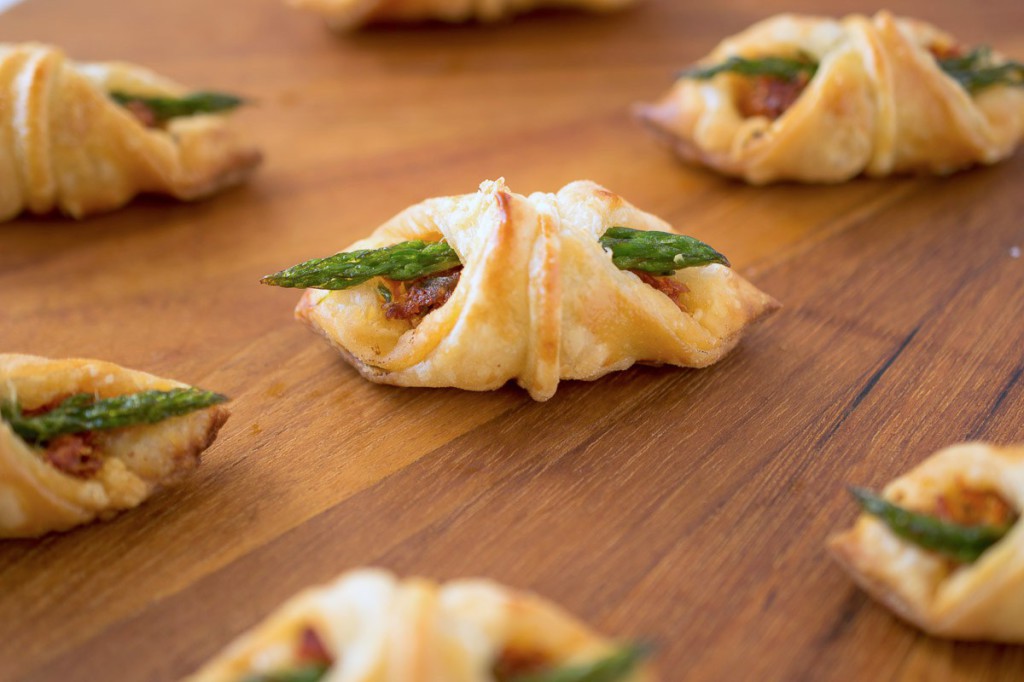 Dit ziet er ontzettend fancy uit als je het mij vraagt, maar ook dit is weer mega simpel te maken! Je kunt tegenwoordig zelfs asperges uit het vriesvak halen (goedkoop en altijd verkrijgbaar). In het recept wordt ook heel duidelijk laten zien hoe je deze vorm krijgt met bladerdeeg. Easy peasy zullen we maar zeggen!
Taart van bladerdeeg met mascarpone en frambozen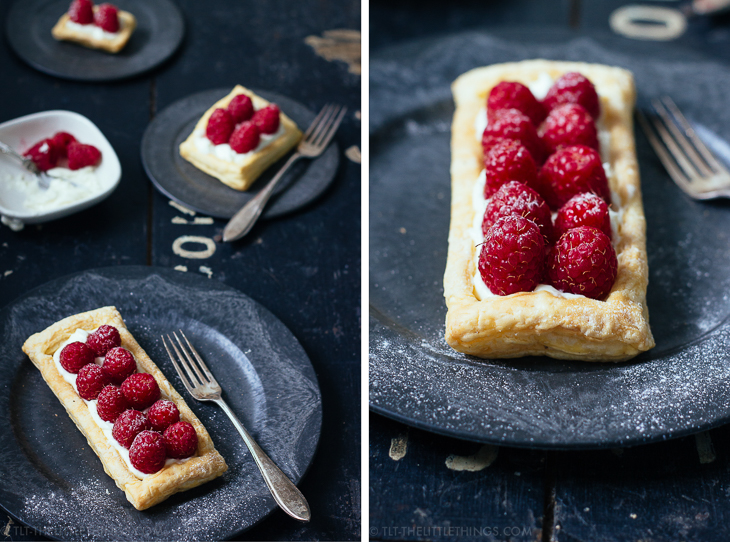 Een Nederlandse site! Wat leuk! In mijn zoektocht naar recepten kom ik toch vaak uit op Engelstalige recepten en was verrast om dit recept van Denise (The Little Things) tegen te komen. Ook dit is echt een prachtig toetje om te serveren als je gasten hebt, zonder dat het je uren tijd kost! \
Nog steeds last van stress?
Puff(pastry) even een aantal tellen en bedenk je dat het uiteindelijk het belangrijkste is dat je met elkaar bent. Of het eten nu wel of niet gelukt is, daar kun je later ook weer om lachen. Zou zonde zijn als je niet weet te genieten omdat je wilt dat alles perfect is; let it go! Het maakt niemand wat uit of het perfect is, mensen zijn allang blij dat ze ergens komen tafelen met andere gasten; supergezellig! ENJOY!