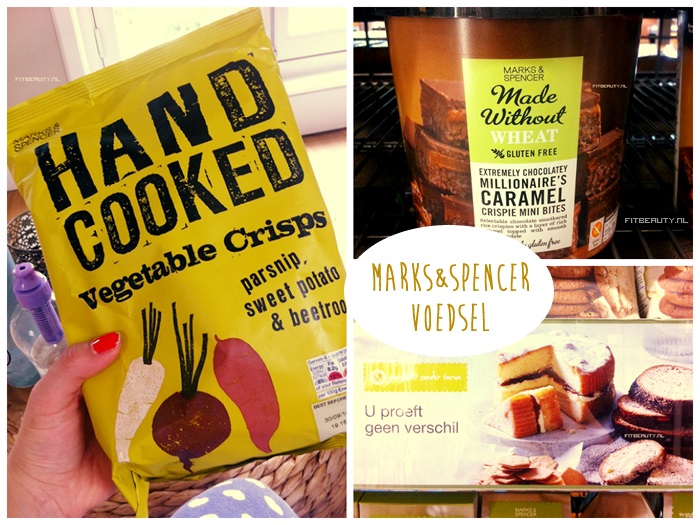 In het buitenland kwam ik vaak de winkels van Marks & Spencer tegen, ik ging er nooit echt heen voor de kleding maar wel.. Voor het eten! En vooral op buitelandse vliegvelden heb je vaak een Marks&Spencer supermarktje. Dat is dan ook waar ik direct naartoe ga omdat ze er altijd speciale producten hebben en ook een super gezond assortiment. Quinoa salades, glutenvrije pasta's etc. etc.
Nu is er enige tijd geleden een Marks&Spencer in Den Haag geopend en ik had heel veel zin om weer eens een kijkje te nemen in het supermarktje; oh my god! Ik wist niet dat ze gewoon een Teni-assortiment hadden. Zo noem ik het dan 🙂 Ik wilde het liefst overal foto's van maken en met jullie delen, maar het was druk en ik wil als "nieuweling" in deze stad nog even normaal overkomen, haha (stiekem ben ik geen nieuweling aangezien ik mijn hele studententijd + bijbaantjes allemaal in deze stad heb gehad). Ik heb wel van enkele producten al foto's gemaakt met hun etiketten erbij, ik word er blij van!
Oja; dit artikel is op geen enkele manier gesponsord. Ik ben nergens voor benaders. Ik heb alles zelf betaald en Marks&Spencer heeft denk ik geen idee dat ik dit schrijf, lol 🙂 

Misschien ook even belangrijk om te benoemen: ze hebben veel gezonde producten maar waar ik vooral heel gelukkig van werd en dus ook ga delen in dit artikel, waren de "gezonde-ongezonde-voedingsmiddelen". Dus de koekjes en de chipjes etc.
Als ik de vraag krijg "als ik dan toch iets ongezonds ga eten, wat kan ik dan het beste nemen?", dan verwijs ik je graag naar hieronder!
Hand Cooked Vegetable Crisps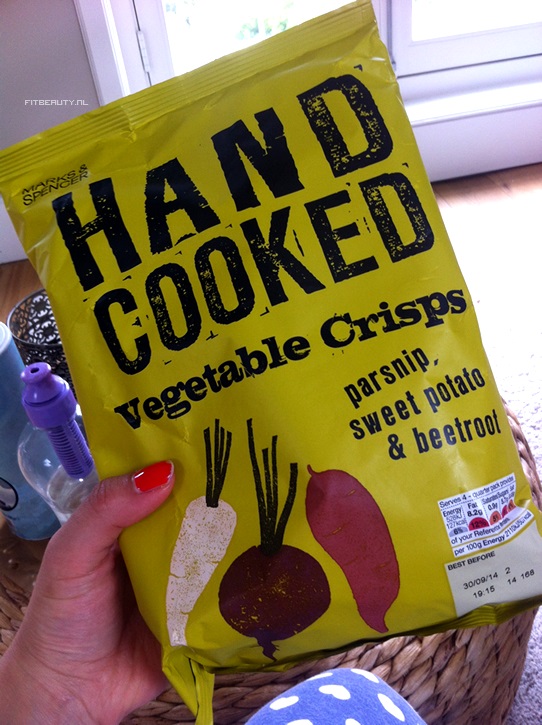 Oftewel; groentechips! Hele leuke, speelse verpakking. Hoop vol draai ik de zak om zodat ik het etiket binnen een rap tempo kan scannen op woorden als "suiker", "maltodextrine" en andere suikers..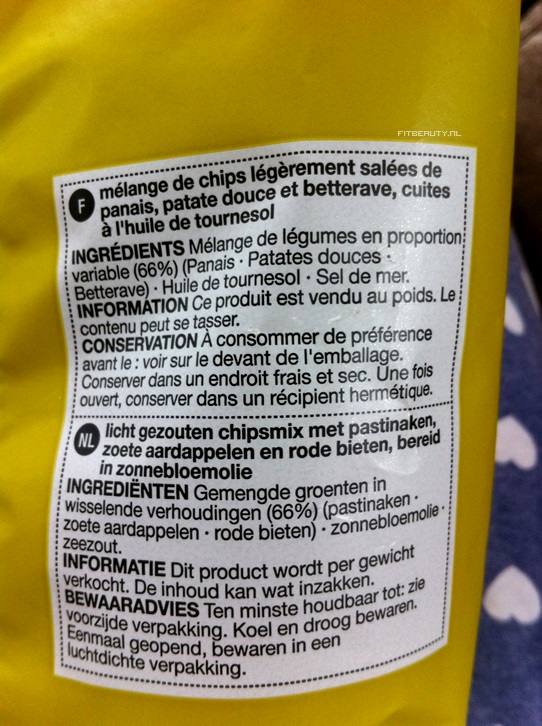 WAT?! Pastinaak, zoete aardappel, rode biet, zonnebloemolie en zeezout? That's it? In "normale" chips zit bijna áltijd suiker en onzettend veel rotzooi aan conserveermiddelen (aardappelzetmeel, maltodextrine, blablabla).
Ik ben verliefd. Op deze Chips. Of eigenlijk; crisps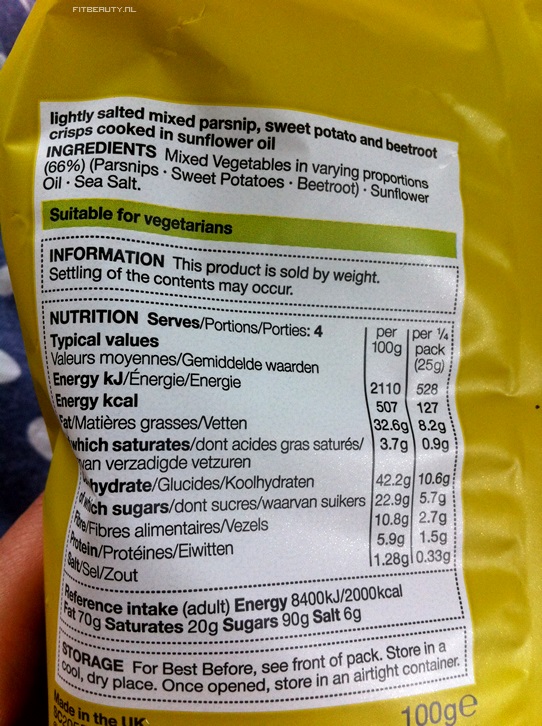 507 calorieën per 100 gram, dat is te vergelijken met chips inderdaad. Wel net iets minder dan de gemiddelde zakken chips, die bevatten rond de 550 calorieën per 100 gram. Ik heb deze "natuurlijk" gekocht om uit te proberen qua smaak en ik kan je zeggen; HEERLIJK! De rode bieten en de zoete aardappelchipjes zijn heerlijk zoet, en dat terwijl er geen toegevoegd suiker in zit. Ik ben om.
Koekjes en Chocolade
Nu hebben ze ook een super breed assortiment aan koekjes en chocolade. Deze bevatten allemaal (voor zover ik heb gecheckt) heel veel suiker. Maar wat wel weer heel leuk is, is dat ze allerlei verschillende soorten meel en bloem hebben gebruikt in plaats van tarwemeel.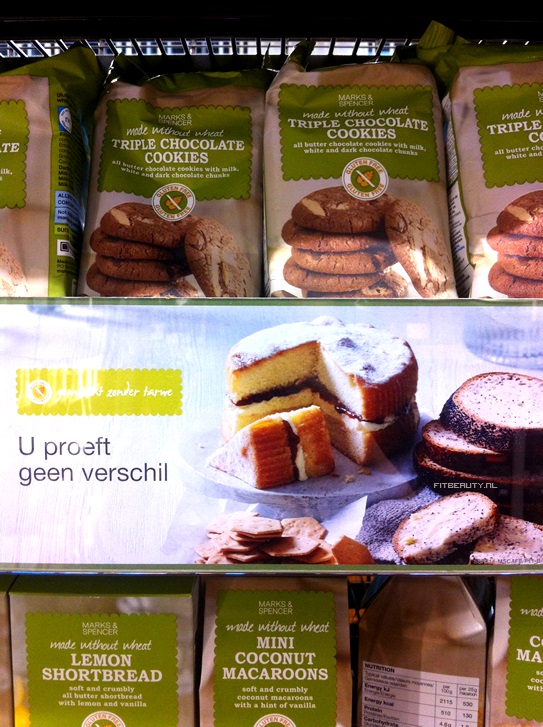 Tarwe/glutenvrije chocolade koeken. lemon shortbread (zandkoekjes), en kokos macaroons.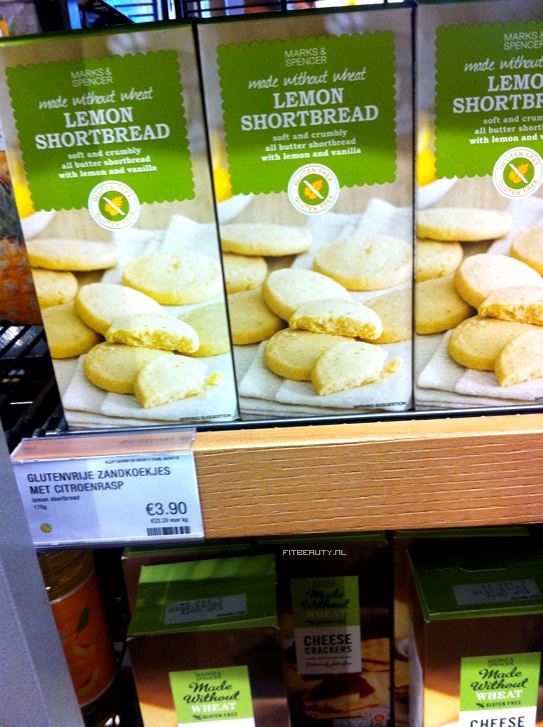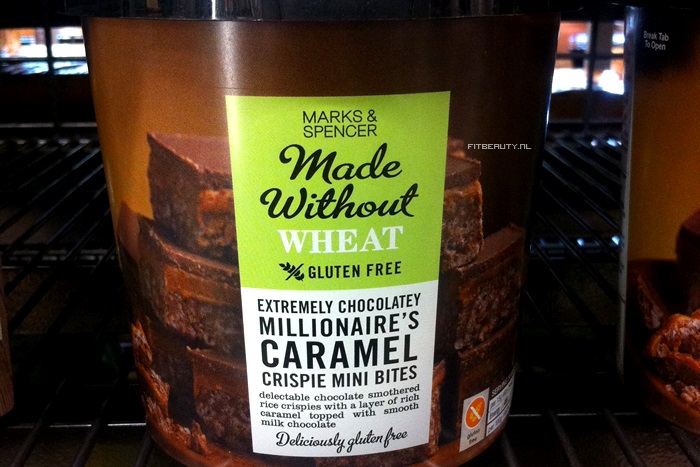 Vergeet niet, deze producten zijn nog steeds caloriebommen met heel, heel, heel veel suiker. Maar zonder tarwe of gluten. Handig als je een glutenallergie hebt en je eens geen zin hebt om zelf te gaan bakken. 🙂
Waar is er een Marks&Spencer in mijn buurt?
Deze supermarktjes komen steeds meer op, ik zag er laatst ook al een op het trein station (weet niet meer welke). Maar op de site kun je vinden of er eentje bij jou in de buurt is! "checkcheck"