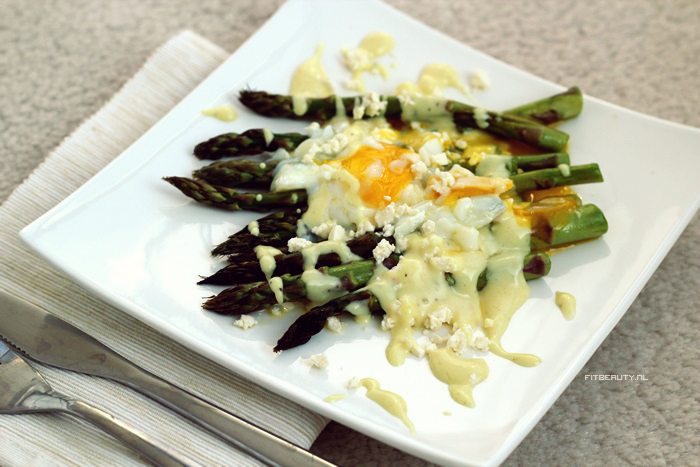 Asperges doen me denken aan de lente en de zomer. In ieder geval aan warm weer! Een heel simpel gerecht dat je als lunch of avond maaltijd kunt eten; Asperges met zelfgemaakte aioli, feta en ei 🙂 
Wat heb je nodig voor 2 porties?
Bosje asperges (zo'n 200 gram)
1 eetlepel citroensap (vers)
2 – 3 eetlepels mayonaise of yogonaise
1 theelepel mosterd
2 eieren
30 gram feta kaas, gekruimeld
peper en zout
blokje boter (of olie) om in te bakken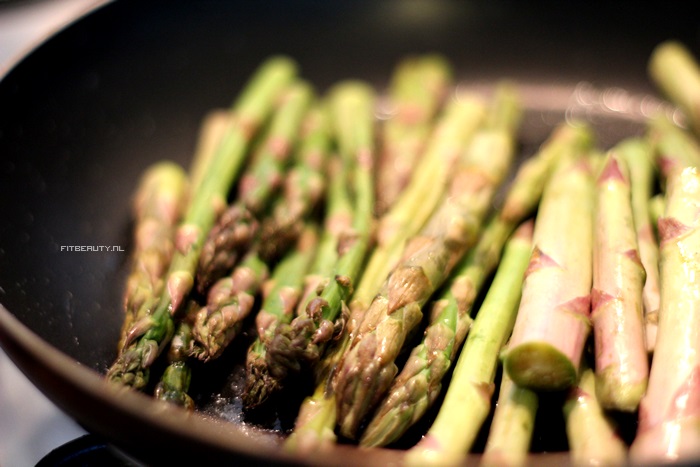 Ik vind het heerlijk om asperges in boter te bakken, dit hoeft voor maar 6-7 minuutjes. Dus verhit wat boter in een pan en doe daar je asperges in. Oja, ik had een kleine pan dus ik heb de asperges door midden gesneden; niet heel culinair, haha.
En wat ook niet heel culinair is: ik schil ze niet. Ik snijd alleen de achterkantjes eraf. Maar doe vooral wat je zelf lekker vindt hierbij!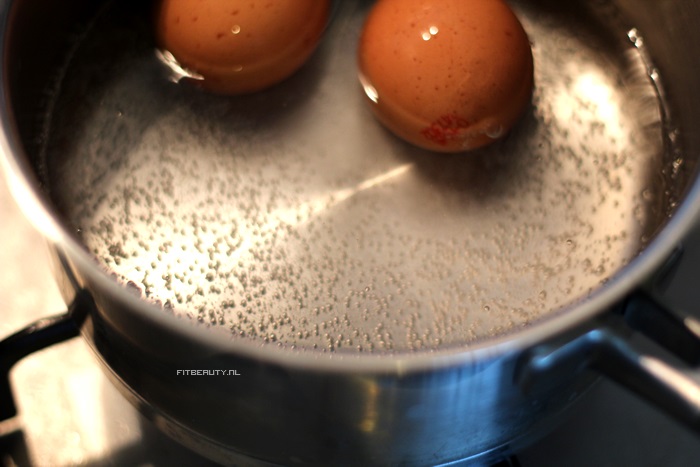 Breng water aan de kook met 2 eieren erin en wanneer het water kookt 3 minuten de eieren erin laten. Zo blijft het eigeel zacht.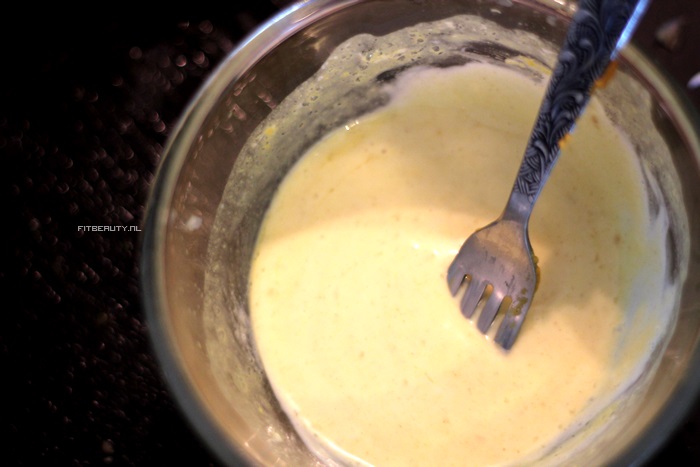 De aioli is heel simpel om te maken; doe de mayonaise/yogonaise, citroensap en moster in een kommetje en meng dit door elkaar met een vork. Proef eventjes wat je van de smaak vindt. Sommige mensen vinden een wat zoetere aioli lekkerder, andere een wat zuurdere. Voeg dus gerust wat meer van hetgeen toe dat jij wilt hebben. Peper en zout zijn ook belangrijk voor de smaak!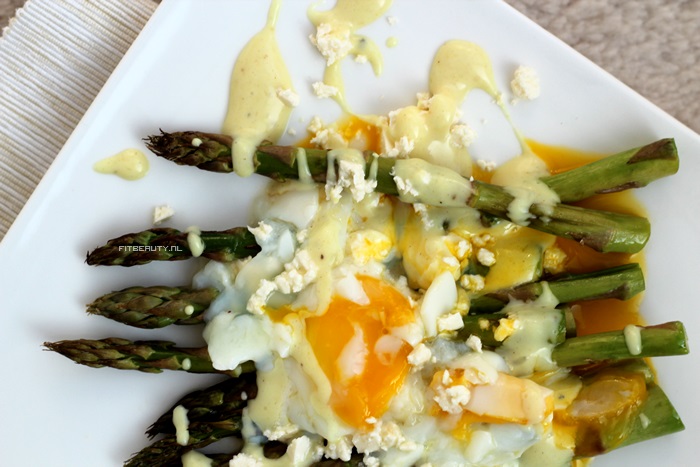 Tijd om te serveren! Leg eerst de asperges op een bord met de hoofdjes dezelfde kant uit. Vervolgens doe je er wat aioli overheen. Schep daarna het ei voorzichtig uit de schil bovenop de asperges (het liefst in het midden). Besprenkel alles met de gebrokkelde feta en als je wit kun je nog wat meer aioli hier en daar toevoegen om er een mooi geheel van te maken!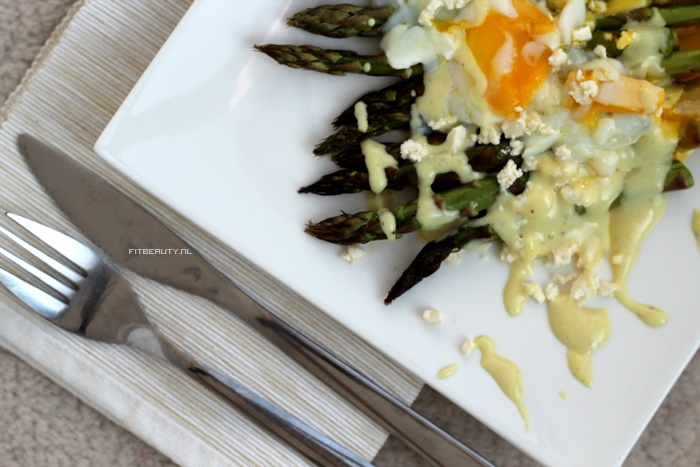 Zo simpel is het eigenlijk! En smúllen!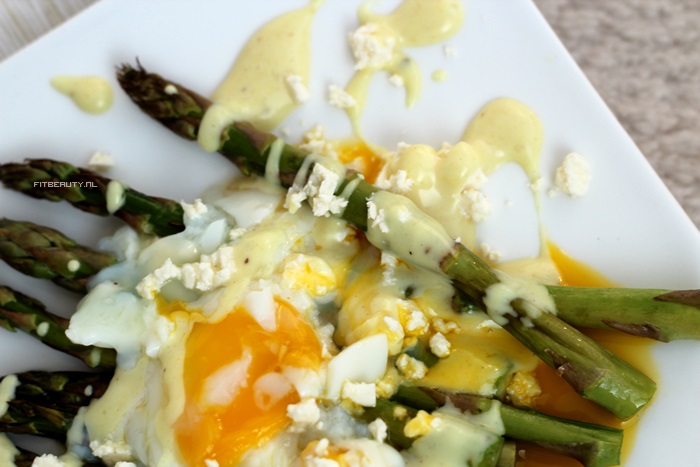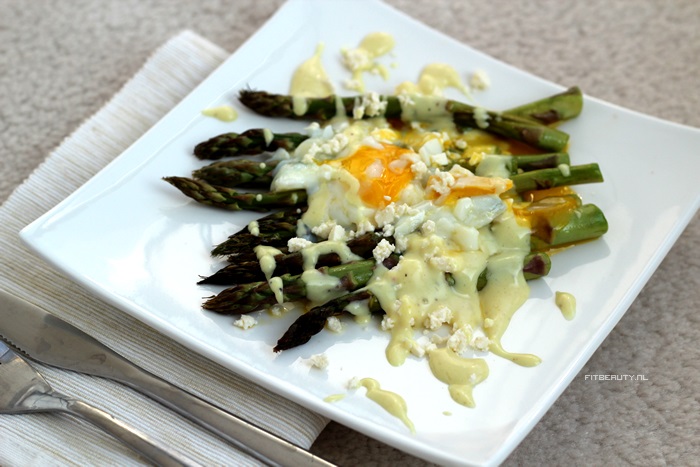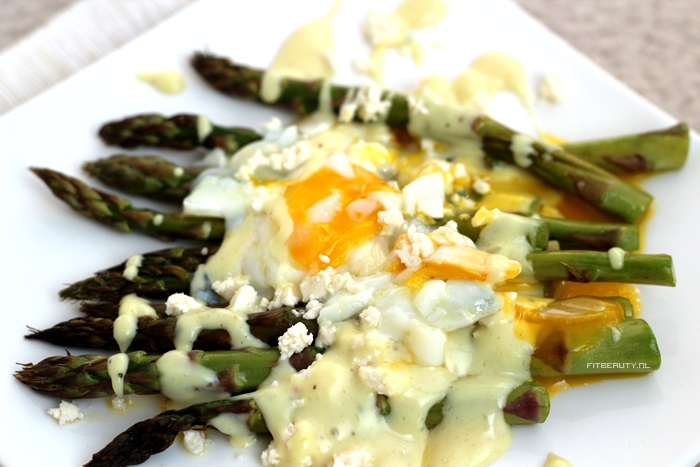 Eetsmakelijk!