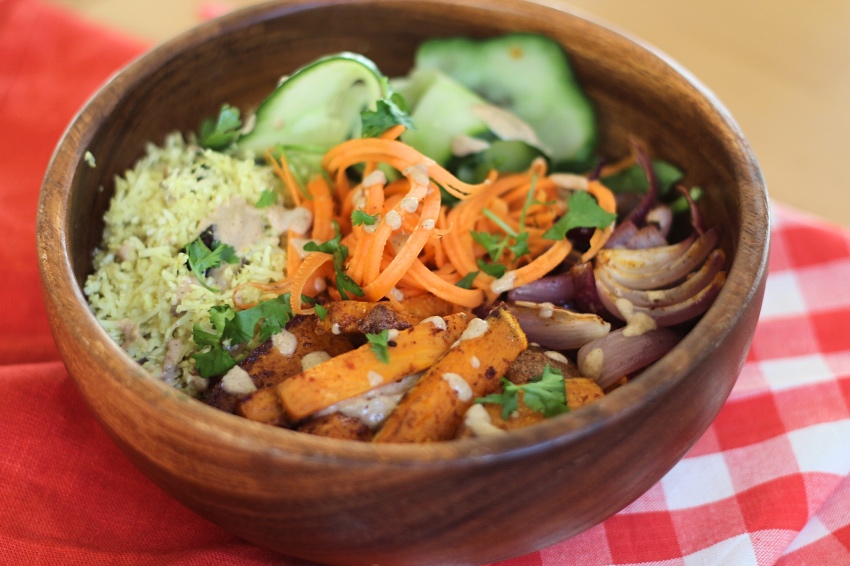 Een enorme voorraad aan groente in huis zorgde ervoor dat ik inspiratie kreeg voor het maken van een nieuwe buddha bowl. Deze keer zonder vlees of dierlijke producten, het geheel is opgebouwd uit verschillende groentes met als topping een heerlijke tahini dressing en wat verse koriander! JUM!
Eet zoveel mogelijk kleuren groente en fruit en je krijgt mega veel vitamines en mineralen binnen 😉 Dat gaan we dus ook doen met deze buddha bowl! Wat heb je nodig? (bepaal zelf de hoeveelheden naar eigen smaak)
Spinazie, als basis
Bloemkool, om bloemkoolrijst mee te maken
Gedroogde cranberries
Zoete aardappel
Rode ui
Wortel
Komkommer
Verse koriander
Paprika poeder, komijn, knoflookpoeder, kaneel, kerrie, peper en zout
Kokosolie
Dressing:
2 eetlepels Tahini
1 eetlepel Citroensap
1 eetlepel Water
De zoete aardappel en rode ui: Verwarm de oven voor op 200 graden Celsius. Snijd deze in stukken en leg ze op een ovenschaal bedekt met bakpapier. Doe jouw gewenste kruiden eroverheen (ik heb komijn, kaneel, paprika poeder en wat zout gebruikt). Druppel er olie overheen en meng het geheel een beetje met een lepel of met je handen. Zet deze in een voorverwarmde oven voor zo'n 30-40 minuten.
De bloemkoolrijst: Rasp de bloemkool in een kom of gebruik een keukenmachine met een rasp-opzetstuk (of doe het geheel in de keukenmachine, maar pulse hem dan een paar keer, anders krijg je puree ;)). Doe wat olie in een pan en bak hier een uitje in. Als de ui glazig wordt, doe je de bloemkool erbij met jouw gewenste kruiden (ik heb komijn, kerrie, knoflookpoeder, peper en zout gebruikt). Als de bloemkool ongeveer een minuutje aan het bakken is, doe je er een handje gedroogde cranberries bij. Bak dit zo'n 2 minuten mee en je bloemkoolrijst is klaar!
De dressing: Doe de ingrediënten bij elkaar in een kommetje en meng het goed door elkaar. Proef even of je de dressing lekker vindt, zo niet; doe er dan wat citroensap en/of tahini bij.
Vervolgens is het een kwestie van stapelen zoals jij dat wilt! Ik begin met spinazie, dan de bloemkoolrijst, dan de zoete aardappel en rode ui uit de oven en vervolgens gebruik ik een spiral cutter (van de Lidl; 2,99) (of gebruik een julienne snijder) om de wortel en komkommer op een leuke manier toe te voegen aan het geheel. Dressing eroverheen, verse koriander en klaar! Eetsmakelijk!
Dit is zo-ontzettend-lekker!