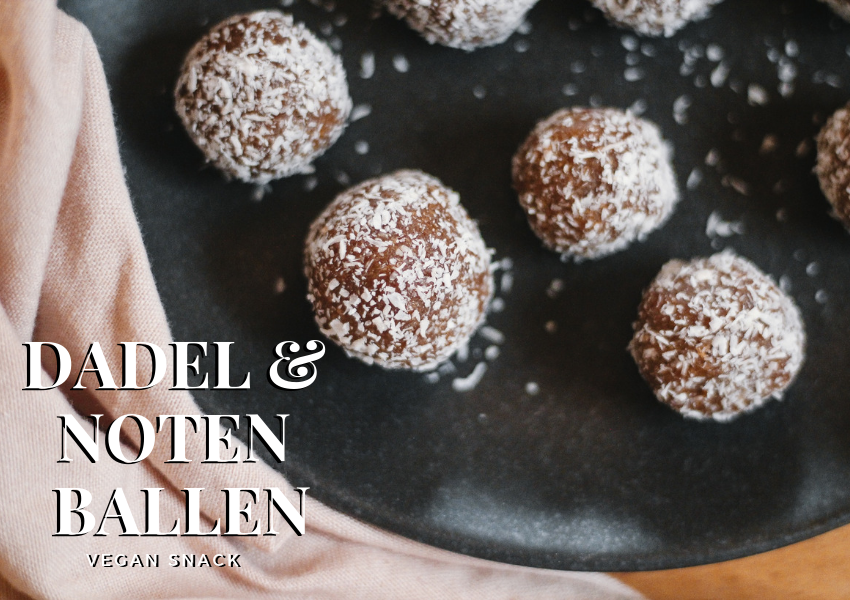 Ik moest even twee keer kijken toen ik de titel had getypt, maar het staat er echt. Ik had ze ook "Bliss balls" of "Energy balls" kunnen noemen, maar ik wilde het lekker Hollands houden 😉
Dit recept is geïnspireerd op de "energy balls" van Deliciously Ella – waar ik een steeds grotere fan van wordt! Een heerlijke snack/tussendoortje die onwijs voedend is voor je lichaam.
Vroeger wilde ik deze 'ballen' nooit eten omdat ze naar mijn idee zóveel calorieën bevatten, dan at ik liever een Twix. Maar tegenwoordig snak ik echt niet naar chocoladerepen en voel ik ook een verschil in verzadigingsgevoel én energie na het eten van dit soort snacks in tegenstelling tot chocoladerepen als Twix, Snickers etc.
Hopelijk probeer je deze eens te maken, ze zijn héérlijk! Zelfs Boy vond ze lekker, huh! 
Wat heb je nodig voor zo'n 6-7 ballen?
100 gram dadels
25 gram havermout
13 gram walnoten (of andere noten)
13 gram zonnebloempitten
1 eetlepel pindakaas
1/2 theelepel vanille extract
Sesamzaad of kokos om de ballen in te rollen
Doe alle ingrediënten (behalve sesamzaad en/of kokos) in een keukenmachine en mix het geheel tot er een deegbal ontstaat. Soms gebeurt dit niet en krijg je alleen kruimels, als je deze met je vingers tegen elkaar kunt duwen zonder dat ze uit elkaar vallen – is dit ook helemaal prima!  Maak er ballen van door ze in je handen te rollen en rol ze daarna in het sesamzaad of in de kokos zodat je ze kunt eten zonder dat je handen plakkerig worden.
Je kunt ze meerdere dagen (ik zou maximaal 7 dagen doen) in de koelkast bewaren! Ze zijn ZO lekker, dit had ik niet zien aankomen. Ik ben verslaafd! Enjoy!