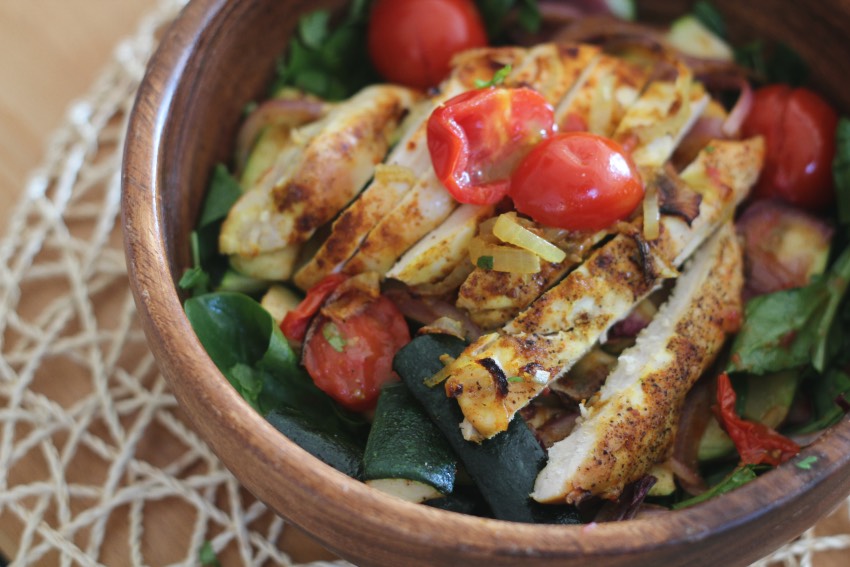 Een recept van een salade is meestal zo simpel en voor mijn gevoel niet de moeite waard om te delen op mijn blog. Maar af en toe, dan zit er een smaken-combinatie bij die ik moet delen, omdat deze zó goed is. Zoals vandaag.
De dressing maakt deze salade écht, als je het mij vraagt. Daarnaast krijg je een bak vol groente binnen en kun je deze salade zien als een lichte maaltijd die je als lunch kunt eten als je in de avond lekker uit eten gaat. Of als lichte avondmaaltijd als je zwaar gebruncht hebt bijvoorbeeld! Balans dus 😉
Wat heb je nodig voor 1 persoon?
Voor de salade:
2 handen vol boerenkool of spinazie
1/2 courgette, in stukjes gesneden
1/2 uien
4-5 cherry tomaten
handje verse koriander, fijngesneden
theelepel olie
kruiden naar keuze (knoflookpoeder, paprika, peper, zout)
Voor de kip:
+/- 140 gram kip
olie
kruiden naar keuze (knoflookpoeder, kerrie, paprika, peper, zout)
1 ui, gesneden
Voor de dressing:
1/4 grapefruit, uitgeperst
1 theelepel olijfolie
1 theelepel honing of maple syrup (ahornsiroop)
Verwarm de oven voor op 220 graden Celsius.
Besprenkel een ovenschaal met wat olie, de helft van de gesneden ui en kruiden. Plaats de kip hier bovenop en herhaal het geheel met de olie, ui en kruiden. Plaats dit in de voorverwarmde oven voor minstens 30 minuten tot de kip gaar is. Ondertussen doe je de courgette, ui en cherrytomaten in aluminiumfolie, besprenkel dit met olie en kruiden en vouw de folie 'dicht'. Plaats dit na 15 minuten naast de kip in de oven.
De kip heeft wat langer nodig om te garen, daarom gaat deze eerder de oven in. Houd het geheel in de gaten, en zet de oven op grill stand voor de laatste 5-10 minuten. Dit kan per oven verschillen maar bij mij heb ik de kip 40 minuten in de oven gehad en de groente zo'n 25 minuten.
Doe de boerenkool of spinazie in een schaal samen met de koriander. Giet een deel van de dressing eroverheen en 'masseer' de sla hiermee. Doe vervolgens de groente en kip uit de oven erbij en giet de rest van de dressing eroverheen.
Zo fris en zo lekker! Je kunt de kip ook vervangen door kikkererwten als je geen vlees eet. Héérlijke salade die ik ga blijven maken, vooral handig om de balans er lekker in te houden zo af en toe! Enjoy!