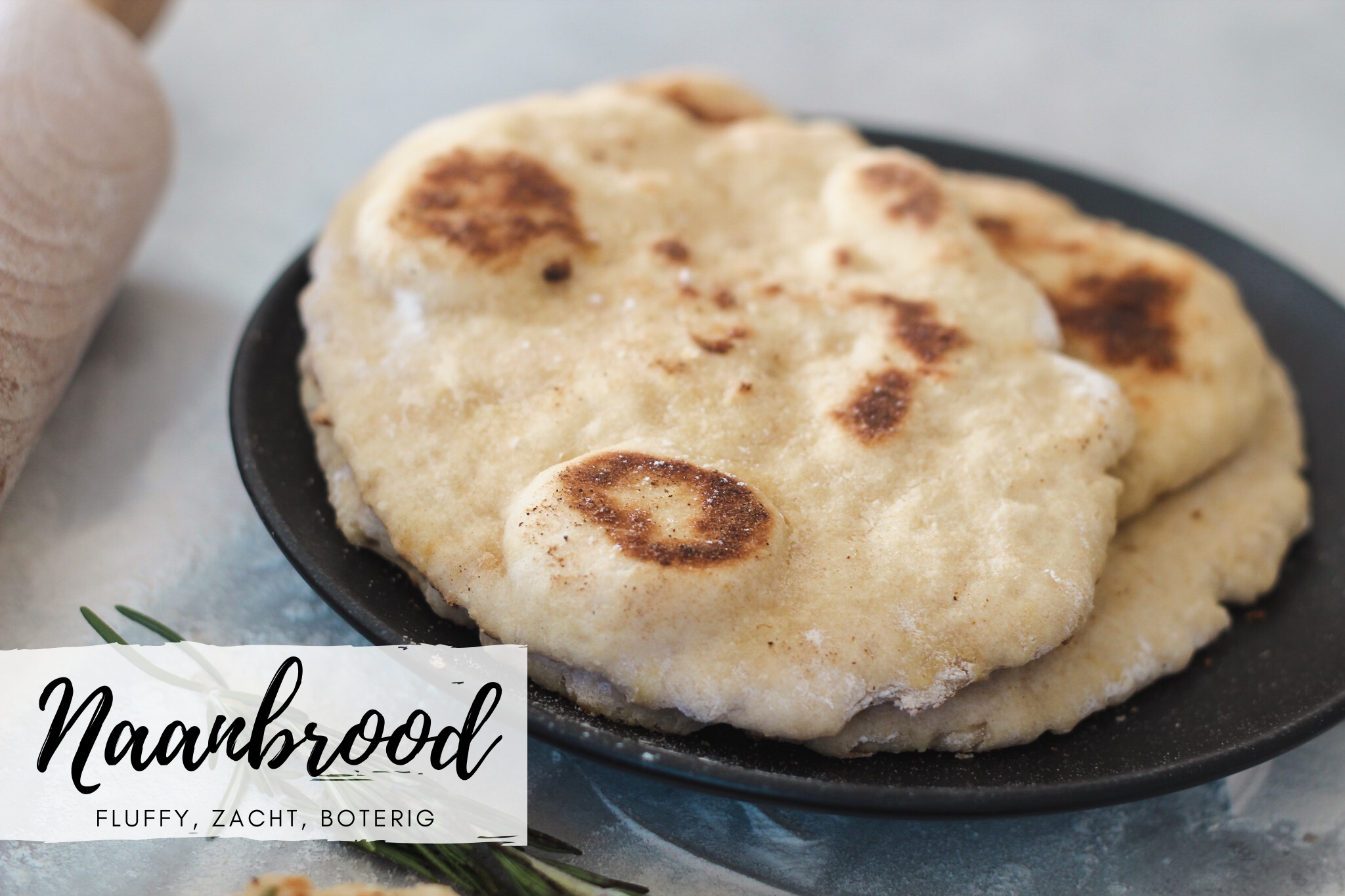 Alleen al de combinatie van 'fluffy' en 'brood' zijn voor mij manieren om regelrecht naar mijn hart gaan. Ik ben er gek op en al helemaal op naanbrood.
Het was even zoeken en proberen tot ik dé manier vond tot het maken van fluffy naanbrood thuis, zonder oven! Het geheim? Een deksel!
Op naar het recept!
Wat heb je nodig voor 4 kleine Naanbroden:
250 gram bloem
30 ml heet water (niet kokend, heet uit de kraan)
100 ml warme kokosmelk
3 eetlepels magere kwark of yoghurt
1/2 eetlepel suiker of honing
1 theelepel gist
1 theelepel bakpoeder
1 theelepel baking soda (bicarbonaat)
1 theelepel zout
Om te bakken:
Gesmolten boter of kokosolie
Smaken om toe te voegen, optioneel:
knoflook, vers of poeder
tijm, vers of gedroogd
koriander, vers of poeder
Meng het water met suiker/honing en de gist in een grote kom, roer dit even en laat het 10-15 minuten rusten tot de gist wat is gaan borrelen. Voeg dan alle overige ingrediënten toe (behalve de smaken en boter), roer het met een vork door tot het te kneden is met de handen. Kneed het deeg tot er een bal ontstaat, je hoeft niet verder te kneden dan dat. Het zal wat plakkerig zijn maar het is al wel een bal geworden.
Dek de kom af met een vochtige theedoek of plastic folie en laat dit een uurtje staan.
Na een uur kun je het deeg verdelen in vier gelijke stukken en uitrollen tot jouw gewenste vorm. Besmeer het met gesmolten boter of kokosolie, nu kun je ook jouw gewenste smaken toevoegen. Ik heb gekozen voor knoflook en rozemarijn, per brood één smaak.
Verhit een koekenpan op een hoog vuur (zonder vet of olie) en plaats hierin je naanbrood, zet het vuur laag en plaats een deksel bovenop de naan. Hierdoor krijg je een fluffy brood met van die bekende 'luchtbellen' erin. Na 2-3 minuten kun je de naan omdraaien en nog 1-2 minuten bakken met de deksel erop.
Het resultaat? Heerlijk fluffy naanbrood!
Enjoy!