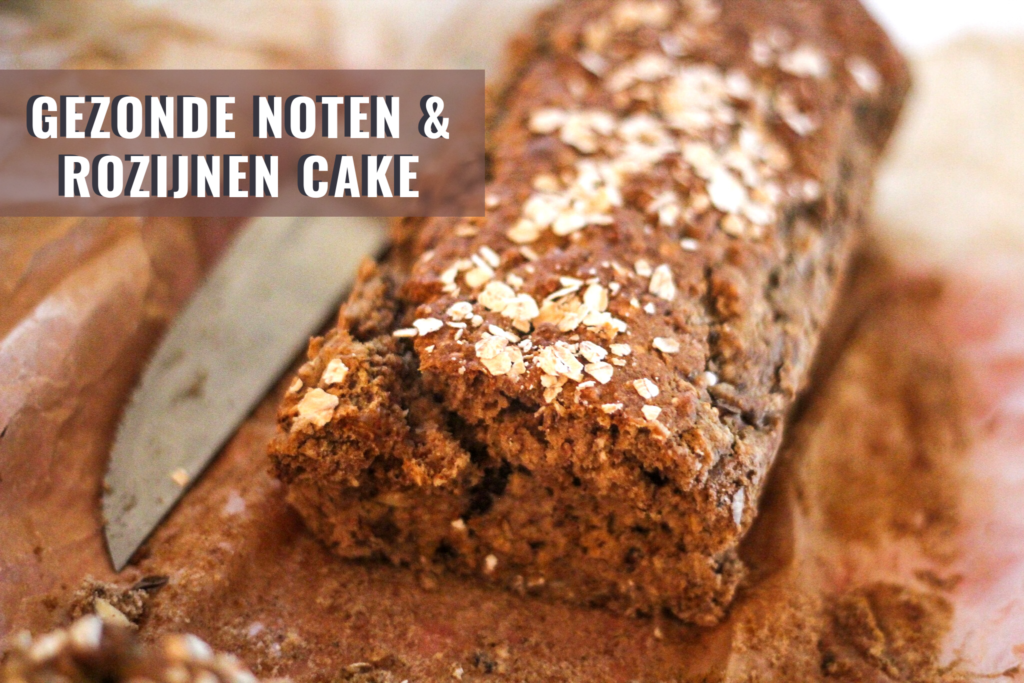 Heb je zin in een gezondere cake met wat 'crunch' en wat zachts? Wat dacht je van deze gezonde cake met rozijnen en noten? Super makkelijk te maken, een klein beetje smeuïg en gezonder dan een 'gewone' cake. Hoe? Dat vertel ik je graag!
Met 'gezonder' bedoel ik: een hogere voedingswaarde dan wanneer je enkel voor geraffineerd suiker, boter en bloem gaat. Aan de ingrediënten zul je zien wat ik bedoel.
Wat heb je nodig voor 1 cake?
50 gram rozijnen en/of cranberry's
40 gram amandelen, gehakt
225 gram spelt meel of volkoren meel of wat jij wilt!
50 gram havermout
120 ml plantaardige melk
200 ml ahornsiroop (maple syrup) of honing
1 eetlepel pindakaas of amandelpasta
1 theelepel bakpoeder
1 ei of 1 eetlepel chiazaad in 3 eetlepels water (10 minuten laten staan)
Verwarm de oven voor op 180 graden Celsius.
Doe alle droge ingrediënten (meel, havermout, bakpoeder) behalve de amandelen bij elkaar in een kom, doe daar de rozijnen bij en meng het lekker door met een vork. Voeg vervolgens alle natte ingrediënten toe en meng het nogmaals door met een vork. Doe de gehakte amandelen erbij en 'vouw' deze door het deeg.
Verplaats het deeg naar een cakeblik – ik doe hier altijd een velletje bakpapier in wat ik vastmaak met een elastiekje. Dit zorgt ervoor dat de cake er makkelijker uit komt en je het cakeblik niet schoon hoeft te maken. Vergeet alleen niet het elastiekje te verwijderen voordat hij de oven in gaat! Doe als laatste nog wat havermout bovenop de cake, dit geeft een mooi effect als hij uit de oven komt.
Bak de cake binnen 30-35 minuten gaar, laat hem even afkoelen en snijd hem dan aan. Heerlijk als ontbijt of bij de koffie/thee! Enjoy!