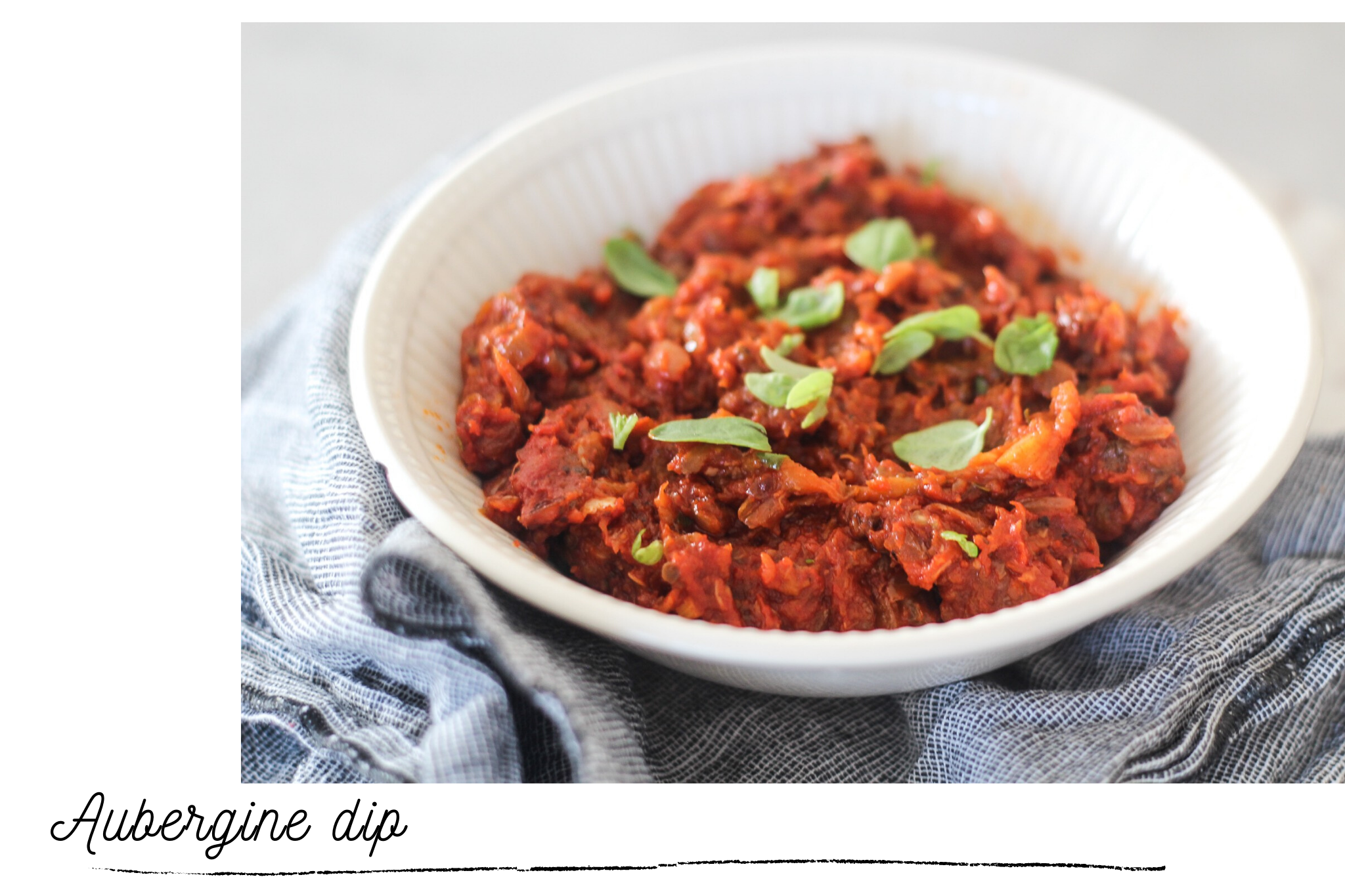 Noem het aubergine dip, noem het baba ganoush, noem het aubergine hummus. Hoe dan ook, een heerlijk bijgerecht met geroosterde aubergine dat perfect is voor op brood, toastjes maar ook om in te dippen!
Wat heb je nodig?
1 aubergine
1 ui, gesnipperd
3-4 teentjes knoflook, geschild en door midden gesneden
2 eetlepels tomatenpuree
peper en zout
1/2 theelepel komijnpoeder
1/2 theelepel korianderpoeder
1/4 theelepel gemalen kardemom (optioneel)
2-4 cm verse gember, geraspt
olijfolie
verse basilicum (optioneel)
Verwarm de oven voor op 200 graden Celsius.
Snijd de aubergine door midden en maak kruislings snedes in de aubergine.
Besprenkel beide helften met zout en laat ze op de kop 10 minuten rusten. Door het zout komt er wat vocht uit de aubergine, zorg ervoor dat ze ergens op de kop leunen waar het vocht eruit kan druppelen. Bijvoorbeeld op een diep bord zoals je ziet op de foto in dit recept.
Verhit wat olijfolie in een koekenpan, doe de gesneden teentjes knoflook in een paar 'insneden' van de aubergine (maak ze eventueel wat dieper om de knoflook erin te kunnen duwen), besprenkel ze nog met een beetje zout en peper en bak ze in de koekenpan voor 5-7 minuten (met de knoflookkant naar beneden, ook al zie je ze op de foto naar boven gericht staan, dit was om te laten zien hoe het eruit ziet).
Haal de aubergine's uit de koekenpan en verplaats ze naar een ovenschaal. Besprenkel ze met wat olijfolie en zet de ovenschaal voor 10 minuten in de voorverwarmde oven.
Draai na 8 minuten de aubergines om en laat ze opnieuw 8 minuten in de oven roosteren tot ze zacht genoeg zijn om uit te lepelen (zie foto).
Bak in de tussentijd de uitjes met 2 eetlepels olijfolie in de koekenpan. Doe hier de komijnpoeder, korianderpoeder, gemalen kardemom en geraspte gember bij. Doe er gerust wat olijfolie bij als het mengsel te droog begint te worden.
Haal de aubergines uit de oven en lepel het 'vlees' eruit. Bak deze mee in de koekenpan.
Doe hier vervolgens de tomatenpuree bij, meng het geheel en proef of het nog wat peper of zout nodig heeft (naar smaak). Bak dit op een laag vuur voor 2-3 minuten.
Hak de basilicum fijn en voeg deze toe aan de koekenpan, bak dit 1 minuut mee.
Dan is het tijd om te smullen!
Je kunt het warm eten bij een maaltijd, op een broodje of gebruiken als dip. Maar geloof me, een dag later koud op brood is ook waanzinnig lekker! Je kunt het zo'n 4 dagen in de koelkast bewaren, maar waarschijnlijk zal dat niet lukken!
Enjoy!