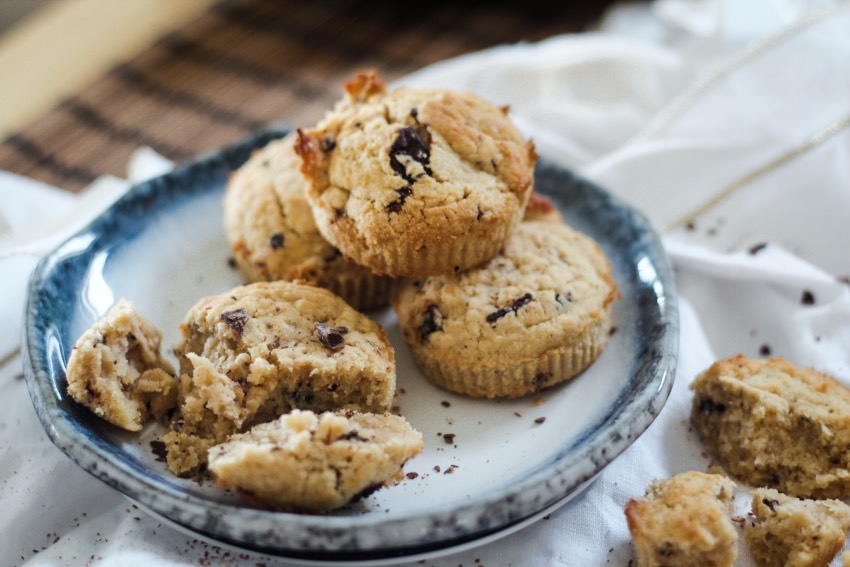 Een experimentele baksessie eindigde in een de heerlijkste, zachte, kokosmuffins met chocolade ever! Het was de bedoeling dat het koekjes werden, maar na een mislukte poging heb ik het recept veranderd en er muffins van gemaakt. Gelukkig met succes! Daarom zie je het recept dus ook op mijn site verschijnen.
Ik hoop dat je er net zo van geniet als ik, met een kop thee of sterke kop koffie want.. ze zijn precies zoet genoeg! 
Wat heb je nodig voor zo'n 16 muffins:
200 gram koude boter
30 gram kokosmeel
120 gram speltmeel of volkoren tarwemeel
140 ml honing of maple syrup
3 eieren (1 heel ei, 2 eiwitten)
1 theelepel vanille extract
Pure chocolade, gehakt (of chocolate chips)
Verwarm de oven voor op 200 graden Celsius
Doe de koude boter, honing/maple syrup, eieren en vanille extract in een grote kom en meng dit goed door met een vork, mixer of een keukenmachine met garde. Voeg vervolgens in batches speltmeel en kokosmeel toe tot het één grote massa is geworden (zoals je op de foto's ziet). Voeg als laatste nog de chocolade toe en 'vouw' deze door het deeg of mix even kort (we willen niet dat de chocolade 'kapot' wordt gemixt namelijk). Je kunt de muffins ook de volgende dag afbakken als je wilt, het deeg is prima twee dagen in de koelkast te bewaren. Zo heb je 'verse' muffins voor bijvoorbeeld gasten zonder eerst lang in de keuken te hoeven staan!
Wanneer het tijd is om de muffins af te bakken, verplaats je het mengsel in muffinvormpjes en bak je ze in 8-12 minuten af (afhankelijk van hoe sterk je oven is), let wel op; het afbakken kan erg snel gaan! Bij mij duurde het 8 minuten.
Laat ze even afkoelen en daarna: AANVALLEN! Je huis zal ruiken naar een heerlijke mix van kokos en gebak!