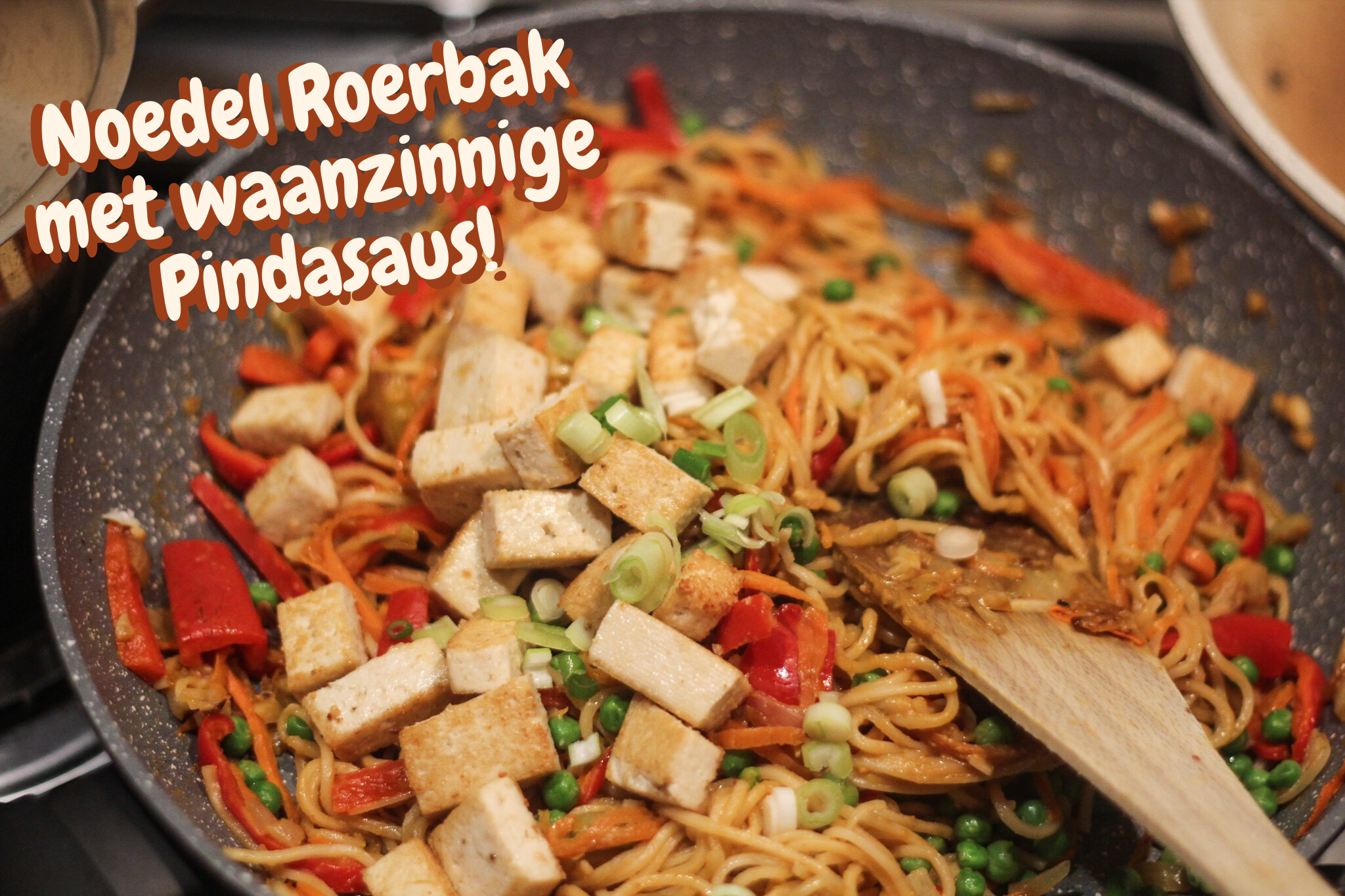 Kom maar door met dit recept! Het liefst meerdere dagen per week. Noedels vind ik sowieso heerlijk en elke keer als ik een recept maak herinner ik mezelf er weer aan dat ik het te weinig eet voor hoe lekker ik het vind.
Vandaag op het menu: Groente noedel roerbak met een waanzinnige pindasaus. Het recept is geheel vegetarisch, maar je kunt hem natuurlijk aanpassen naar eigen behoefte.
Wat heb je nodig voor 2 personen?
100 gram eiernoedels (andere soort is ook oké)
1 ui
1 teentje knoflook
1-2 wortels, julienne gesneden
1/2 rode paprika, in reepjes gesneden
100 gram diepvries doperwten
200 gram tofu, in blokjes gesneden
handje pinda's of cashewnoten
1 lenteui, in kleine ringen gesneden
olie om in te bakken
knoflookpoeder, optioneel
Voor de waanzinnige pindasaus:
2 eetlepels pindakaas
1/2 citroen, uitgeperst
1 eetlepel sojasaus of tamari
1/2 eetlepel sesamolie
1 eetlepel hoisin saus
1 eetlepel sriracha (als je niet van pittig houdt mag je deze weglaten)
1/2 – 1 eetlepel maple syrup of honing
Bereid de noedels volgens de verpakking. Verhit wat olie in een koekenpan en bak hierin de ui en knoflook. Doe daar na 1-2 minuten de tofu*, wortel, diepvriesdoperwten en paprika bij. Bak dit zo'n 5 minuten tot de wortel een beetje zacht is geworden met af en toe roeren.
*Je kunt de tofu ook in een aparte pan bakken als je graag wilt dat deze wat knapperiger worden. Ze zullen bij het gehele mengsel minder snel knapperig worden doordat er meer ingrediënten de pan 'bedekken'. Als je de tofu in een aparte pan bakt, doe dit dan met wat olie, peper zout en knoflookpoeder.
Maak de saus in een glas of schaaltje door alles bij elkaar te doen en te mengen met een vork. Leng het eventueel aan met 1-2 eetlepels water.
Giet de noedels af en doe ze bij de groente in de koekenpan. Giet de saus eroverheen en meng het er goed door. Doe de cashewnoten of pinda's erbij (en de tofu als deze er nog niet bij zat) en je maaltijd is klaar om opgediend te worden!
Dien het op met wat lenteuitjes als garnering en genieten maar!