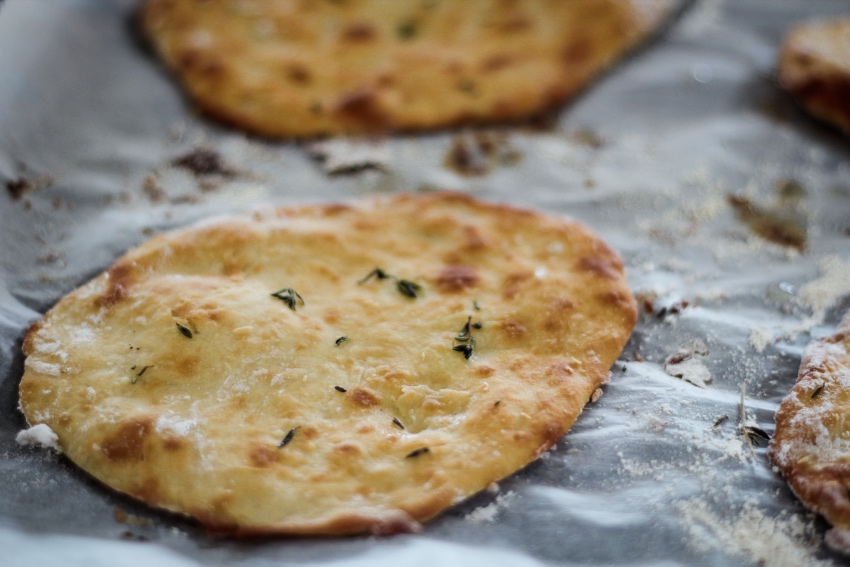 Zelf brood maken is toch het allerlekkerst? En dan mag het brood best een klein beetje mislukken, de geur die vrij komt in je huis bij het bakken van zelfgemaakt brood is waanzinnig!
Dit plat brood recept gaat sowieso niet mislukken omdat het te simpel is én je hoeft het niet te laten rijzen, want: plat brood.
Ik heb er een tijm variant van gemaakt, maar je kunt hier elke smaak van maken, zoals jij dat wilt!
Wat heb je nodig voor 4 broodjes?
130 gram speltmeel
175 gram / 180 ml Griekse yoghurt (10% vet) of yoghurt Griekse stijl (2% vet)
1/2 theelepel bakpoeder
1 eetlepel olijfolie (+ extra om te besprenkelen)
1 theelepel water (eventueel meer als dat nodig is)
1/2 theelepel zout
Verse of gedroogde tijm*
*Gebruik welke kruiden je zelf wilt! Je kunt ook kiezen voor bijvoorbeeld knoflookpoeder of rozemarijn of wat jij maar wilt!
Verwarm de oven vast voor op 200 graden Celsius. Doe alle ingrediënten (eventueel de tijm nog niet toevoegen, zie foto's) bij elkaar in een kom en meng het met een vork waarna je overgaat op kneden met je handen. Als je een fancy keukenmachine hebt met deeghaak, dan is dit je moment om hem te gebruiken!
Als je een mooie deegbal hebt verdeel je deze in 4-en en kun je ze plat drukken op de bakplaat bedekt met een velletje bakpapier. Bestrooi de bakplaat met bakpapier eventueel met wat meel zodat het makkelijker is om het deeg plat te de drukken.
Ik weet het, dit kan plakkerig zijn, daarom doen we het ook al meteen op de bakplaat!
Besprenkel alles met wat olijfolie en tijm (of andere kruiden). Plaats de bakplaat in de oven voor ongeveer 15 minuten, afhankelijk van je oven. Geniet ondertussen van de geur die vrij komt in je huis!
Tip: Beleg de broodjes wanneer ze nog warm zijn; extra genieten! Eetsmakelijk 🙂
Ik heb ze belegd met: truffelmayonaise, avocado en tomaat.