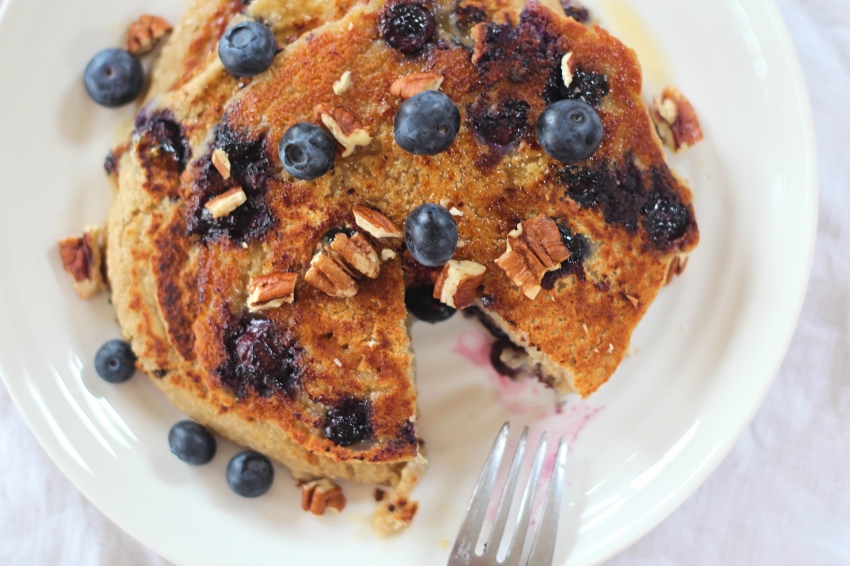 Oké ik zal eerlijk zijn, ik heb al vele pannenkoeken-recepten op mijn site staan en de reden waarom er wéér een nieuwe variant bij komt is puur en alleen omdat ik één product tegenkwam in de supermarkt (de Lidl). Ken je dat gevoel dat je één ding koopt om een geheel recept omheen te bouwen? Ik heb het over Maple Syrup, ook wel ahornsiroop genoemd. Omdat het van een boom afkomstig is, is het helemaal veganistisch, dus waarom niet een veganistisch recept omheen bouwen?
Pannenkoeken it is! En deze variant, is echt één van de lekkerste op mijn site; ik beloof het! 
Tot nu toe heb ik altijd mijn maple syrup gehaald op vakantie in Amerika, daar ging ik naar de Whole Foods en kocht ik twee dingen: baking soda en maple syrup, maar inmiddels zijn we velen jaren verder en zijn deze producten ook in Nederland verkrijgbaar. Niet altijd even goed te vinden, dus mijn hart maakte een sprongetje toen ik bij de Lidl deze fles zag staan. Het zijn de Amerika weken en mocht je zelf ook een flesje willen bemachtigen, dan heb je de komende week nog de tijd om het te halen!
Op naar het recept, wat heb je nodig voor 3-4 middelgrote pannenkoeken?
100 ml plantaardig melk
1 rijpe banaan
75 gram havermout
30 gram amandelmeel of kokosmeel
1 theelepel vanille extract
2 theelepels bakpoeder
kokosolie om in te bakken
gehakte noten*
(diepvries)bosbessen of ander rood fruit naar smaak*
Ahornsiroop
* Deze ingrediënten zijn puur om variatie aan te brengen in je pannenkoeken. Je hoeft ze niet toe te voegen en mag ze ook weglaten. Oké, de ahornsiroop is ook optioneel, maar voor mij niet zoals je begrijpt uit mijn verhaal 😉 Haha.
Je kunt voor dit recept een keukenmachine gebruiken of gewoon met een vork aan de slag gaan. Als je een keukenmachine gebruikt, doe je alle ingrediënten behalve de ahornsiroop, noten, bosbessen en olie bij elkaar en mix je het geheel tot het een mooi beslag is geworden. Ga je met een vork aan de slag, begin dan eerst met het prakken van de banaan in een kom/hoog bord en voeg vervolgens alle andere ingrediënten (behalve de ahornsiroop, bosbessen en olie) toe en meng het goed door met de vork.
Vervolgens is het recept voor beide gevallen gelijk: Is je beslag te dik, doe er dan wat melk bij. Ik heb dit wel gedaan namelijk. Vervolgens kun je ervoor kiezen of de bessen en/of noten door het beslag te mengen (niet mixen met de keukenmachine!) of dit achteraf als topping te gebruiken. Zo heb ik alleen de bosbessen door het mengsel gedaan.
Doe wat kokosolie in een koekenpan en schenk wat beslag in de pan, nadat de bubbels aan de bovenkant van de pannenkoek verdwenen zijn, kun je hem omdraaien. Bij mij duurde dit ongeveer 4-5 minuten. Stapel de pannenkoeken op elkaar, giet er lekker wat ahornsiroop overheen en garneer het zoals jij wilt! Misschien met wat plakjes banaan of kokosrasp erbij, wat je maar wilt. En.. eetsmakelijk!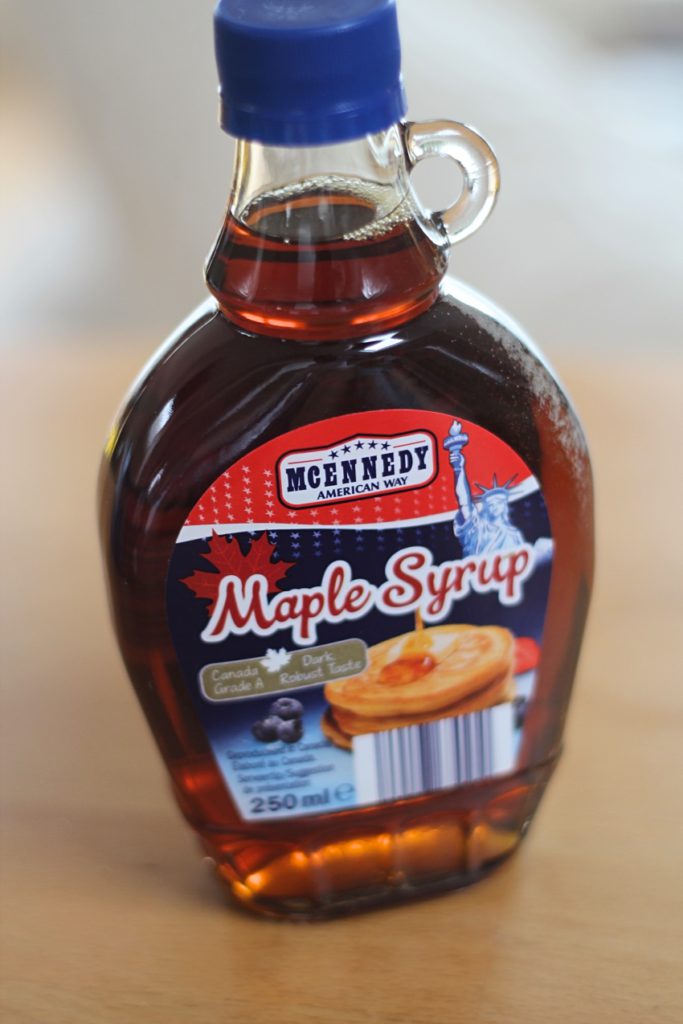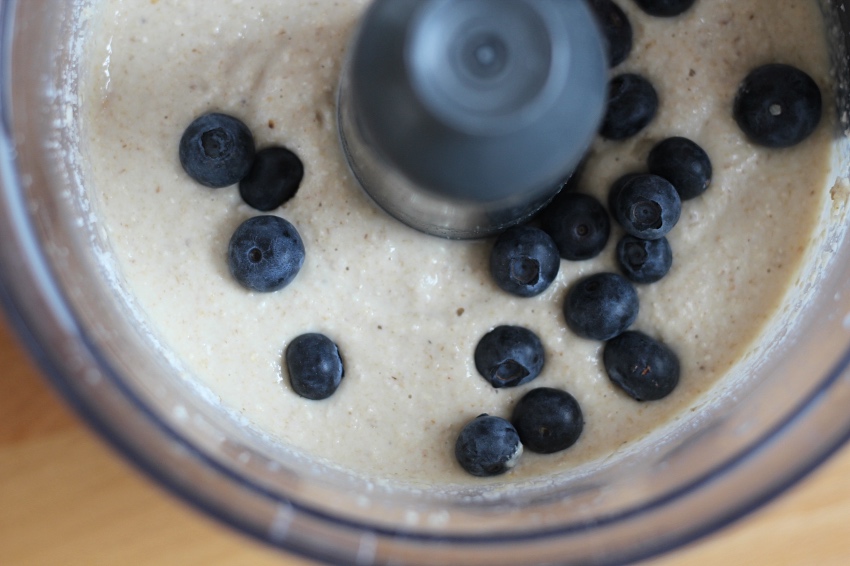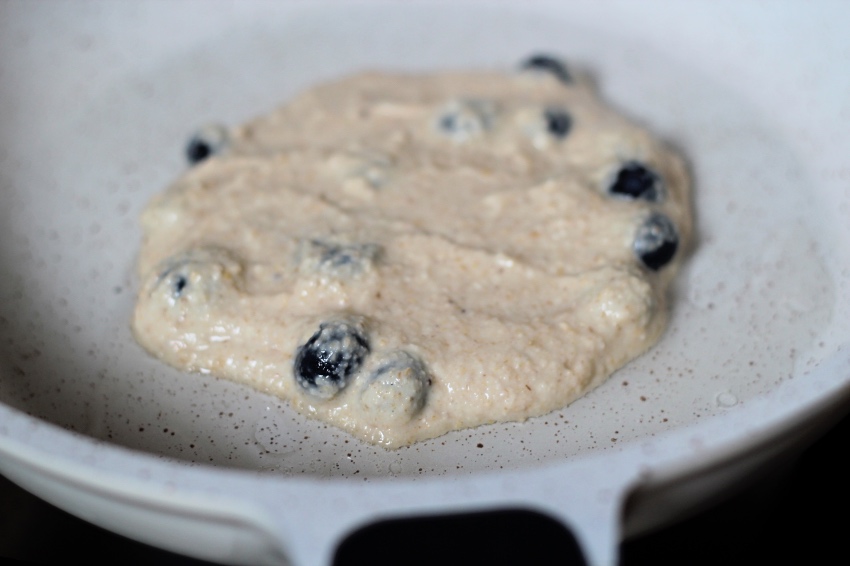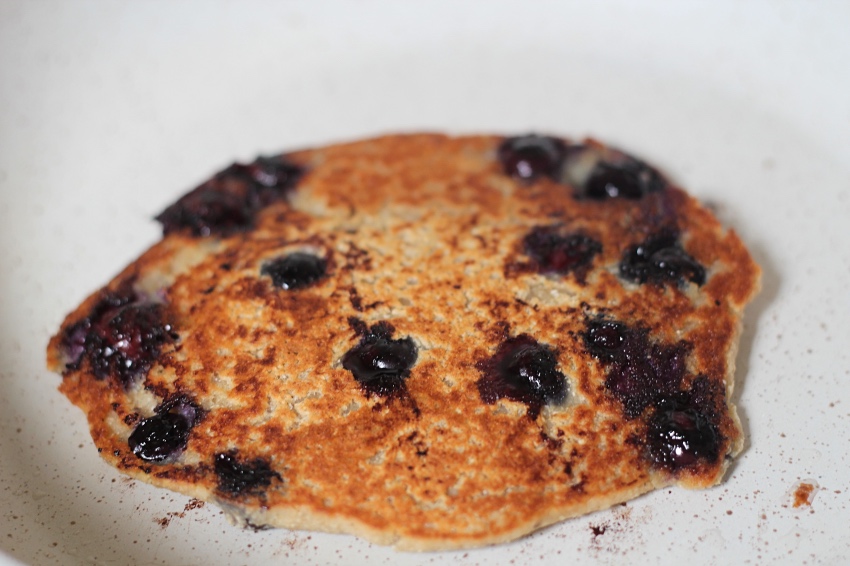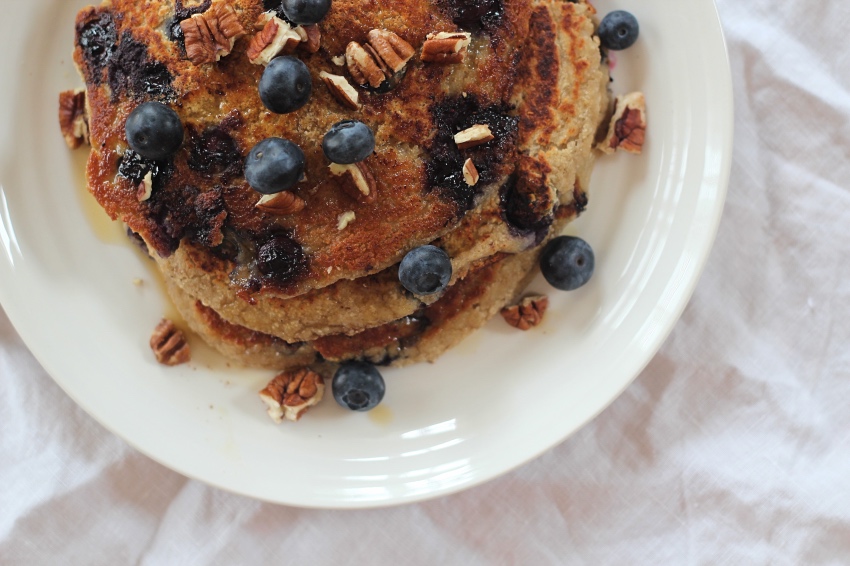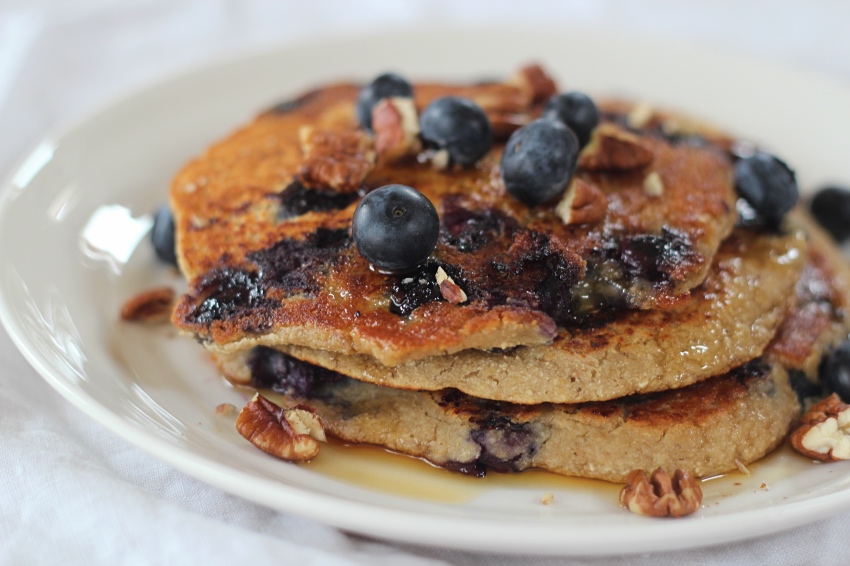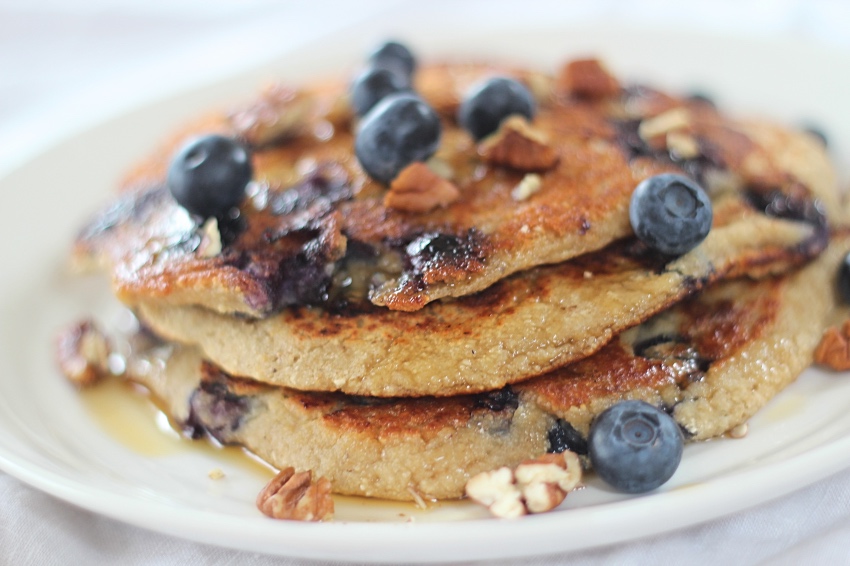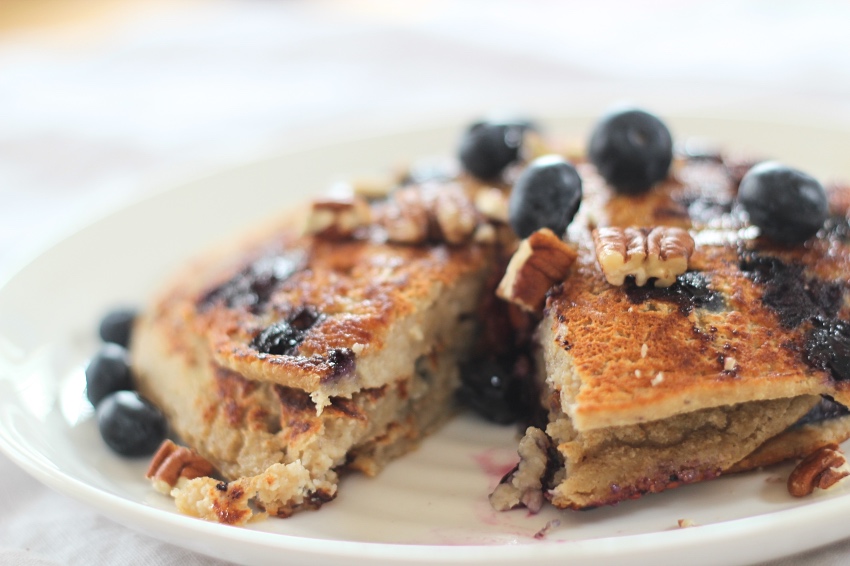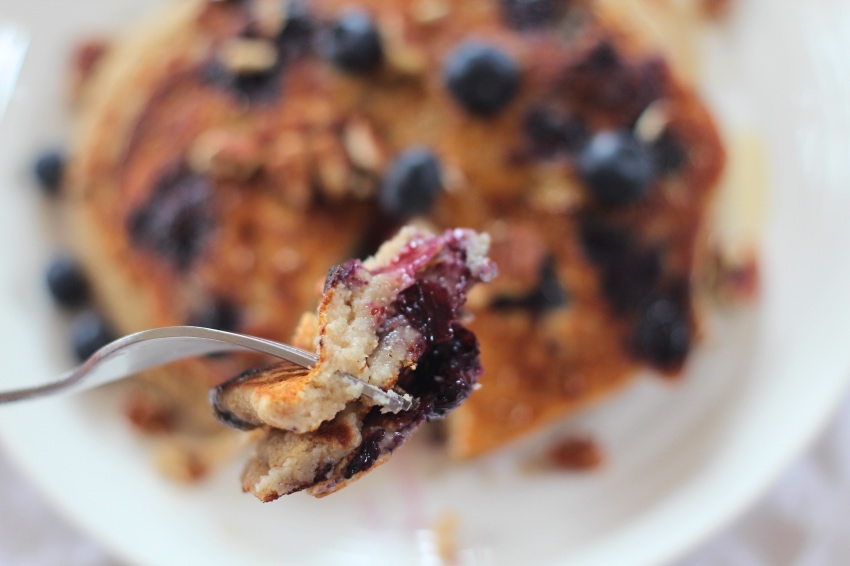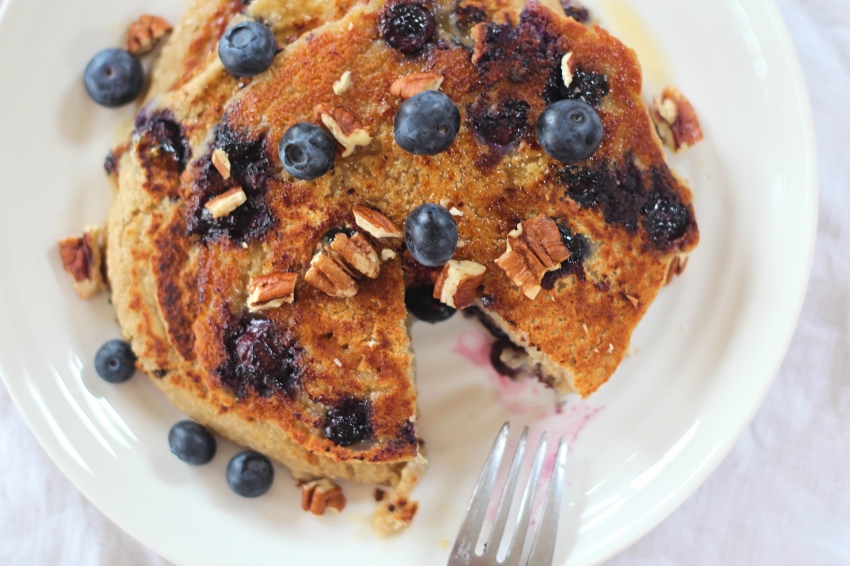 Eetsmakelijk!