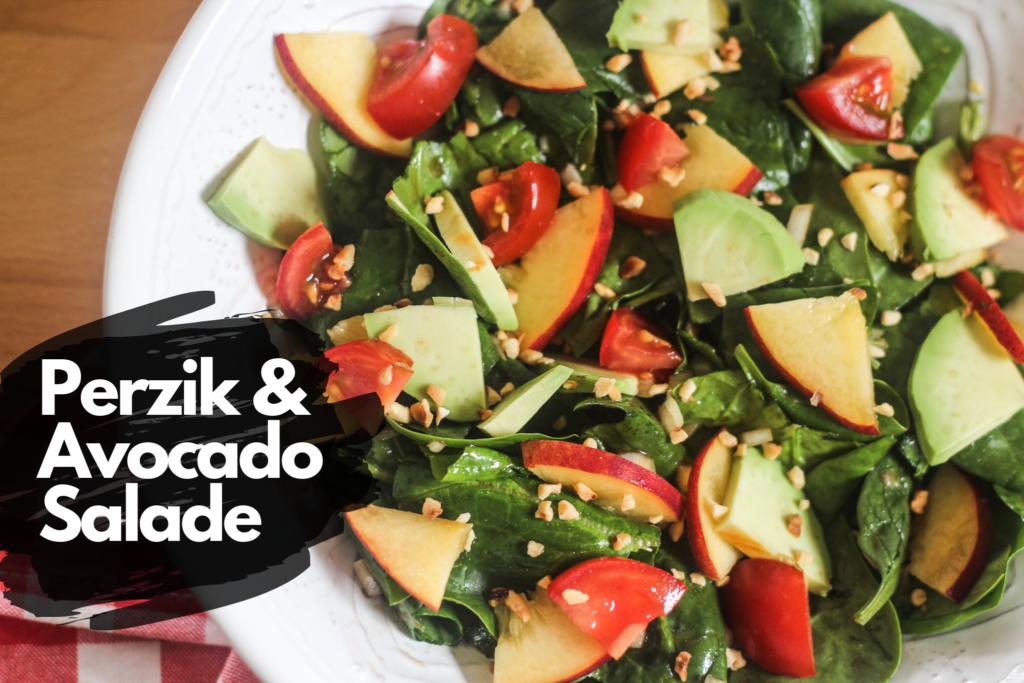 Die momenten dat je in een perzik hapt en deze zó zoet en sappig is – aaah, daar leef ik voor.
Nouja, niet letterlijk – maar bij wijze van. Dat zijn momenten om van te genieten! En wat nou als je van die heerlijke perziken een salade maakt waardoor je verschillende structuren en smaken combineert om die perzik er nóg beter uit te laten komen? Dat is wat deze salade voor mij is en ook nog eens heerlijk licht en zomers!
Wat heb je nodig voor 1 salade?
2-3 handjes spinazie of rucola
1 perzik
1/2 avocado
1-2 cherry tomaten
1/2 (rode)ui
1 eetlepel balsamico
1 eetlepel olijfolie
1 eetlepel honing
1 eetlepel gehakte hazelnoten
Snipper de (rode) uit en doe het in een kommetje waar je de dressing in gaat maken. Doe de balsamico, olijfolie en honing erbij – eventueel met een eetlepel water als je het wat vloeibaarder wilt hebben. Meng het door elkaar en je dressing is klaar.
Doe de spinazie of rucola in een schaal of op een bord – hoe jij het liefste een salade eet. "Masseer" de dressing in de sla met je handen. Snijdt de perzik en avocado in plakjes, halveer de cherry tomaten en voeg deze toe aan de spinazie of rucola. Top het geheel met de gehakte hazelnoten en je bent klaar om te genieten van deze heerlijke salade!
Je kunt deze salade ook makkelijk in meervoud maken voor bij de barbecue of om er meerdere dagen van te eten – hij zal niet snel drapperig worden (ik zou hem niet langer dan 3 dagen bewaren in de koelkast). Enjoy!