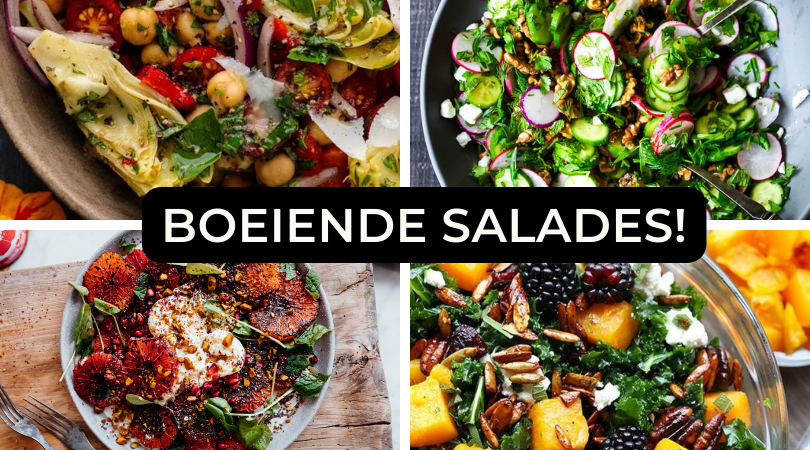 Ik ben gék op salades. Ik ben gek op nieuwe dressings ontdekken. Ik ben gek op nieuwe ingrediënten combinaties ontdekken. Tenminste.. als het al klaargemaakt is voor me. Maar als ik zelf een salade thuis maak, dan eindig ik eigenlijk altijd met ongeveer dezelfde ingrediënten en ongeveer dezelfde dressing.
Heb ik dan niet het geduld voor het volgen van een recept voor een salade? Is het teveel voorbereiding? Sjoemel ik altijd weer met de ingrediënten zodat het weer wordt zoals altijd? Ja, ja en nog eens ja.
Zo besloot ik van de week om de wil om nieuwe salades te maken en te ontdekken te koppelen aan een actieplan. Dat actieplan had als eerste stap om heerlijke salade recepten te zoeken op Pinterest en ze op te slaan.
En dat leek me ook een geweldige stap om met jullie te delen op mijn blog. Salade recepten voor een BOOST in mijn salade-wereld!
De volgende stap gaat natuurlijk zijn om alle ingrediënten in huis te halen en de salades ook écht zo te maken, met dressing en al. Niet lui te worden en gewoon het te volgen zoals het er staat (ook al ben ik een rebel).
Toscaanse artisjok salade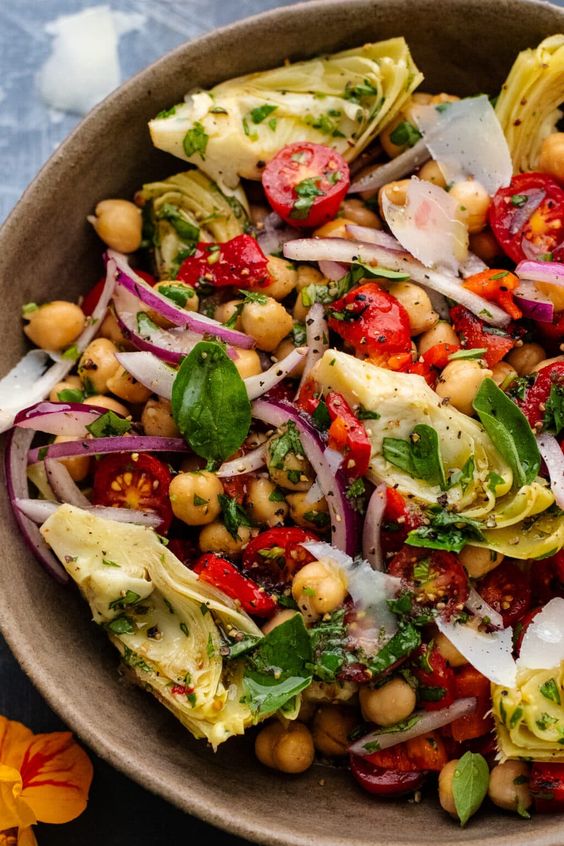 Deze Toscaanse artisjok salade ziet er heerlijk uit en ik moet zeggen, het kent ongeveer de ingrediënten die ik zelf ook altijd gebruik voor een salade.. Dat was niet helemaal de afspraak, MAARRR, ik heb nog nooit iets met artisjokken gemaakt én ik vond dit een goede om er langzamerhand in te komen. Toch? Ik beloof dat de volgende iets specialer gaat zijn:
Geroosterde pompoen met bramen salade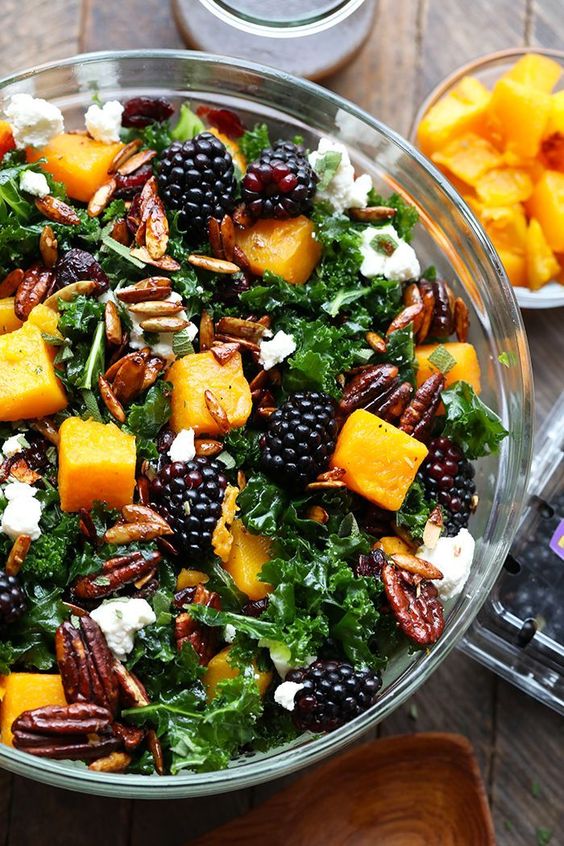 Oké, ik ging ineens 5 levels verder. Een salade met bramen? Ik weet eerlijk gezegd niet of ik dat durf. Of ik zulk luxe fruit zomaar in een salade durf te gooien, haha. Hetzelfde als met niet-bevroren blauwe bessen in een smoothie. Dat lukt me niet! Daar moet langzaam van genoten worden, toch? Maar ik wilde deze salade wel in dit rijtje thuis hebben voor het geval dat ik eens helemaal los wilde gaan. Want zeg nou eerlijk, het ziet er toch heerlijk uit? Geroosterde pompoen, geitenkaas, gesuikerde pecannoten, hmm! Hier vind je het hele recept als je benieuwd bent!
Bloedsinaasappel, burrata en pistache salade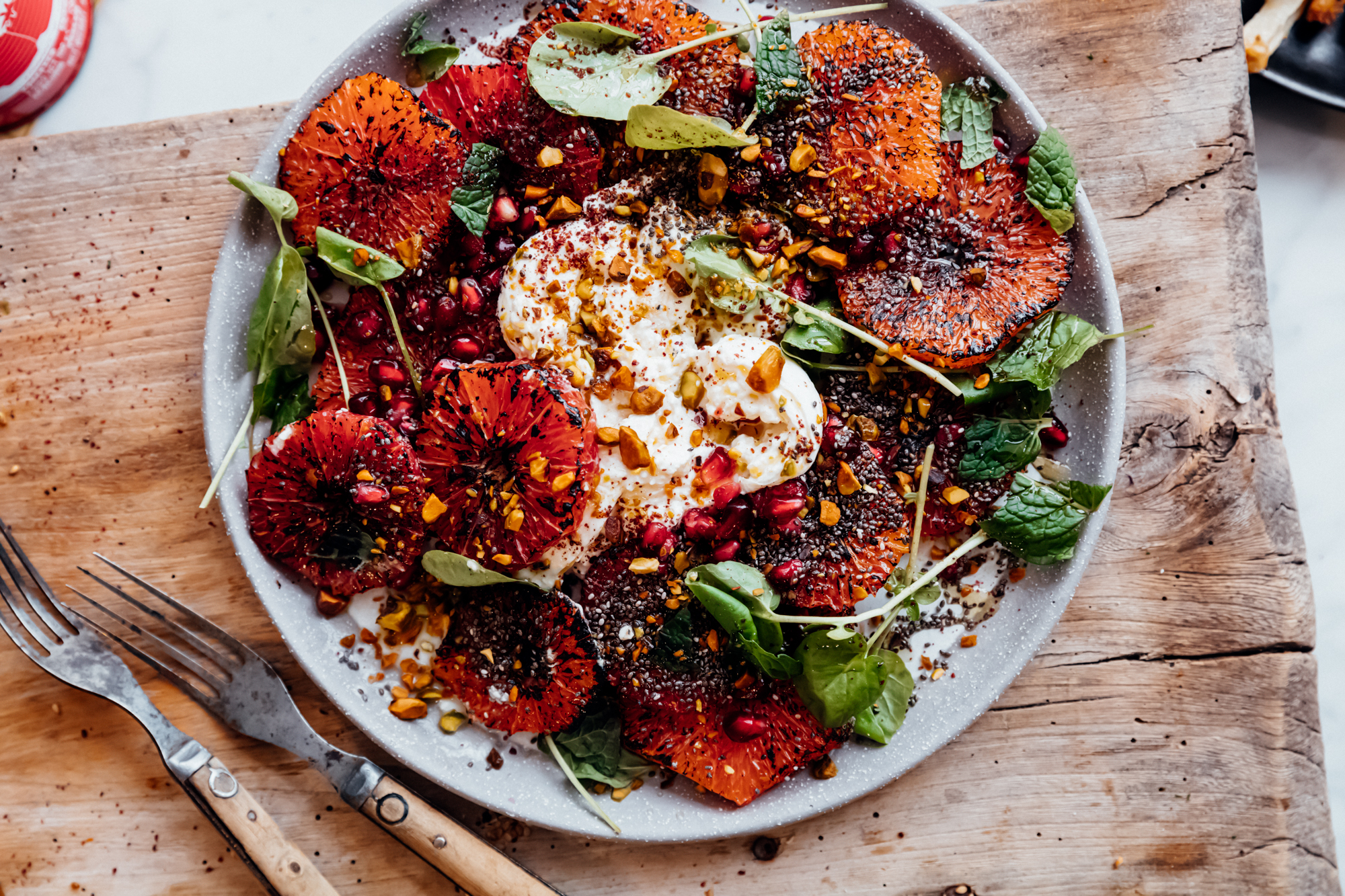 Oh wauw, deze foto alleen al! Dit ziet er echt heel speciaal en heerlijk uit zeg. Ik benieuwd naar de combinatie van bloedsinaasappel en burrata, maar eigenlijk is alles met burrata heerlijk 😉
Winterse kool salade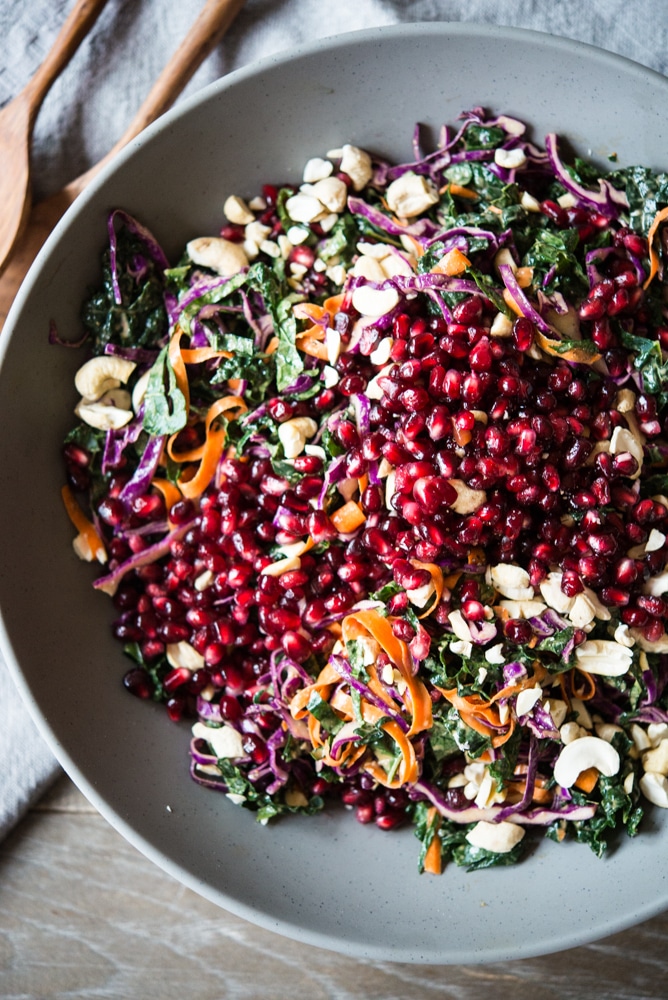 Of het nu wel of geen winter is, deze salade ziet er goed uit zeg! Bomvol kleur wat natuurlijk ook betekent bomvol vitamines en mineralen. De dressing lijkt me echt heerlijk aangezien er amandelpasta in zit! Als dit mijn salade-game geen boost geeft, dan weet ik het ook niet! Hier vind je het recept.
Perzische kruiden en walnoot salade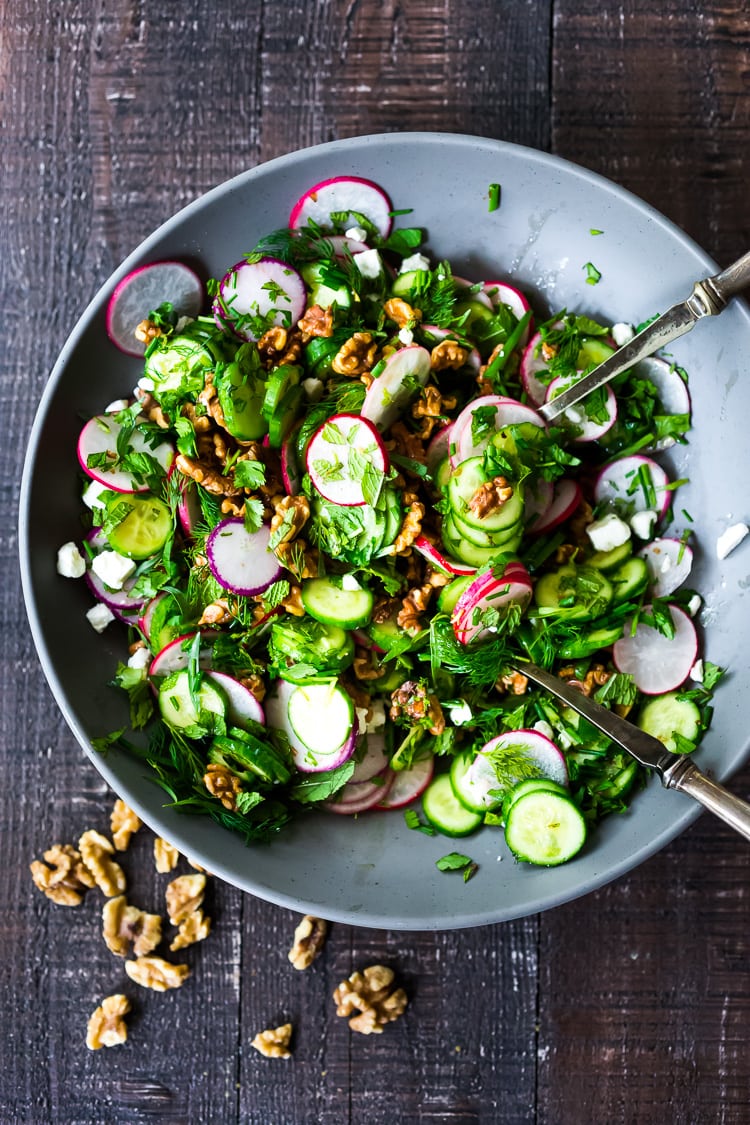 Nu ken ik de typische Perzische salade als iets heel anders, maar de maker heeft dit zo genoemd en ik denk dat het door de kruiden en de mini komkommers komt. Hoe dan ook lijkt dit me een speciale salade om te maken, niet iets standaards – wat precies mijn bedoeling was met dit artikel! Hier vind je het recept.
Nu al zin in!
Oprecht heb ik nu al zin om één van deze salades te gaan maken zometeen nadat ik heb boodschappen heb gedaan. Welke salade gaat het zijn denk je? Misschien zie je hem binnenkort wel terug in het Voedingsdagboek 😉
Welke zou jij maken?