Het begint in je hoofd; je bepaalt om een gezonde leefstijl aan te gaan en daarbij dus gezond te eten. In de supermarkt komt het erop aan, want alles wat je in huis haalt zul je hoogstwaarschijnlijk eten. Dit is dus een belangrijk moment om goede keuzes te maken wat betreft gezonde voeding. Handje hulp nodig? Hier komen wat tips!
1. Maak een boodschappenlijst (en houd je eraan!).
Door vooraf een lijstje op te stellen zul je veel minder geneigd zijn om impulsieve dingen te kopen waar je op dat moment trek in hebt (en misschien niet goed voor je zijn). Bedenk van te voren wat je allemaal nodig hebt in huis, schrijf het op en houd je aan de lijst! Je kunt zelfs een App downloaden voor je boodschappenlijst: myShopi app voor Androids en myShopi app voor iPhones
2. Ga niet met honger boodschappen doen.
Dit is een hele belangrijke. Er is onderzoek gedaan naar hetgeen dat wanneer je met een hongergevoel boodschappen gaat doen, je veel meer voedsel,  en vaak ook ongezond voedsel, in huis haalt terwijl je dit eigenlijk niet nodig hebt. Begint je maag te brommen na het samenstellen van de hele boodschappenlijst? Eet dan eerst even wat om de ergste honger te stillen, voor je naar de supermarkt gaat.
3. Kies vers of bevroren in plaats van in blik.
Dit geldt voor groente en fruit. Kies in eerste instantie altijd voor verse groente en fruit. Weet je al van te voren dat je de groente en fruit niet op gaat krijgen voor het bederft? Of ben je meer van de gemakzucht? Kies dan bevroren groente en fruit en het liefst geen groente en fruit in blik. Bij groente, soepen en bonen zit er vaak onnodig veel zout in het blik om de houdbaarheidsdatum te verlengen. Bij fruit zit er meestal heel veel extra suiker bij in het blik. Allemaal niet nodig!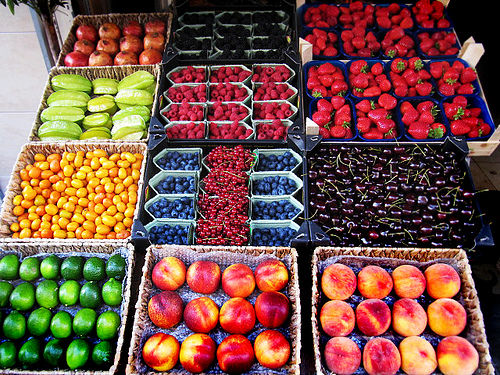 4. Als je het zelf niet kan kweken of maken (theoretisch). Eet het dan niet. 
Mononatriumglutamaat bijvoorbeeld, groeit niet aan een boom. Ik weet dat het lastig is om al deze additieven te vermijden; wat blijft er dan nog over? Goede vraag. Maar als je al een enorme hoeveelheid kunt beperken door erop te letten (etiketten lezen), is dit alleen maar beter voor je gezondheid.
5. Vermijd zoete dranken
Toegevoegd suiker is een big no-no. Niet alleen geeft suiker je veel calorieën, maar erger nog: je suikerspiegel raakt helemaal uit balans. Als je deze dranken op dagelijkse basis drinkt, gaat het nog een klus worden om hier vanaf te komen. Want water smaakt dan niet meer zo boeiend. Maar probeer in ieder geval te minderen, het zal je écht goed doen.
6. Blijf aan de buitenste randen van de supermarkt!
Neem een supermarkt in je hoofd die je wel goed kent. Bedenk eens welke producten er aan de buitenste randen bevinden. Snap je wat ik bedoel? Het zijn waarschijnlijk de volgende voedingsmiddelen: brood, vleeswaren, zuivel, groente en fruit. De binnenste gangpaden bevatten alle producten die verpakt zijn en vaak ook minder gezond zijn. Wist je dat hier een reden achter zit? Door de basisvoedingsmiddelen aan de buitenste randen van de supermarkt te plaatsen, moet een persoon de hele supermarkt door om deze producten in zijn mandje te doen. En komt deze persoon vanzelf langs alle andere verpakte producten. Als je het brood, vleeswaren, zuivel, groente en fruit allemaal bij elkaar had staan, dan zouden veel mensen niet eens meer door de hele supermarkt hoeven te lopen. Dit was vroeger de theorie. Tegenwoordig is maar de vraag of dit nog zo is…