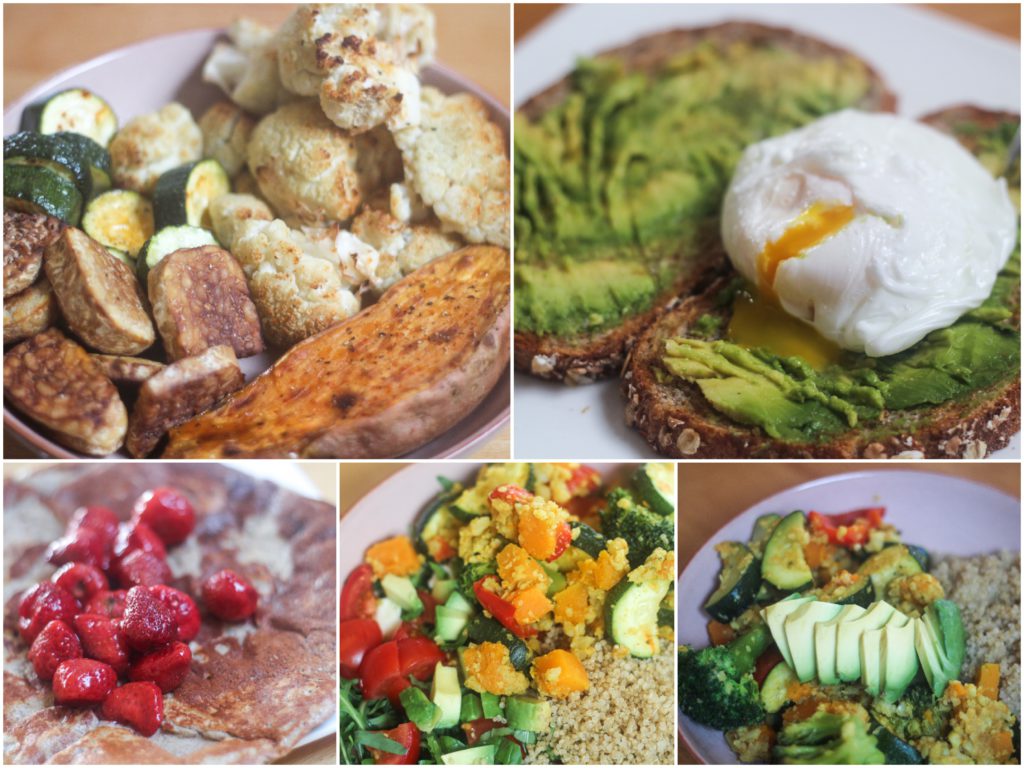 Voedingsdagboektijd! Deze keer staat het voedingsdagboek in het teken van héél veel kleur op het bord en het opmaken van allerlei restjes. Ehm ja, wanneer is dat eigenlijk niet het geval? Hopelijk haal je er wat ideetjes uit voor jezelf! Vragen mag je altijd achterlaten in de comments.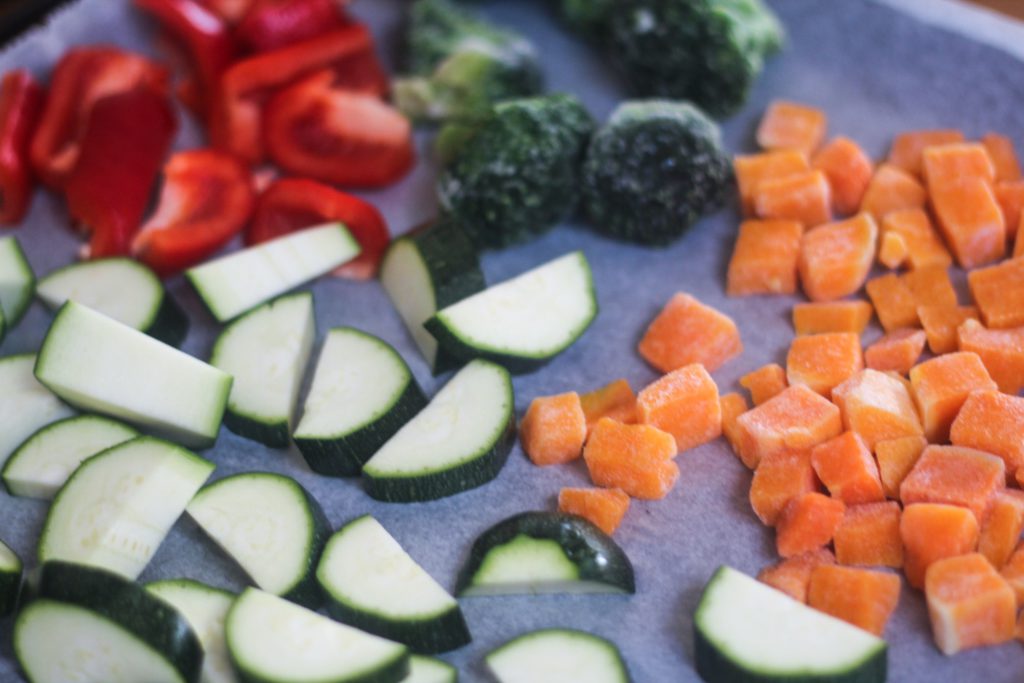 Mijn lievelingsmanier om snel gezond te eten – groente de oven in gooien. Deze keer heb ik twee dingen uit de vriezer; broccoli en pompoen. Daarnaast courgette en paprika.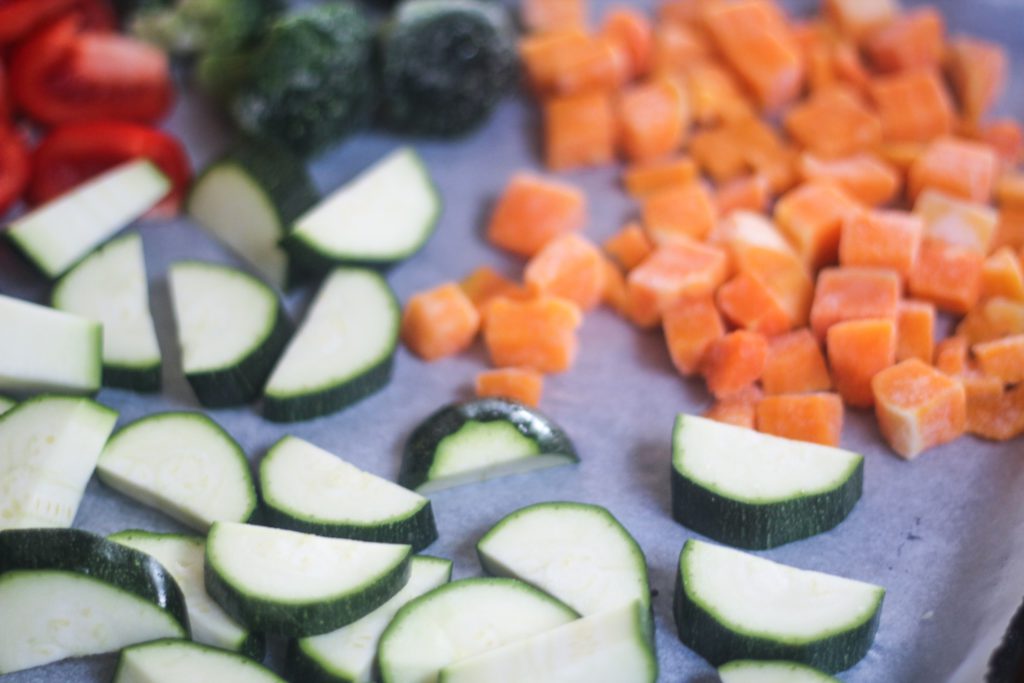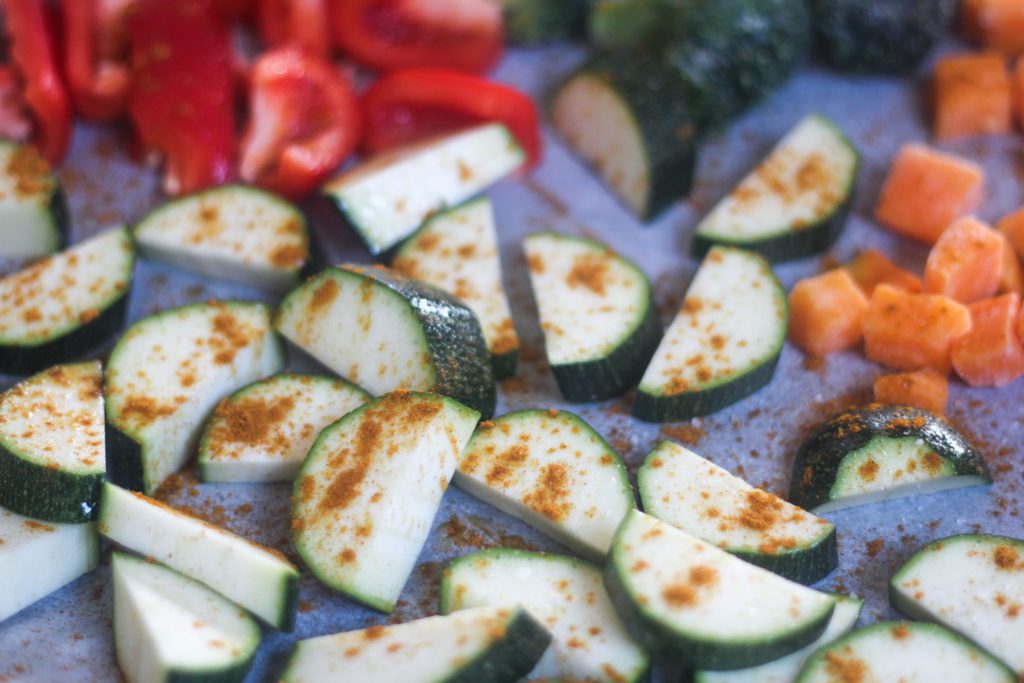 Ik gebruik nog steeds het zakje 'tajine' kruiden van de Lidl – hij lijkt oneindig te zijn! Met een beetje olijfolie of kokosolie mengen met de groenten.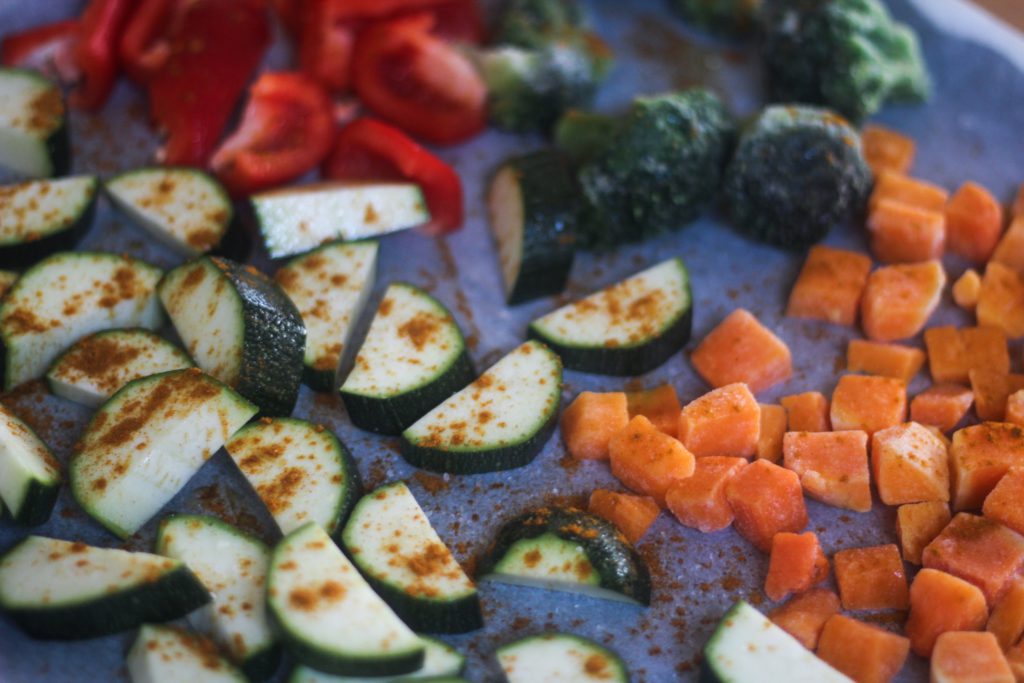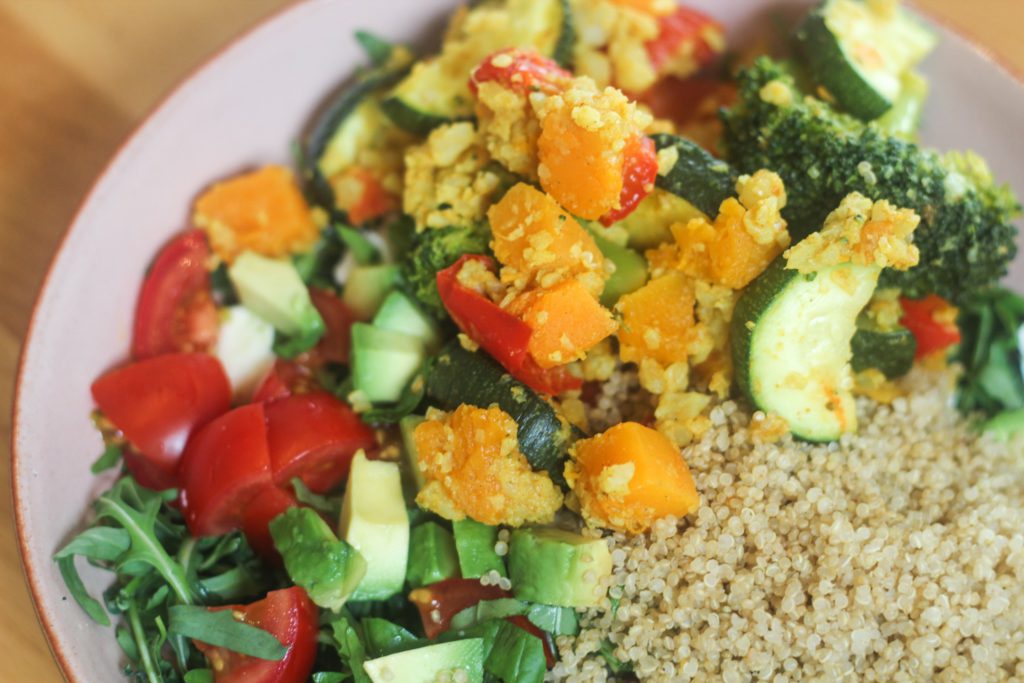 Eenmaal uit de oven kan ik er verschillende dingen mee doen. Met een eiwitbron opeten en de rest bewaren voor bijvoorbeeld zo'n salade met rucola, quinoa tomaat en avocado.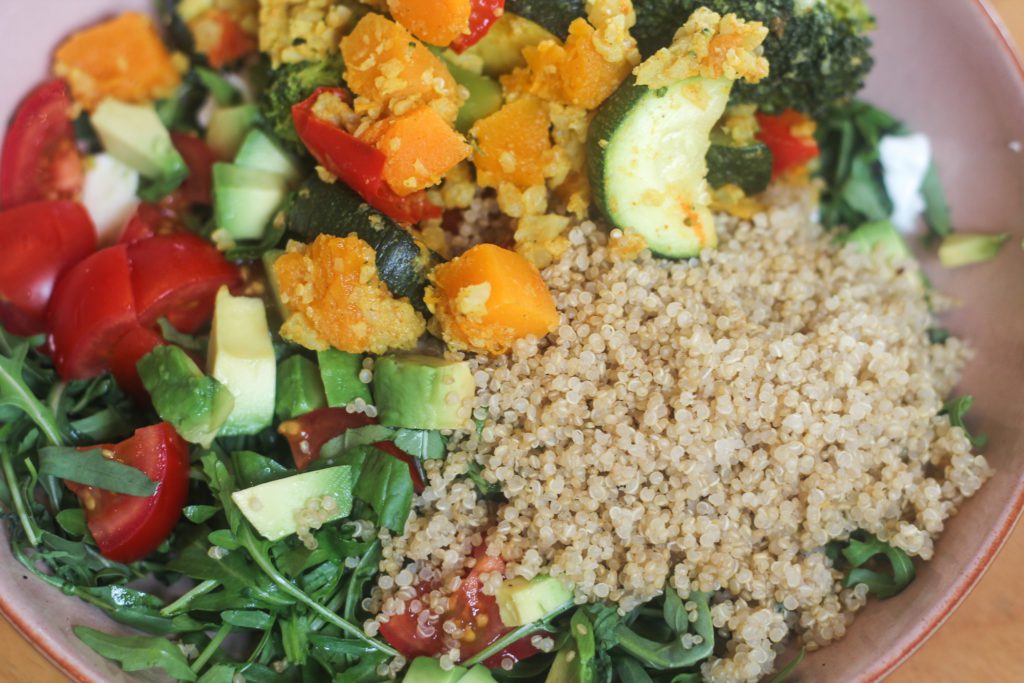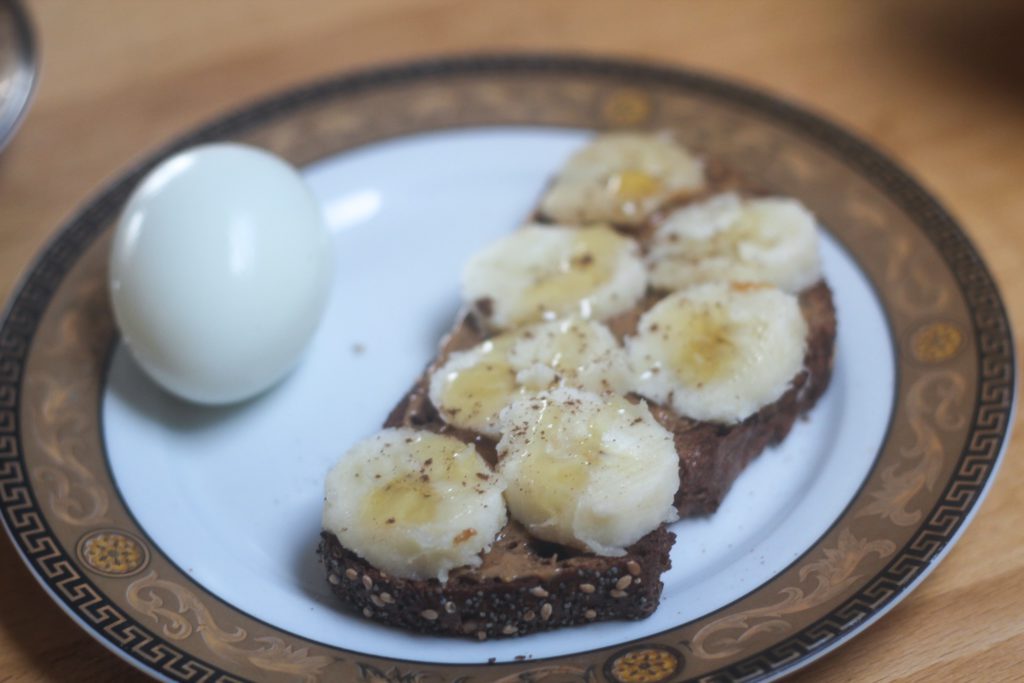 Laatste broodje, laatste ei en laatste banaan. Allemaal maar even opmaken! Broodje is met pindakaas, banaan, honing en wat kaneel.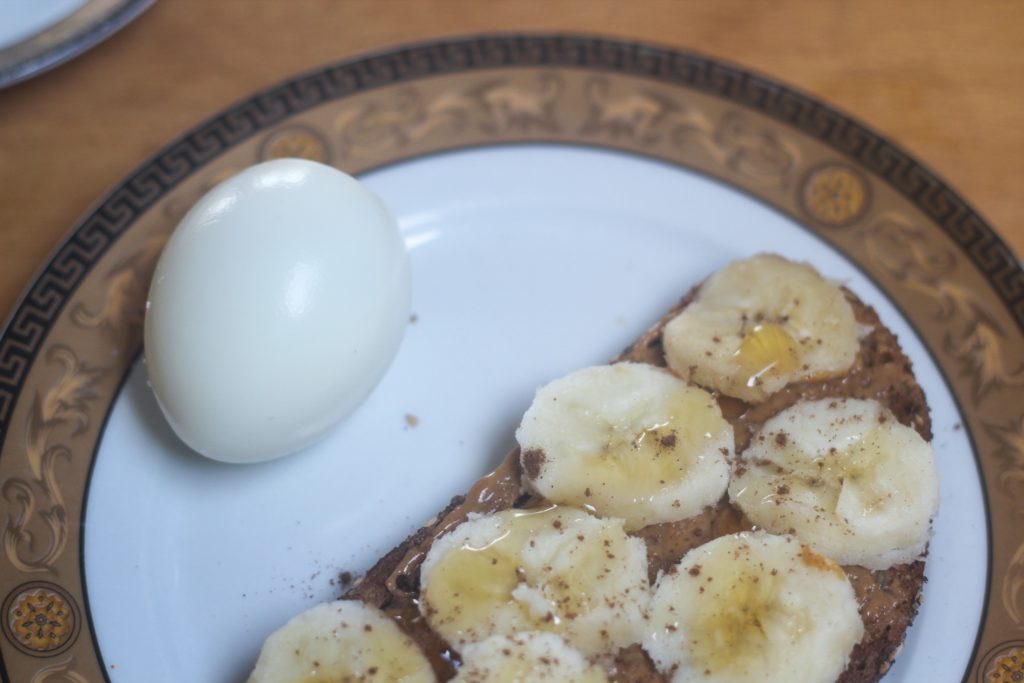 Heerlijk!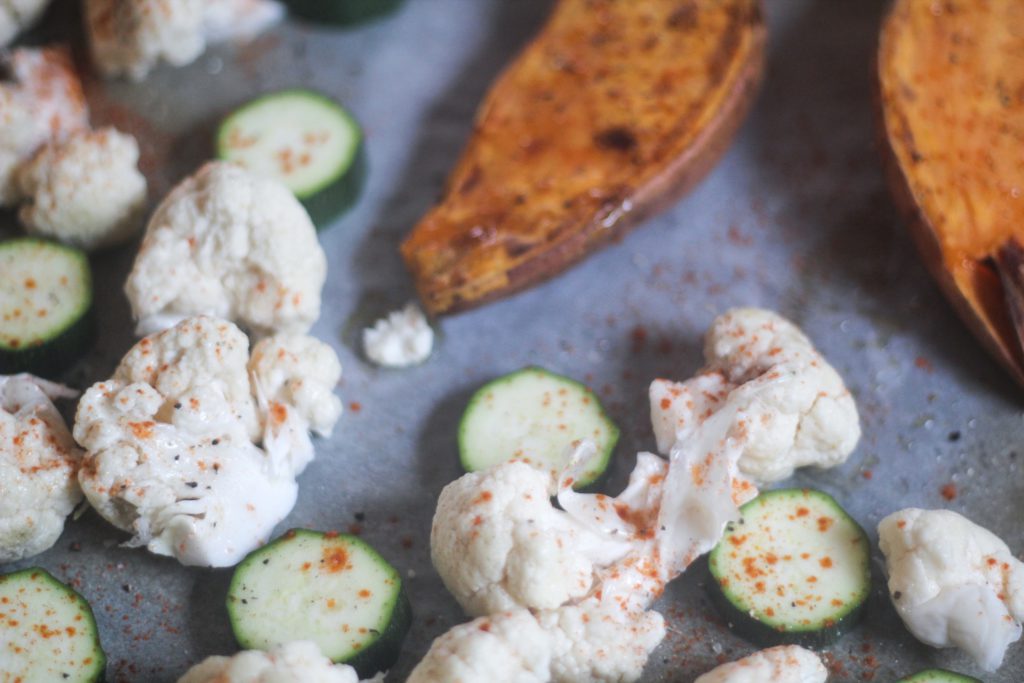 Weer een nieuwe batch groente dat de oven in gaat. Deze keer courgette, bloemkool en zoete aardappel.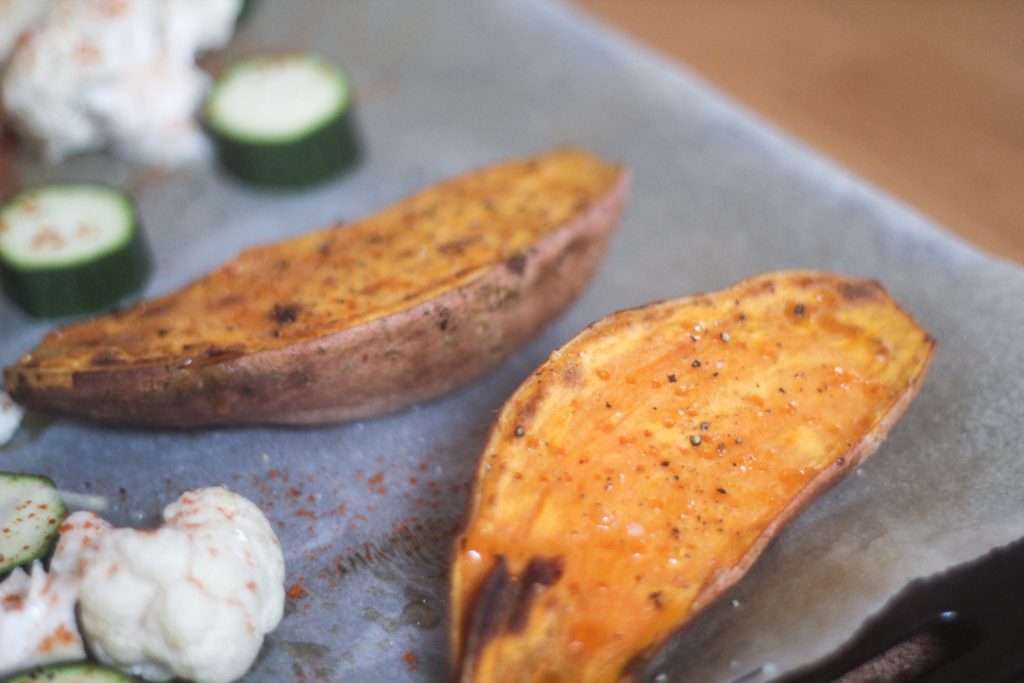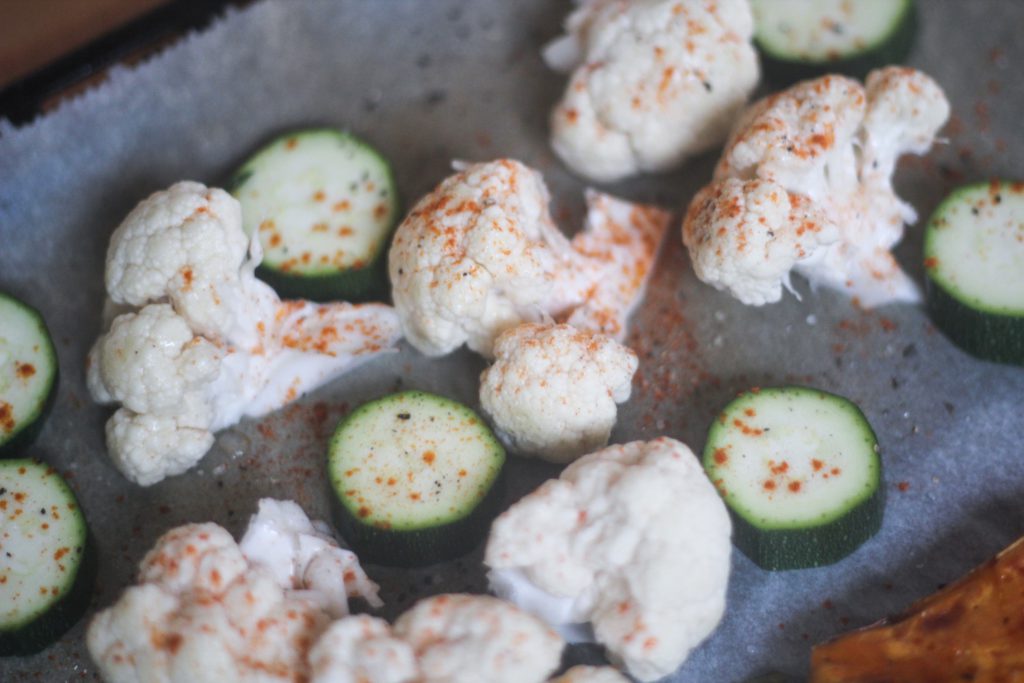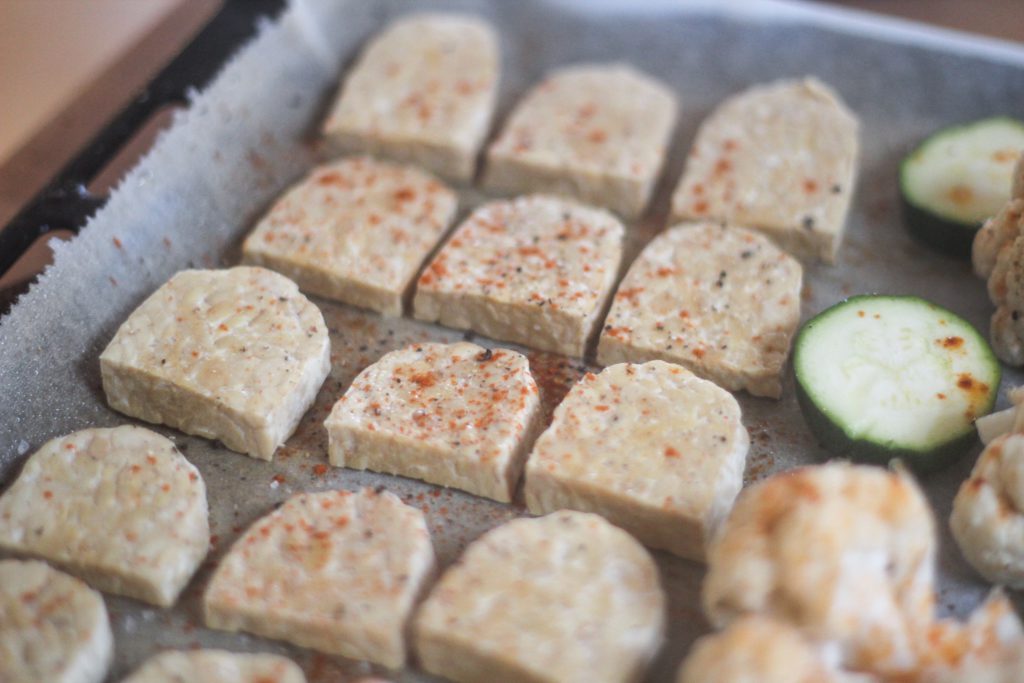 Ik had ook nog wat tempeh over en ik vind het het lekkerst en knapperigst als het uit de oven komt.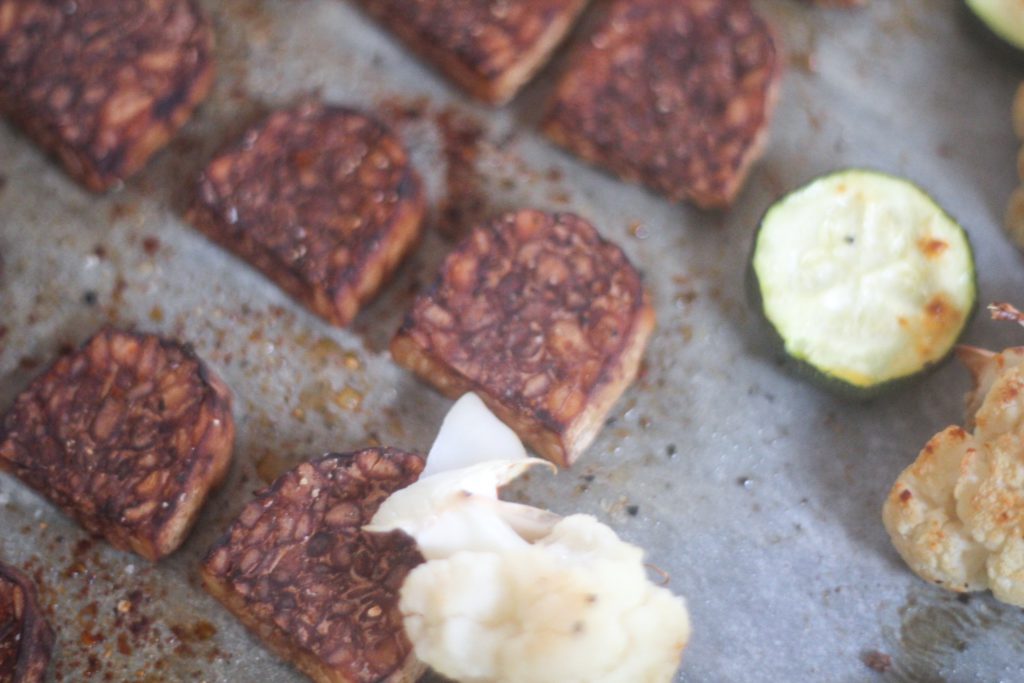 Ietsjes te lang de oven in geweest, maar nog steeds heerlijk!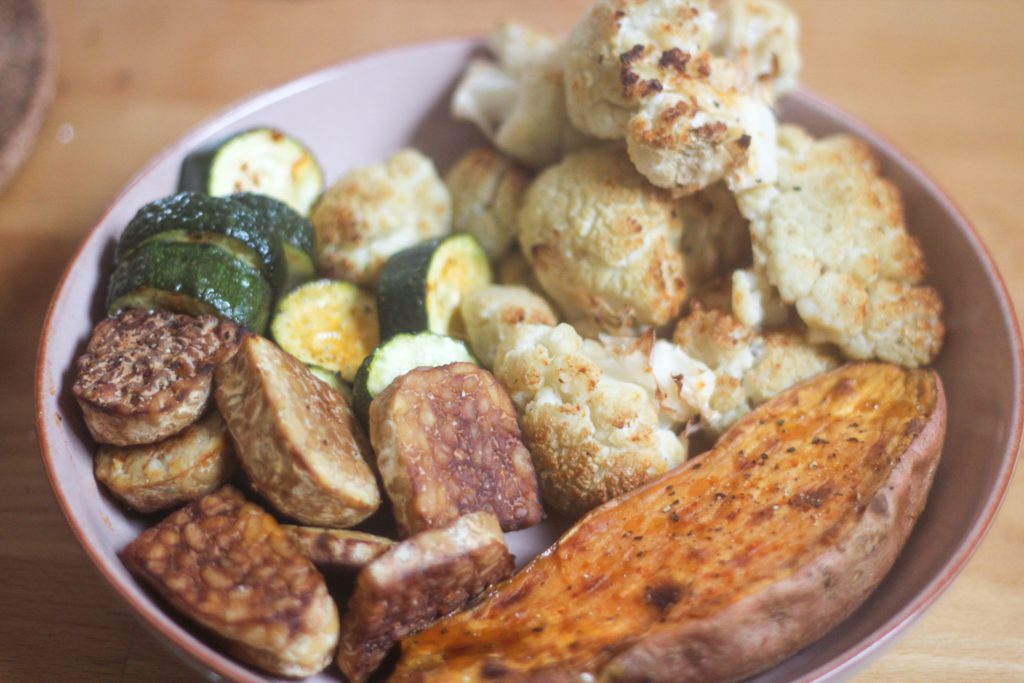 Hmmm, vooral die zoete aardappel in combinatie met de tempeh vind ik heerlijk.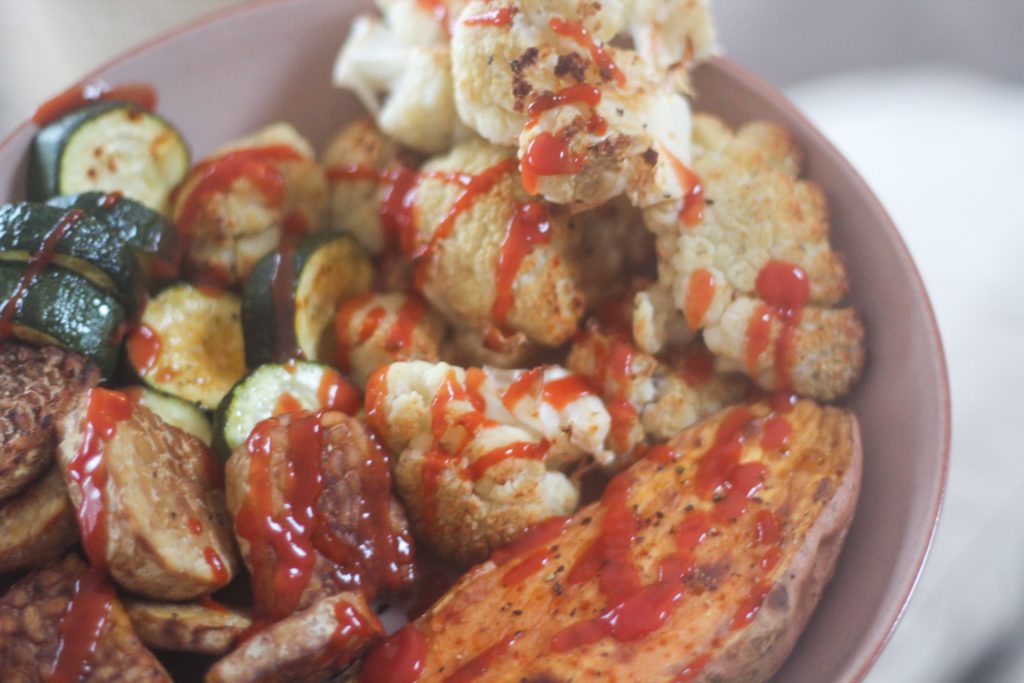 Oeps, ketchup en Sriracha overboard.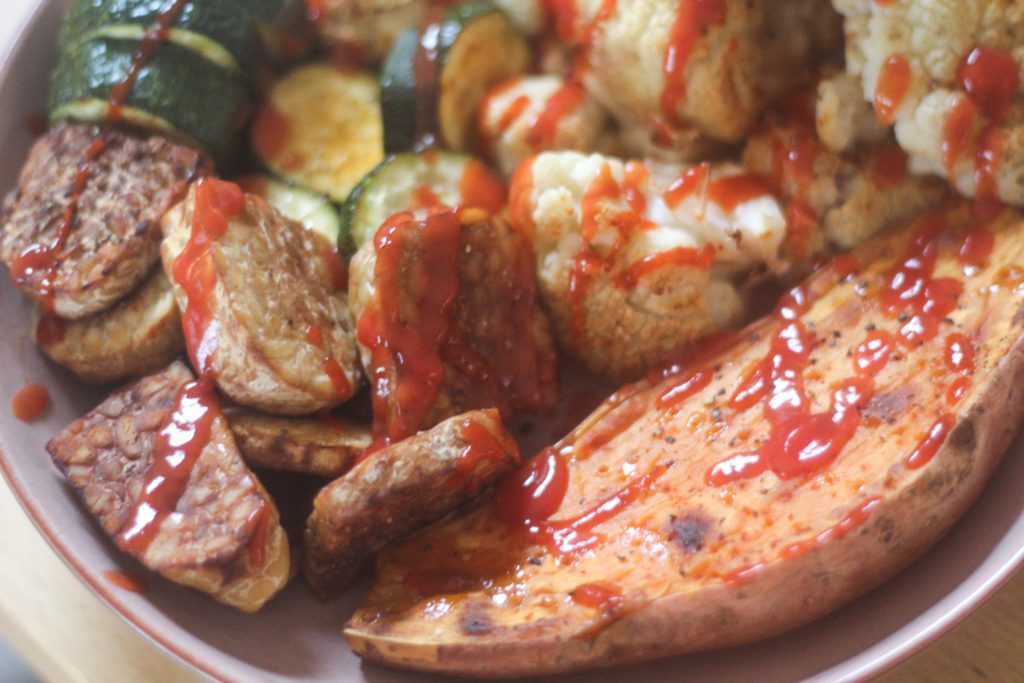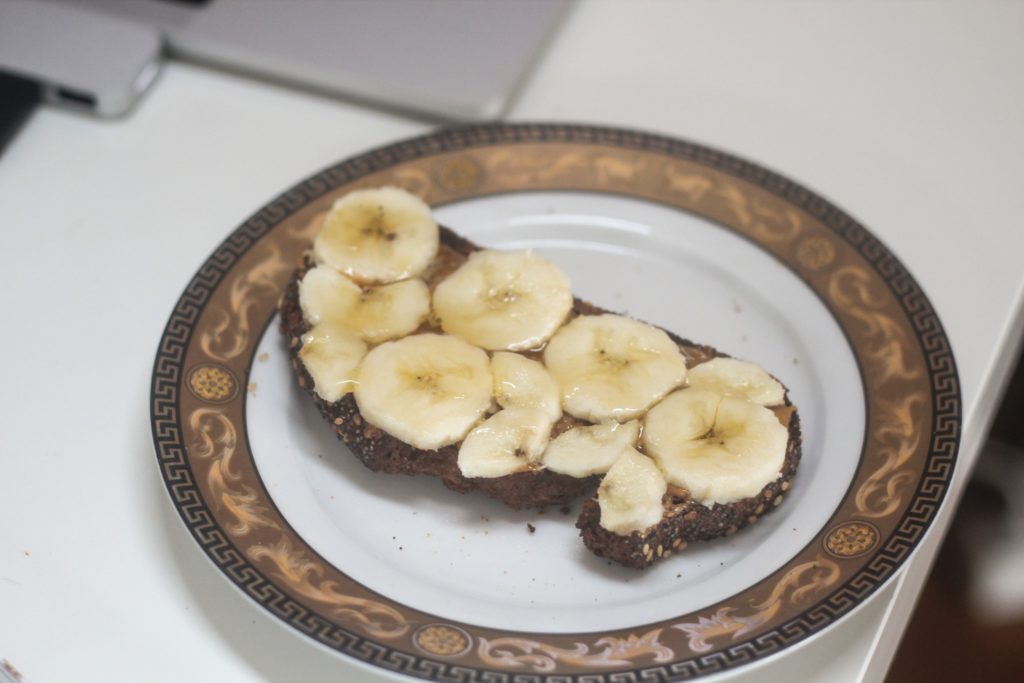 Brood (van de Lidl), pindakaas, banaan en honing. Het broodje doe ik eerst even op de grill (of toasten) waardoor de pindakaas een beetje smelt als je het erop smeert. Love it!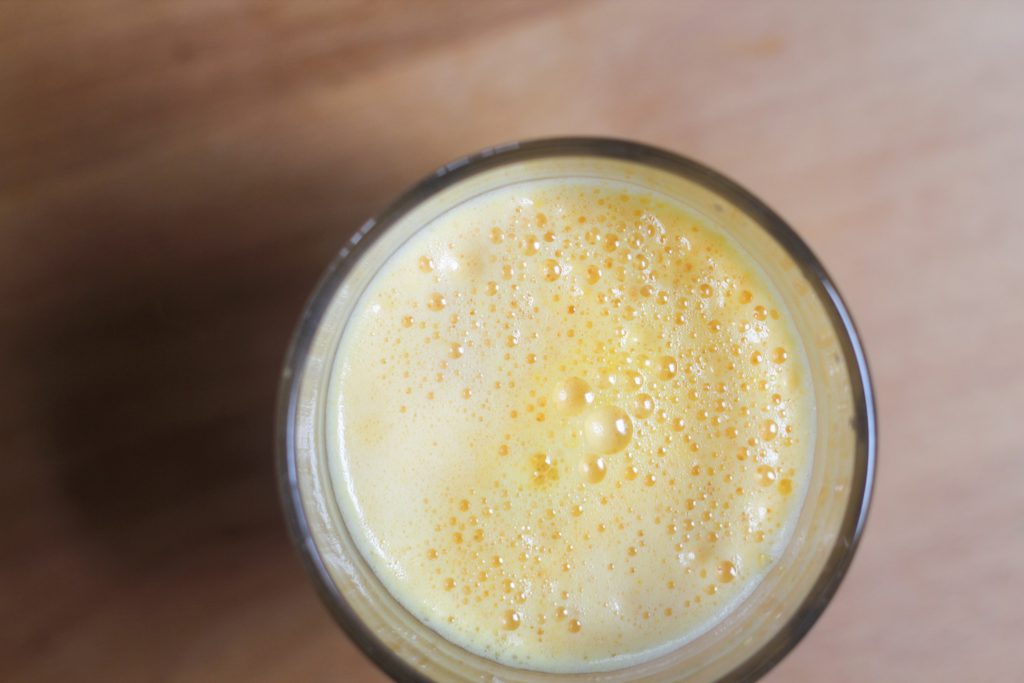 Vers geperst sapje.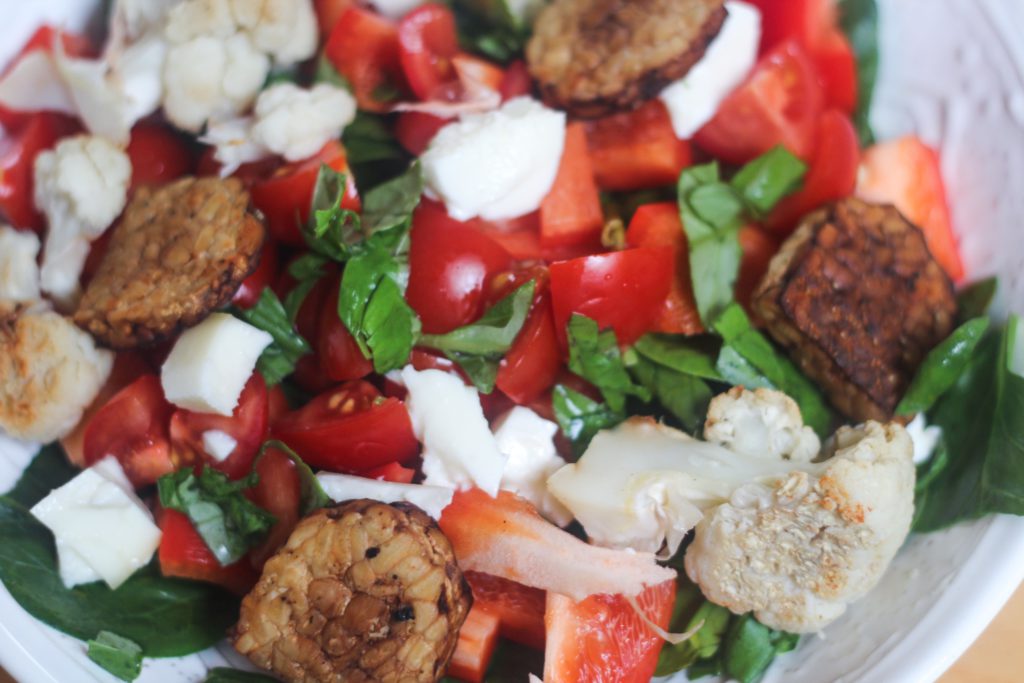 Salade van spinazie, mozzarella, tempeh, paprika, bloemkool, tomaat en basilicum.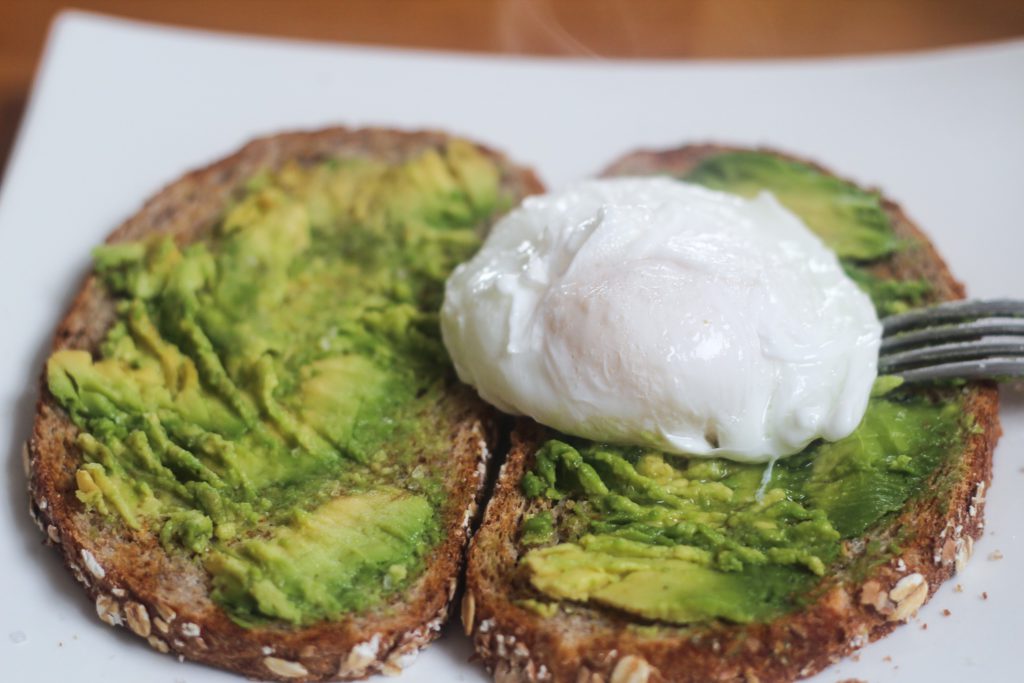 In Spanje heb ik van mijn schoonzus geleerd hoe ik een gepocheerd eitje moet maken, dat werd thuis natuurlijk herhaald. Zo lekker op een broodje (of twee) met avocado.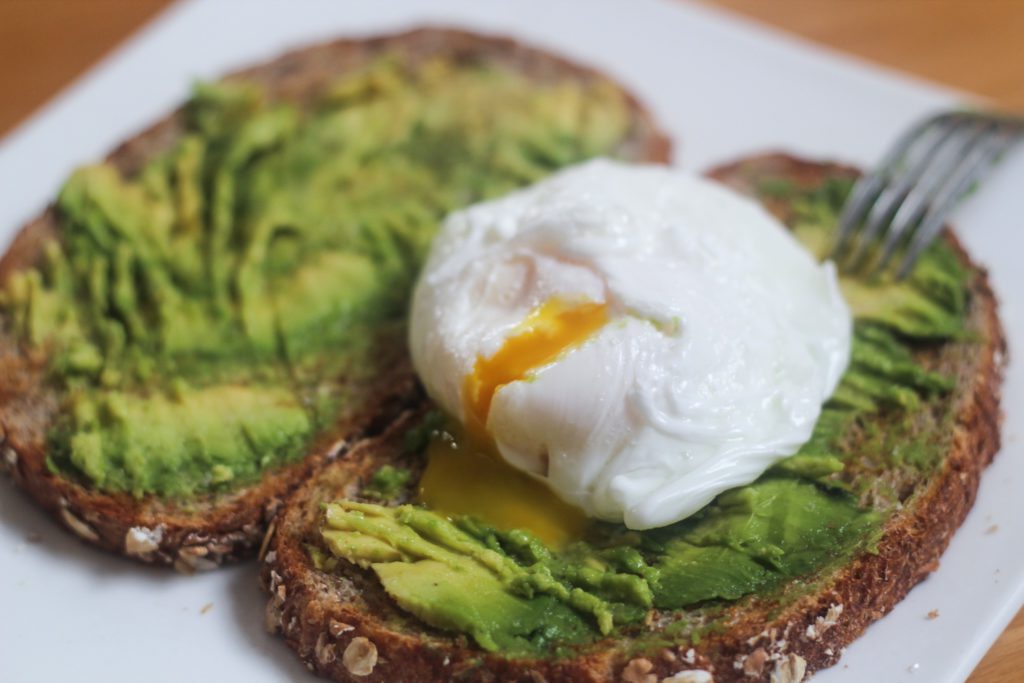 Ohhh mag ik even terug naar deze foto om het opnieuw te eten?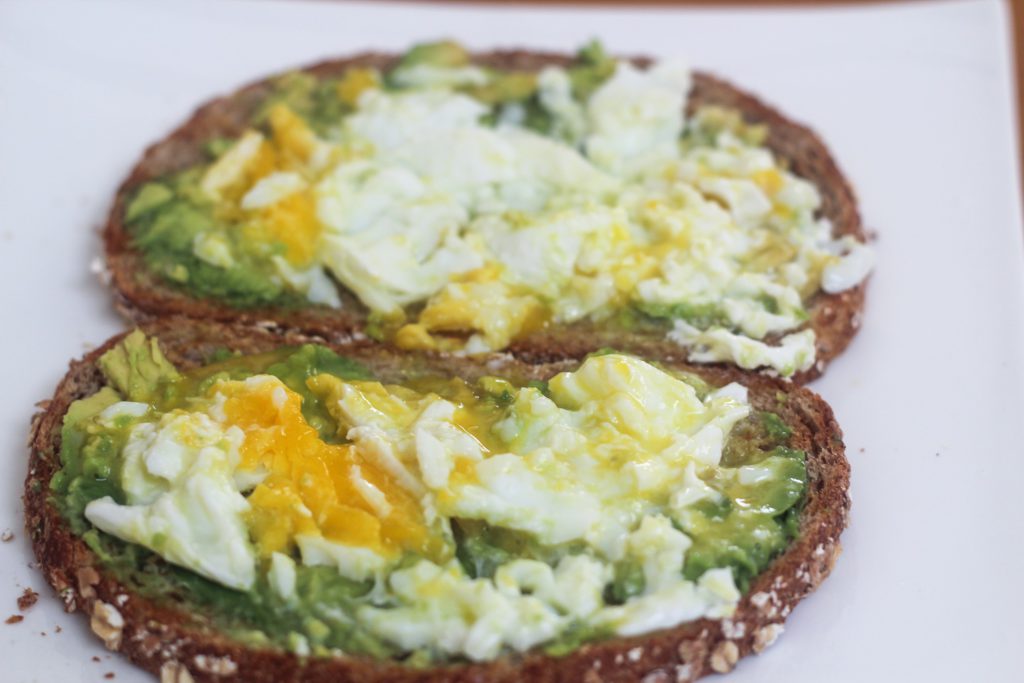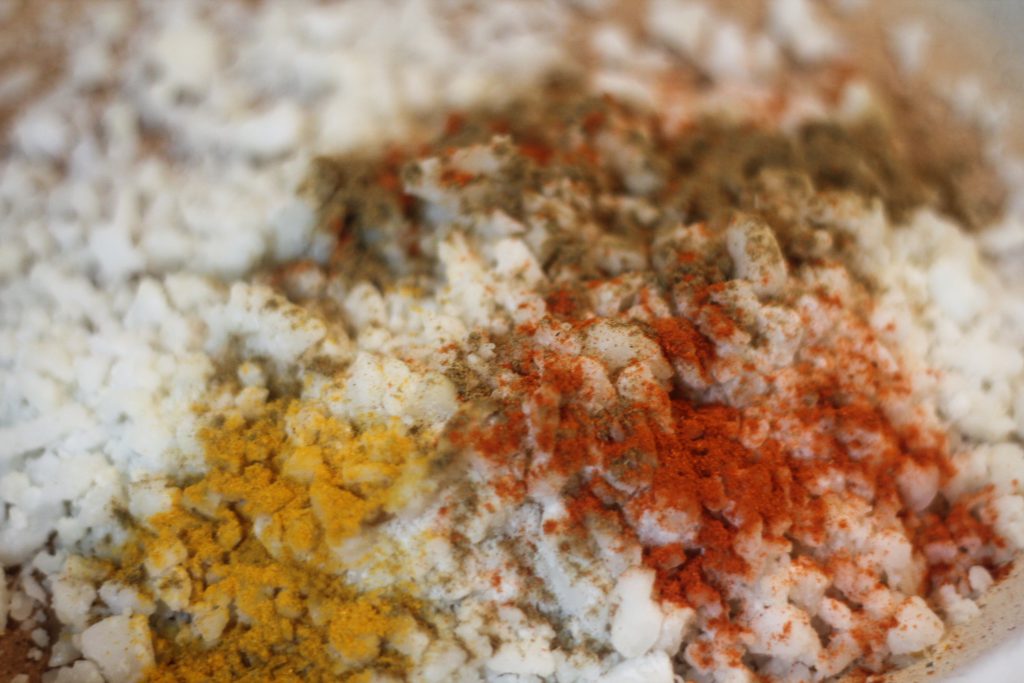 Bloemkoolrijst met kerrie, komijn en paprika poeder, bakken met een uitje en wat olie.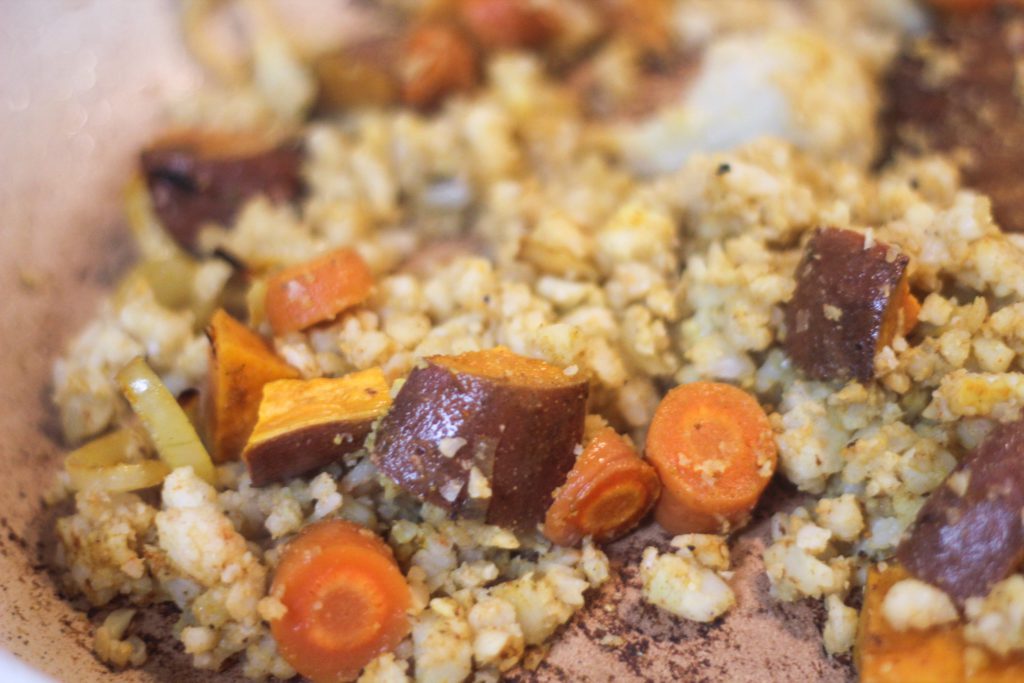 Daar gaat wat wortel en zoete aardappel dat eerder uit de oven is bereid bij.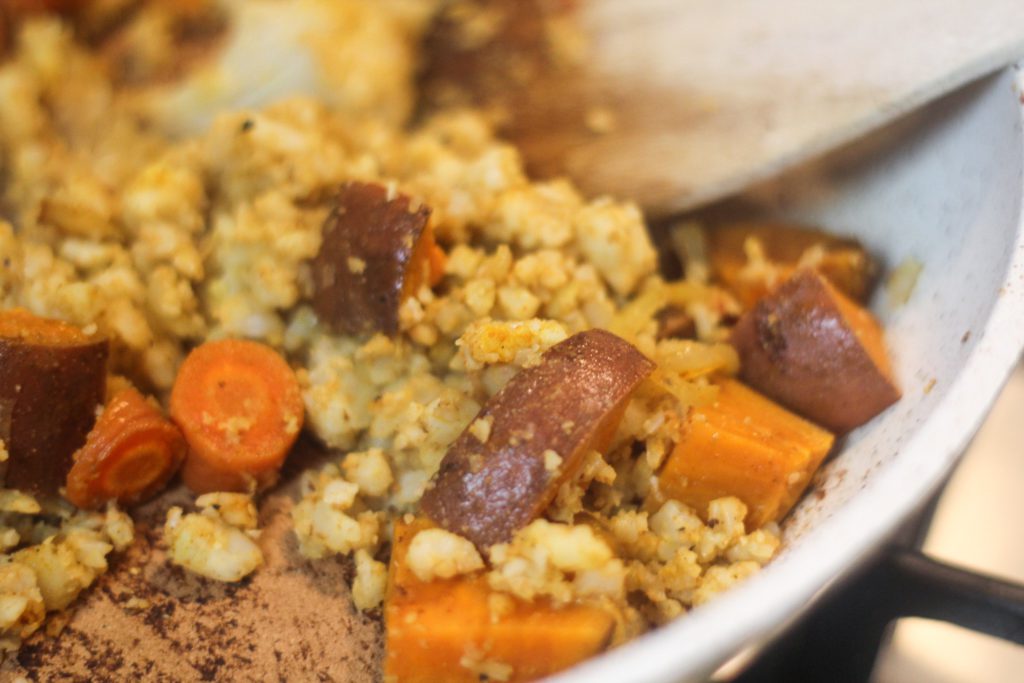 Een soort 'rijst gerecht' maar dan met bloemkool.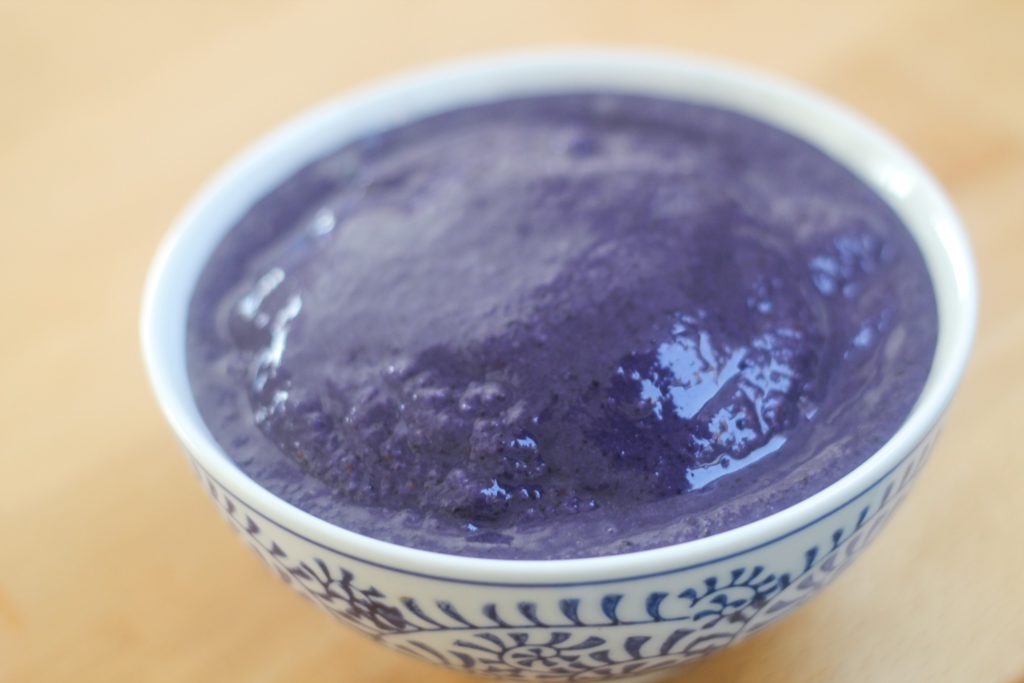 Smoothiebowl met acaï poeder, bosbessen, bevroren banaan, amandelmelk en diepvriesbloemkool.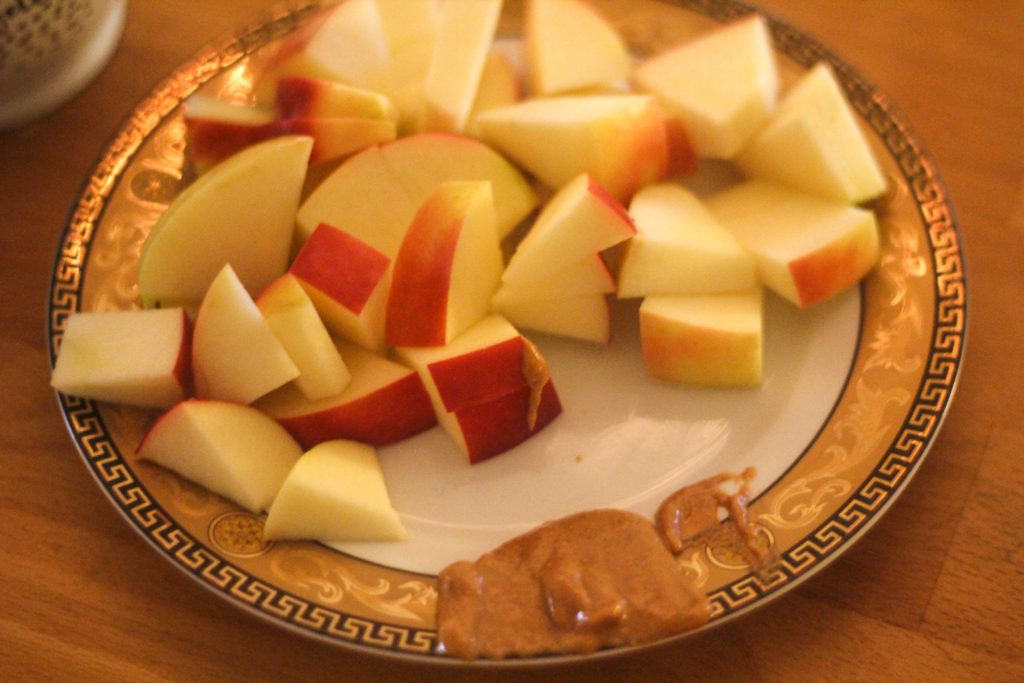 Snacken in de avond met een appel en pindakaas.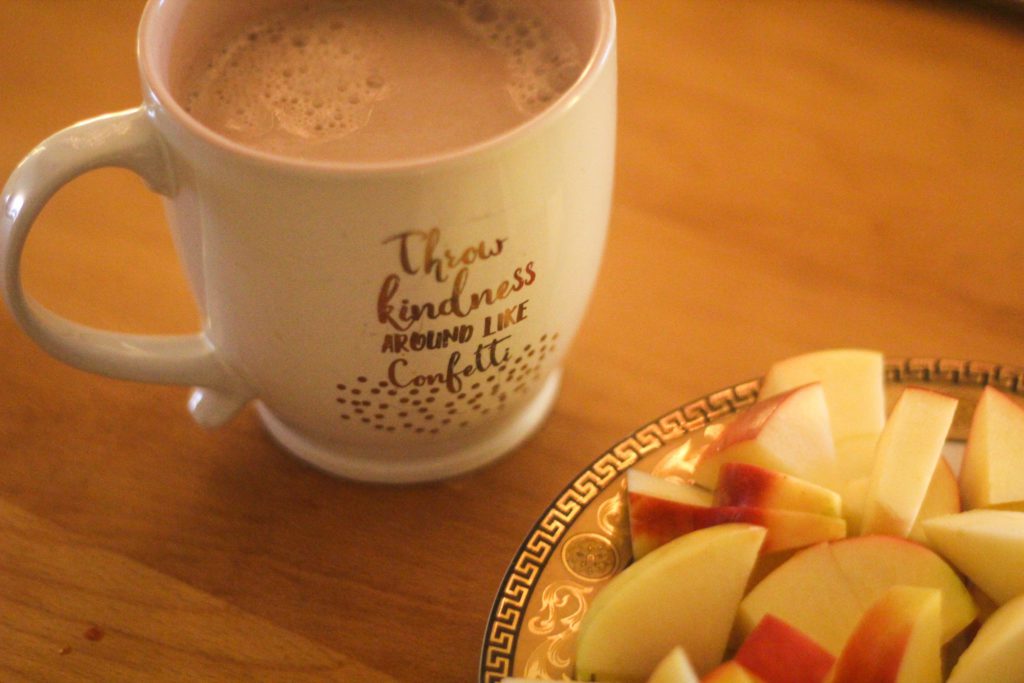 En een mok warme zelfgemaakte chocolademelk.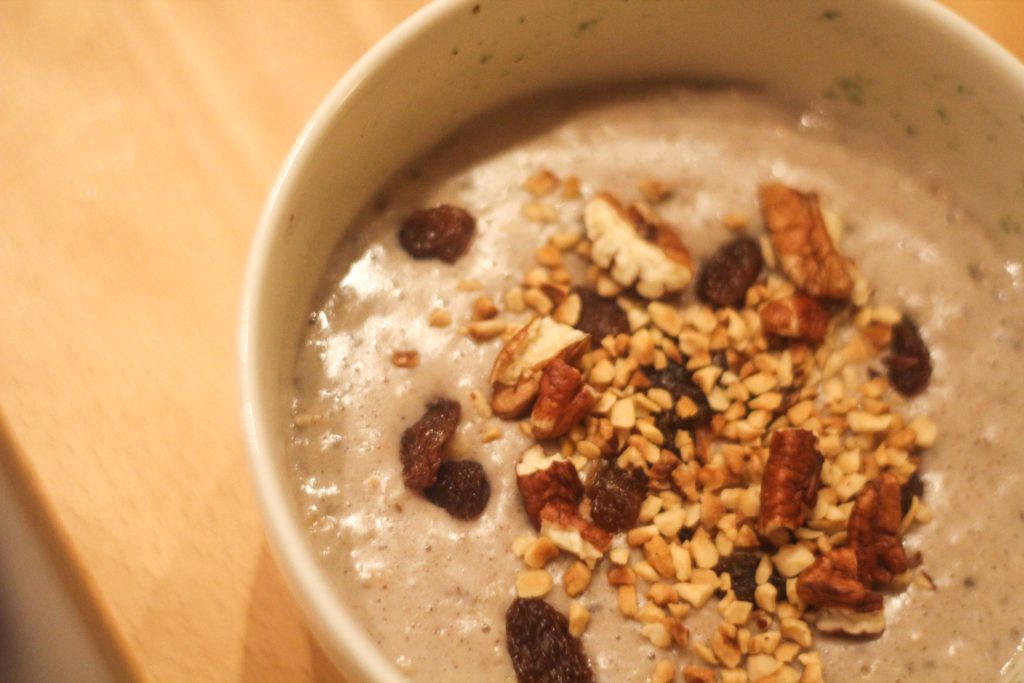 Ineens had ik weer zin in een bakje havermout in de ochtend – met wat kaneel, gehakte hazelnoten, pecannoten en rozijnen.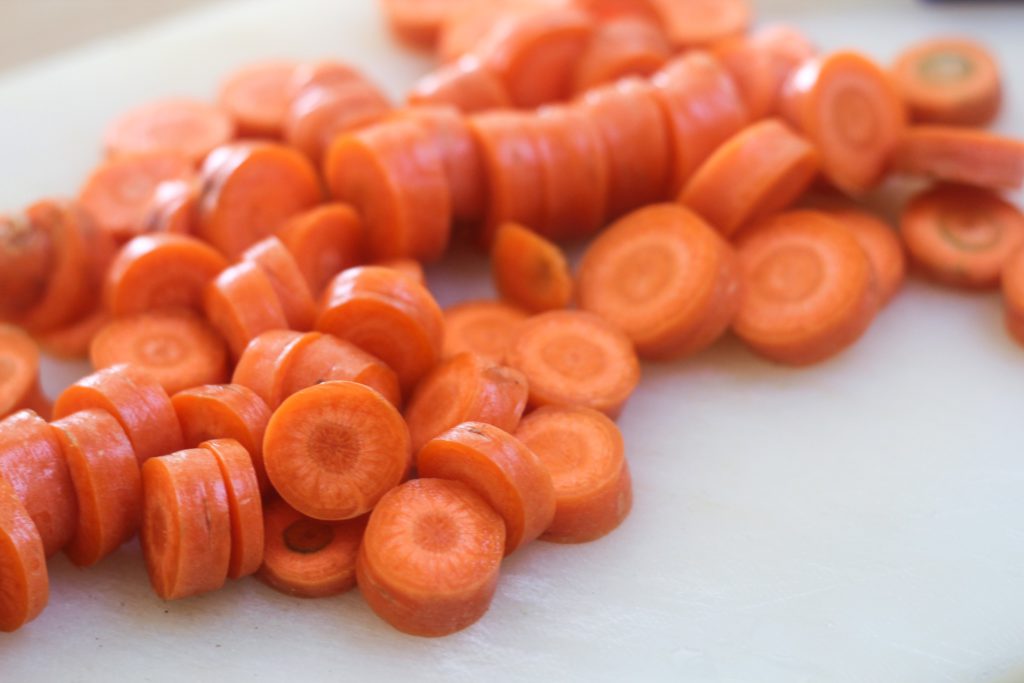 Tijd voor een wortel-linzen soepje! Deze maak ik de laatste tijd steeds vaker.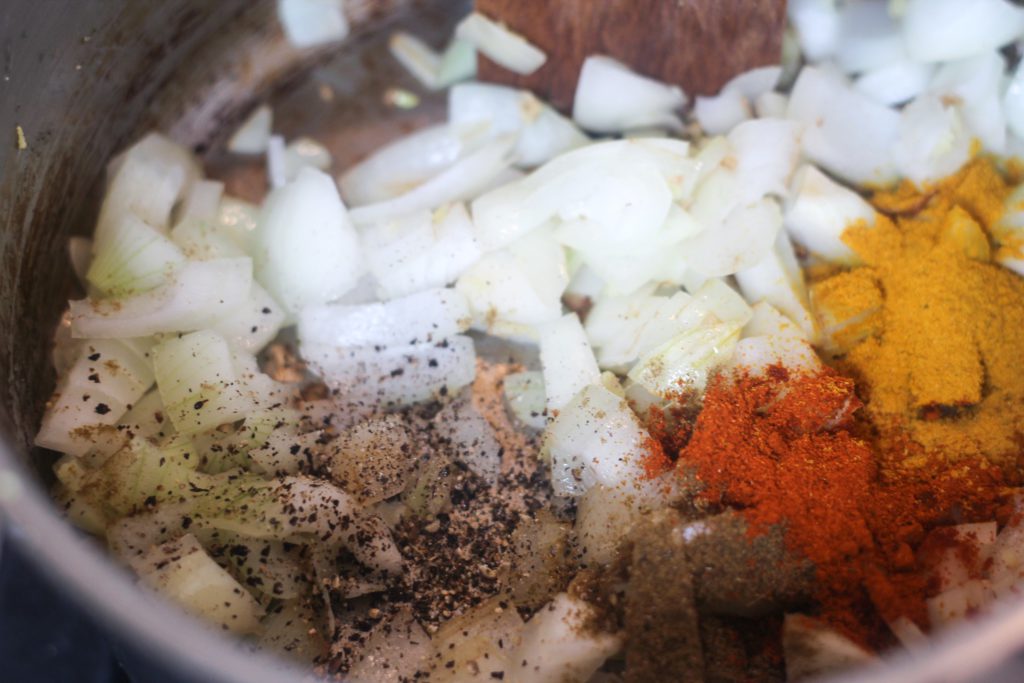 Een uitje bakken met olie, peper, zout, komijn, kurkuma en paprika poeder.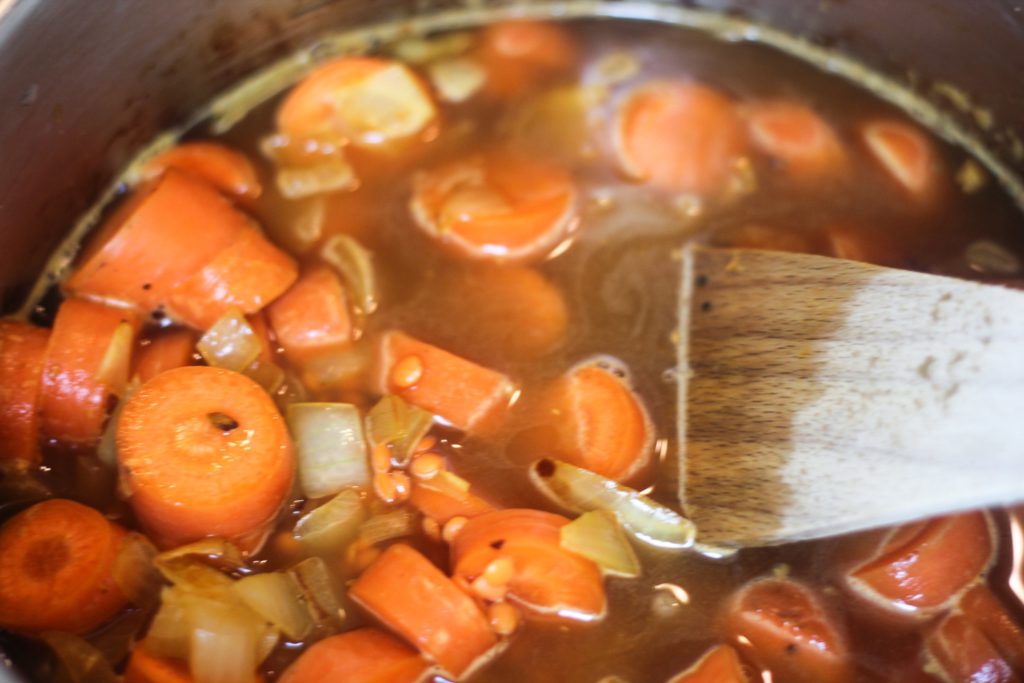 Vervolgens kan er water bij + de linzen, wortel en bouillon. Het volledige recept kun je hier vinden: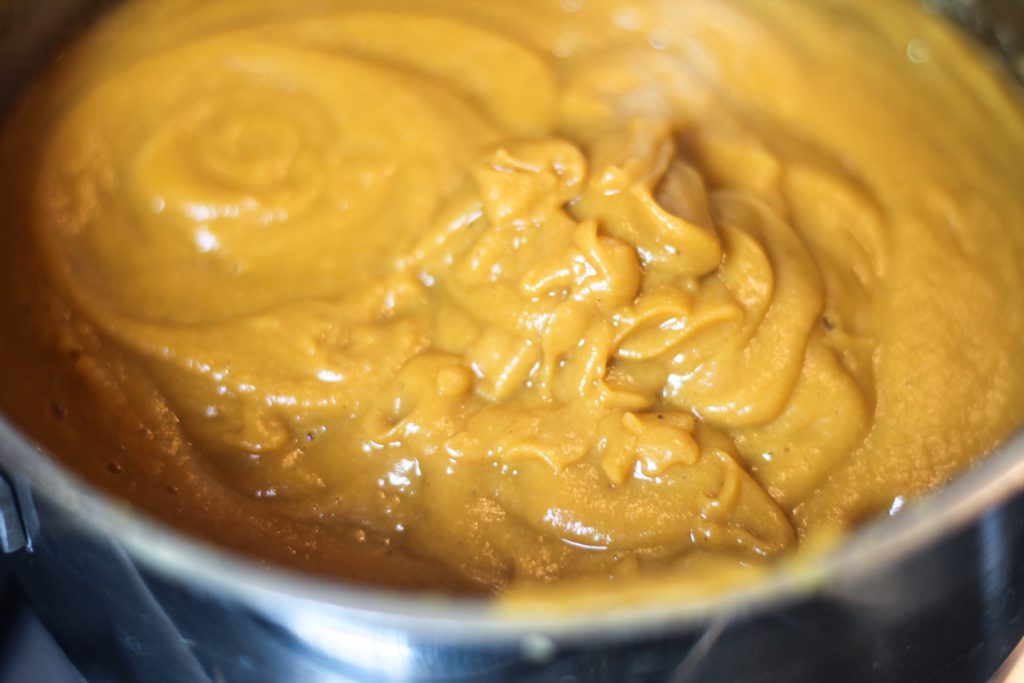 Hmm het heerlijke romige resultaat!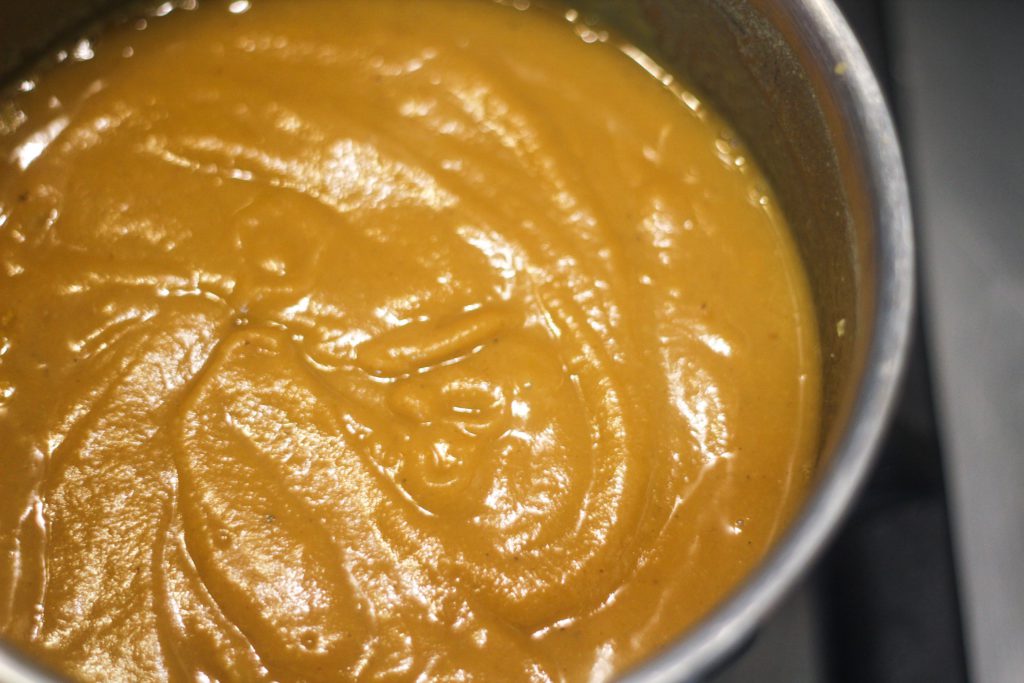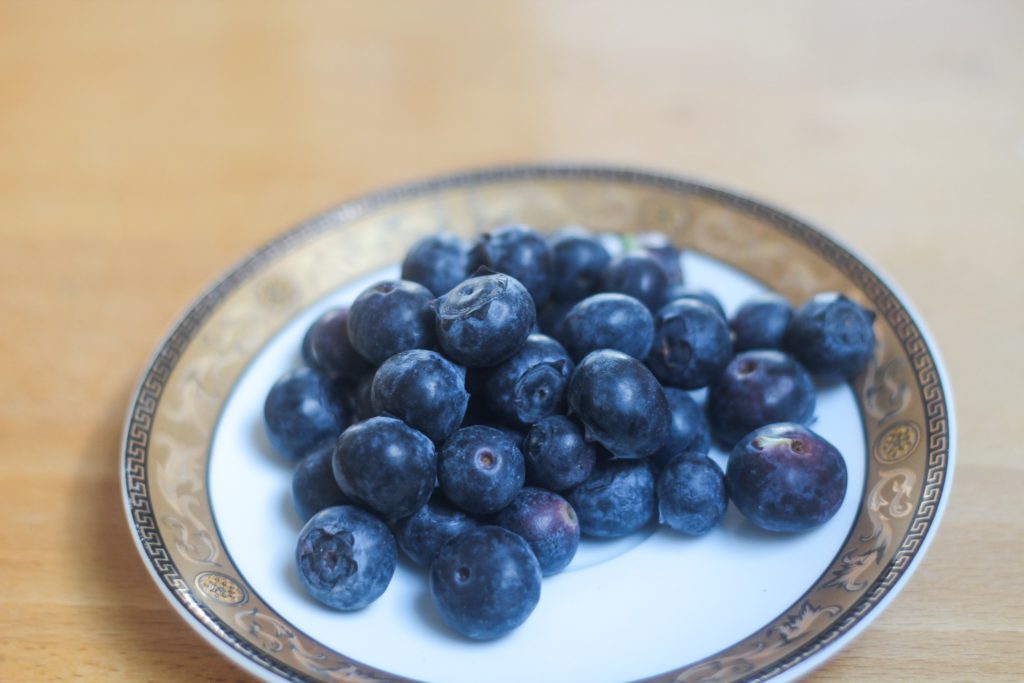 Bosbessen of blauwe bessen? Ik zeg áltijd bosbessen maar volgens mij heb ik het vaak mis. Ach – ze zijn beide heerlijk!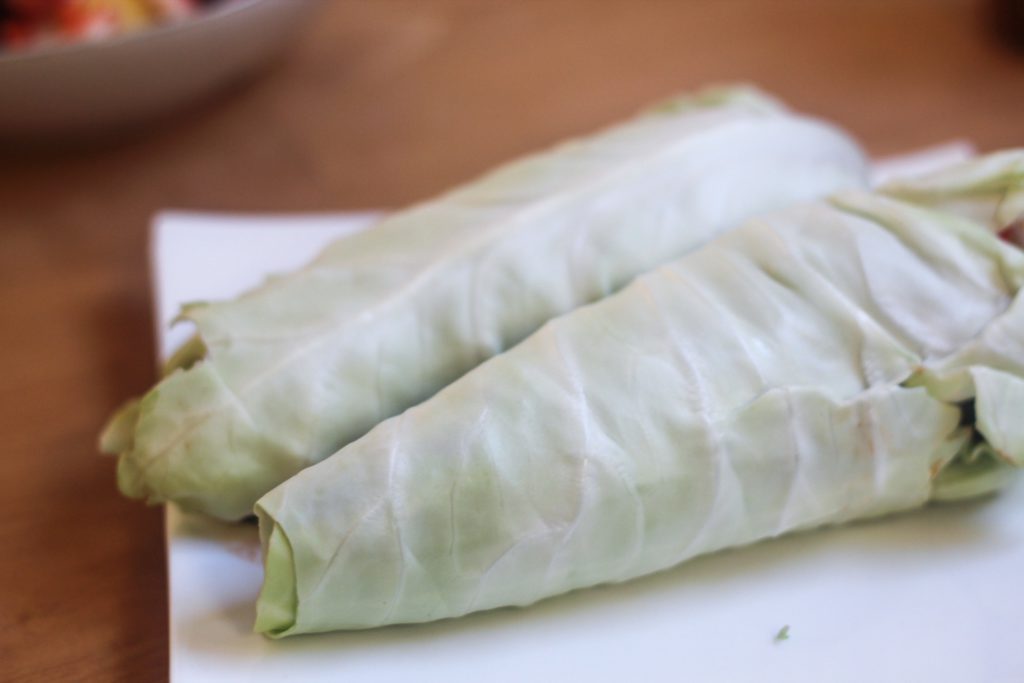 Spitskoolwraps – ik weet alleen niet meer wat ik erin had gedaan haha.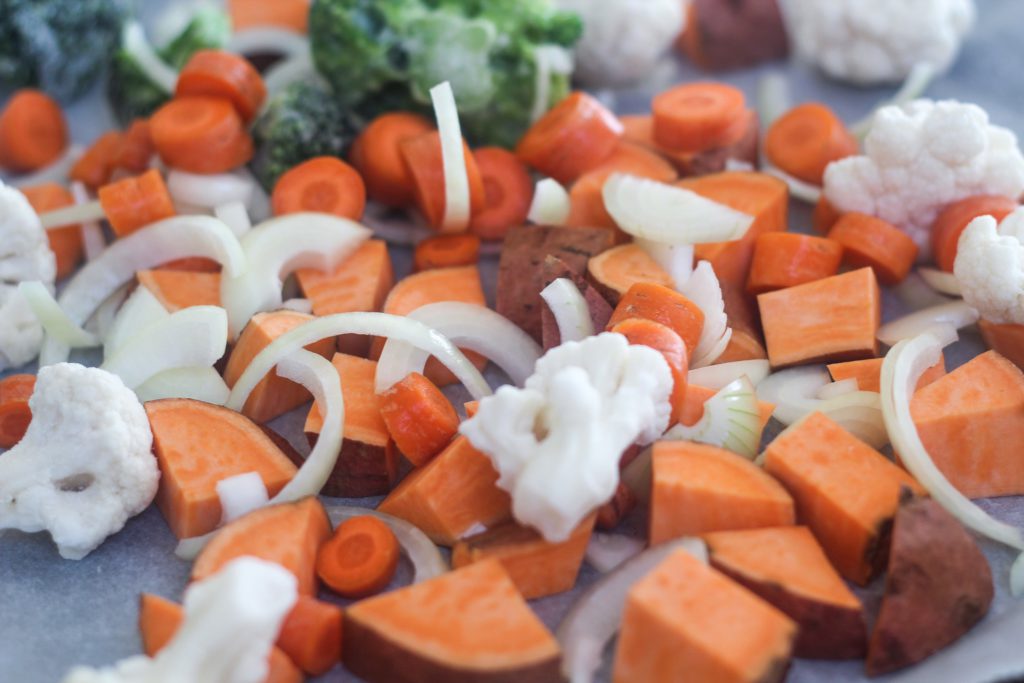 Daar gaan we weer, nieuwe batch!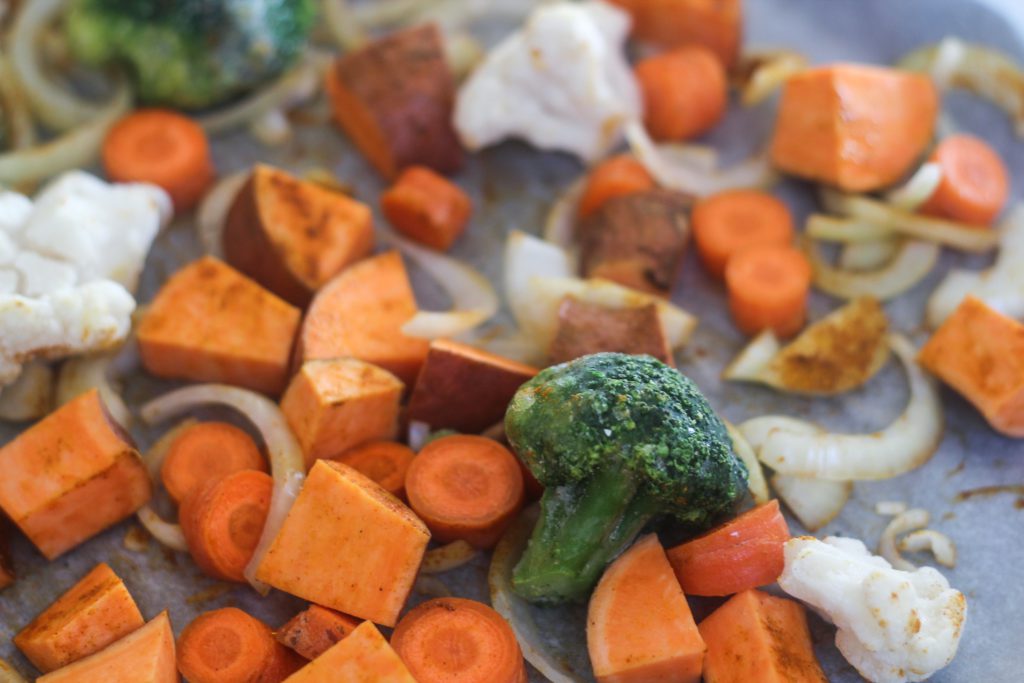 De bloemkool en broccoli komen uit de vriezer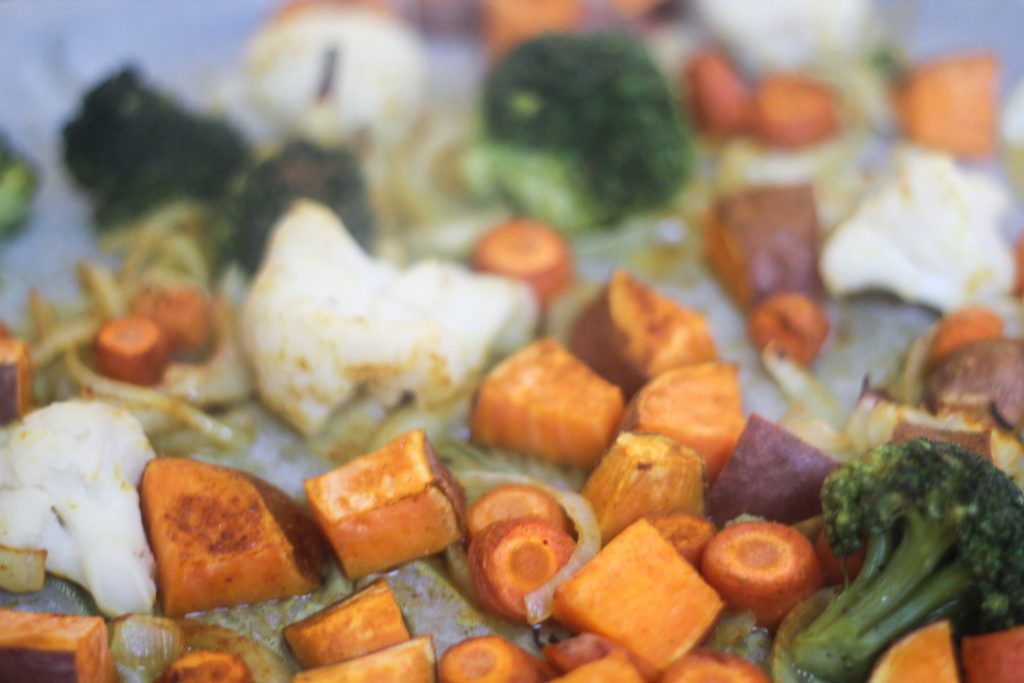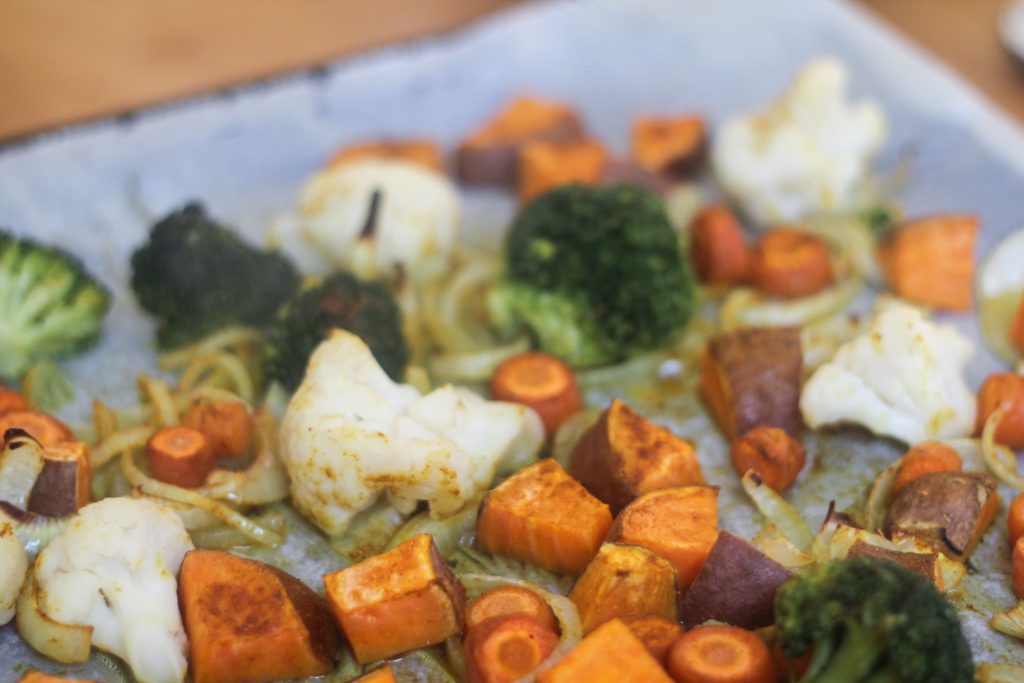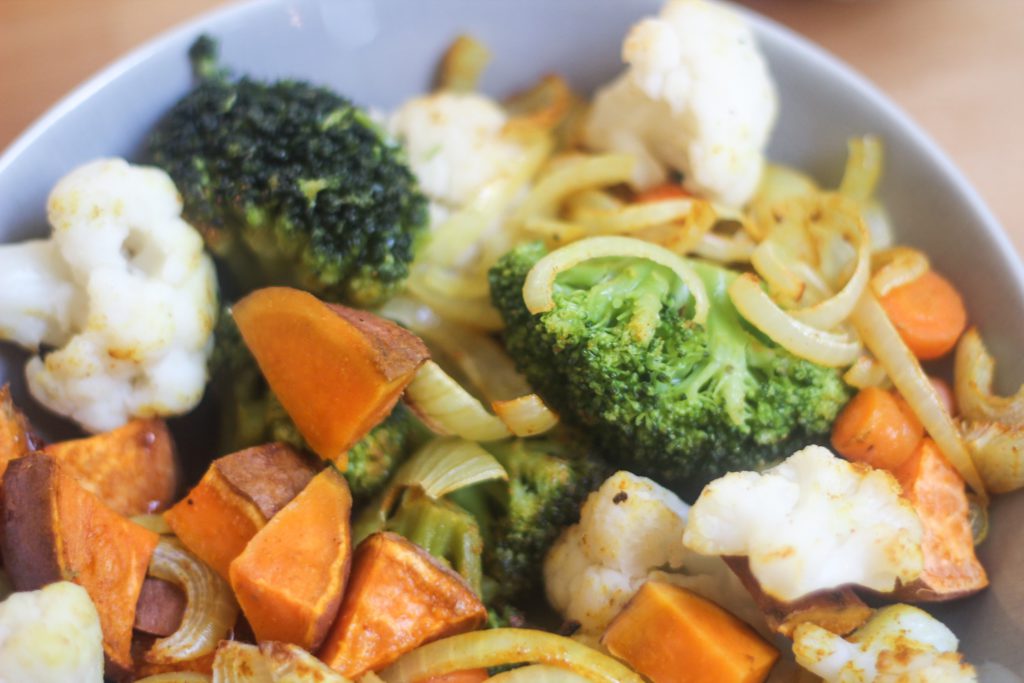 Snel, makkelijk en lekker – voor mij dan!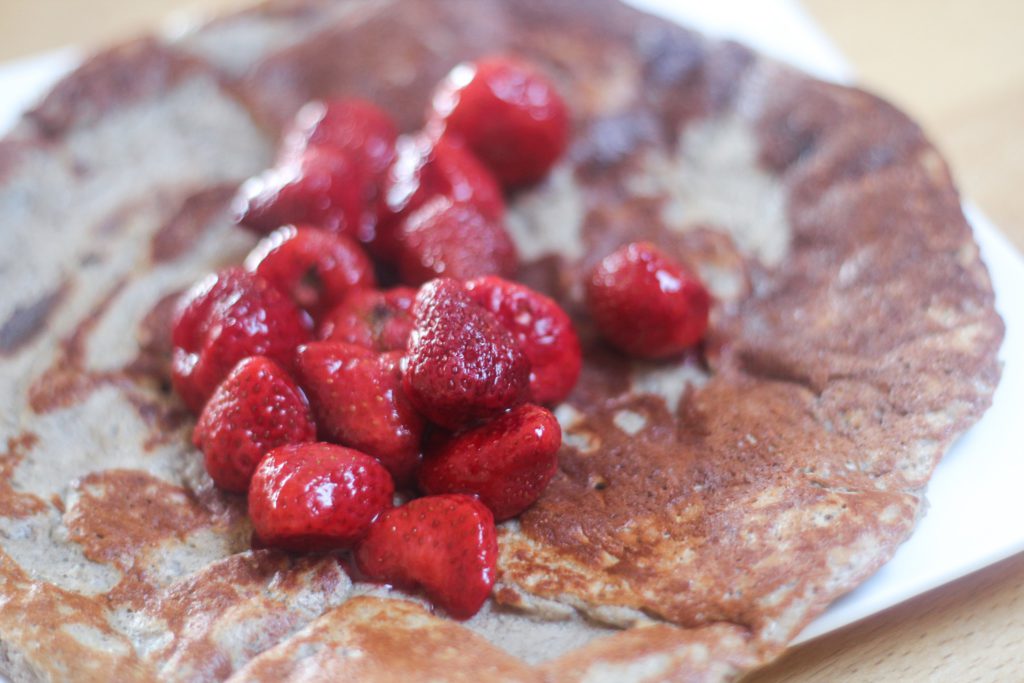 Banaan-ei pannenkoek met aardbeien (uit de vriezer, opwarmen in een pannetje)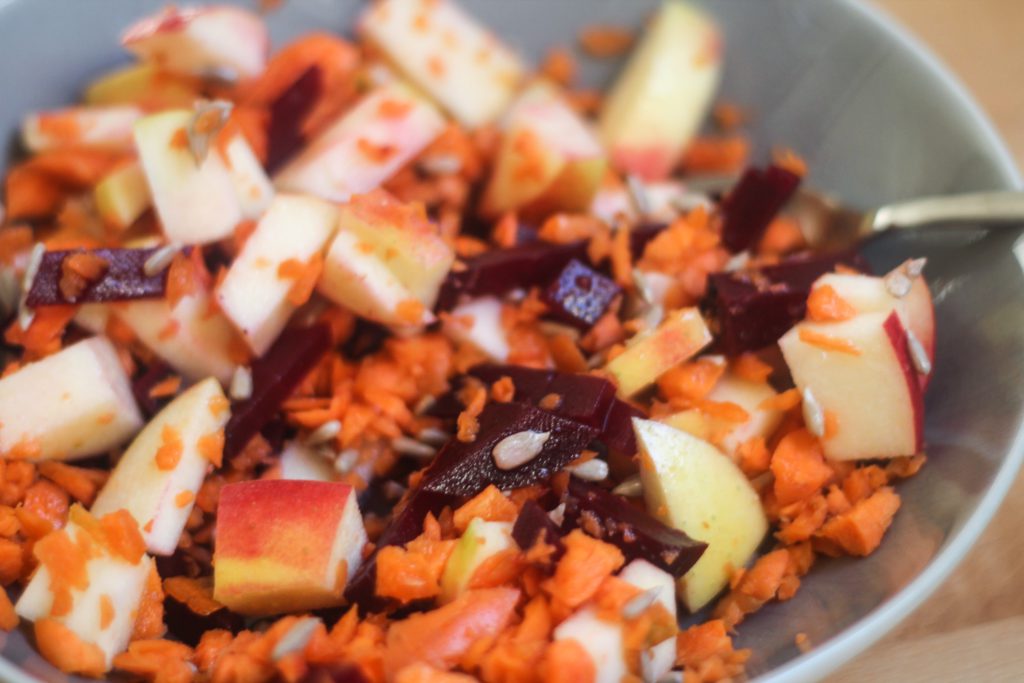 Salade van wortel, bieten, appel en zonnebloempitten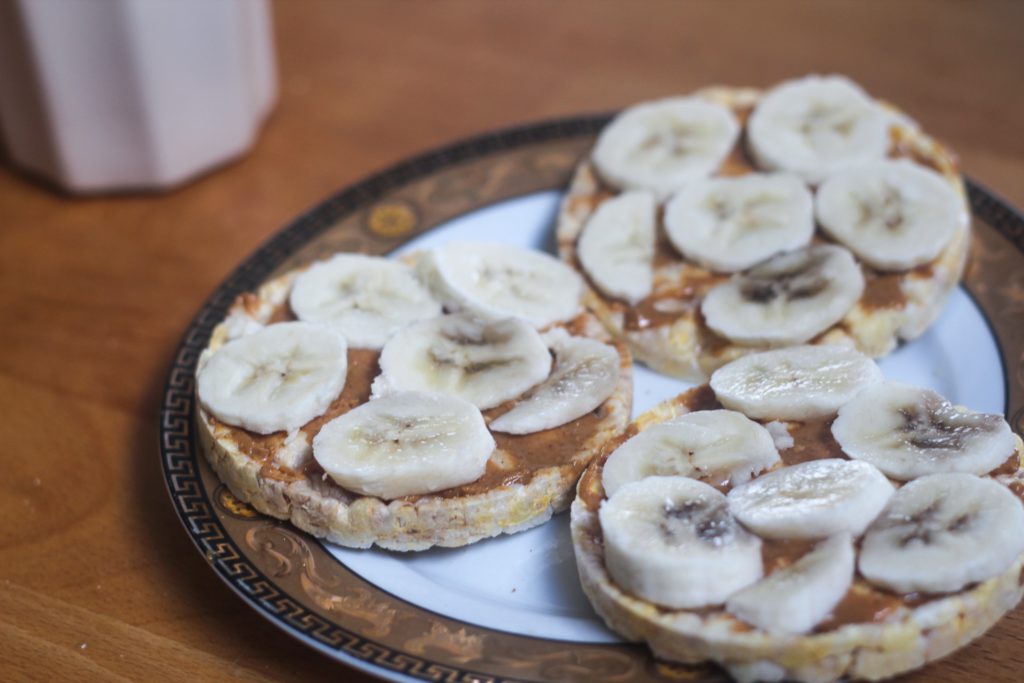 Maïswafels met pindakaas en banaan zijn ook heerlijk!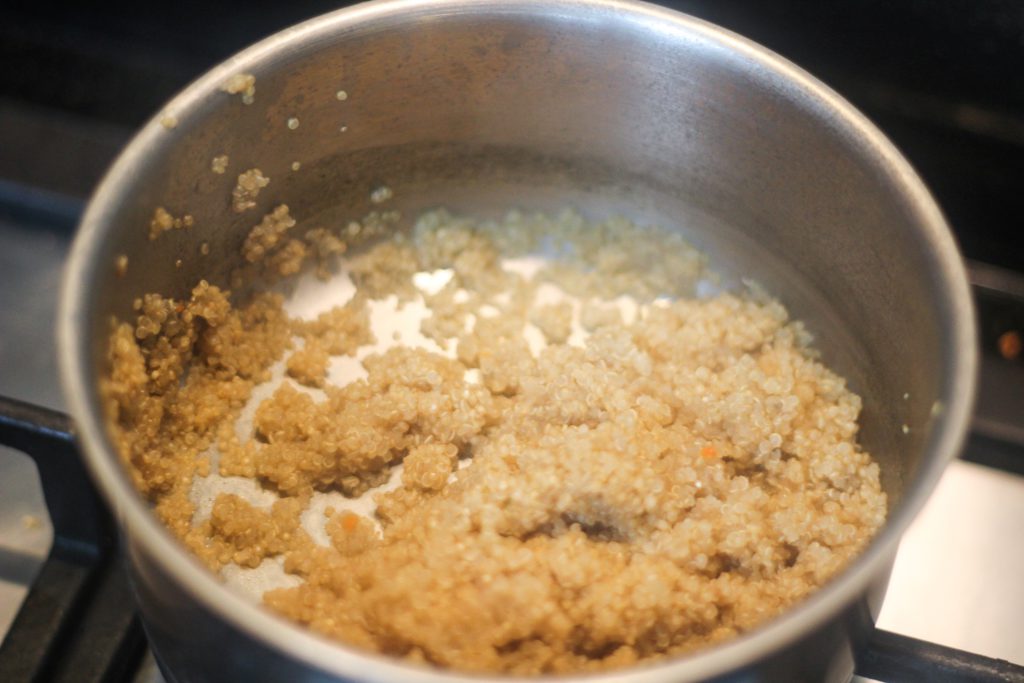 Quinoa gekookt met een klein blokje bouillon erbij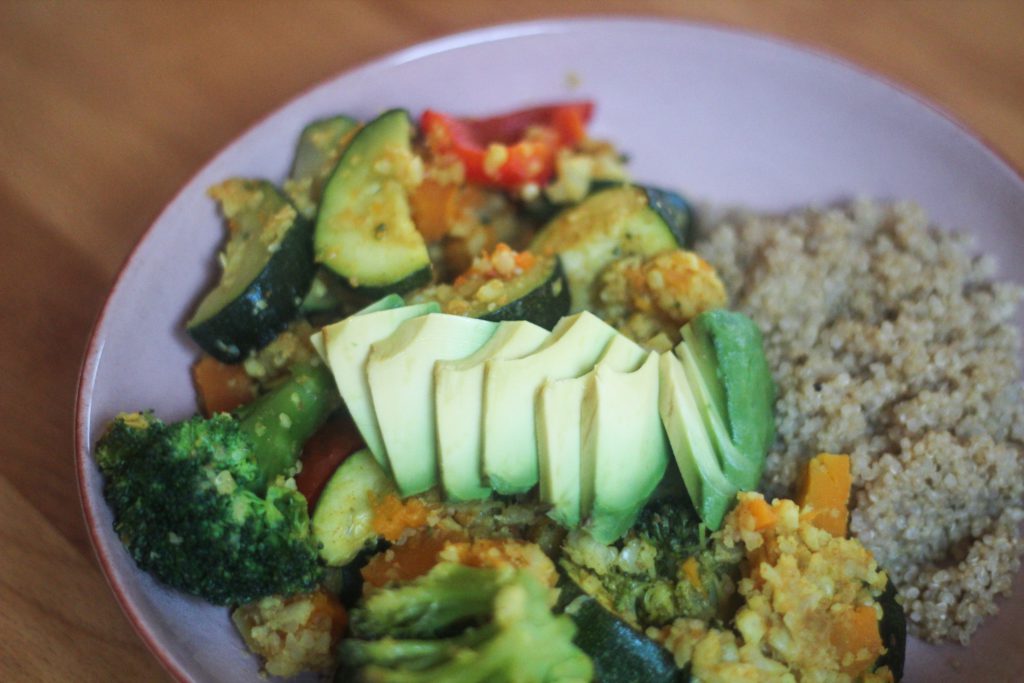 Met groente uit de oven en avocado is de maaltijd compleet! Hmm, hier heb ik ook weer zin in!