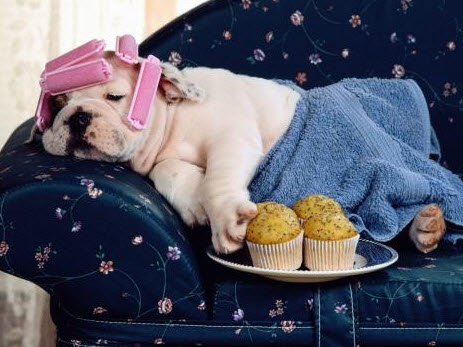 GOEDEMORGEN ZONDER ZORGEN!
Of misschien met een klein katertje. Hoe dan ook, het is vandaag een perfecte dag om je lichaam een beetje in beweging te brengen. Ik zeg 'vandaag' en 'perfect' omdat het eigenlijk nooit een perfecte timing is en je dus daarom maar elke dag op deze manier moet benaderen voor een beetje een positieve boost 😉
Vandaag heb ik simpele workouts die je gemakkelijk kunt doen op een luie zondag zoals vandaag. Voor de mensen onder ons die geen zin hebben in een uitgebreide bootcamp en liever de hele dag op de bank doorbrengen. Een beetje je hartslag verhogen en daarna weer lekker met een dekentje op de bank 😉 
5 minuten maar!
[wpdevart_youtube]MvUAry_H5W0[/wpdevart_youtube]
Deze video laat zien dat het écht niet ingewikkeld hoeft te zijn om de eerste stap te zetten! Je kunt het! 😉 Misschien dat je hierna wel denkt; ach, ik doe wel een pittigere workout bij, dit was easy!
Onthoud: de eerste stap, daadwerkelijk fysiek ergens heen gaan (gym of naar je matje), is mentaal het zwaarst! De workout zelf niet!
Even billenwerk ZONDER squats!
[wpdevart_youtube]7NCpUwb3Q2Q[/wpdevart_youtube]
Heerlijk even een workout zonder squats. Misschien kan die gedachte je ook wel helpen om even 10 minuten aan je billen te werken. Wie zegt nee tegen rondere en strakkere billen en als je daar consequent steeds even aandacht aan besteedt, zul je verschil gaan zien. Wat zijn nou 10 minuten?
Blijf je in bed?
Als je deze video bekijkt zul je eerst misschien lachen en hopelijk daarna denken 'zo makkelijk, ik doe wel even een paar oefeningen nu ik toch zit' en voor je het weet, bevalt het! Tenminste, dat is het ideale scenario.. 
[wpdevart_youtube]JwpHpqZ7Y4s[/wpdevart_youtube]
10 minuten en daarna NETFLIX!
Ook hier weer de gedachte; wat zijn nou 10 minuten uit je leven? Of gewoon uit deze dag. Je mag 4 uur netflixen wat mij betreft, of 8.. maar hoe chill als je een klein beetje hebt gezweet, je je 'glowy' voelt en dan lekker gaat Netflixen? Dan komt deze laatste workout echt van pas!
[wpdevart_youtube]0dG0GLD24g4[/wpdevart_youtube]
Geniet van je zondag! <3