Teni, je moet echt bij Brouwerij Troost eten" – mijn nichtje, lezeressen, vriendin.
Sinds mijn liefde voor hamburgers overduidelijk is geworden online, krijg ik veel tips van mensen uit mijn omgeving maar ook mijn lezeressen voor het uitproberen van bepaalde hamburger tenten. Zo kreeg ik vaak de tip om eens langs te gaan bij Brouwerij Troost in de Pijp, deze bleek ontzettend lekker te zijn volgens velen.
Het werd tijd om dit eens met eigen smaakpapillen te ervaren.. 
Het viel me al op dat je zelfs door de weeks echt even moet reserveren want het zit stampvol. Maar echt. Zo kwamen wij op een woensdagavond aan en troffen een volle zaak maar zeker met een goede en relaxte sfeer.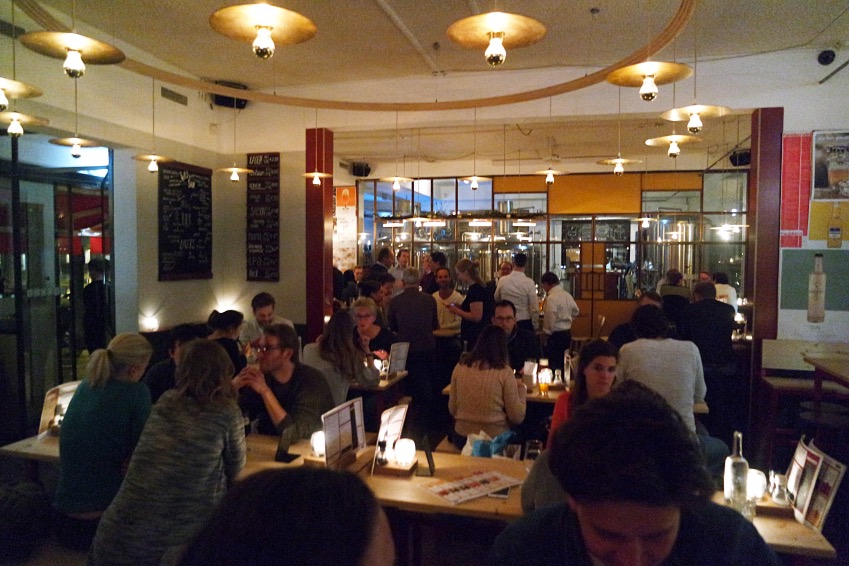 We mochten plaatsnemen aan een hoge tafel en toen kwam de eerste vraag "Wat willen jullie drinken?", daar waar ik normaal gesproken "WIJN!" roep, bedacht ik ineens dat ik me in een brouwerij bevond en juist nú de tijd was om een biertje te drinken. Maar wat nou als je helemaal geen natural beer drinker bent? Dat gaf ik aan en daar kwam de, volgens onze bediende, perfecte oplossing voor: Cerveza!
Beetje het gevoel van een Corona maar dan anders; met citrahop en veel liefde gemaakt. Ja, ik houd van dat soort bewoordingen.
En ja, als echte wijnliefhebber was het verruilen van dat wijntje voor deze Cerveza absoluut de moeite waard! Ik zou hem iedereen aanraden.
Proost dus!
Om onze smaakpapillen op gang te laten komen begonnen we met een flammkuchen als voorafje.
Ik test alles met liefde.
Toen kwamen de burgers! Ik ging voor The Purist;
Grof gemalen Angus burger met cheddar, sla, tomaat en augurk op een briochebol.
Wat me direct opviel? De geur van het brood. Alsof het net van de bakker afkwam, dit had ik nog niet eerder gemerkt bij een burgerbroodje. Ik bleef eraan ruiken, heerlijk!
Mijn buurvrouw ging voor de The Italian:
Blonde d'Aquitaineburger met pancetta, gorgonzola, zwarte olijven, gebakken champignons, gerookte knoflookaioli, rode uienchutney en sla op een witte tarwebol.
Zo, als dat geen mond vol is. Letterlijk én figuurlijk. Ook hier weer die heerlijke geur van het broodje.
We bestelden gewone friet én zoete aardappelfriet (pluspunten voor de aanwezigheid van zoete aardappelfriet) en het burgerfeest kon beginnen.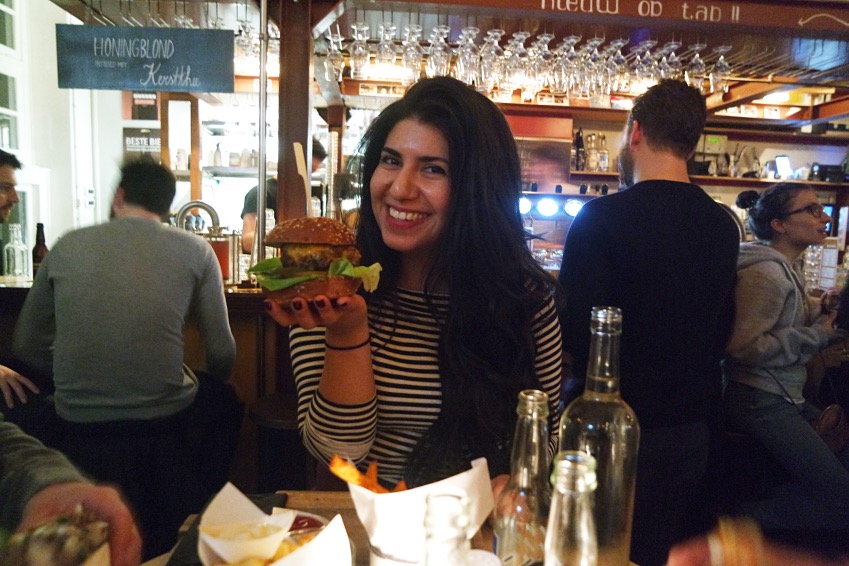 Bijna beginnen, eerst wilde ik nog poseren met de burger. Dit blije ik-ga-zo-een-burger-eten-hoofd moet namelijk vastgelegd worden.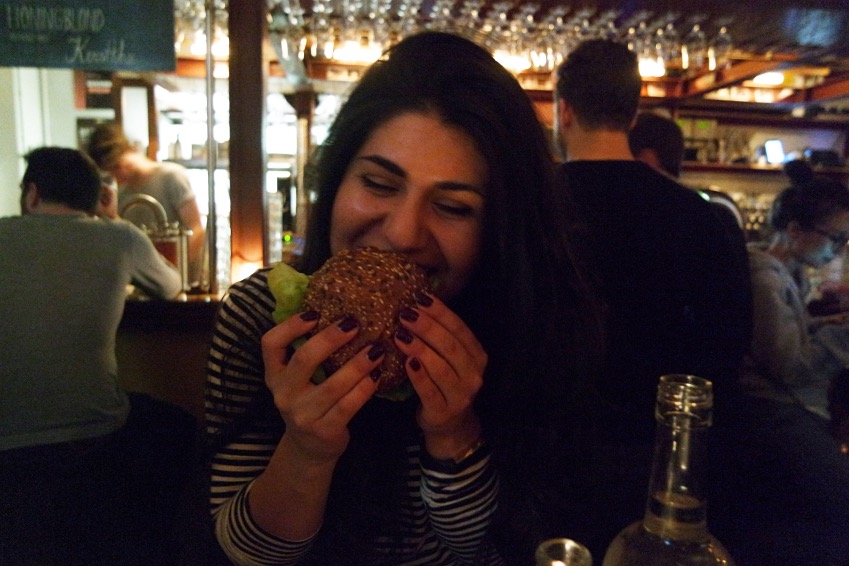 En nu begint het feest!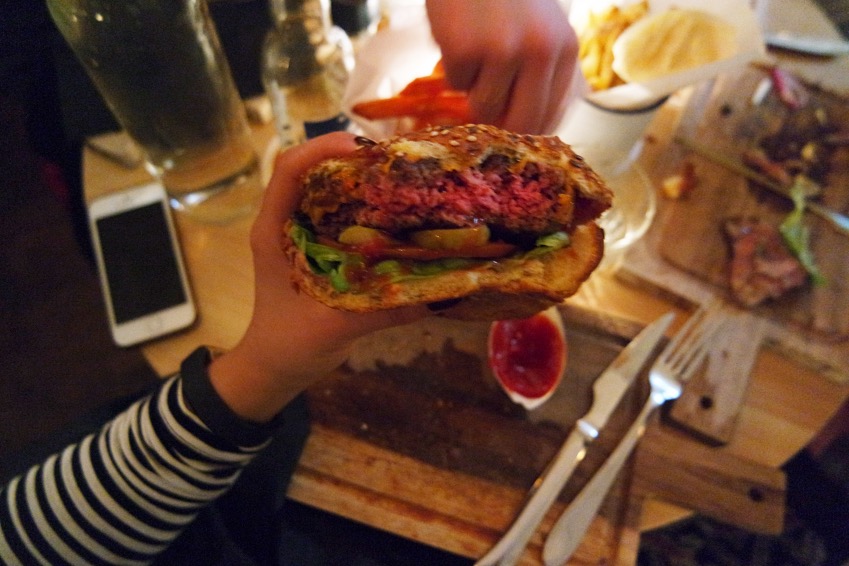 De burgers worden in principe medium rare gebakken, tenzij je iets anders vraagt. Helaas was ik nét naar het toilet toen er werd besteld want ik heb mijn burgers graag well done. Het is in ieder geval mogelijk, alleen zie je het nu niet terug op de foto.
Mijn vriend ging voor The Classic:
Blonde d'Aquitaineburger met cheddar, bacon, picalillymayo, sla, tomaat, augurk en jalapeños op een briochebol.
Met een Cerveza, top combinatie.
Kijk, dat is nog eens mooi!
Wat ik vind van Brouwerij Troost? Geen onzinnige poespas, toegankelijke tent, relaxte bediening, goede burgers maar vooral héérlijke burgerbroodjes (die zijn zeldzaam) en absoluut goed bier(advies) voor de "iedereen daartussenin" zoals zij dat beschrijven (zie foto boven).
Voor een bezoek aan Brouwerij Troost kun je op de volgende locaties zijn:
De Pijp: Cornelis Troostplein 21, Amsterdam

Westergas (nieuw!): Pazzanistraat 25-27, Amsterdam
Check even hun Instagram account waar je de passie voor bier en burgers terug kunt vinden! Heerlijk 🙂