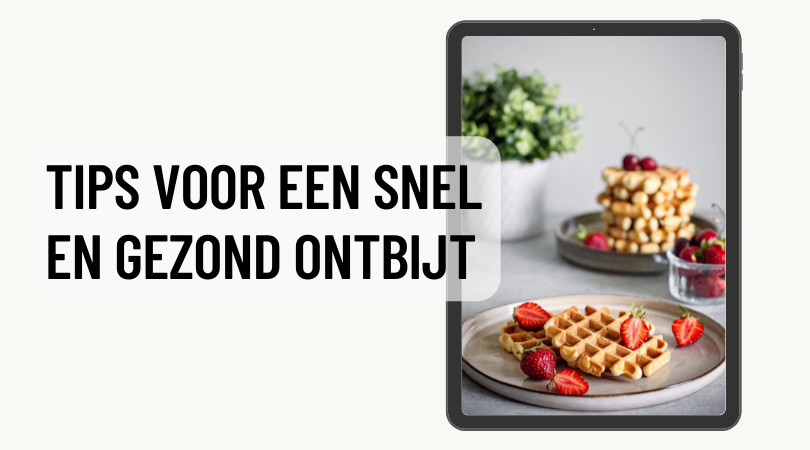 Als je graag gezond en vooral SNEL wilt ontbijten maar je weet niet waar je moet beginnen, dan is dit artikel voor jou! Ik deel mijn beste tips om de eerste maaltijd van je dag voedend te laten zijn!
Het belangrijkste om een ontbijt vooral snel te laten zijn, is door zo min mogelijk tijd aan de voorbereiding te besteden. Soms kan dat ook betekenen dat je sommige ingrediënten het beste kant-en-klaar kunt kopen dan alles van 'scratch' te maken. Slechts een klein beetje voorbereidingstijd is alles wat nodig is!
Goed, wat zijn dan de elementen die ik je zou adviseren rekening mee te houden voor een gezond en snel ontbijt? Focus je op de volgende dingen:
Volkoren granen ipv bewerkte witte granen
Volkoren brood, volkoren crackers, volkoren beschuit maar ook havermout. Liever dan wit brood of cornflakes bijvoorbeeld. Volkoren granen bevatten veel vezels die helpen bij een voller gevoel maar ze stabiliseren ook je suikerspiegel én zijn goed voor je darmflora (1).
Een eiwitbron
Denk hierbij aan eieren, pindakaas, notenpasta, yoghurt, kwark of zoveel mogelijk onbewerkt vlees. Eiwitten helpen je ook bij een vol gevoel, ze vertragen de vertering, stabiliseren je suikerspiegel en zijn belangrijke bouwstenen voor je lijf (2).
Groente en fruit
Groente en fruit geven je de nodige vitamines en mineralen. Deze zorgen er eigenlijk voor dat de voedingswaarde van je maaltijd flink omhoog gaat. Hoewel je met vitamines en mineralen geen fysieke veranderingen kunt teweegbrengen, zoals dat met koolhydraten, eiwitten en vetten wel het geval is, zijn ze juist ongelooflijk belangrijk voor alle interne processen.
Misschien leg ik dit iets te vaag uit. Wat ik bedoel te zeggen is dat de macronutriënten (koolhydraten, eiwitten en vetten) heel veel aandacht krijgen. Zowel in de voedings- als fitnesswereld omdat ze een grote invloed kunnen uitoefenen op het lijf maar ook bepaalde doelen kunnen ondersteunen. Vitamines en mineralen vallen daardoor wat meer naar de achtergrond omdat hun effect niet per se zichtbaar is aan de buitenkant, aan het uiterlijk (hoewel het uiteindelijk ook weer wel het geval is als je bijv. flinke tekorten hebt) maar zijn daarom niet minder belangrijk. Interne processen zijn ongelooflijk belangrijk en vitamines en mineralen sturen deze onder andere aan.
Bewerkt, suikerrijk en arm aan micronutriënten?
Het is heus niet erg om af en toe iets lekkers te nemen. Of te ontbijten met ingrediënten die tegen alle bovenstaande punten gaan. Geniet er dan lekker van! Maar wees je bewust dat je basis voedend dient te zijn om een gezond lijf te behouden.
Gezonde ontbijt ideeën
Dus wat zou je dan zoal kunnen eten als je de bovenstaande punten combineert? Ik heb een paar ideeën voor je!
Overnight oats, eventueel met wat eiwitpoeder + fruit
Deze maak je de avond ervoor en staat voor je klaar in de ochtend. Als je iets meer tijd hebt kun je ook een warm havermoutje maken op de ochtend zelf. Top het met een stuk fruit, zoals een banaan, appel, blauwe bessen of wat je maar wilt en klaar! (klik op de foto voor het recept)
Volkoren brood met pindakaas en banaan
Simpel, snel en hartstikke voedend! Je kunt er ook een beetje honing overheen doen als je het wat zoeter wilt.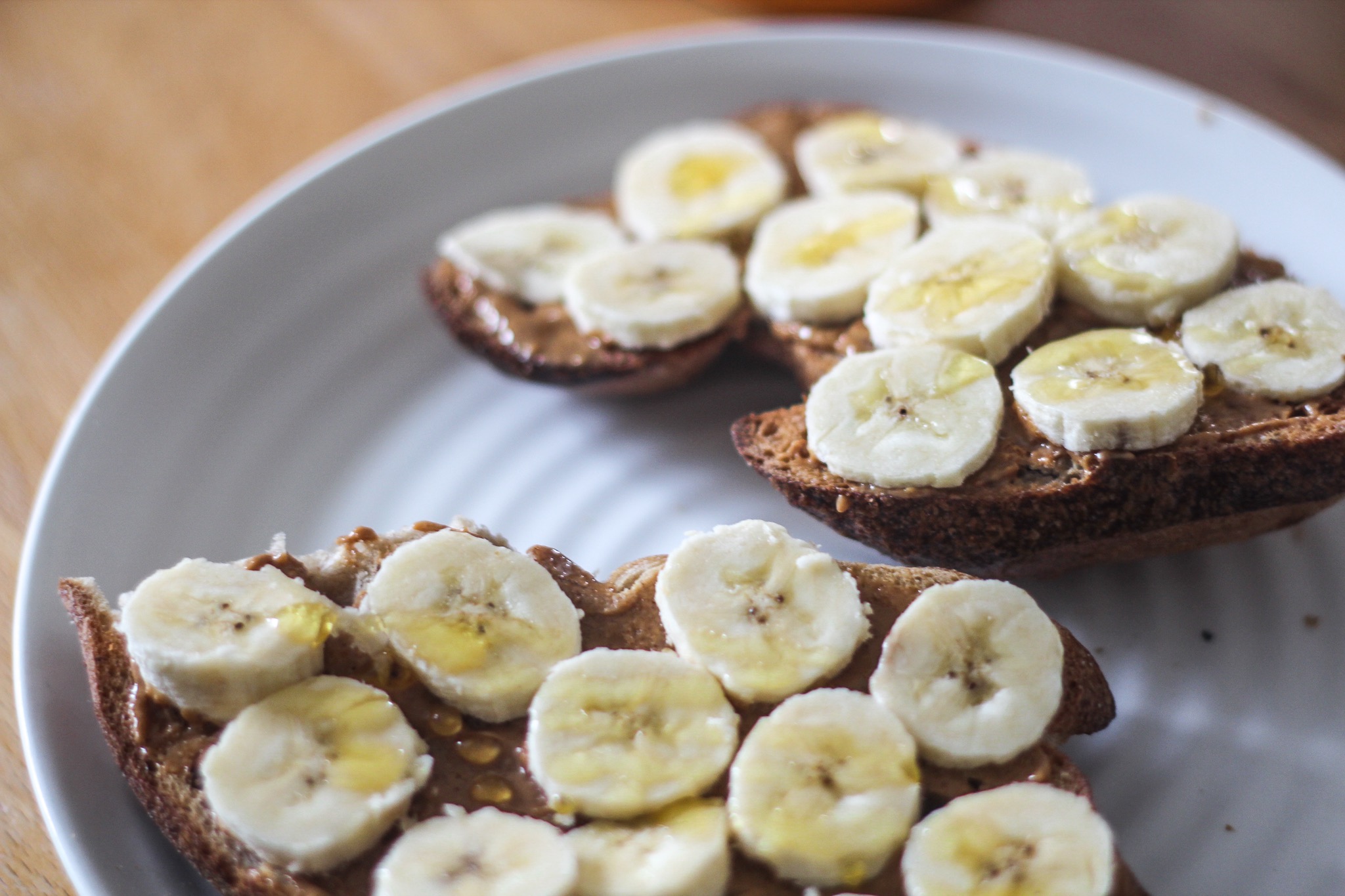 Zelfgemaakte muffins van havermout en fruit
Muffins die je eerder hebt klaargemaakt met voedende ingrediënten zijn ook top om 's ochtends snel wat te eten (of mee te nemen) wat lekker en gezond is! (klik op de foto voor het recept)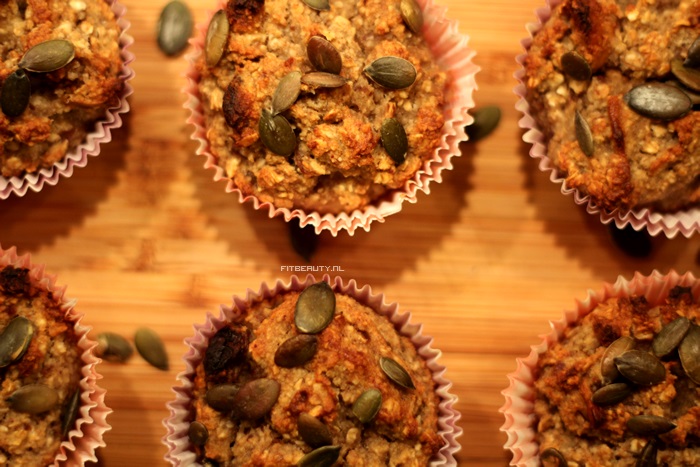 Als je niet echt van 'ontbijt voedsel' houdt?
Geen zorgen, je hoeft helemaal niet typische ontbijt dingen te eten. Je kunt ook de restjes van het avondeten opeten als je daar meer zin in hebt! Uiteindelijk weet je lijf niet wat het 'label' is van het voedsel wat je binnen krijgt maar breekt het gewoon de koolhydraten, vetten en eiwitten af! Dus volg je eigen intuïtie en gevoel: waar jij zin in hebt!